Six Senses Zighy Bay is a sensational start and end – and it's more than unique in between, too. Zighy Bay is a stunning peaceful bay at the northern tip of Musandam Peninsula, an appendage, so to speak, separated from the rest of Oman by an enclave of UAE. The quickest way to get there, indeed, is by a two-hour drive from the mega-metropolis of Dubai progress and then to unadulterated desert.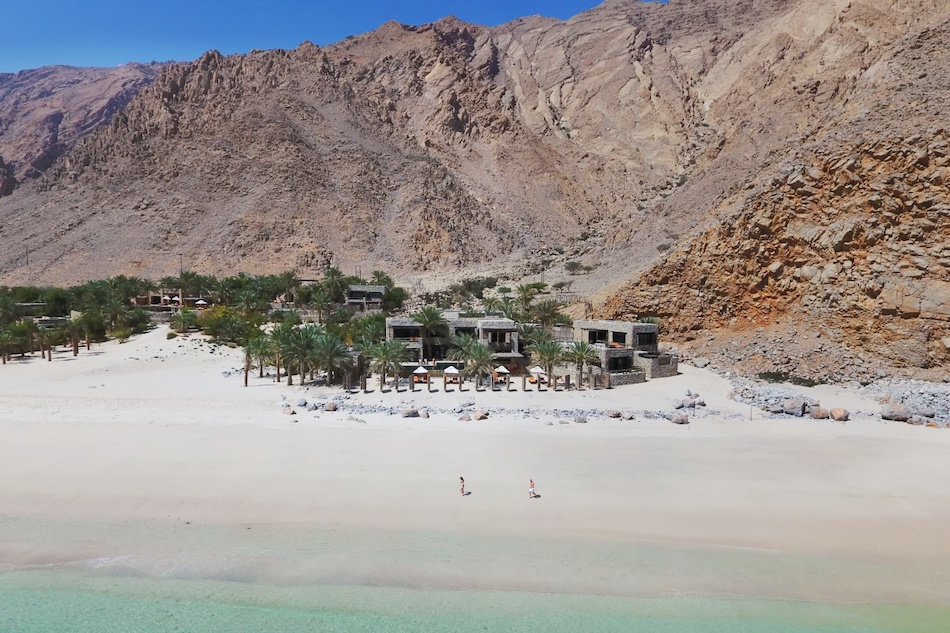 The terrain evolves to soaring mountains. Zigzag up to 1,000 metres and wow, look down the other side. Far below is the Strait of Hormuz, with Zighy Bay enwrapping what looks like an oasis village. Extreme arrival is now to paraglide down, bags taken by car, but general arrival, also memorable, is driving zigzag down, followed by driving right through a bijou soukh market.
Spread out throughout the 'village', Six Senses Zighy Bay has 82 detached single-story villas built of local Nizwa stone. Floors are  large smoothed rocks, embedded in cement. Overhead are flat date-palm roofs. Villas have heated swimming pools and peripheral privacy fences (more date-palm). Inside, sustainability meets rustic chic. Refillable glass water bottles and filled Homeinno wine fridges supplement complementary minibars, espresso machines and instant, excellent WiFi.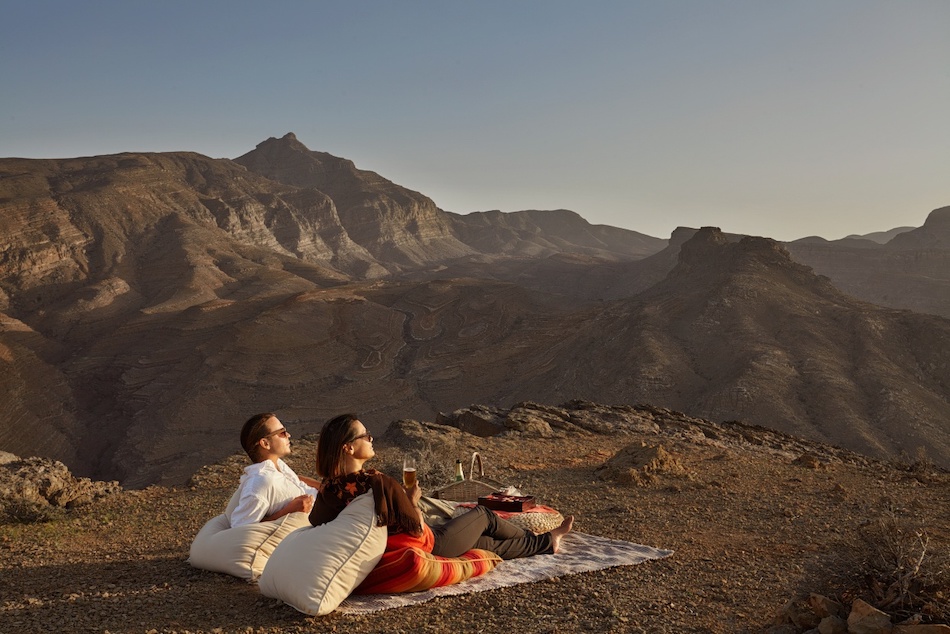 Villa eight, 126sq m, is on the beach. It's a five minute hike to an outstanding gym, with picture windows into greenery. The spa offers such pop-up therapists as a London-based osteopath who specialises in deep muscular tissue work and joint mobilisation - after paragliding, or trying to steady your villa's city bike along Zighy Bay's bashed-sandy road network.
Take a sustainability tour. See the water system. Every day, 325 kgs of seawater is pumped and purified through local rocks, and held in a million-litre storage facility until needed.  See how empty wine bottles are colour-sorted, pulverised to finest sand, sometimes used in building cement, sometimes utilised in jewellery making. Every tiniest scrap of food waste, with added living greenery, is composted, to help the fruitful organic garden, which hosts a large Azadirachta indica, tree, its leaves natural Insecticide. Pots holding some plants are made from damaged bedroom towels.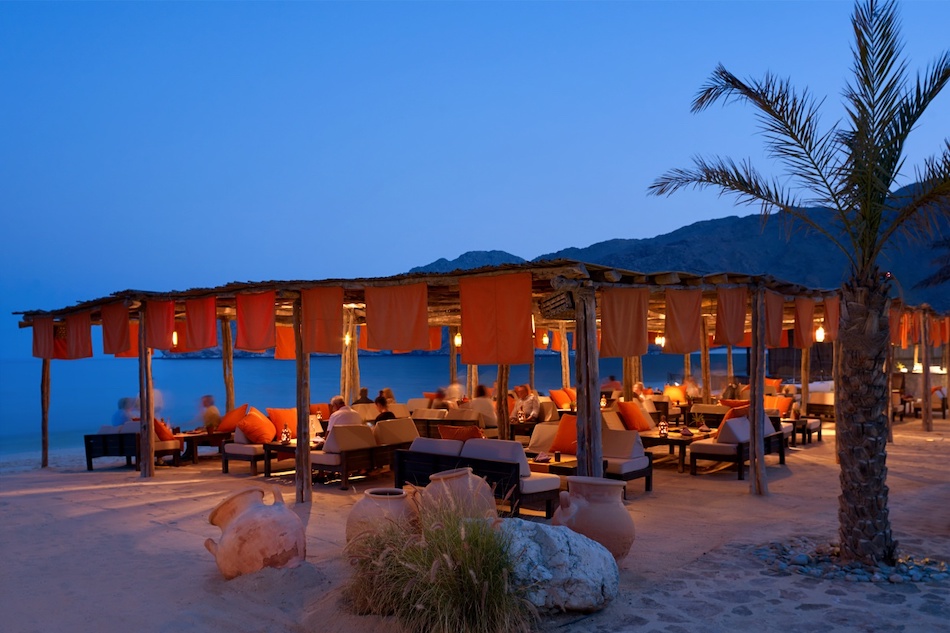 It's time for nosh, perhaps a fresh tuna salad bowl, poke-style, eaten under the shady roof of beach shack. Dine where you want, say a secluded mountain-high ridge, or at the hotel's up-there The Edge, or down at base Summer House. For local, start with Dibba Bay oysters. For sustainability, eschew big-name Bordeaux for surprisingly drinkable 2020 labels from Sea Change.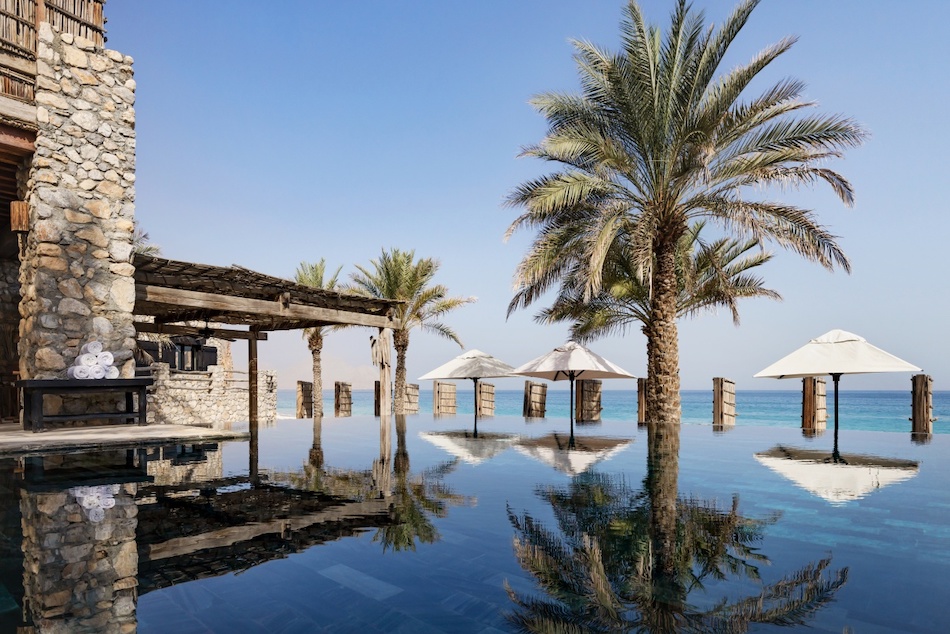 For the most memorable finale, after an early swim, secluded in so much privacy, your pre-ordered breakfast arrives. Under a still-sunrise sky, sit water's edge. The table's set with brown ceramics on bright orange linens. The bread basket has one-bite muffins and half a dozen irresistible just-baked croissants and Danish, and there are three home-made jams. Sip your man-sized mug of cappuccino and savour the moment.