Enness Lifestyle Ambassador, Mary Gostelow, is known worldwide for her unique insight into worthwhile luxury overnights, at city-centre superlatives through to safari ultra-tents. Here, exclusively for Enness Global, she shares personal thoughts, [email protected]. 
***
La Môme Monte-Carlo
Monte-Carlo's hot new dining venue, La Môme, opened four months ago. The brand's already known to Monagesques and many others as, 30 minutes west, in France, the Lecorché brothers' La Môme has occupied a growing percentage of Cannes' scoffing street, rue Florian, and there's also a popular beach restaurant, La Plage La Môme.
Why does La Môme have such a following?  Just as with Cinquante-Cinq in St-Tropez, La Môme minutely interprets what impresses the most desirable customers and gives it to them, and more so.
La Môme Monte-Carlo opens directly off avenue de Monte-Carlo, seven minutes' walk down the heavily sloping street from the Casino. Year-round, unless the weather makes a rare intrusion, it's cocktails outside on a terrace, looking across at the hilltop Palace. There's also a prominent semicircular bar, silver with eight tall bar chairs, blue and white on metal turning plinths – designers Liautard and the Queen were inspired by Alfred Hitchcock's 1955 epic To Catch a Thief, starring Grace Kelly.
The players in this, La Môme, performance are led by Luigi Visciano, Italian charm to make you want to buy-up, say add Beluga to a tuna tartare and guacamole appetizer. Go on to simple seabass in salt, or a Wagyu sirloin Kagoshima Grade 5 (don't miss a ceramic bowl of eat-forever sweet potato mash). Luigi personally recommends Pez 2019, the second label of Saint-Estèphe. His team is alert, moving at Grand Prix speed, uniform logo white shirts your-choice lower half, typically 25-cm black skirts over basketball-height black tights. As Ugo Lecorché says, choose people who are happy, help'em look good and train the rest.
Another big plus is this is a restaurant with rooms. Beneath La Môme, locked directly into the mountain wall, are five floors, 50 bedrooms, all facing out, directly over rue JF Kennedy to the super-yacht harbour five metres in front. Best view of the Grand Prix is down at 62sq m suite #201. One C-shaped window allows superb views of the cars emerging out of the tunnel. Sadly, it's long since booked for the weekend of 26-28 May 2023, regardless of price hike.
Back to La Môme. They do breakfast here, showing the best of the area. Dip a still-warm croissant, just arrived from La Môme in Cannes, into Bonne Maman chocolate spread, add yet more caviar to a brought-to-order omelette embellished with a baby tomato and tiny lettuce leaves. One more espresso, and it's time to head up to Carré d'Or for a spot of retail therapy. Bulgari, Chanel, Dior and the rest await.
***
The Peninsula Hong Kong
Hong Kong, as if hidden behind a for the last three years, is now, slowly but surely, opening up. Business bosses can fly in for meetings - although, as of this particular moment, there's no going to restaurants. No dining in public, even in hotels.  
But let's praise the half-full glass. First there is certainty that at some point restaurants will, with minimal notice, re-open, even if chefs, servers and food food suppliers are caught unawares (it's to be hoped the Krug is long since chilled). Next, if you happen to be in town over New Year, there's a surprise in store. Real-time televised and live-streamed, wunderkind experimental pianist Niu Niu will jam with taiko drummers and Hong Kong Rope Skipping Club athletes, and The Hong Kong Tourism Board is organising a rooftop-mounted pyrotechnic display along Victoria Harbour.
Head back to Hong Kong in style, to The Peninsula, only five years' short of its first century. Book an arrival experience, with airport pick up in one of the hotel's extended-wheelbase Rolls Royce Silver Spurs, in dark Peninsula green. With 870 detail-obsessed employees dressed by Barbara Battaglini the effect is rather akin to taking part in an haute couture ballet (part of the training must be how to move without a sound). Of the 300 rooms, favourites include any number -15 in the 28-floor tower block, the higher the floor the better the view across Victoria Harbour to Hong Kong Island. Check-in as early as you like, even 6 o'clock in time for breakfast. Front desk will already have programmed the electric signage in the room to your chosen language, and, for repeaters, your favourite newspapers and magazines will be waiting.
What a festive welcome you will get. The hotel's first floor is temporarily transformed, over the festive season, into a rail terminus, 'Grand Salisbury Station', complete with a Peninsula Express 'train carriage'. Check local decorations in the immediate vicinity, Tsim Sha Tsui. Take a Star Ferry to the Island, and hike up The Peak. When you're hungry, if worst comes to worst and restaurant restrictions are still in place, the hotel's private dining can rustle up a feast. Dine off a Peninsula Signature club sandwich, with bacon, on-the-bone ham, Gruyère, onion relish, boiled egg, toasted white bread, or go for Chinese wonton with braised black mushrooms, and end it all with dark chocolate tart with caramelised hazelnuts. Start with Tsing Tao beer or Tio Pepe Extra Dry, finish with Chivas Royal Salute 21 Year, or a glass or two of The Peninsula's own wines.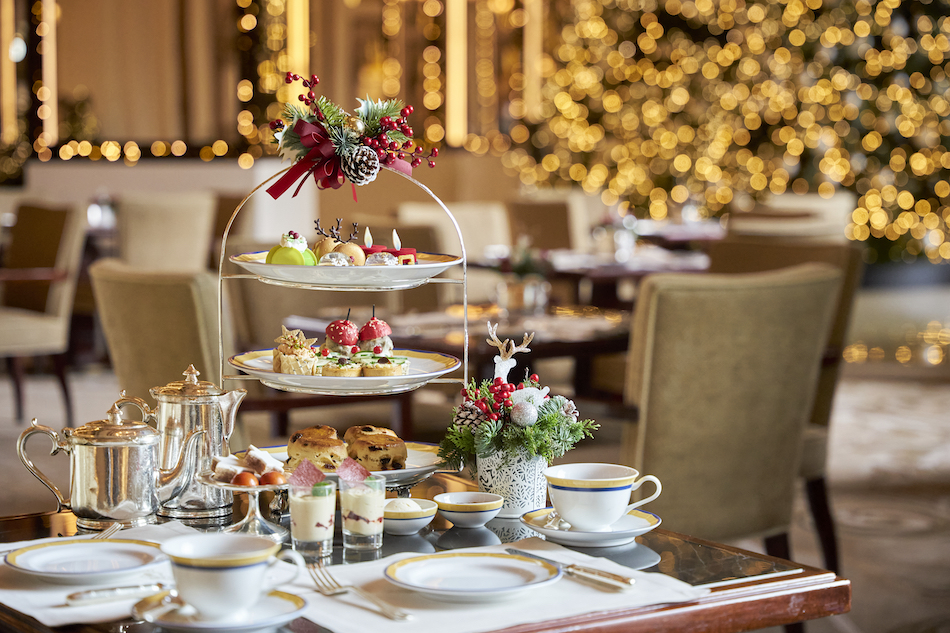 And greet the morning with The Wake Up, a smoothie of beetroot, apple, carrot, ginger, skimmed milk. Try a dim sum selection with shrimp dumpling, pork dumpling and vegetable dumpling. Sip The Peninsula's Ti Guan Yin, Jasmine or Pu Er. Breakfast, with such a panoramic Victoria Harbour view, never tasted so good. Now for that meeting that brought you here in the first place.
***
Rosewood Le Guanahani St Barth
Fancy a St-Tropez feel in the fog that is February, or any time, come to that? Head for Rosewood Guanahani & Spa on St Barth. Since most of the 66-key resort's 200 staff are young French folk, sensibly fleeing Europe's climate for a season of sun, you are in the St-Trop mood from the moment you arrive.
You may need a glass of Billecart-Salmon at that point. Gustaf III airport is a bit of a roller-coaster (it's the volcanic terrain, stupid, and the whole island is only 2,500 hectares), but, 12 minutes later at the 7.5-hectare estate, all that is forgotten. Settle into your cottage, a detached clapboard single-story affair painted buttercup, lavender, and turquoise. For most style, choose a 65sq m Ocean View private pool cottage.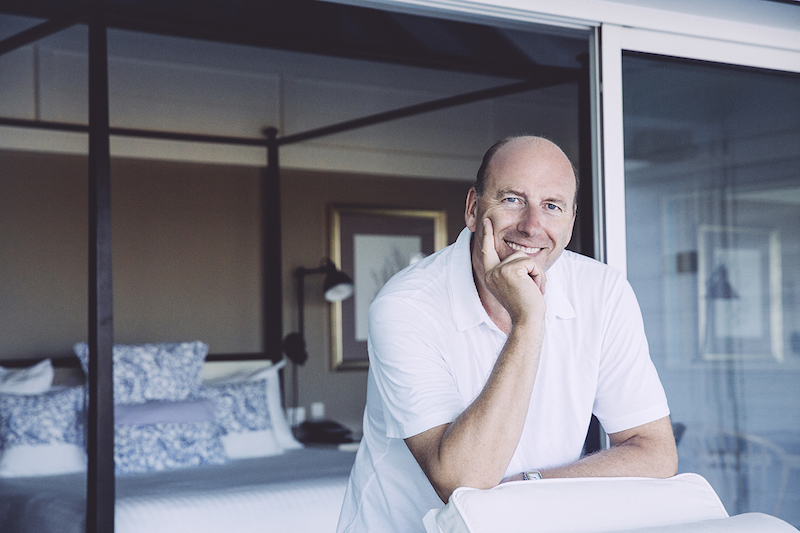 Guanahani went through a three-year complete re-build after St Barth was devastated by Hurricane Irma in September 2017. Its owner, David Bonderman, obviously a little busy not only with TPG Capital and various funds but with his sports teams, told resort MD Martein van Wagenberg to do what it takes. Just make Guanahani not only as good as new but better than it ever was. Today it's paradise, of good things and nature.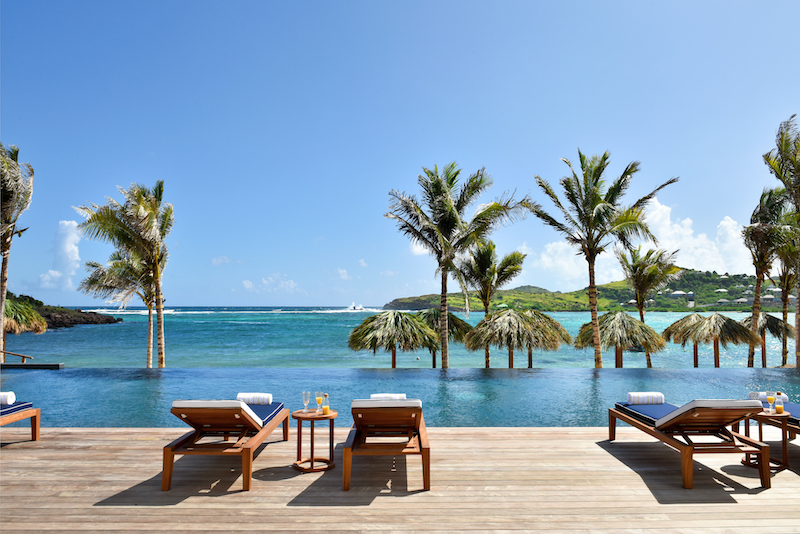 There are superb beaches immediately to hand. One's the Grand Cul-de-Sac lagoon, ideal for swimming, kayaking, paddle boarding and snorkelling. Take a Morne Reserve immersive spa journey, strolling through an ecosystem at the Morne Reserve before an aloe vera wrap and massage. Go hiking, go shopping nearby – many of the 200+ boutiques rival those back in St-Trop.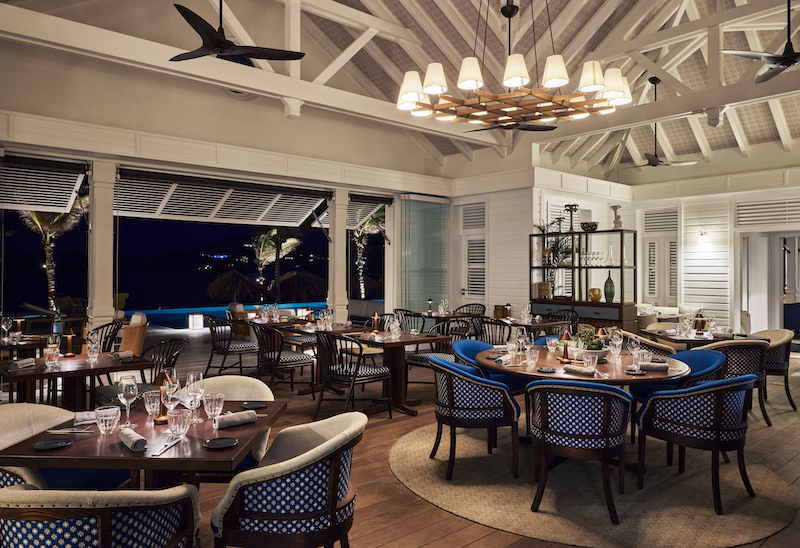 Food time, forget the Michelin tonight, relax with ice-cold Domaines Ott Ch Romassan Bandol 2021 and fried calamari with garlic sauce. Go on to Franck Phélan St-Estèphe 2015 and a burger, Australian wagyu and 24-month aged Comté. Casual tonight and live it up tomorrow. There's a Décadence breakfast menu. Who can resist the signature , Sense of Place, the eggs poached, served with sweet potato waffles, homemade smoked mahi mahi and 10g of caviar? Add a mimosa, justified for vitamin C (as if it is needed in this sun).
***
Summer Lodge in Evershot
There was once a regular croquet player at Hurlingham who claimed a double Gordon's and tonic put her eye 'in' before it was time to show what her mallet could achieve. Today, at Summer Lodge in Evershot, in the Thomas Hardy area of Dorset, some say have a good cream tea first. Whatever, the outdoor pursuit of using long-handled mallets to get your ball through a low hoop stuck in the grass is highly competitive, and can lead to tears, or cross words or more – or lots of hilarious fun. Croquet, after all, takes no time to learn but a lifetime to master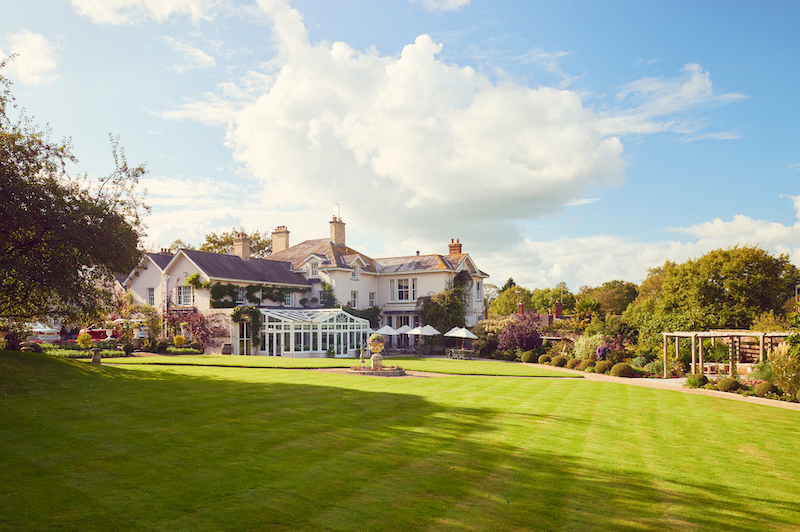 Careful. Summer Lodge's croquet hoops aren't exactly on a flat lawn. Mallets and wood balls are a-plenty, and helpful hints come for free, too. Come to think of it there's plenty to do at this country-village hotel, part of the Tollman's family's Red Carnation Empire. Summer Lodge's four acres include a conservatory with indoor swimming pool, spa and fitness centre, a tennis court and gardens for exploring.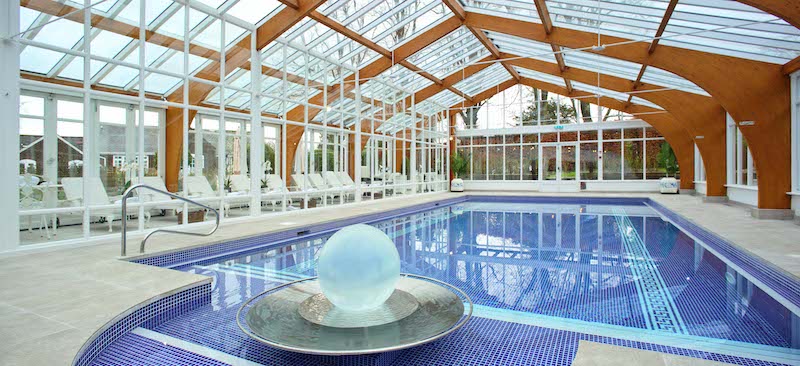 And the house, a 1789 mansion later enlarged by Thomas Hardy, a qualified architect. Devour today's Financial Times as you sit in the main Drawing Room by a real log fire. Look out through a 1.5-metre wide ground-reaching sash window that Hardy installed so that a pet donkey could come in and out.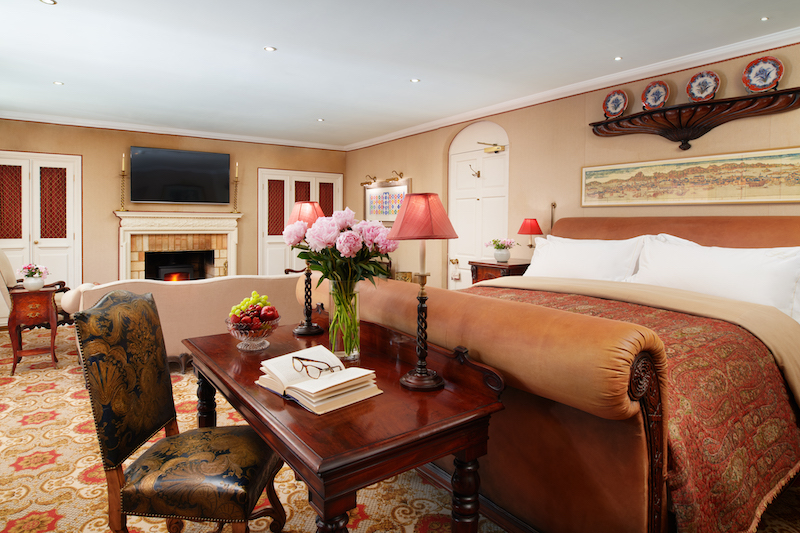 The idiosyncracies of such a 25-room hotel add to its charm. Which staircase do you use? Floorboards do perhaps creak from time to time. What IS that cricket match on one wall-set oil, whose is the horse on another?  Rooms, by the way, are thoroughly modernised when it comes to perfect beds and WiFi. Fabric half-testers tower over some beds, and home made shortbreads cram a tin on the tea-making tray.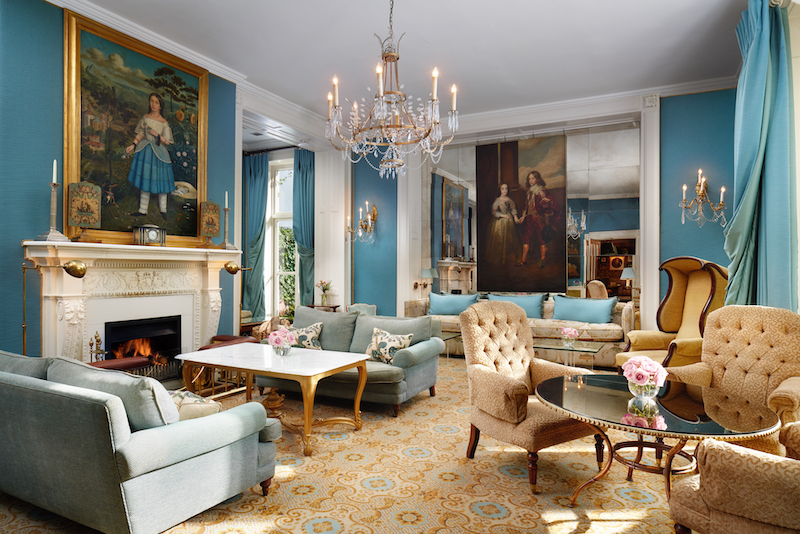 Dining, on pheasant-decorated china by nearby artist Richard Bramble, is mainly a few hours' drive fare. Elderberry and marsh samphire botanicals give Conker Gin, from Bournemouth, a unique flavour. Study the menu, perhaps starting with glazed goats cheese, followed by Holway Farm lamb rump from Holway Farm, 2.6 miles south of Evershot.  
Breakfast tables are dominated by 18 inch-long pheasant sculptures, siblings of those at Mosimann's Club in London: they're all fashioned in real silver in Patrick Mavros' community studio in Harare. Everything else here at Summer Lodge at breakfast, however, is exclusively English, William Edwards china, Arthur Price cutlery, Tipree jams. Buttercup-yellow butter, and sourdough from Evershot Bakery, along the road. There's smoked salmon and local cheese on the bijou buffet but head for a Summer Lodge eggs benedict, perfectly poached, on muffins. English, of course. And plan your next croquet tactic.
***
Six Senses Shaharut
Awake, take six big strides into your private pool, heated of course, and soak in the enormity of the pale pink Negev Desert around you, 360 degrees.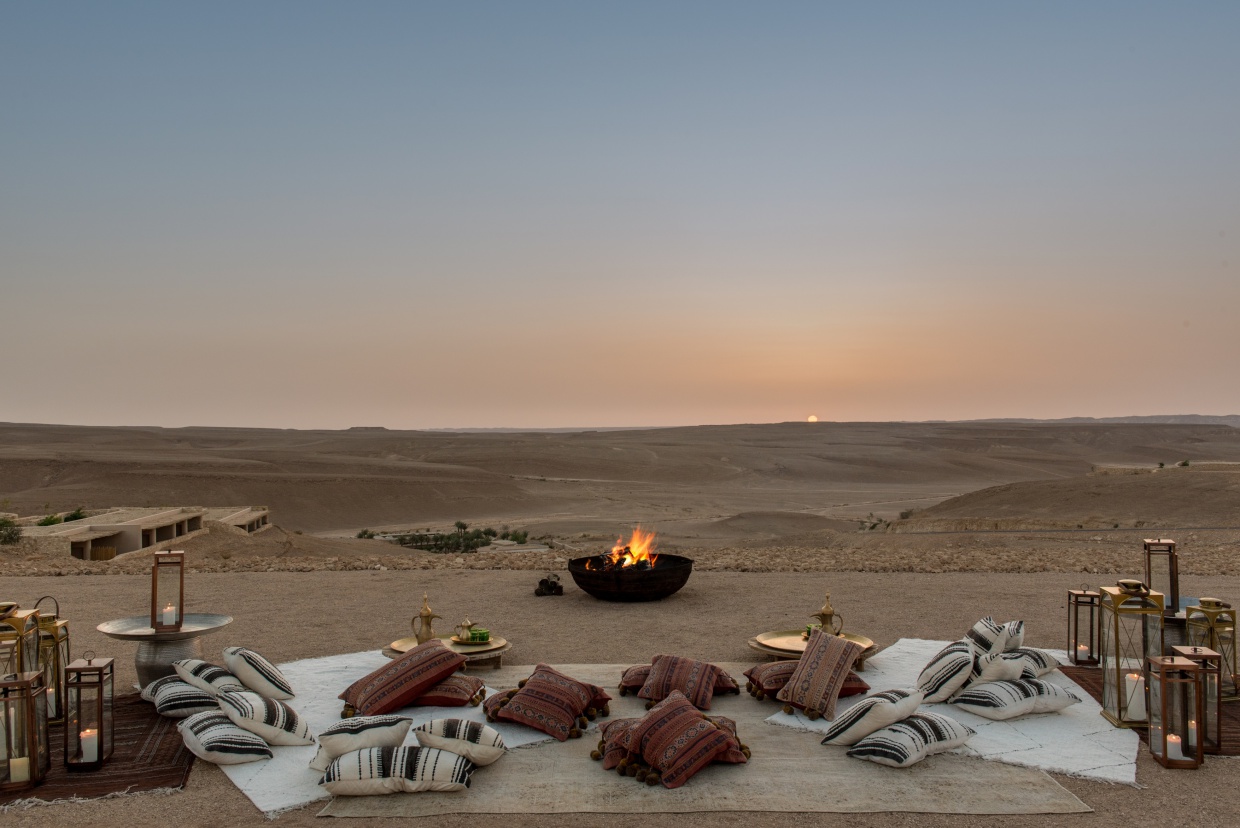 Six Senses Shaharut is a unique oasis, four hours' drive south of Tel Aviv. Philanthropic entrepreneur Ronny Doek started his resort over a decade ago. By its opening, September 2021, he'd built, or rather dug down into the rock, a total 60 rooms, plus extensive eatertainment and wellness.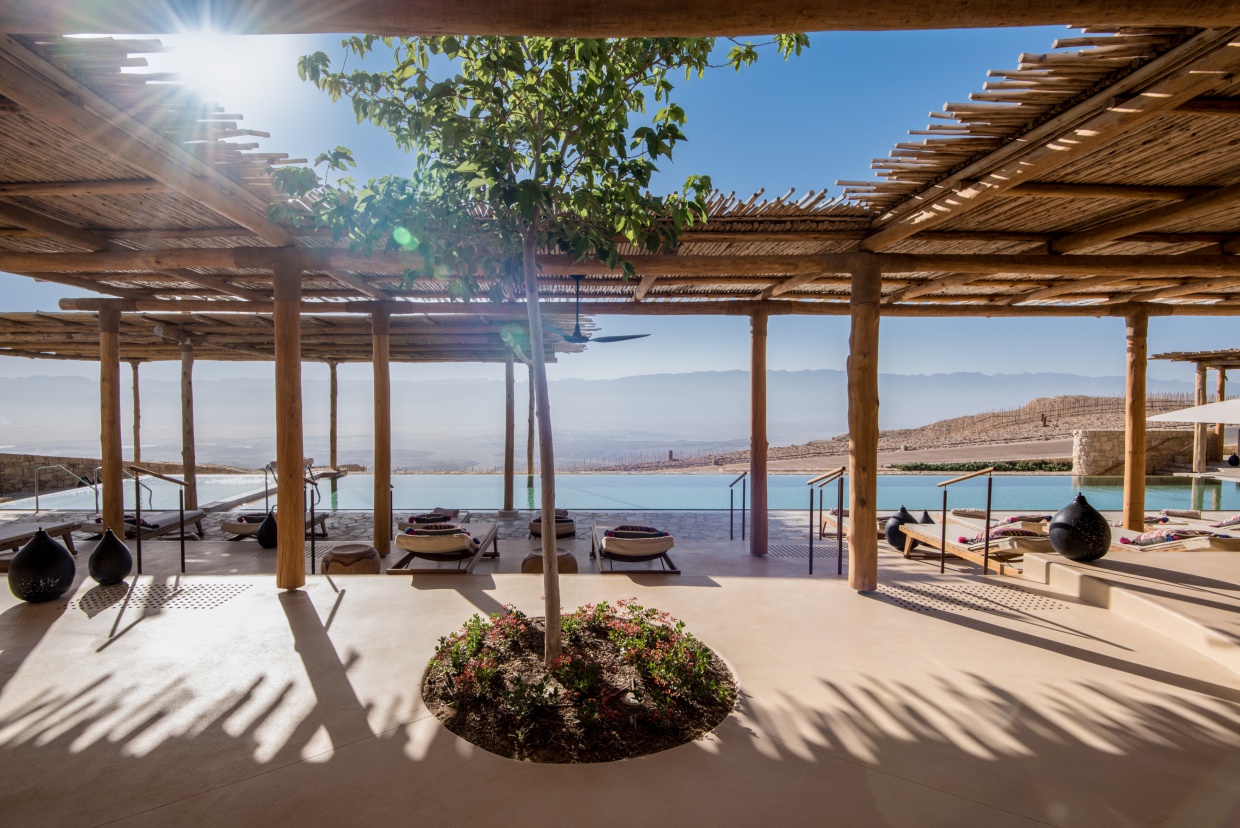 Arrive. Be invited to, and water, a pinky-sized seedling, to grow into something special. Admire a working bicycle, fashioned from recycled espresso capsules (the single tarmacked road is far too steep for actual cycling).
Later, have an Earth Lab tutorial. Learn which herbs, all picked, dried and distilled as essential oils, do what? Have your already-booked spa treatments, or a sublime massage from an Israeli who takes you to another planet. Hike, laze by a main indoor or outdoor pool, whatever.
And then back home, to villa #9,19 rough-stone steps down the side of a dry-stone wall. A pressure-pad opens an unadorned wood door, nearly two metres wide. It swings open, to 65sq m of mostly-curved walls, enormous sliding windows, past your pool to infinity.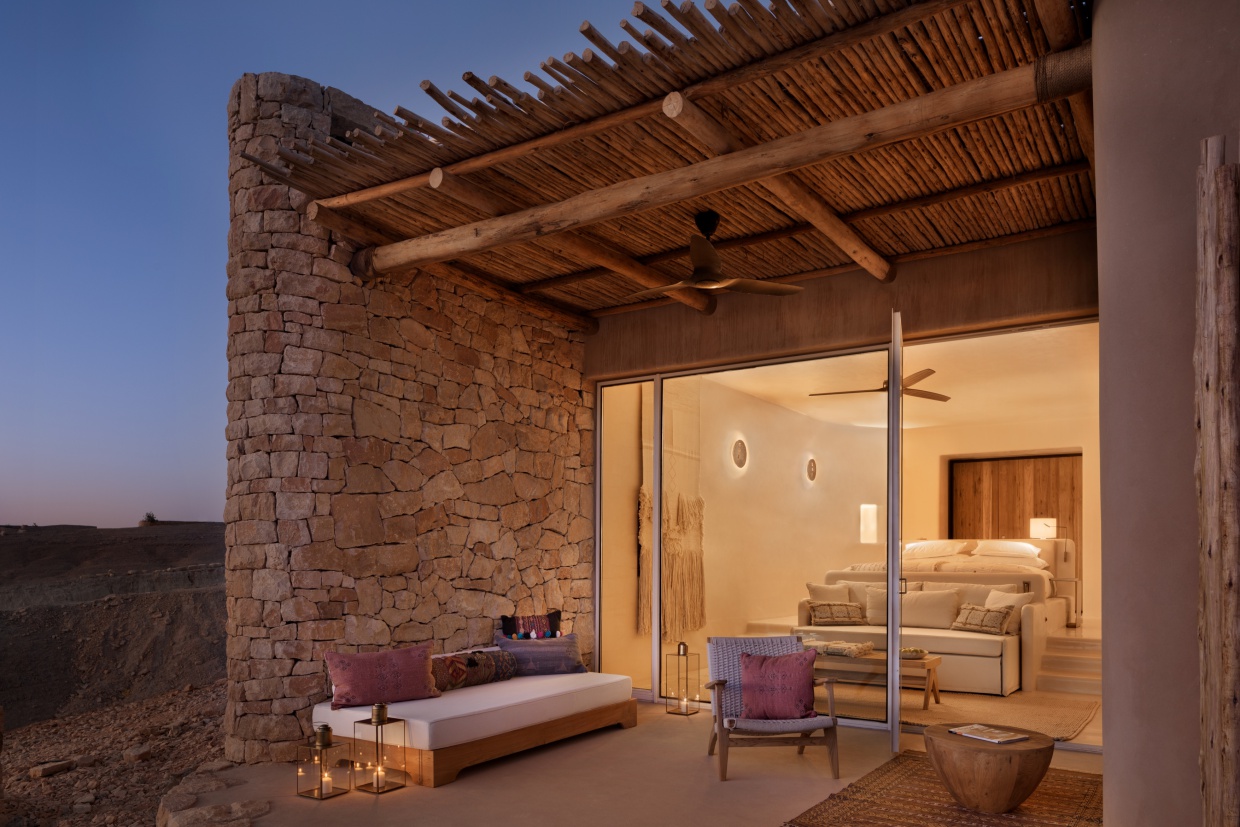 Neutral interior colours complement wrought iron-hung lemon fabric-art temporarily hiding BBC, CNN, France-24 et al on the outsize screen. Hardbacks include Ancient Trees, and The New Artisans. A bottle of 2018 Paradigma, Syrah-Grenache-Mourvedre awaits, a corkscrew atop long-stemmed crystal.  Bathroom taps have Hot and Cold bronze levers. All pipes are deliberately exposed, retro.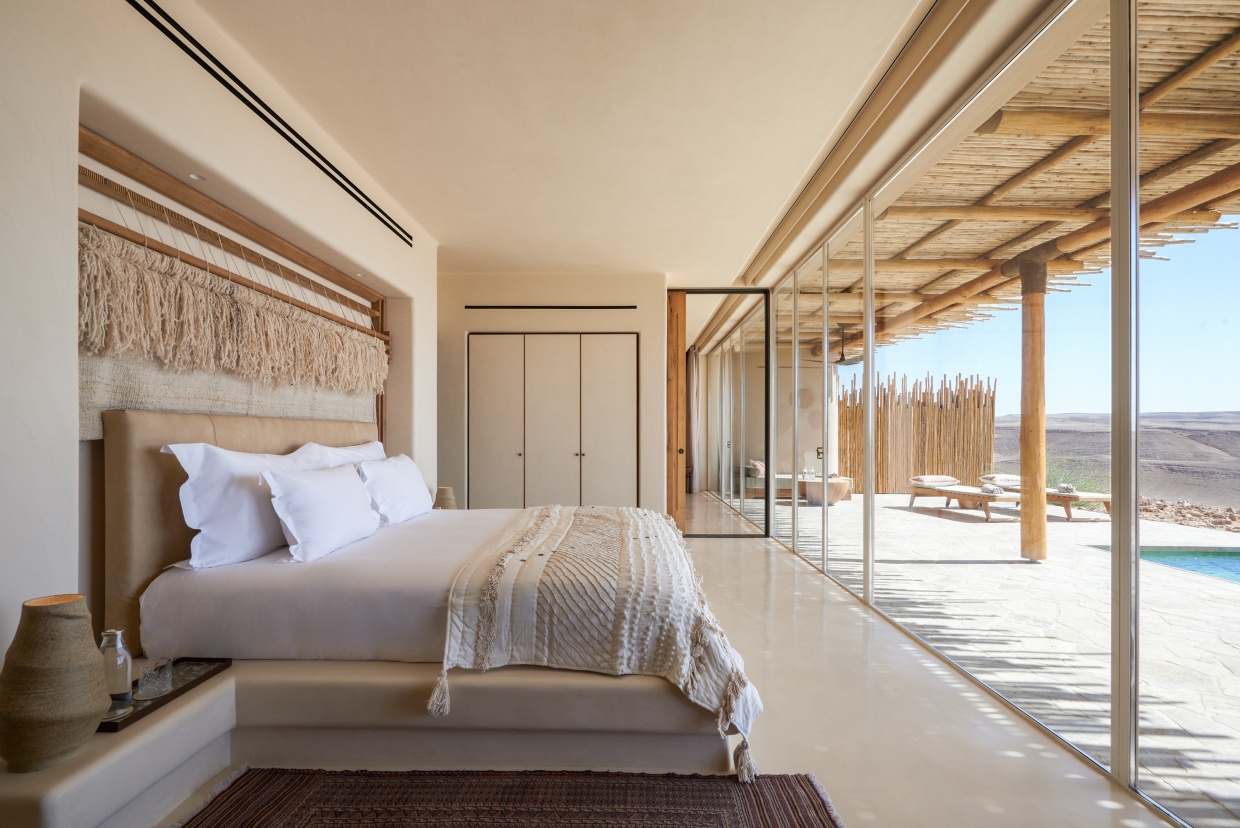 Cocktails in Jamillah, female camel, a pair of giant JBL double-speakers, Japan, mid-1960s, hanging overhead. Someone turning the Technics SL-1000R table chooses from over 400 vinyls, best of the Middle East through to Silk Road. Dine in the Wine Cellar, decades-old political posters art. Superbly-lit Best of Israel bottles tempt, say Syrah Merlot 2016, Judean Hills. By choice, tonight, food's sharing, plate after plate of appetizer mezze, and entrées galore.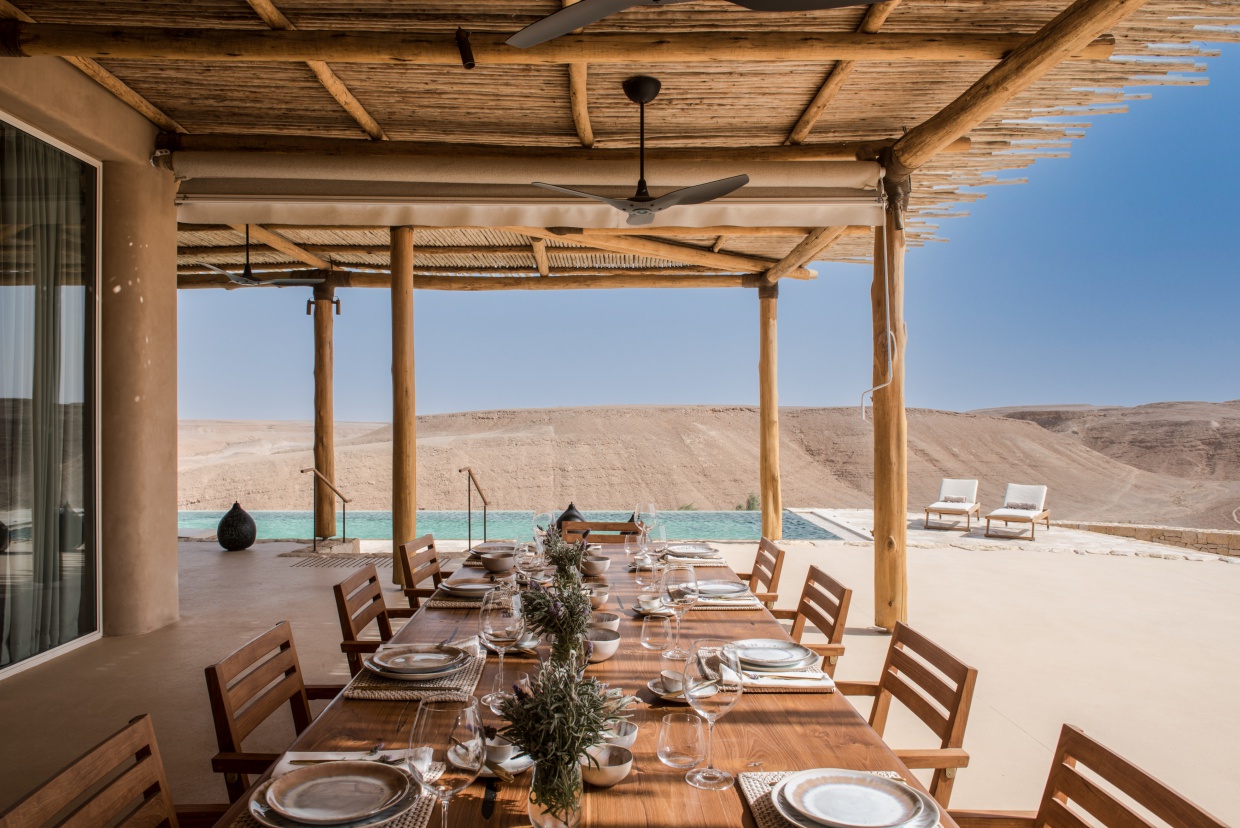 Back to the start. After pre-breakfast laps, dress super-casual. Progress awestruck round buffet stations formed of wooden boat, historic artefacts. Cereals and salads, and smoked and cooked salmon, and delectable charred eggplant slices. Choose yummy cheesecake or sweet rolls and oh the breads – from pumpernickel and sourdough through bagels, every bite is more-ish. Two cooks, in crisp white tunics and showercap-shaped linen caps, cook whatever, to order. Espresso or decaf cappuccino, quick as a flash. Sit outside on a terrace, already-warm sun invoking Negev Desert happiness. Stay here forever, or at least a couple of hours. Six Senses Shaharuat can claim the world's longest-lasting breakfast.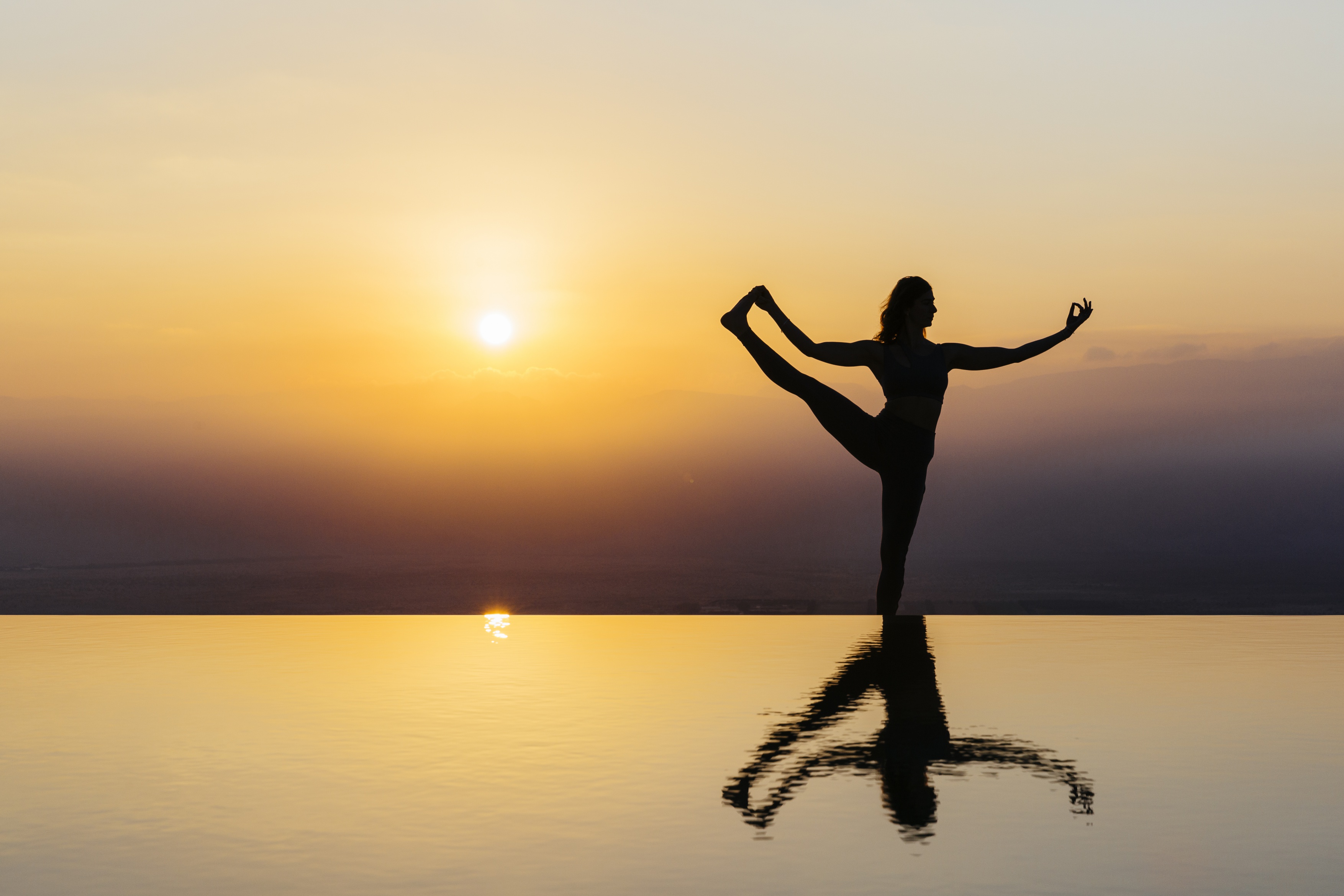 ***
The David Kempinski Tel Aviv
Where else can highest-level tech investment be combined with looking out at the Mediterranean, 100 metres away? The answer's the 22nd floor Horizon Club of The David Kempinski, Tel Aviv. Look down at the view, or read today's New York Times, a real copy, if your start-up colleagues are late - but they won't be, savvy locals know how to beat the traffic by whizzing everywhere on buttercup or grass-coloured electric scooters, pick-up and go. Lovely Ladies in Red, a Kempinski signature, offer sustenance, including bespoke icecream, choose your flavour, whatever.
Most desirable of the 250 bedrooms is 2828. Yes, it's the Presidential Suite, full-wall windows and Club access, and it comes with arguably the world's best Man Friday, a Costa Rican lured from Mandarin Oriental Barcelona. He'll arrange anything, including taxis, a renowned challenge in town. Hotel GM Guy Klaiman has assembled a stellar team, one key reason David Kempinski is currently 'the world's best new hotel', according to the Ultras.
Food here is ambience, flavour and taste rather than experimentation. Other than January or February, dine outside, candlelit on Sereia's ground floor terrace, three wood steps up from Herbert Samuel Road, Yerushalayim Beach beyond. Yellowtail crudo, then tuna steak, 2012 Yarden El Rom Cabernet Sauvignon Golan Heights. In the morning, cross over to the beach. Join the myriad of locals, all ages, walking with purpose, or whizzing on those scooters. There's also a 24/7 gym to increase appetite for breakfast.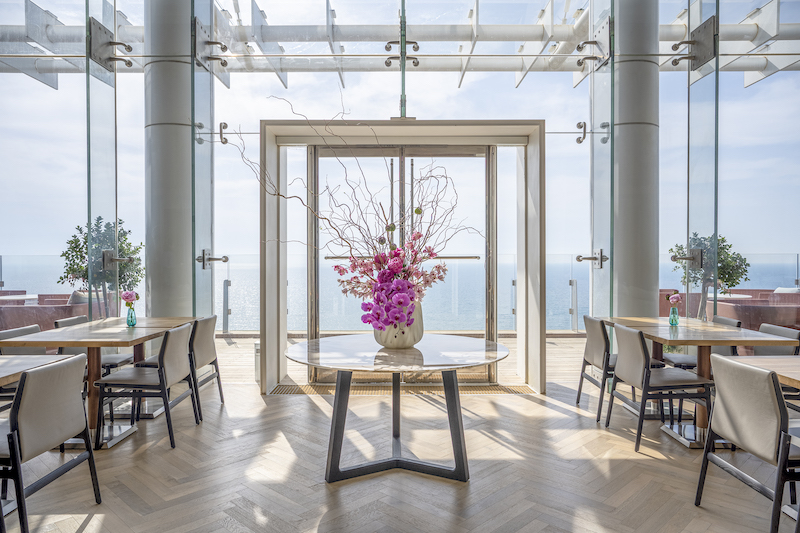 And now for the high point. Israelis take breakfast seriously and this buffet's among the best. Cava Iberica Semi Seco jostles with fresh juices for attention.  Every imaginable type of soft and hard cheese has pride of place alongside whole salmon, deftly already sliced paper-thin and reassembled, and herrings and sardines. Elsewhere are full salad spreads, and sweet things. Don't overlook the cheesecake, it's divine. Israeli breads, too, are really special, more moist, and arguably even more flavourful than most counterparts elsewhere. There you are, again on that terrace, spectator of a lifestyle that is tech-plus, and lots more successful business. Pleasure, too.
***
The Capella Singapore
The Capella Singapore is best hotel in the world, say the 21-million Discovery loyalty club members of The Global Hotel Alliance. All right, let us be cynical. Not everyone voted but even if only one percent did there is still a satisfactory voting core (there are far too many 'awards', by the way, that are not transparent). The Capella's win, announced at The Ultras ceremony in London this Monday, is totally credible.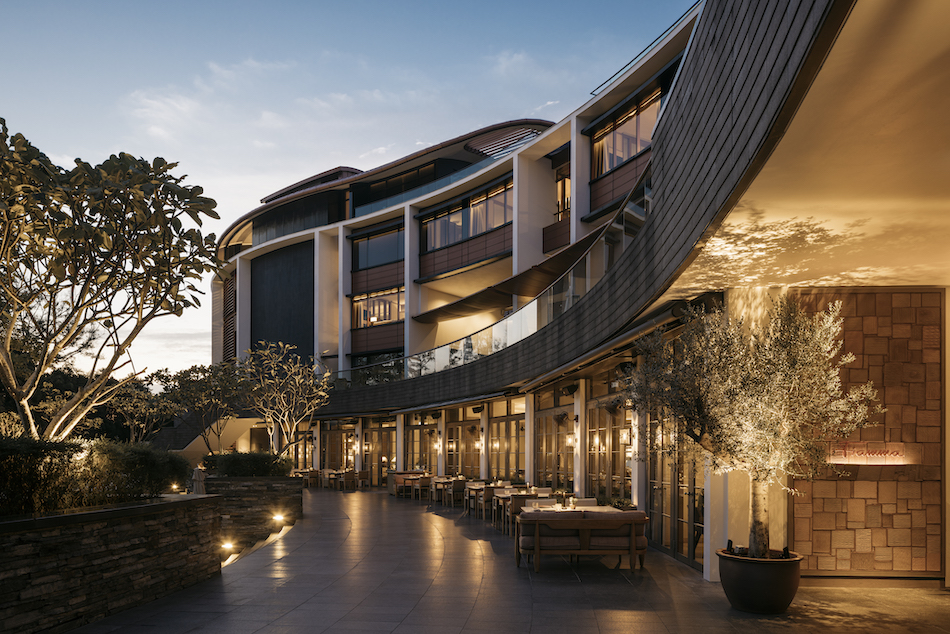 Cynicism again. Is there a 'best hotel in the world'? It all depends on what a traveller wants at a particular time, coupled with circumstances that include weather, other people and untoward happenings. Capella Singapore does, however, tick all the right boxes.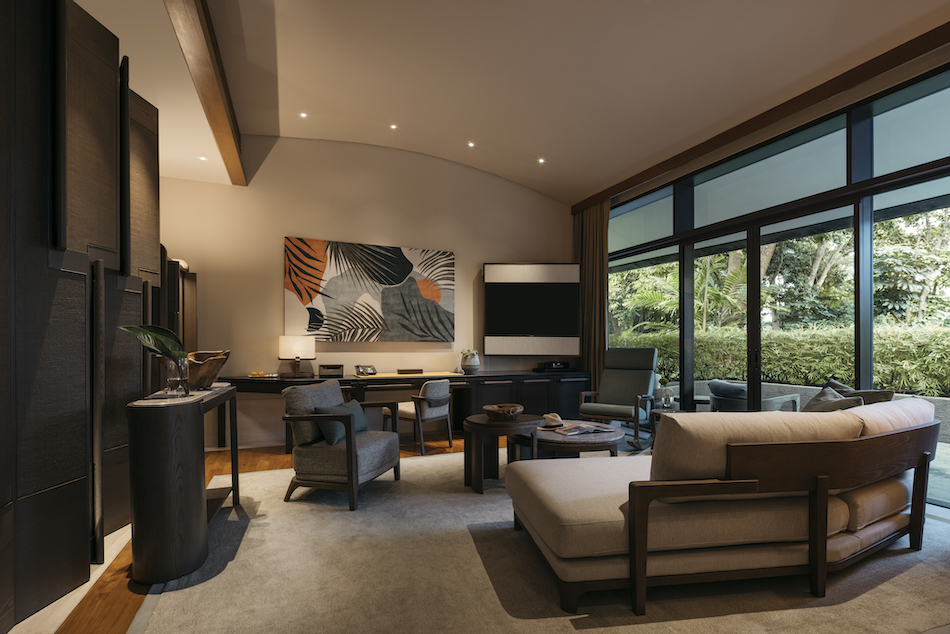 A bit of history helps.  The 110-room hotel is a conversion of WWII officers' quarters on a low hilltop on 30 acres of gorgeous sculpture-dotted tropical parkland on Sentosa Island, only ten minutes by car from Singapore's financial district. The conversion was aided by Sir Norman Foster's addition of dull tomato-coloured railings bordering new construction that wraps from one end of the original three-floor building to the other end, the whole forming one large kidney shape.
Spectacular exteriors pair with soothing interiors by Hong Kong's designer-for-the-intelligensia, André Fu. His colour palette for bedrooms' furnishings seems to mirror the lush greenery outside. There are daybeds on outside terraces for even more commune with nature.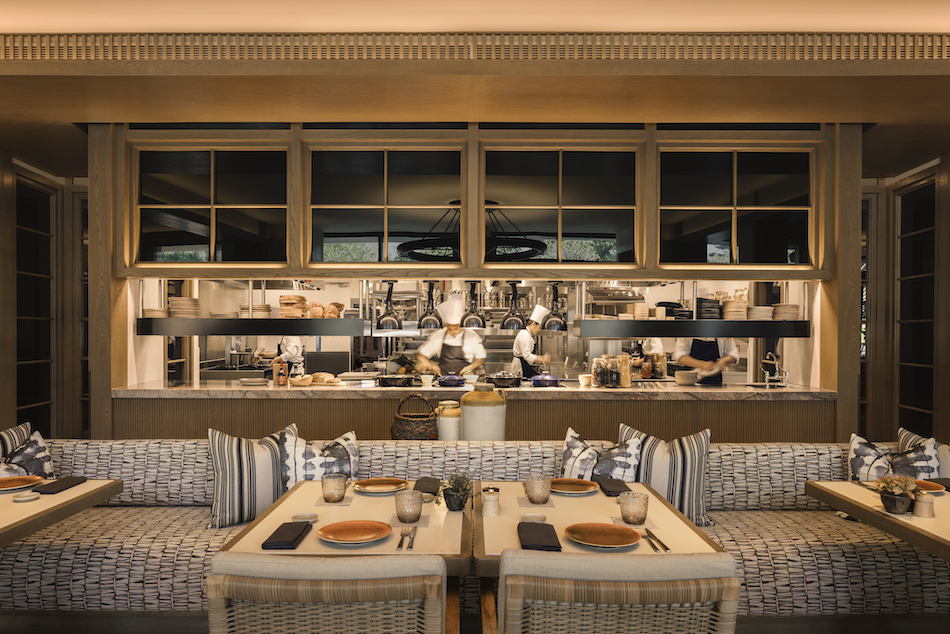 And there is constant opportunity for exercise and enlightenment. Walks and tennis, and lots of swimming, can be complemented by memorable dining, outside or in, at Fiamma, another Fu masterpiece. Food's overseen by Europe's darling, Mauro Colagreco, with a Neopolitan character, Antonio Corsaro, here on the ground. Perhaps red prawn crudo with kumquat, followed by veal Milanaise with arugula, Castel Giocondo Brunello de Montalcino 2017 Frescobaldi. 
It's the people that 'make' any hotel, however. Someone asks, since dessert was refused, if you'd like a limoncello. Early next morning, when a guest felt momentarily confused trying to navigate the entire kidney shape, a night cleaner personally shows the way, with a smile. With authenticity and generosity as his oft-stated rallying cry, GM Yngvar Stray's on hand to act as breakfast host, helping seat local staycationers' pre-school offspring and chatting to a European CEO-type. Oh the breakfast buffet, copious and colourful. Leave room for the signature 63-degrees onsen egg with dark soya sauce, toasted white bread and coconut-egg jam.
***
Four Seasons Los Angeles
Escape from the norm, to emerge better for it. That's what the so-trendy 'retreat' is. Do it immersed in luxury and glamour – at Four Seasons Los Angeles at Beverly Hills.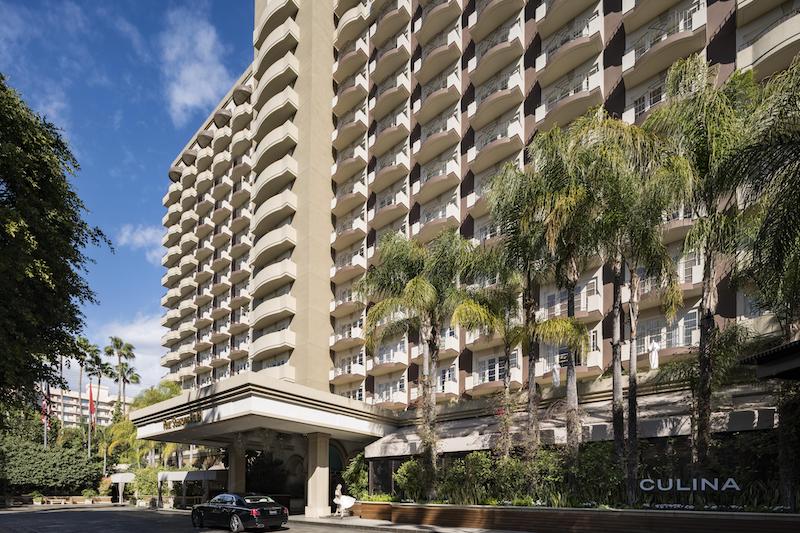 The scene is set. Beverly Hills, five minutes' drive from Rodeo Drive. Immediately outside the hotel's main door, on Doheny, there's a lifesize J. Seward Johnson of Marilyn, that famous pose with her circular skirt blowing up in the wind. Immediately inside, a walkway lined with flowers, or pumpkins if appropriate, begins: world-famous floral creator Jeff Leatham is here, at his home base.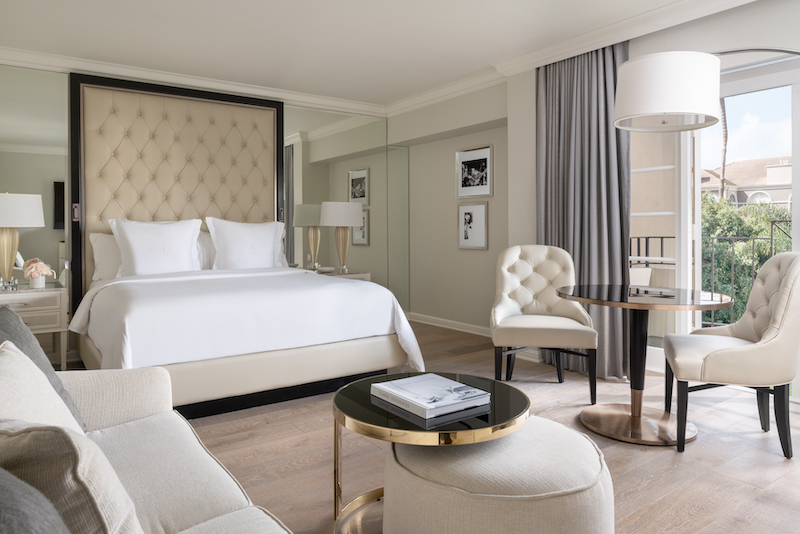 The entire fourth floor of this 285-room hotel says WELLNESS. Take suite 406, a neutral, taupe space, with hardwood floors and wall-set Rabbit Air HEPA/UB units (New York-based Delos Living's advanced air purification removes particles down to 0.007 microns, smaller than those of Covid-19). The Bryte bed's monitored, separately either side, by fixed tablets, to show sleep patterns.  Add a Peloton bike, a light-emitting thing, and a Siri-like ball that plays soft or loud waves on command. There's a red 10-kg weighted ball in the closet, alongside a yoga mat and a yoga 'tube'.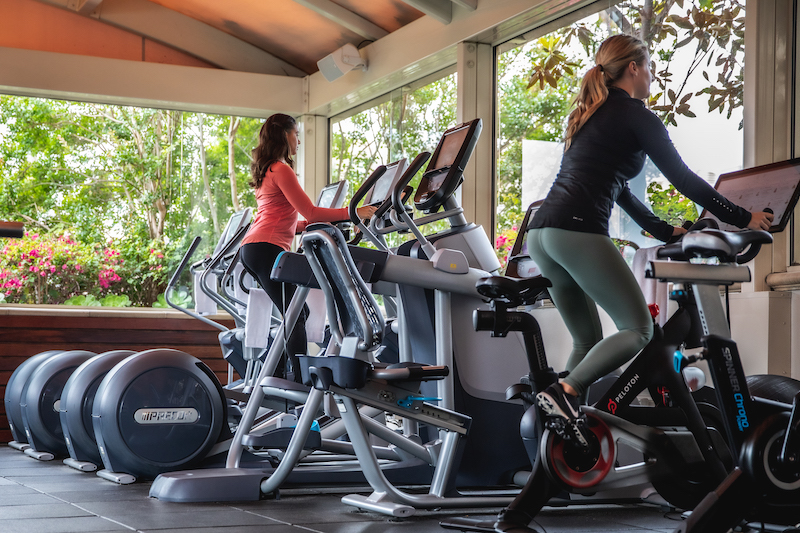 Across the corridor, suite 405 is a one-person Fitness Studio, with another Pelaton, a Technogym bike and that company's latest jogger, and an aesthetically-beautiful banana-shaped Hydrow with electromagnetic drag mechanism. Similarly, room 420 has become Well Work. A high table with six right-height stools, a wall-set desk with remote keyboard and device holders, and a Coco Chanel biography, urge creativity (yes, you can 'switch off' if you must but connectivity is up to Hollywood mogul standard, everywhere).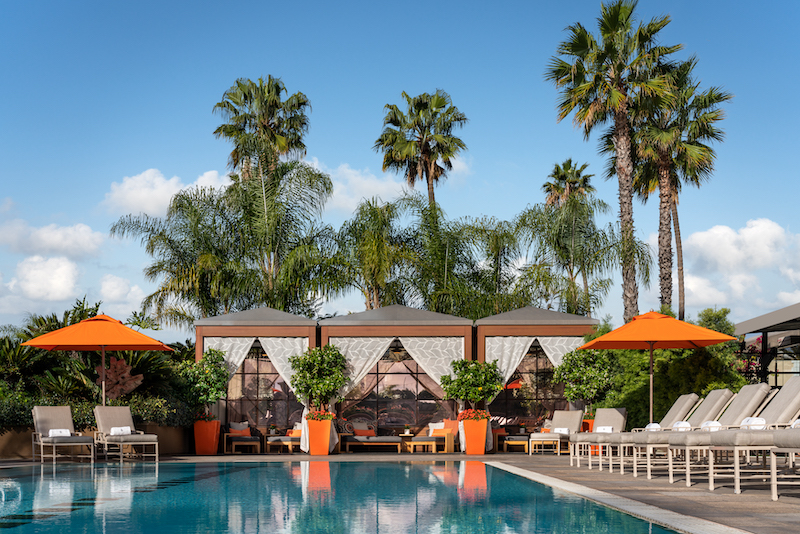 Venture to the real world. It's 30 strides along the corridor, to your left, and then ten steps down to the bright nasturtium sunshades and five cabanas of the outside pool, where those moguls broker deals. See a whole world of decision-makers, too, at breakfast down on the ground floor, inside or outside at Culina, Ristorante or Caffè. Servers, impeccably discreet after years of performing with celebs, may suggest a CA Tonic and Elixir, perhaps Muscle Power, almond butter, banana, almond milk, cocoa nibs, honey. Stay local with an LA Omelet, egg white, baby kale, quinoa, avocado, and dairy-free mozzarella. 
After all this, a final selfie with Marilyn perhaps?
***
InterContinental Resort Tahiti
Let's expand the WFH acronym to Work From Heaven. Where? In one of the 15 overwater villas at InterContinental Tahiti Resort & Spa in French Polynesia (overwaters were created here, not in the Indian Ocean). Connectivity's good enough to allowing work outside on your 13.6sq m deck, looking across 11km of pale turquoise water at the jagged wooded mountain skyline of Moorea. All 263 rooms, on land or over-water, have big work tables and more than ample European and US sockets, and USB ports.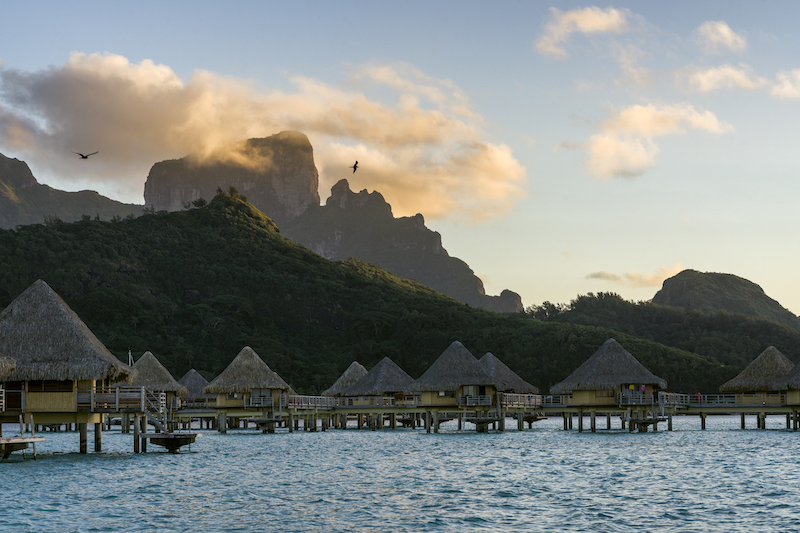 The hotel, evolved from the legendary Beachcomber, has compelling pulls. First, international flights necessitate a stop-over to or from The Brando. Next, French Polynesia is Condé Nast Traveler's world's friendliest nation, and this shows at every level. If you run into the islands' President, Edouard Fritsch, and he'll treat you as a long-lost friend, and perhaps invite you to his official palace, built 1868 for the resident French General.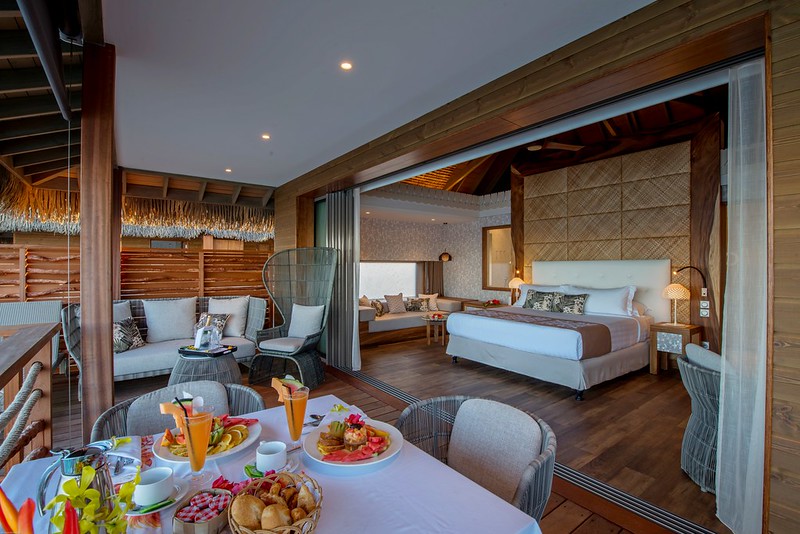 The islands' history is fascinating, but keep off nuclear tests and colonialisation. Instead, learn the lore of generations through dance. It's everywhere. One of the hotel's superb concierges, Teva Lai Mink, has been dancing since he was eight. In final practice for one of many dance competitions, he somehow manages to practise, at full-sweat intensity, 2.5 hours a day, weekends included (some routines are mixed, others are men only). There are elaborate dinner-dance shows at the Intercon's Te Tiara pool-side restaurant most Fridays.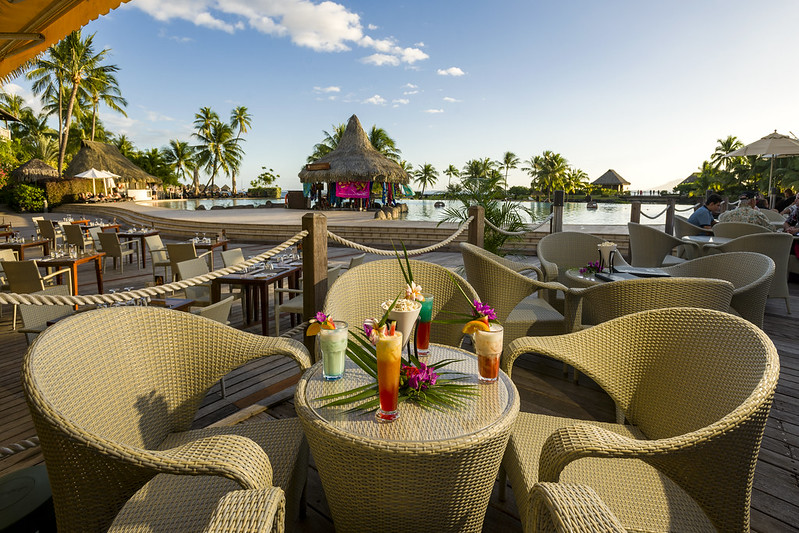 Of course there's a Tiki Bar, elaborate cocktails à la Trader Vic's. Three massive pools also have bars. Most sophisticated is Le Lotus, which accompanies Le Lotus restaurant where dishes like lightly-seared tuna with lobster raviolo are designed by French celeb chef Bruno Oger. Try a Tahitian rosé, from a French winemaker who came on holiday and threw away his return ticket. Sometime, don't miss that island staple, a Poke bowl, rice plus protein plus veg.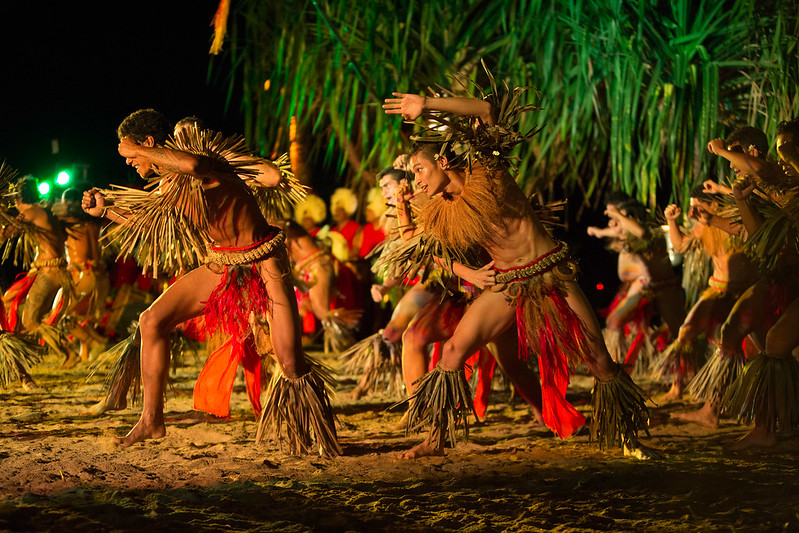 And after a good night's sleep, it's breakfast at Te Tiara. A kaleidoscope of local fruits can be followed by whatever, including rather-heavy coconut bread. On Sundays, by the way, reserve ahead. The restaurant fills up with about 500 locals attracted by the buffet and, yes, another and very raucous dance show. There's something about grinning grown men dressed in feathers or straw, with at least one limb completely personalised with spectacular tattoos (which started in French Polynesia), that attracts all ages – and when the noise finally subsides you might even return to work.
***
The Brando
Get one up on Galapagos and seriously study environment and evolution at The Brando, on 77-hectare Onetahi private island in French Polynesia's Tetiarøo atoll, owned by Marlon Brando's family. The all-in all-pool 47-key resort– includes not only Rothschild Champagne but half-day excursions. A Green Tour sounds mundane but it's fascinating. Sea Water becomes potable, compressors turn used glass to granules for road fill, and food waste to soil for the self-sufficient kitchen garden.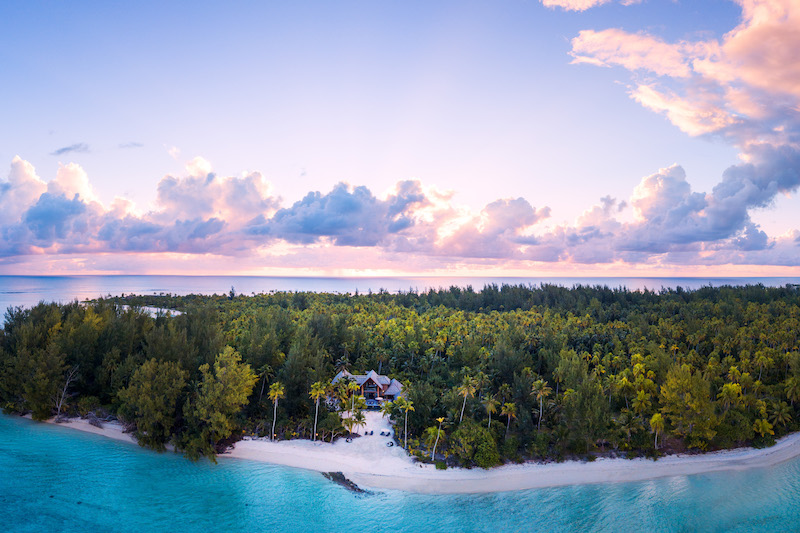 But it's the Ultimate Tour, to another, uninhabited, Brando island that's mind-boggling. One of the resort's eight full-time world-class scientists leads into dense undergrowth as red Boobys nesting in trees, observe with fascination. Other species, keen to get closer to the human visitors, swoop just overhead as if kamikaze dive bombers. Intruder palms sailed as coconuts, all the way from Asia. The candyfloss-like interiors of indigenous Pua Tea trees drop as softest ground cover (nocturnal coconut crabs burrow deep into treeroots, and, day-time, hermit crabs race to find bigger shells into which to plop.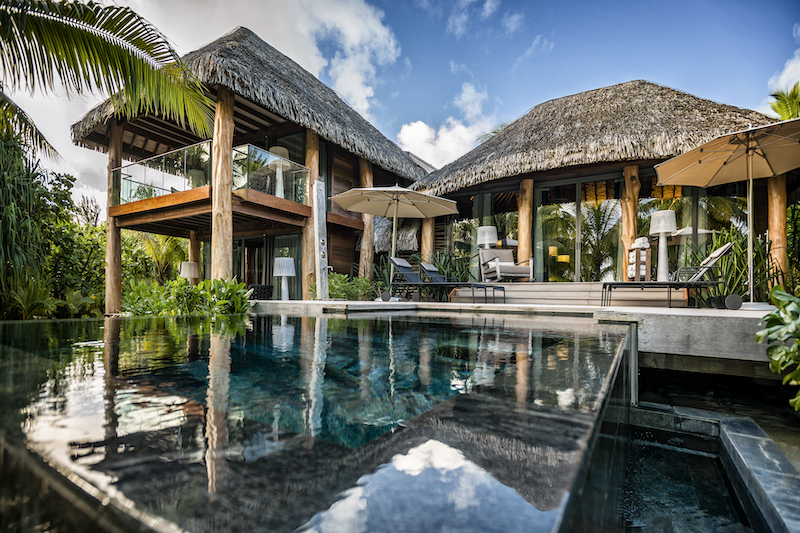 Now when it comes to the resort, it's another superlative. For a start, all pools are so obviously private you can swim 24/7 Vilebrequin-free. Wake up with the sun, cross the three-metre deck, down five multi-hued crystalline steps to one end of a nine-metre pool. A 360° surround of white sand, green undergrowth and turquoise lagoon (blue ocean beyond the white reef, 400 metres out).  All villas are identical apart from #103 (three bedroom): there's also a two-floor four-bedroom Residence with a superb kitchen and indoor and outdoor dining for eight.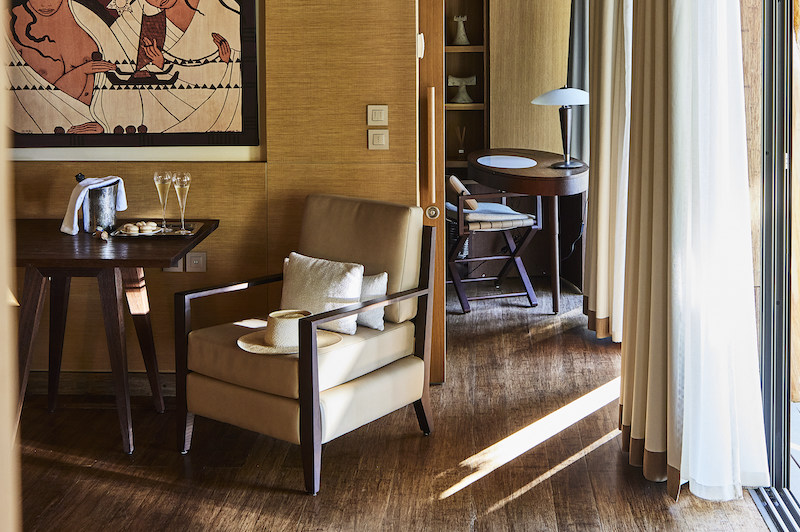 Number 203, approached along a 25m walkway, is about eight metres deep, its 25m width divided into three. Compressed bamboo floors and rattan-look or cream walls rise to an open-rush high-point ceiling. The left-hand space is media room and office. The central living room leads through French windows, to the deck. The right-hand space is sleeping, changing and abluting, with an outdoor soaking tub. Internet, by the way, is world-class, no password needed.
Food's a delight. Lunch off a tuna poke bowl. Dine in what looks like an upside white ship hull with floating white nets delightfully separating tables. Whenever you want, young French mixologists, who sport the tattoo bodywear that's ubiquitous among all-age with-it Polynesians, are wizards at flamboyant bespoke concoctions. Villa breakfast is a lifetime penultimate memory. Ask for yoghurt and you get a choice, both home-made. Papaya's exactly portioned, with mint topping, the flower-decorated omelette is a work of art and The Brando's croissants warrant Concours du Meilleur Croissant au Beurre AOC Charentes-Poitou recognition.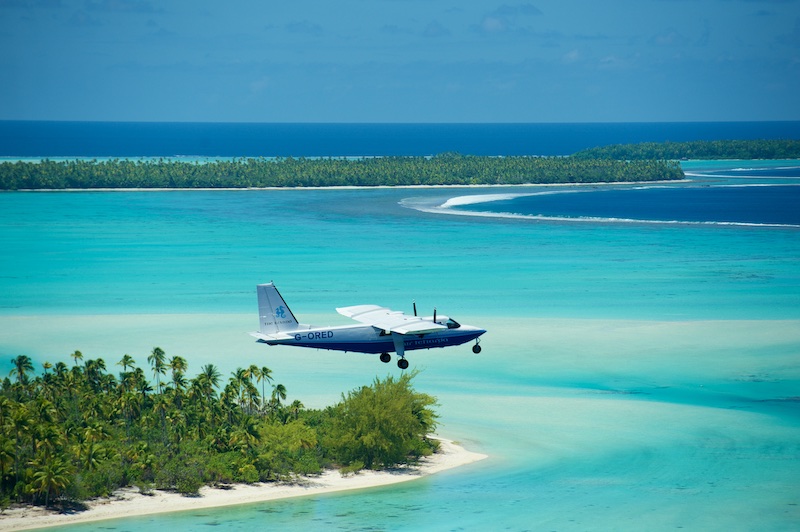 Final memory – as the Air Tetiarøo 19-seat Viking DHC6-300 taxied along the island's solar panel-flanked runway for its twice-daily 20-minute flight to Papeete's international airport – was a young German couple saying four nights was not nearly enough.
***
The Pendry Manhattan West
Wednesday lunchtime concerts are just one of the many Arts Brookfield entertainments at Manhattan West. For the coming week, for instance, there's also technicolour fantasy art by Claire Rosen and other contemporary mixed-media creatives, and it's all on the house, for those who live and work in Manhattan West, and visitors.
This is an area of New York that even many locals have yet to discover, and it shows the very best that US can offer. A total eight-acre development that incorporates Penn Station and runs west to the Hudson. Centrepiece is Magnolia Court, a delightful lush-grass garden, surrounded by one's favourite stores, Apple, Peloton (two, actually) and Whole Foods. As an outer circle, five high rises house offices and residences. A sixth building, rising only 22 floors, is The Pendry Manhattan West.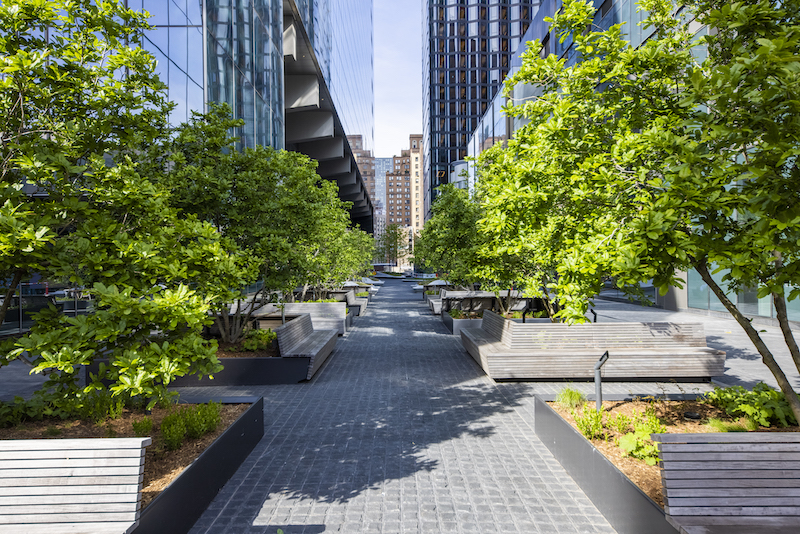 This year-old hotel is the finishing piece in the Manhattan West jigsaw. It just fits into place. Three minutes to Magnolia Court and those necessary stores, double that to Penn Station and its magnificently re-imagined Moynihan Train Hall concourse. Hudson Yards and Thomas Heatherwick's 150-foot Vessel adult-climbing frame is similarly close.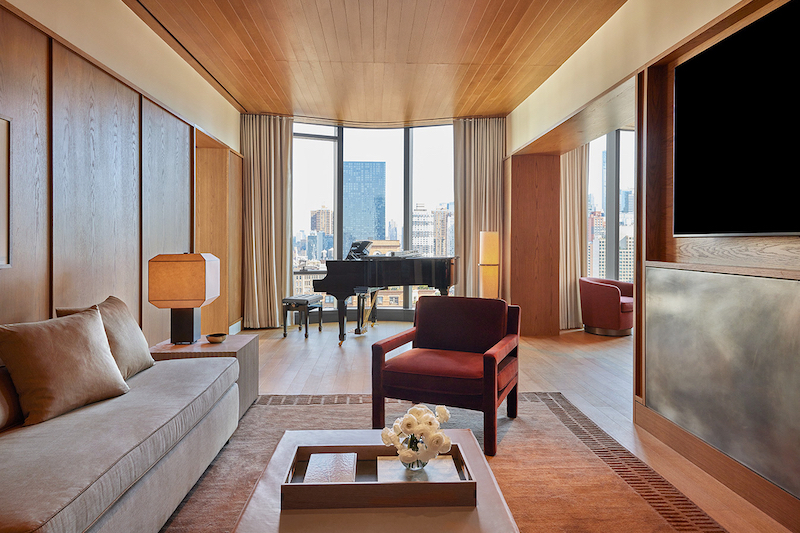 The 164-room is such a delight that some will not want to venture out. When New York's famously unfriendly weather gets angry, stay put. Those clever enough to book the two-bedroom Pendry Suite, # 2204, will certainly stay home, and even tinkle on its Essex by Steinway Baby Grand. There's a central-set two-way flame-look fire, and masses of natural wood speaks Scandinavia. A chess set and fully-equipped kitchen and dining for six invite entertaining. Well-chosen hardbacks, deliberately cluttered rather that designer-array, suggest brushing up on, say, Hockney and Kapoor.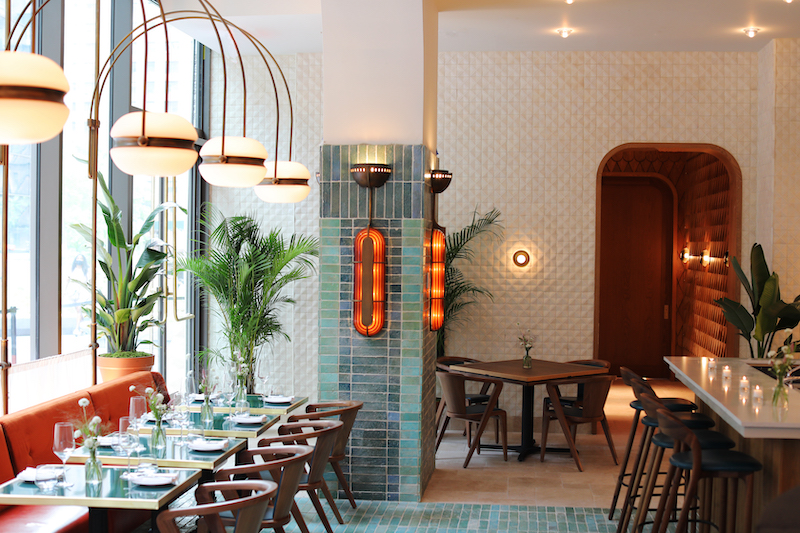 The ground-floor restaurant, Zou Zou's, is so freestanding that many don't realise it's hotel. AvroKO design, and an open kitchen say hey, this is up-to-date. Manager Brad squats to discusses dishes. Try Yemeni flatbread, Moroccan chicken, in a ceramic tajine dish. Benton Lane Pinot Willamette Valley 2017.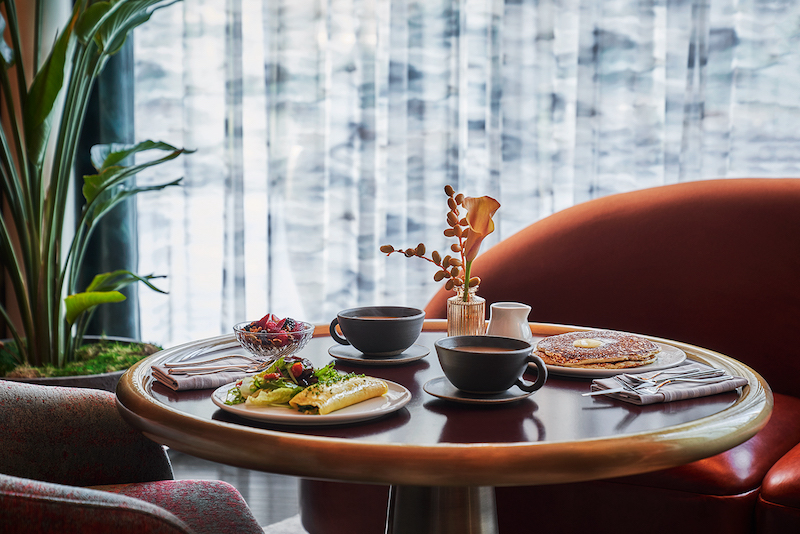 Definitely keep space for breakfast, in the fourth floor indoors-out Vista lounge. This is retro + Americana, steelcut oatmeal and whipped ricotta and strawberry French toast, Brooklyn bagel with Catsmo Gold smoked salmon, and Bluebottle coffee. The finishing touch, throughout, is Pendry service. Ask a young Brooklyner, John Chi, standing at the check-in desk, why he joined the hotel and his impromptu answer is quick as a flash. I have a passion for welcoming people, especially from afar, to the best this city has to offer.
***
The Peninsula
Studio 54 might be a name from the past but those rushing to Hong Kong now that restrictions are rapidly being removed can re-live history, at The Peninsula Hong Kong.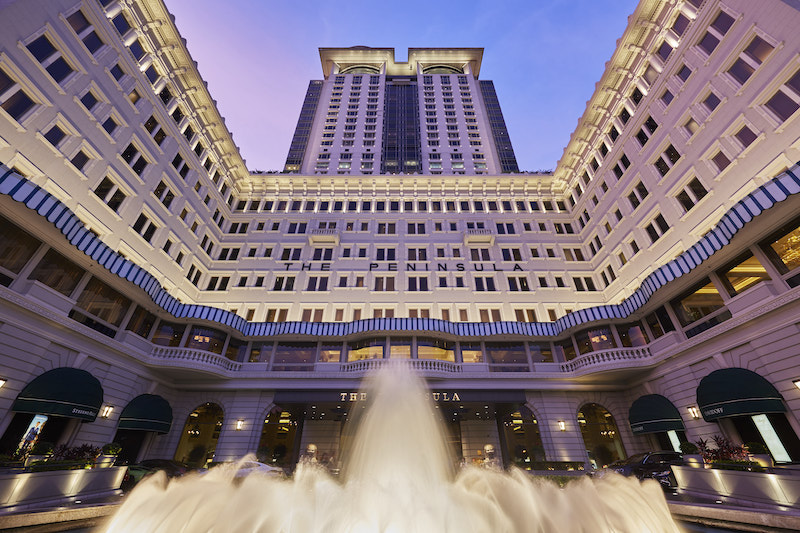 Hong Kong's three-day quarantine will, it is hoped, have gone before Rugby Sevens takes place, 4-6 November (and that coincides with one of the many financial gatherings as frustrated global CEOs can now, after over two years, meet their Asia counterparts in person).
Recover from Rugby rowdiness and conference cacophony with an evening at Felix, the Philippe Starck-designed avant garde restaurant atop the 28-floor tower of The Peninsula.  Its Nights at Studio 54 spectacular, which runs 6th October to 10th December, is Scottish writer-director Richard Crawford's modern take on the  original club. It was thanks to former Syracuse room-mates Steve Rubell and Ian Schrager that that club, on what had been CBS'  Theatre 54 soundstage in Manhattan, in only three years, 1977-1980, attracted every name in the celeb book.
This time around, the celebs are actors, part of Crawford's The Secret Theatre – he's Artistic Director of the Brooklyn Studio Lab in Williamsburg NY and he's made a serious name for introducing immersive theatre both in Hong Kong and Singapore.
At The Peninsula's 'Studio 54' perhaps start with an Old Figgy, Ezra Brooks 99 Bourbon with Fig Leaf Sake. Contine to memory-lane dining. Boston lobster Caesar, Beef steak with Delmonico gratin, Tiramisu with hazelnut-flavoured Frangelico, espresso icecream and chocolate sparkles. Intermittently, Secret Theatre performs.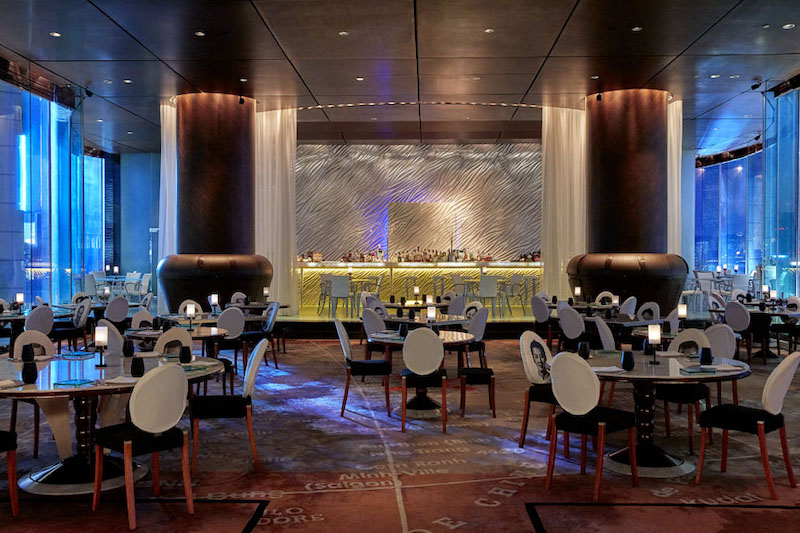 It's worth buying VIP tickets. As well as The Peninsula's own-label Champagne on arrival and freeflow during dinner, there are invitations to 'Freddy Mercury's birthday party' in an adjacent secret room.   It's also definitely worth staying over, ideally in one of the end suites, say any number -07, in the 300-room hotel. Complete the experience with in-room dining breakfast, crispest white linens set with Bernardaud and a swan-necked silver coffee pot, and a unique view across to Central.
***
Lucknam Park Hotel
Be among the first to wake up in Lucknam Park's early-18th century Chippenham Lodge, now renamed The Gate House. It opened one week ago (no mainstream media have found it yet). It's one side of a splendid Cotswolds-stone structure, a pair of two-floor towers with an ornate connecting bridge above, the whole straddling what was the half mile-long main driveway to a two-floor mansion built in about 1720 by a Wiltshire cloth manufacturer James Wallis.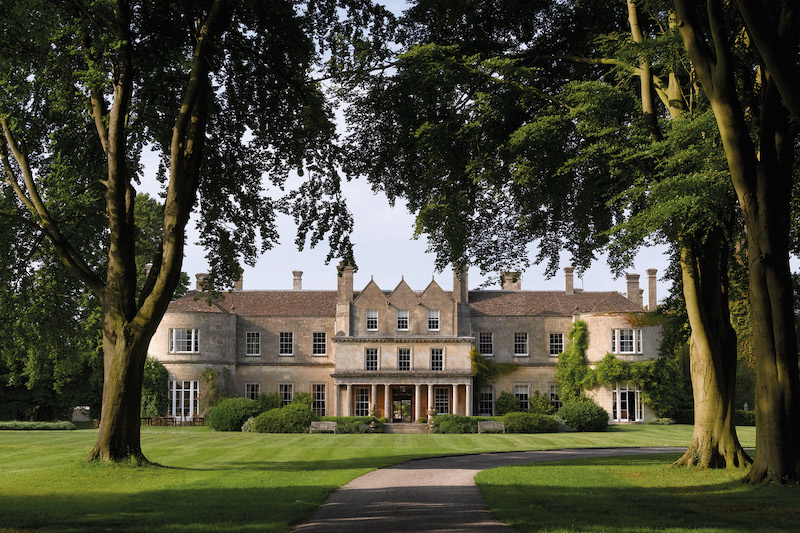 Today, arrive at the 500-acre estate and drive a mile between double-rows of mature beech and lime trees. To the right are horses from Lucknam's busy equestrian centre, to the left is pasture. Impressive modern bronze sculptures, including a whimsical Puck on a plinth, are dotted here and there. There are 44-total rooms and suites, including individual lodges. In the main house, I especially like Camellia Suite, 20 stairs from ground floor and directly above the front door, with stunning views (and ogle, or even dare to touch, the sumptuous full-height curtains in the four-poster bedroom).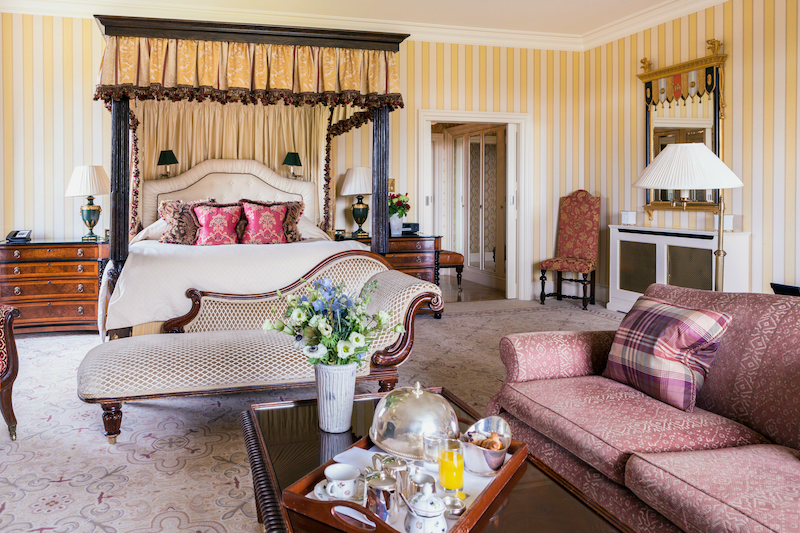 Staying in the Gate House you have similarly impressive fittings, including in its second bedroom, reached by 14 somewhat-challenging stairs from the ground floor. Down there, find the master bedroom, office and dining room, all looking out into the splendidly-private walled garden. There's also a superbly equipped kitchen.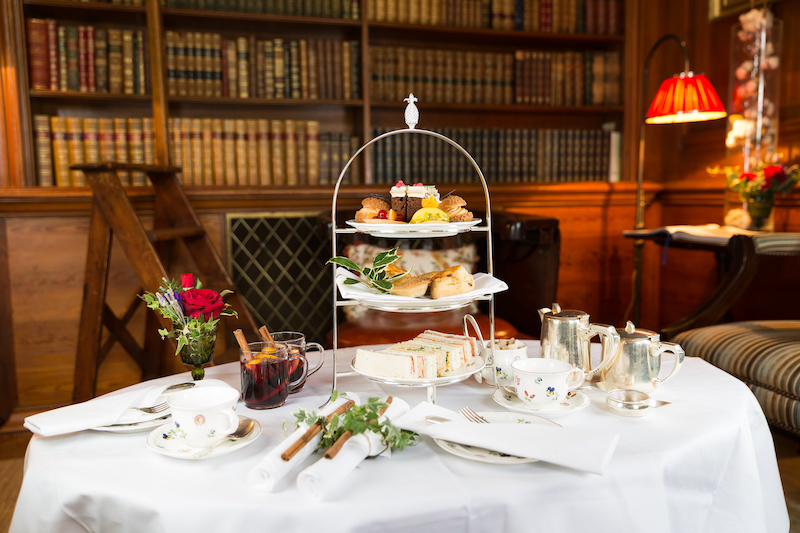 The hotel's Michelin-starred restaurant opens four nights a week, but for any-time eating, the Brasserie's light, bright and personal. Sip a local-distillation, Bath Gin G&T, and check the menu's watercolours of produce provenance. Yes, identify where superfood salad stuffs and Tim Johnson's ribeye came from. And, handy to save time for other things, the Brasserie's adjacent to the spa. Newly-arrived Spa Director Jessica Grant Slopin, a former ballet dancer, is introducing forest bathing and retreats – she, and hotel GM Sakis Dinas, fully understand the need to beautify what is becoming today's frantic lifestyle. No-one will turn a hair if your colourful 111skin pads are still under-eyes as you start a healthy trek on, say, to horse whispering. 
And in the morning, another water-colour map of England's West Country shows Clarence Court eggs, just south of the hotel, smoked salmon from Valley Smokehouse, southwest of Bath, and sourdough toast Hall Quality Bakers, northwest of the hotel. You just feel beautifully better for Lucknam.
***
The Carlyle, A Rosewood Hotel
The Carlyle, a Rosewood Hotel, has been New York's celeb hang-out since it opened in 1930 (built by Polish immigrant Moses Ginsberg, the 35-floor building, on Upper East Side at Madison and 76th, was named by his daughter Diana, a Cornell student who was fascinated by the writings of Scottish philosopher Thomas Carlyle, an influencer on all Victorian art forms). Allegedly among the first guests was 28-year old Richard Rodgers, of Rodgers & Hammerstein fame.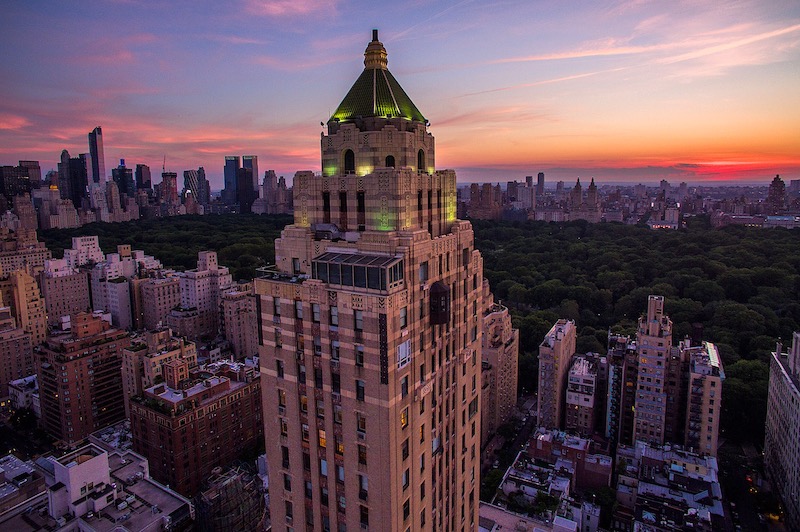 Today there are 190 hotel rooms and, on all floors, owned residences lived in by the very famous, and very rich, who may, or may not, be recognised in the shared elevators. There's no people-watching in the main lobby, presided over by a capable team standing in front of a wall of old-fashioned key lockers. No loitering here.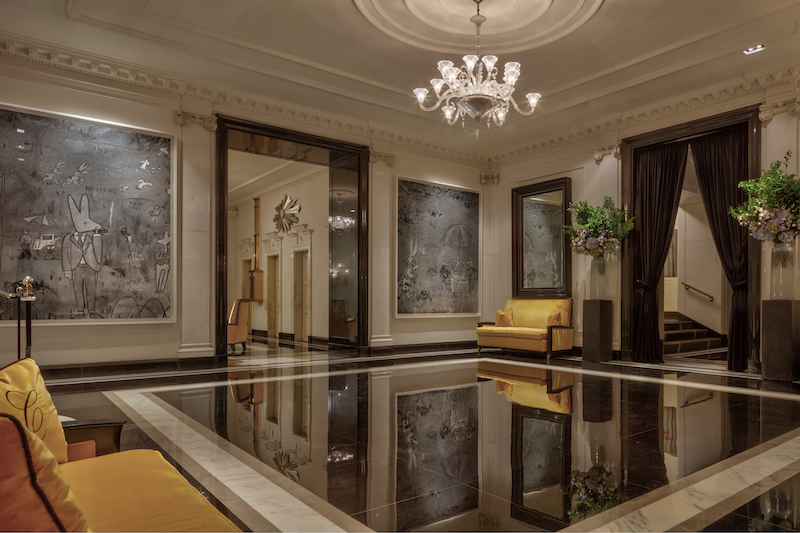 Suite 3101, designed by Tony Chi, does seem like a private apartment. Patterned carpets and tiled floors, and soft greens echo the colours of Central Park, two blocks west. The full working kitchen, and vases of off-white flowers, are at-home feeling. Lots of real art books complement a trompe l'oeil of taupe books on the white wall above the all-wite soaking tub.
Locals really frequent The Carlyle. Hair cut? Yves Durif has his scissors sharpened (he does hotel MD Marlene Poynder, by the way). Valmont therapists are on hand, for bodies and faces – and to buy your own supplies, there's a boutique down at 76th Street, near the Yves Delorme linen haven.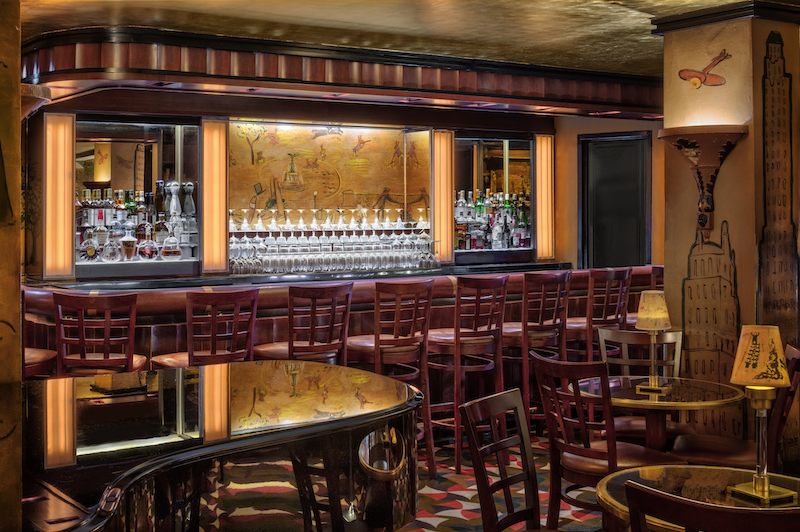 Bemelmans, a ground-floor bar, is home-from-home for local achievers. Nightly, they call in at the end of a working day. The low-ceiling space is a high-volume buzz of Gen-Zs, pairs of girls, groups of guys, and seasoned red-jacketted servers nipping around with yet more vodka martinis. First-timers might not even see the wall murals by Ludwig Bemelmans, author-illustrator of the Madeline series. At 9.30 pm, voice volume down, a live trio appears. There's real music, too, in Café Carlyle – current star is Montreux Jazz Festival pianist Peter Cincotti.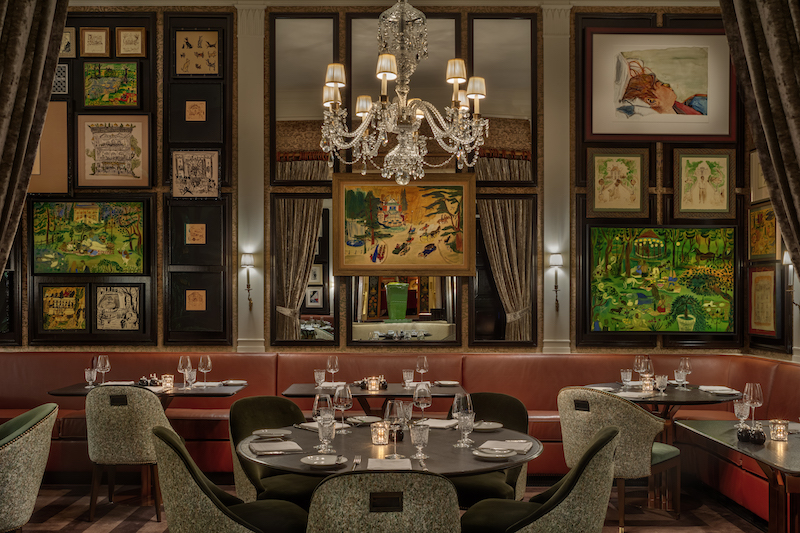 Reserve everywhere, including Dowling's, for philanthropist Robert W. Dowling who achieved the first-recorded swim around Manhattan. He who only just finished 12th grade had a Manhattan college, which operated until 2016, named in his honour. Dowling's dinner best-sellers include tuna tartare, and a New York striploin, with sauce au poivre for tradition's sake – they love doing tableside flourish service here.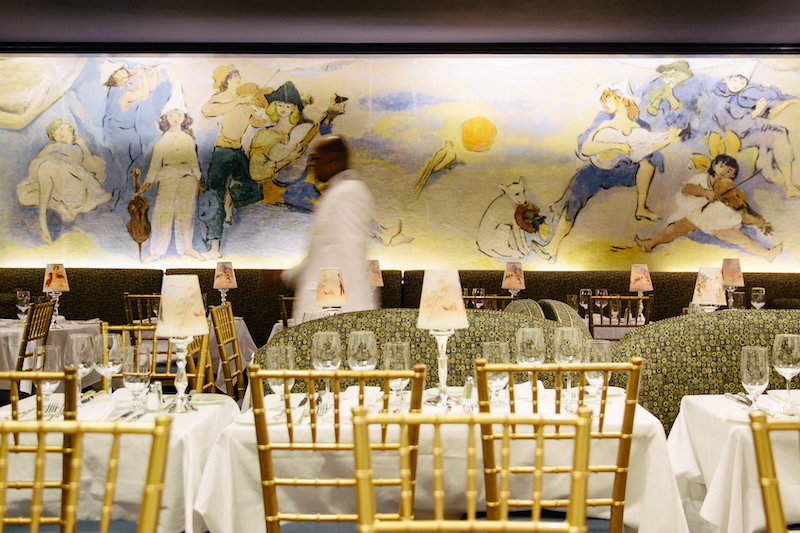 At breakfast, there's no doubt. Lox'n'bagels, Upper East Side by name, Carlyle by style. Just-baked bagels, served in horizontal halves. Cover with chef's cream cheese blended with dill and lemon, Faroes salmon home-smoked with applewood, pickled shallots, and tomatoes.
***
Four Seasons Hotel Bangkok
Four Seasons Hotel Bangkok at Chao Phraya River redefines the city's river myth. Looking out of the all-glass walls of even the smallest room – 50sq m – still gives the illusion of being part of the river scene. Less than a hundred metres away, ply continual convoys of barges, four end-to-end and pulled by up to five colourful side-by-side tugs. Crisscrossing these cumbersome processions are busy-as-anything small passenger vessels, prescribed routes linking both river banks.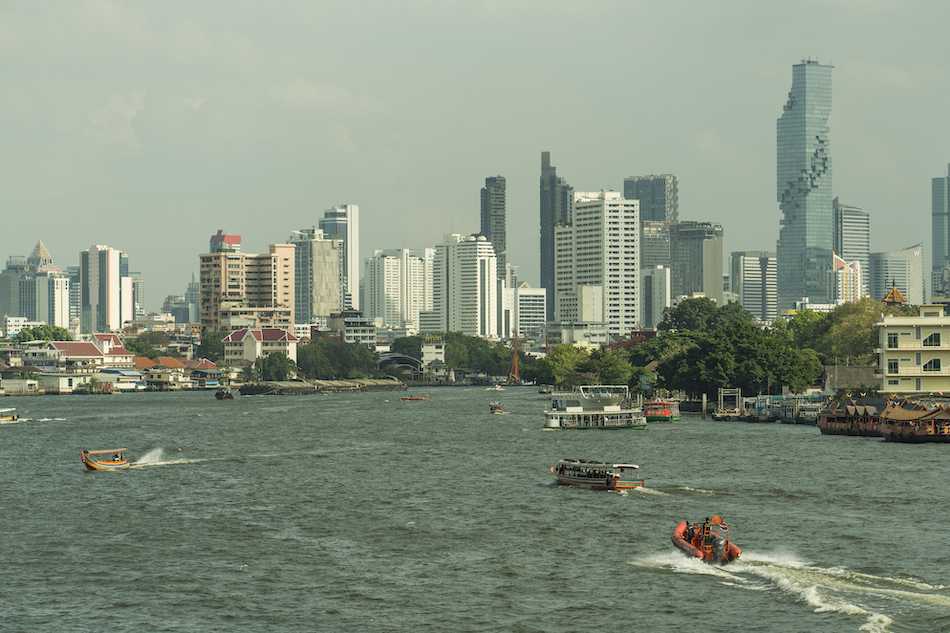 The 299-room hotel has the luxury of nine acres of meticulously arranged private land. Discreetly set behind manicured hedges at one end of the hotel's 200 metres of riverside are two golden temples. One bears presents for the land, the other has gifts, including cut fruit, for ancestors.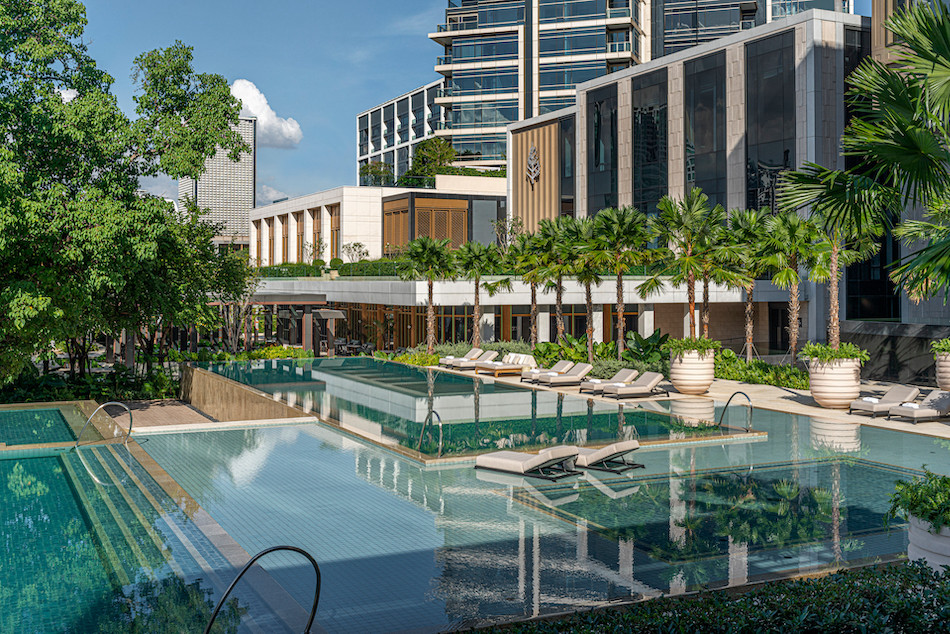 Looking out, say from 110sq m suite  #901 gives a pretty good view, too, of some of the estate's beautifully landscaped nine acres. There's space galore for a 400sq m art gallery, a white infinity that hosts, in partnership with Bangkok's MOMA, changing exhibitions of contemporary Thai art. There are eye-opening pieces hanging permanently around the hotel itself (main designer is current Belgian heart-throb Jean-Michel Gathy, he of One&Only Reethi Rah fame – here in Bangkok, he says, he has created some dramatic areas, some intimate, all charismatic and instagrammable).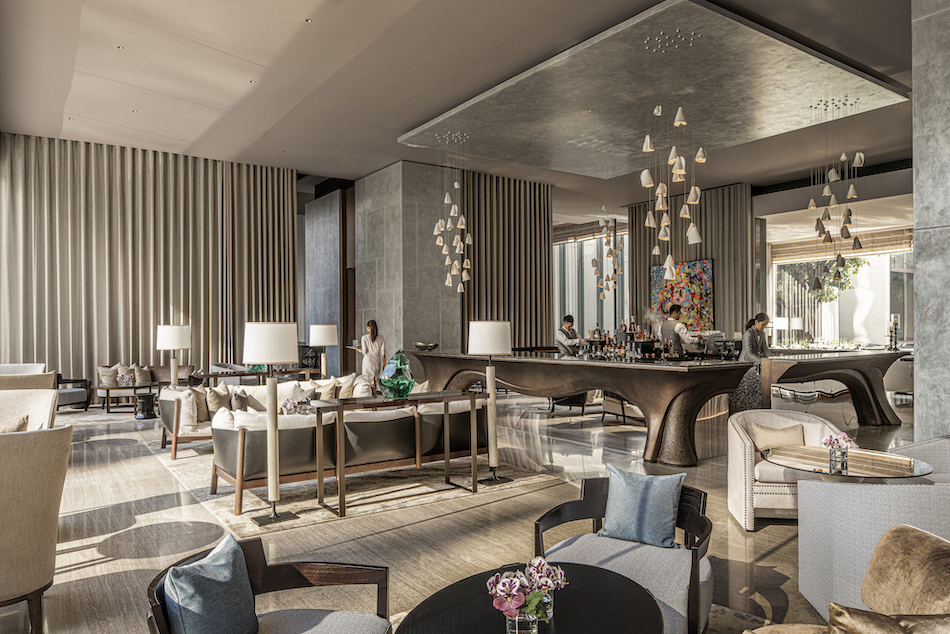 Another top-list designer, AvroKO, handled eatertainment areas. Social Club is an indoor-outdoor bar with many bijou areas, all evoking Buenos Aires of yore. Conceived by the hotel's creative GM, Lubosh Barta, it's run not by a gaucho but by a Berlin mixology magician, Philip Bischoff. His tasting classes, free to hotel guests, should be on everyone's list. Drink, and learn about, Evita. Hand of God, another of the flight's cocktails, highlights Diego Maradona's 1996 goal.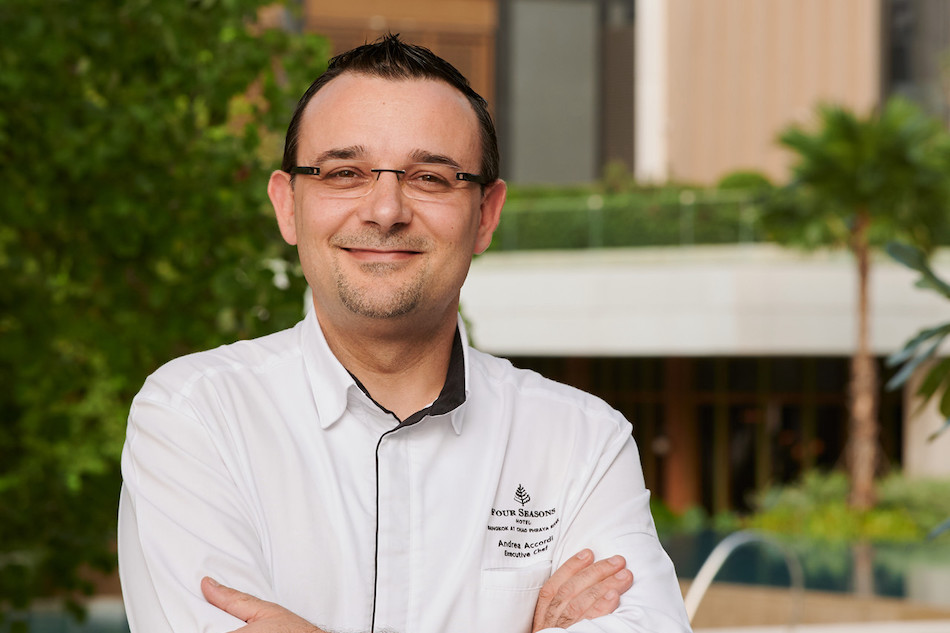 It's Andrea Accordi's definitive tastes at RIVA del Fiume - Crudi di Mare, Tortellini panna prosciutto e Pisetti, and chocolate-fed wagyu for Manza Mayura. Tirimisu and limoncello follow. Pair it all with a good Italian, perhaps Piettradolce 2020 Etna Rosso Pinot Noir.
And in the morning wake up to the river view. Breakfast is all any foodie could dream about. In the dedicated buffet room, chefs are ready to cook Chinese, Thai or Western, to order. Andrea Accordi, who breakfasts solely on a single espresso, might personally work the pizza oven, preparing a Pizza-egg – his own invention, a small pizza topped with back bacon and a poached egg.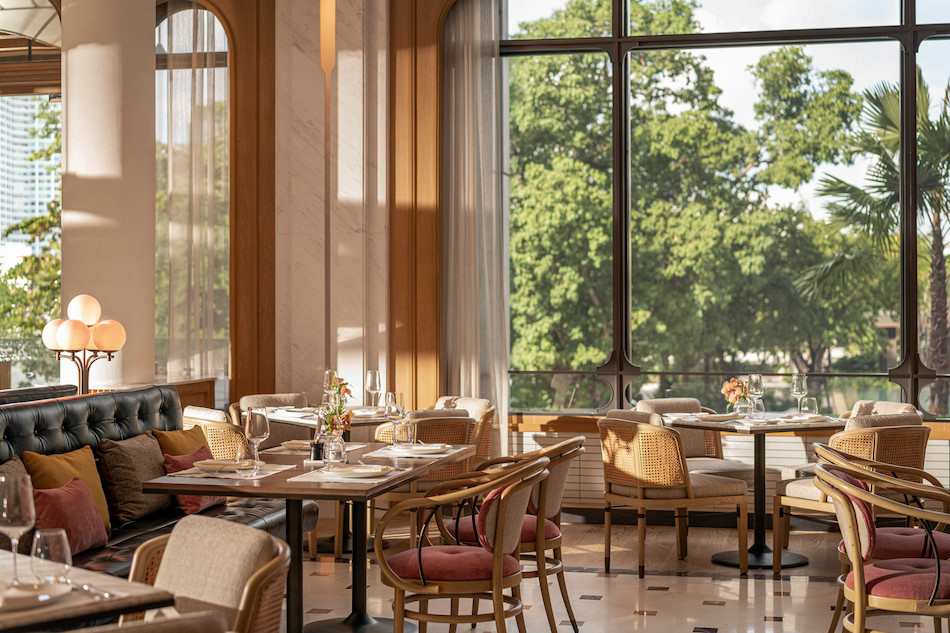 It could then be time to hit the area, revitalised thanks to individual entrepreneurs opening boutique riverside cafés and bars. There's also been gigantic investment in the super-uper ICON Siam retail mall, reached by ten-minute river shuttle from Four Seasons Hotel Bangkok at Chao Phraya River. The centre of style
***
Virgin Hotels Chicago
A guided tour on Chicago River affords, in 90 minutes, a detailed tour of arguably the finest display of historic skyscrapers, late 19th century on. Led by a Chicago Architectural Center professional, the city's top-50 buildings seem to share amazing stories. Take the Willis Tower, designed by one of the Chicago School. It was, at 110 floors, the world's tallest building from 1974 until 1998 (it's still often called the Sears Tower as it was erected by Sears Roebuck, who pioneered mail order retailing).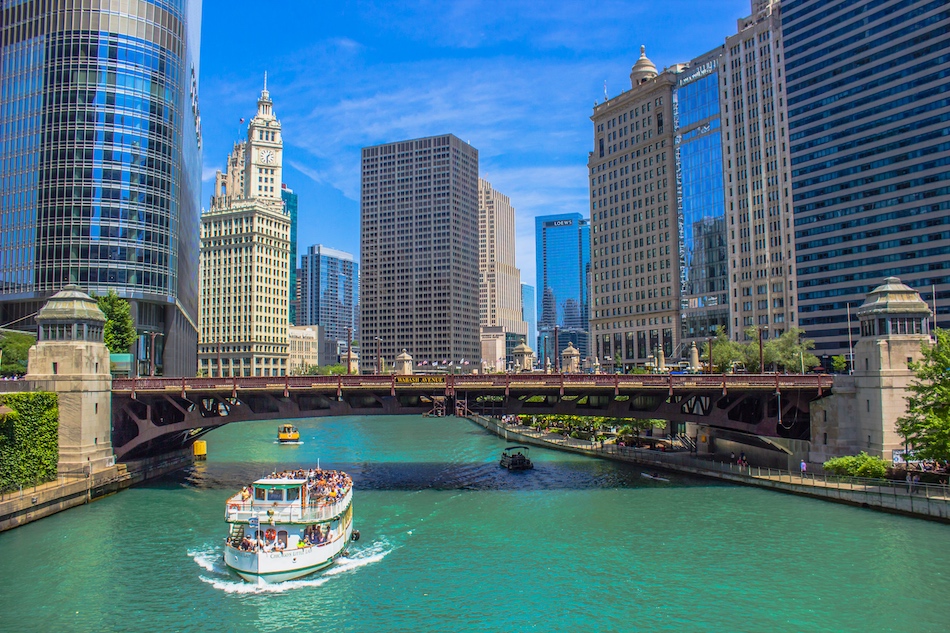 Virgin Hotels Chicago, owned by Richard Branson's group, is in the 1927-vintage, 27-floor Old Dearborn Bank Building on North Wabash, 15 minutes' walk from the Navy Pier tours terminal. 
GM of the 250-room hotel is Josh Schaeffer, an experience pro with years of planning and organising unique guest occasions. This hints what it's going to be like staying Virgin. It may be classic outside but inside it's today's fun and zany world.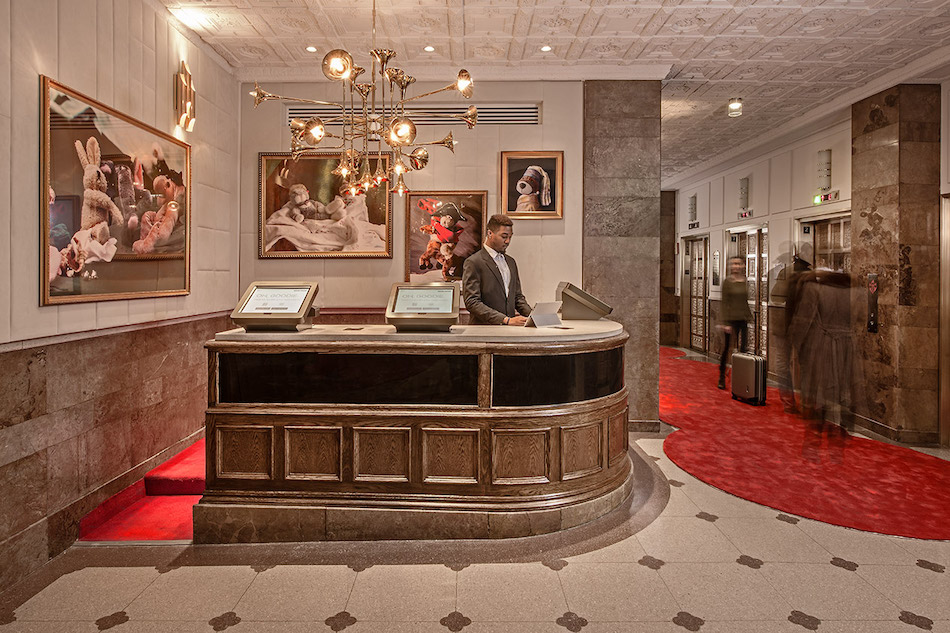 Instead of usual hotel Reception there's a Cigar Bar – no, no Cohibas allowed.  Self-checkin is encouraged but since this space seems to be gathering spot for the Virgin Hotels team plenty of help is available, sometimes from Rapper types sporting an enviable display of gold jewellery. A full-size white Porcelain Watch Dog sits on the red-carpetted stairs: clones stand guard, on corridors' red carpet, outside pet-friendly chambers.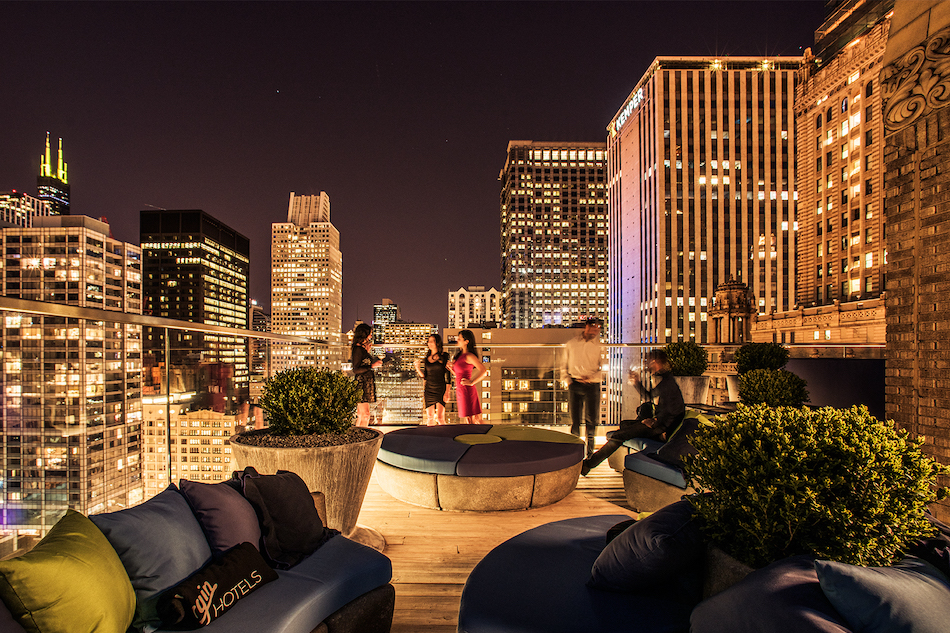 Virgin Hotels' bedrooms are 'Chambers', and dressing areas can be separated from the rest of the space.  Bedrooms are floors four to 24. Top-floor Chamber #2402, 80sq m, has big-window views over raised tracks of The Loop, taking public transport around the immediate theatre-land – the hilarious comedy Drunk Shakespeare's across the street. Love the display of all-taupe books on the white wall by the white freestanding bathtub. They are photos, but there are plenty of real books down in the versatile Commons Club library.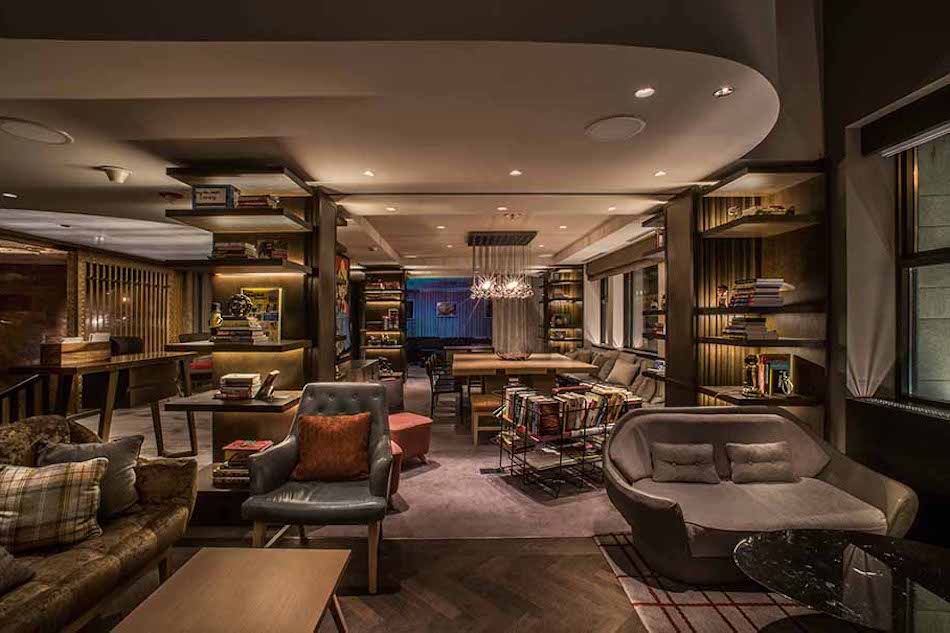 Welcome to Cerise, 26th floor inside-out eatertainment with views and more: Fridays, for instance, have live gigs at 5 and 9 p.m. Welcome to the Windy City – pair a Chicago Outfit, tequila, peach and lemon, with a grilled flat-iron accessorised with chimichurri and bordelaise sauces. Cleverly, the same menu's available ground floor at Miss Ruby's Diner. And if you like it enough, guess what, Miss Ruby offers the same at breakfast, with additions. Try her vanilla bean yoghurt parfait and the knock-it-back flavourful sourdough. Live dangerously? Add a $6 shot of, say, Bailey's to the $4 unlimited-refills mug of coffee.
***
Bvlgari Hôtel Paris
For a superlative duet of French and Italian style think Bvlgari Hotel Paris. It's the hub of style, at the junction of avenue George V and Pierre 1er de Serbie, directly opposite Four Seasons George V. What was once an office block has been completely re-done, with Antonio Citterio Patricia Viel interiors.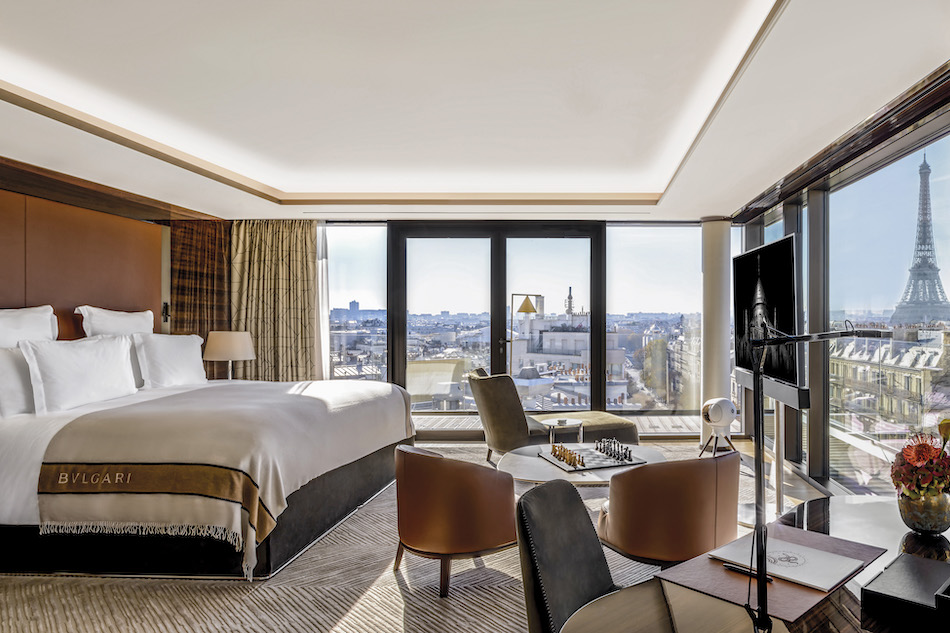 You're bowled over by wow, even before arriving at the 76-room beauty. A pair of smiling sartorialists waits at the exact Eurostar door. Twenty minutes later, inside Bvlgari's door, Monica Vitti - a lifesize portrait, admittedly - smiles. Skirt around the ground floor, anti-clockwise, through the lobby lounge, to a bijou terrace, oh so dolce vita. Thanks to standing heaters, dine here, year-round. All-round, glorious low-hung trees are highlighted in Broadway style.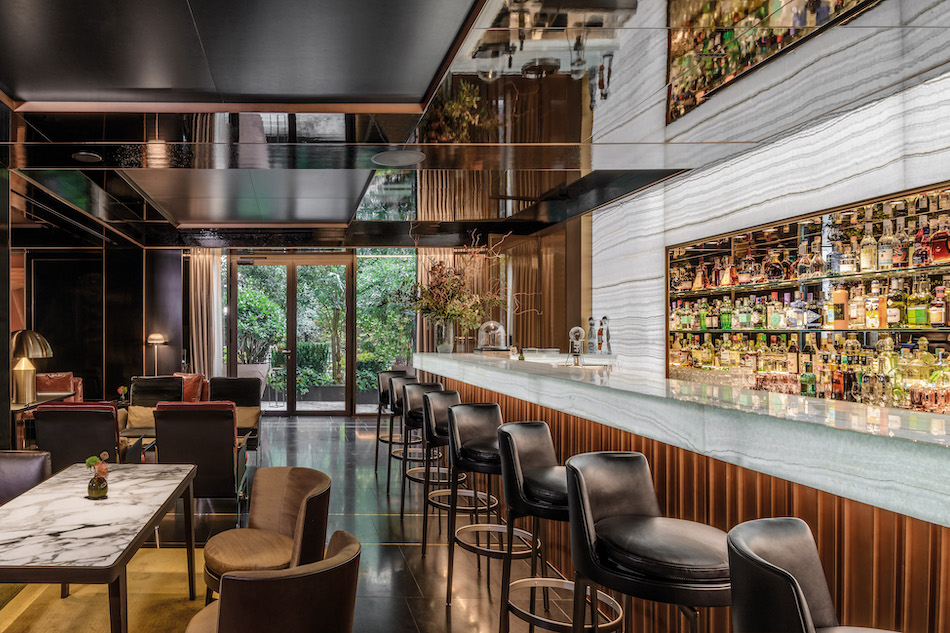 Food is designed by Bvlgari's Michelin-starred partner, Nico Romito, and gorgeous – follow French-Italian MD Sylvain Ercoli and share an antipasti, two servings, each three different tantalizing tastes. Then go veal Milanaise, no flattened slab but light-as-air high shape. For Rosé, Ercoli suggests a 2021 Pétale de Rose from Régine Sumeire, a friend from his St-Tropez days.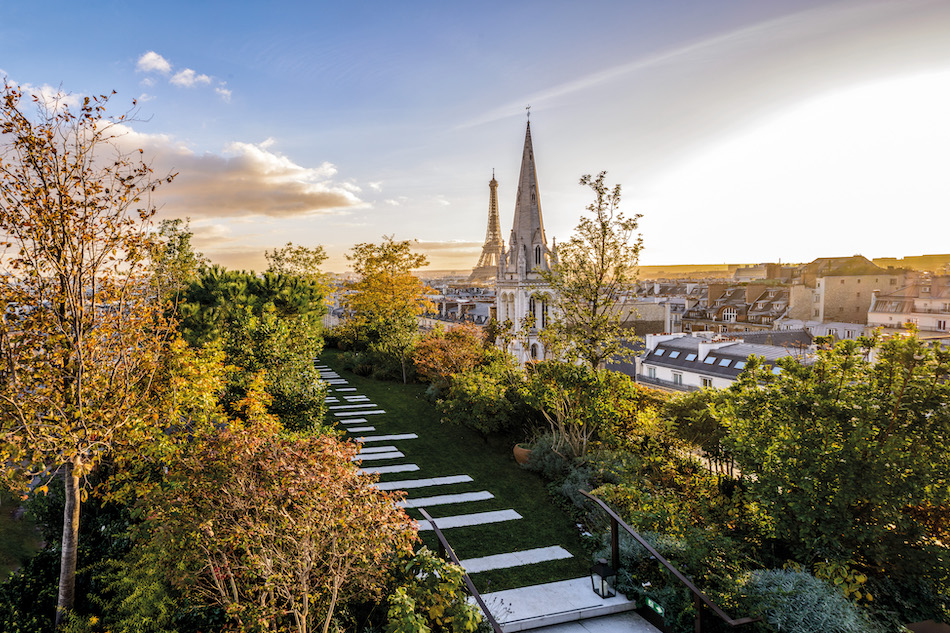 Everything is minutely considered. There's super-spacious fitness, a 23-metre pool, five spa products, including Belle Fontaine.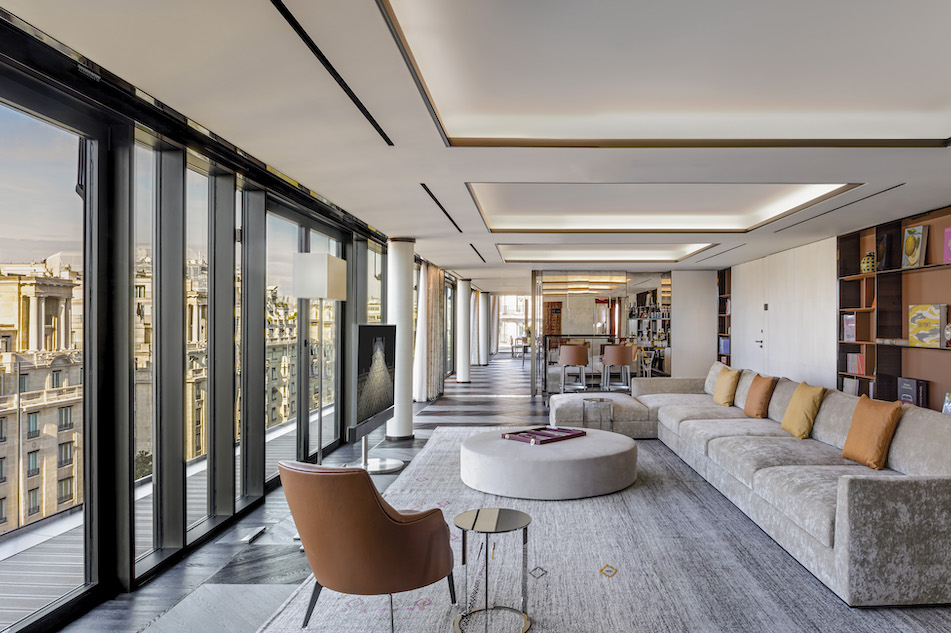 This is a 76-room temple of superlatives. The 1,000 sq m Penthouse, #901, has a gym, a piano (French summit-tech Alpange), a flame-look fire, and dining for ten. Its two bedrooms have, as in all the rooms, a bathroom decoration, a metre-high Lalique-look serpent, a signature shape of Bulgari, the jeweller. Climb the Penthouse's 20 silk-smooth pale wood stairs to the rooftop, your private arboretum, tennis-court size. Propose up there, in its gazebo. Or simply order breakfast.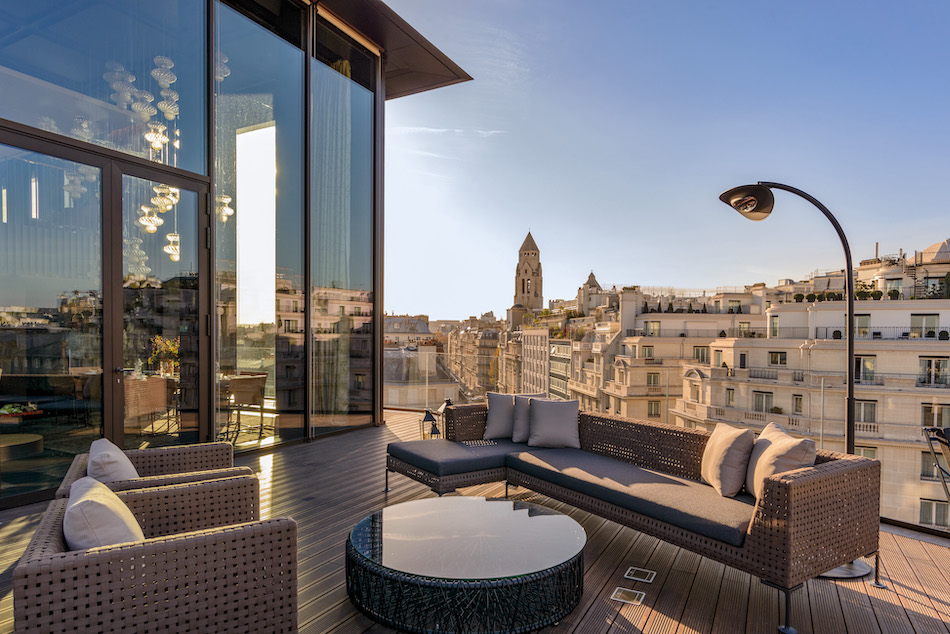 It's the same, up there or down in, or outside, the restaurant. Go Corbeille francaise - or Corbeille italienne. Six different breads lie in military order on a hotel-logo wood tray, plus a trio of Niko Romito jams – and Beurre Echiré butter, Ferme de Peupliers yoghurt, and Illy coffee. Bvlgari style, French-Italian.
***
Fairmont Century Plaza
It's always a plus if there's an Apple store within five minutes' walk from any hotel and you get that from Fairmont Century Plaza. The Westfield Mall also has, as befits the Avenue of Stars, every must-have 2022 brand from Neiman Marcus to Peloton, with microbiotic juice joints and beautification bars galore.
But stay in the hotel for one of the most right-for-today treatments on the market. Dr Rita Rakus is Knightsbridge-based guru to UK-based fashionistas. Forget all those other facials, the ones that slaver your face with one thick cream after another. Dr Rita's US hang-out, here in the hotel, uses hydra-therapy, high-pressure machines that could feel, to be honest, like a lilliputian road digger followed by a roller. Now, believe it or not, the actual feel is sybaritically and sensually super. Just right for the Red Carpet.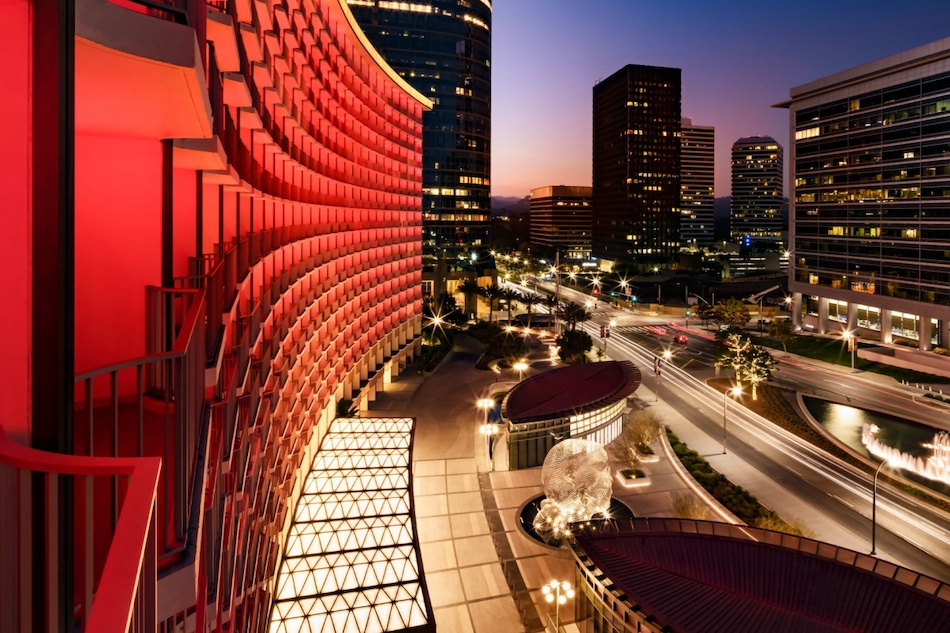 This is, mind you, the legendary Century Plaza, a 15-floor crescent-shaped building designed by architect Minoru Yamasaki in 1966 (seven years later he completed the World Trade Center). After dallying with Westin and Hyatt the hotel is now, after a reputed $2.8bn spend, a Fairmont modern trophy – bedrooms on floors up to 12, with 63 owned apartments above, Yabu Pushelberg design. All 400 rooms have full-height French windows opening to crescent-shaped balconies (choose looking over Avenue of the Stars to the Beverly Hills core, and the Hollywood hills).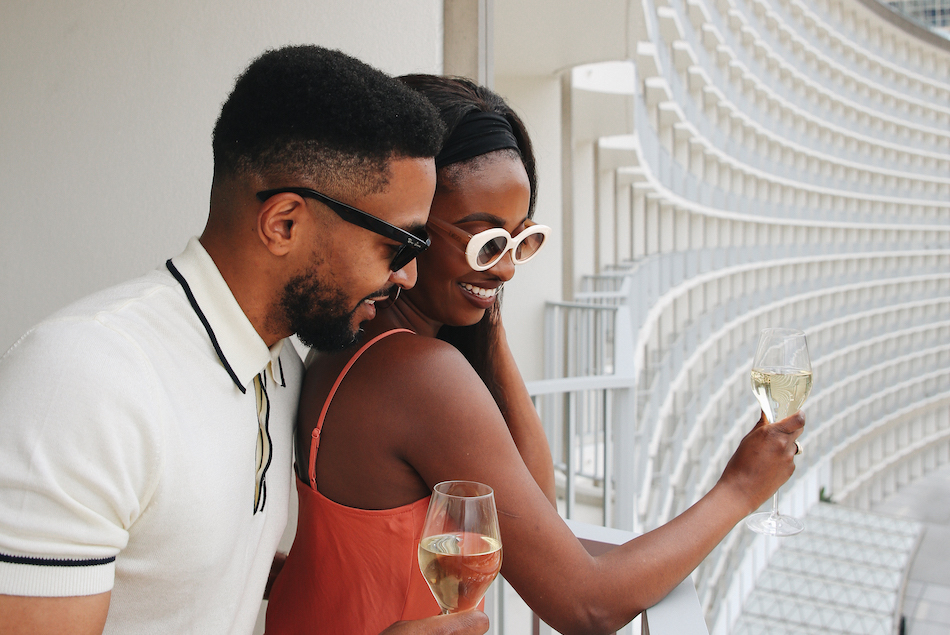 Head to the outstanding 24/7 wellness, with latest Technogym and Peloton. Head to the open-plan lobby bar, the meet-me-at venue, a kaleidoscopic display of head-high drinks bottles and people watching. After a couple of extra-long Beefeaters or Maker's Marks, it's about 80 long strides to Lumière, an EDG-designed French brasserie, with authentic tiled floor, standing palms, uncluttered wood tables, charcuterie and patisserie walk-in areas. Feel Montmartre with, say, a Fruits de Mer tower with a glass of La Fête du Rosé Côtes de Provence St-Tropez.
There's private dining for 12, around a table imported from Paris, and the whole space flows into a gorgeous garden. There's going to be another garden outside the Presidents Club, when it opens, other end of the ground floor, this September. The only challenge is recognizing all the celebs among the locals who, as in Swinging Sixties days, consider Century Plaza their private club.
***
Hotel De l'Europe Amsterdam
Where else can you dine with David Hockney, Annie Leibovitz and their ilk? Actually David Hockney and Annie Leibovitz are two of the limited-edition TASCHEN Bigger Books that would break a foot if they fell off the Marc Newsom stands included in the US$5,500 cover price. The central display table in the centre of one of Europe's all-time great bookstores, the ultra-modern Mendo, becomes private dining, for up to ten.  Mendo, which has a street entrance, is permanently based in Hotel De l'Europe, which offers Michelin-starred dining. Any time, browse and lounge at Mendo (the often-there owner, a heart-throb Rwandan investment banker, is of the dispense-bubbly to encourage sales school of thought).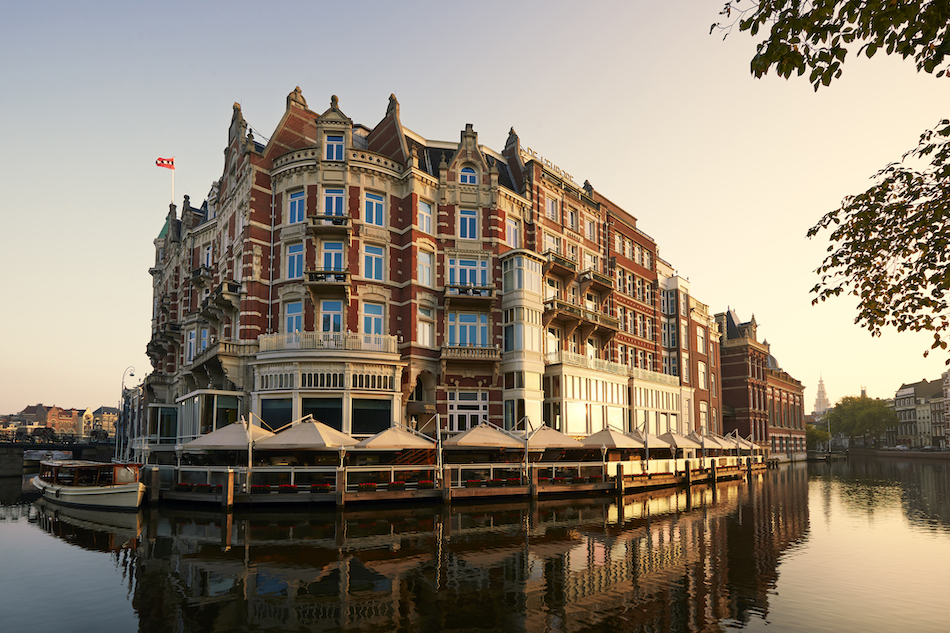 Heineken-owned Hotel De l'Europe Amsterdam, by the way, might be 1896 heritage but boy is it 2022. The airy lobby used to be dominated by three mega-crystal chandeliers. They're still there but top billing now goes to the walls' priceless display of Dutch Old Masters from the private collection amassed by the late Freddy Heineken – a back-lit metallic outline silhouette's tucked in between the oils. An all-wall window at the end looks over the Amstel. Turn left to a new Champagne library bar. Turn right, to Marie brasserie, named for Freddy's grandmother. Eat and drink inside or, down 14 wood stairs, outside, on a floating year-round terrace.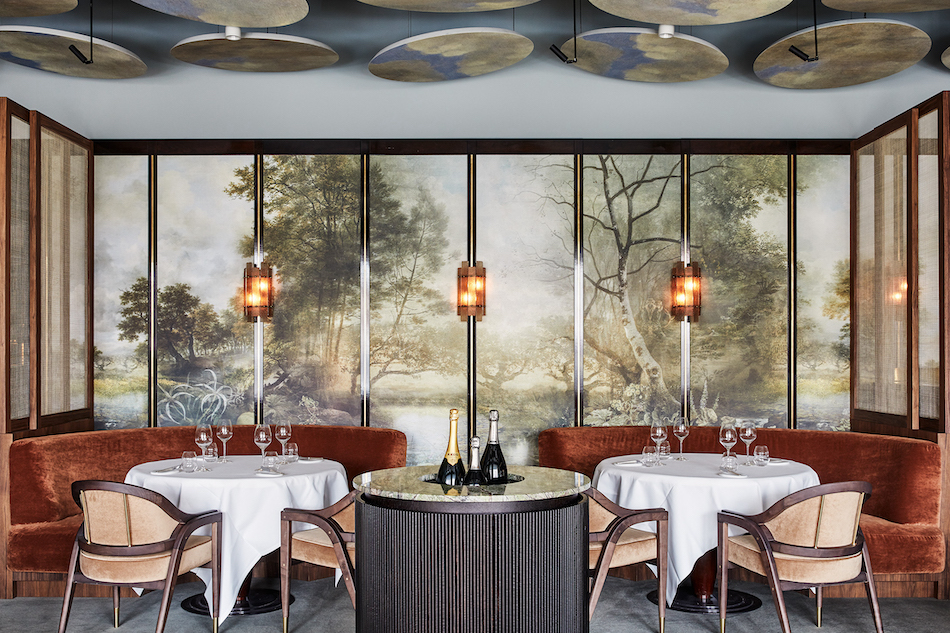 For mostly-plant-based modern cuisine, head to Michelin-starred Flore restaurant (Bas van Kranen's best-selling vegetables of the day has at least 25 varieties). Its carpet evolves from grey by the entrance to soft mushroom by the window over the water. Its walls are a woodland view that continues around the room.  Look up to a ceiling-suspended platelet of clouds.  Or choose ravioli specials, in Graziella. Taste gins in Freddy's Bar. Girls only, meet local A-list fashionistas at a unique Salome cigar club. Have a facial – and more. Cruise canals in Hilda, coincidentally also 1896-vintage. Charge whatever, even the Hockney couriered wherever, to your bill.
Oh yes, bedrooms. There are 97 rooms, all showing how local designers Nicemakers have chosen soft colours, obviously-expensive sculpted fabrics, and some wall panels of pale wood marquetry. Anything else new at Hotel De l'Europe Amsterdam? Well, the recently appointed GM Robert-Jan Woltering, also known as the Flying Dutchman, has just landed, back home from a long stint in Mexico.
***
Rosewood Vienna
Being driven through the historic centre of Vienna is a memorable arrival to any stay, and that's just one of dozens of experiences possible at Rosewood Vienna. 
The 99-key hotel soft-opened last Monday, 1st August, and already it's talk of the town. This is heritage, a conversion of five adjacent historic buildings on Petersplatz dating back to the 15th century. In 1815 the quintet became Erste österreichische Spar-Casse, which evolved into the headquarters for Erste Bank. The hotel is owned by Erste Group Bank, which is making its first investment in the hotel space.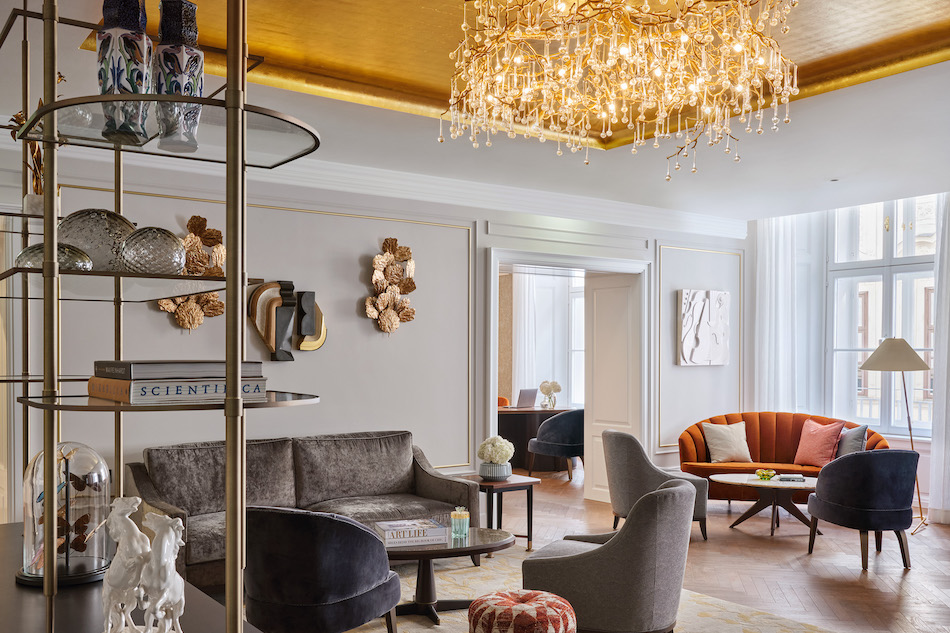 Group Chairman Stefan Dörfler, a mathematician by training, has obviously worked out it is well worth spending on style.  Take the real gold leaf ceiling overhead as you check in upstairs, on the first floor. Move to the next room, to a 16-seat afternoon tea parlour, Aurelie, its walls a complete fantasia of flora and fauna, hand-painted, in situ, by local artist Marie Hartig. She says she was inspired by Vienna's Palmenhaus.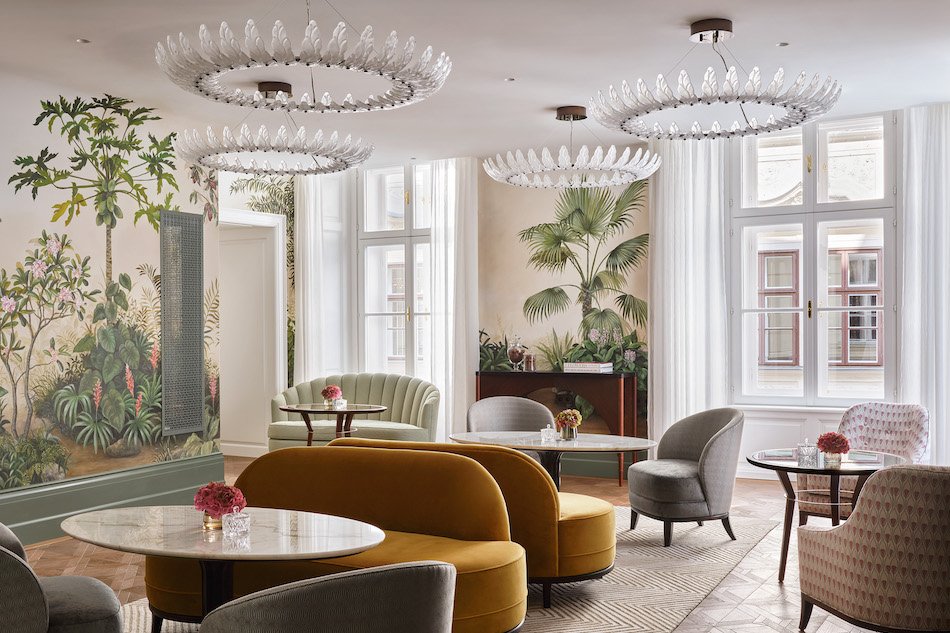 Go further up, to the sixth-floor rooftop indoor-outdoor Neue Hoheit Brasserie. Wienerschnitzel and Ottakringer, say, or a chilled crystal coupe of Louis Roederer.
To heritage add zany-today. Who would think, bearing in mind Austria's long winters, it was worth investing in a modern eyrie, mostly outdoors? Erste Group did.  So the rooftop now looks up, to a brand-new outside terrace above.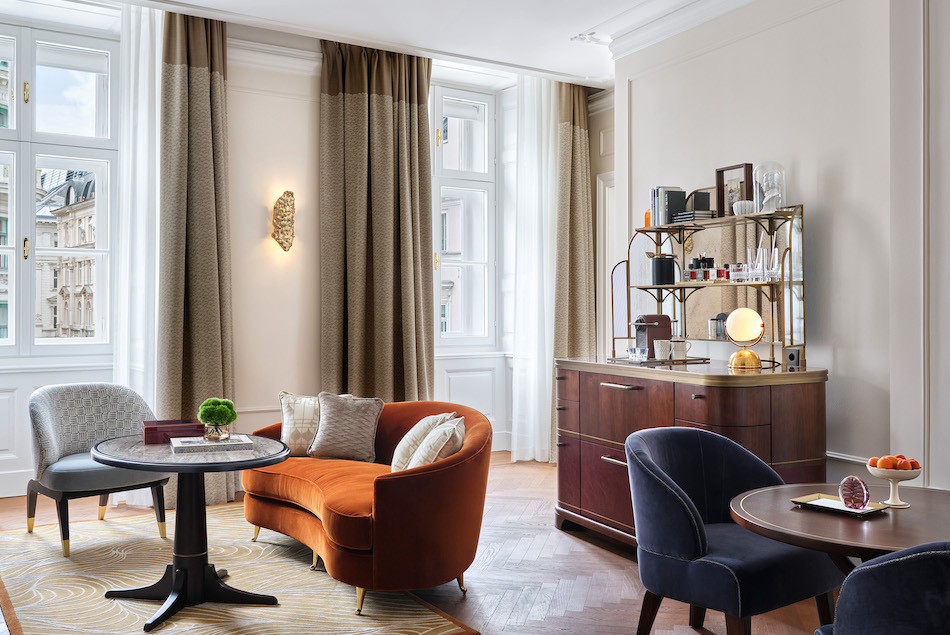 Of course this place has typical Rosewood style, interpreted by stylish MD Alexander Lahmer.  Bedroom sizes range from 31sq m up to the 91q m one-bedroom Suite 567, the number of one of the five original houses. Designer Alexander Waterworth seems to have been well versed in Rosewood nuance. Throughout, no sock-it-to-you colours here. Blends of hues, backgrounds for, say, slippers covered in the same fabrics as drapes. Each room has about a dozen thoughtfully-chosen hardbacks. At night turndown, there's a new informa-book by a local artisan of the calibre of seventh-generation bespoke shoemaker Markus Scheer.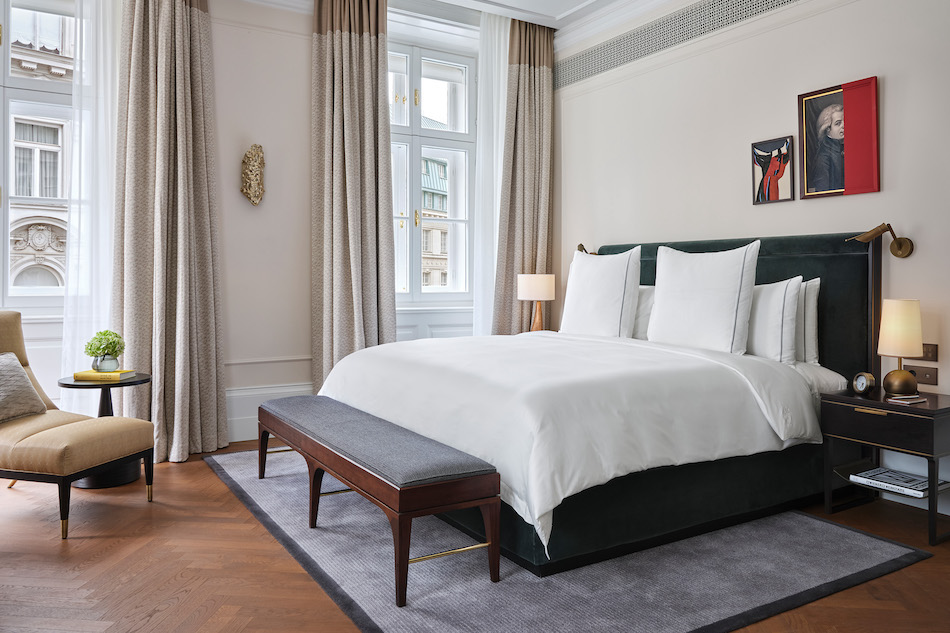 Visit this craftsman at Scheer Masschuhe, three minutes' walk from the hotel. You can window-shop, and buy, whatever, in the immediate vicinity. Louis Vuitton is a neighbour and every brand under the luxury sun is within reach And for more of the experiences that new luxury demands, the Spanish Riding School and, also, the Opera House are under ten minutes, by car – or by horse-drawn carriage.
***
Four Seasons Tented Camp Golden Triangle
It's rescued elephants and Thai massages, temples and space at Four Seasons Tented Camp Golden Triangle, in Northern Thailand.   It's also non-stop experience with selfie overload thrown in.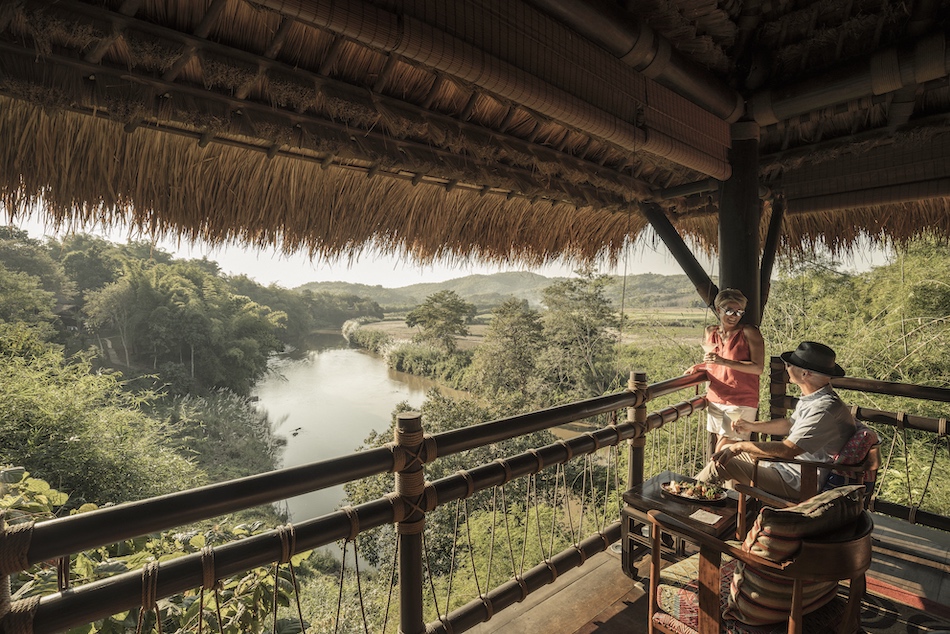 Fly into Chiang Rai and after a 90-minute drive, and Mekong immigration at Hirannakhorn Pier, climb into a waiting long-tail boat. 20 minutes later, disembark at the camp, with 'bedrooms' complementing the bamboo terrain as if artistically posed – overall designer's Bill Bensley. As well as a 232sq m two-bedroom Lodge, with pool, there are 15 tents, identical, 54sq m, ensuite and good WiFi but no televisions.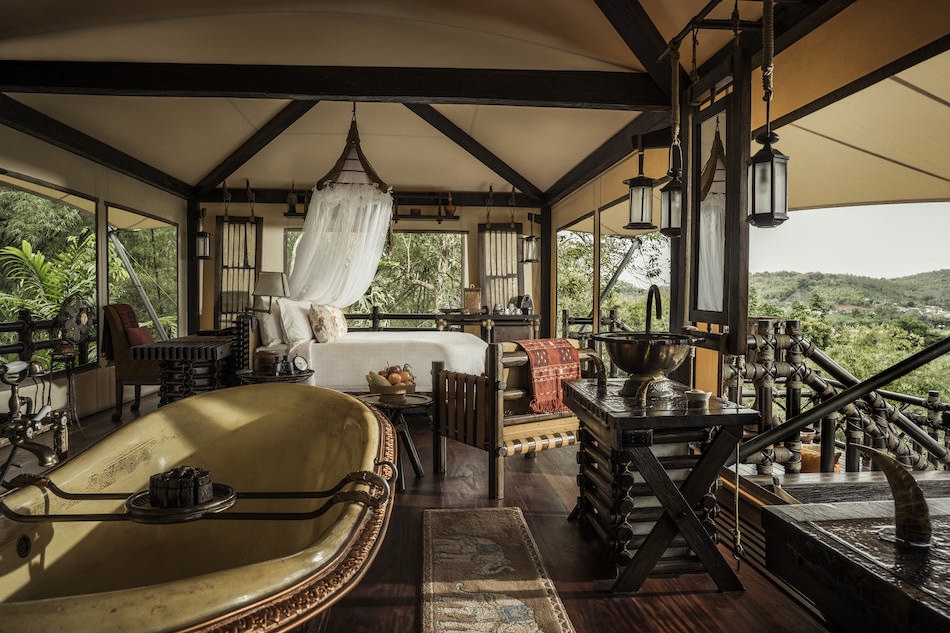 The pier's next to the main pool and Nong Yao restaurant. Take about a 30-metre hike up, and over a suspension bridge, to reach Tent 10. Showing typical Bensley flamboyance, the freestanding bathtub would be interior showpiece, but, with tent walls rolled up, look out, far down, over bamboo, figus, kapok and more, to the Ruak, a feeder river to the Mekong. A view of any lifetime.                                           
It's all-inclusive here, and meals are bespoke. Kids, ten+, might choose hot chocolate lava cake with vanilla ice cream. Any-age can veer local, say spicy beef salad with young eggplant, or green curry with prawns.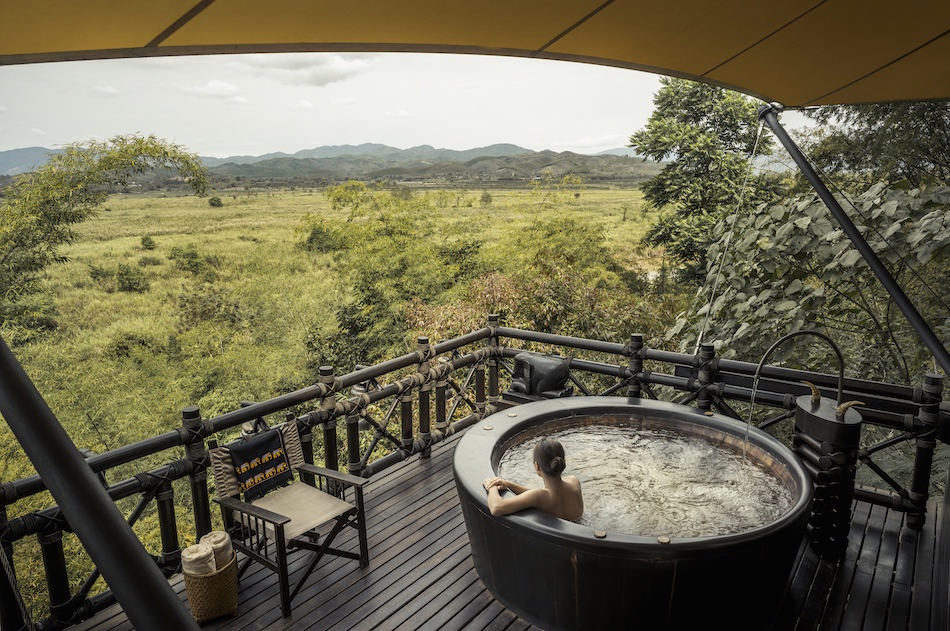 Off-site, take a temple-traipsing Golden Triangle Excursion, long-tail boat and tuk-tuk. 
Refresh at the camp's spa on stilts, completely private among the greenery. Choose Ruak Bamboo, with bamboo rollers. Relax, merely sitting, in or just outside your tent, savouring the symphony of nature.
A nearby trumpet's a call to duty. Six elephants await. Retired from such duties as logging, they and their mahouts live here. Walk slowly alongside, learning mahout magic. Feed the animals apples, bananas and bamboo lengths and get stuck into your own chosen picnic. There's full English-style afternoon tea, or deep-fried spring rolls and the like. 
Alternatively, breakfast with the elephants. Green Triangle pandan, galangal and lemongrass juice, and Thai-style omelette, Kaow Khai Jiew Poo, with crab and jasmine rice.
***
Heckfield Place Hotel & Estate
Oh to be in England, now that Summer's here. From the terrace, look down steeply-sloping long grass to a considerable lake, jet d'eau to rival Geneva's. Wild swimming awaits. Not a soul in sight and no building as far as the eye can see.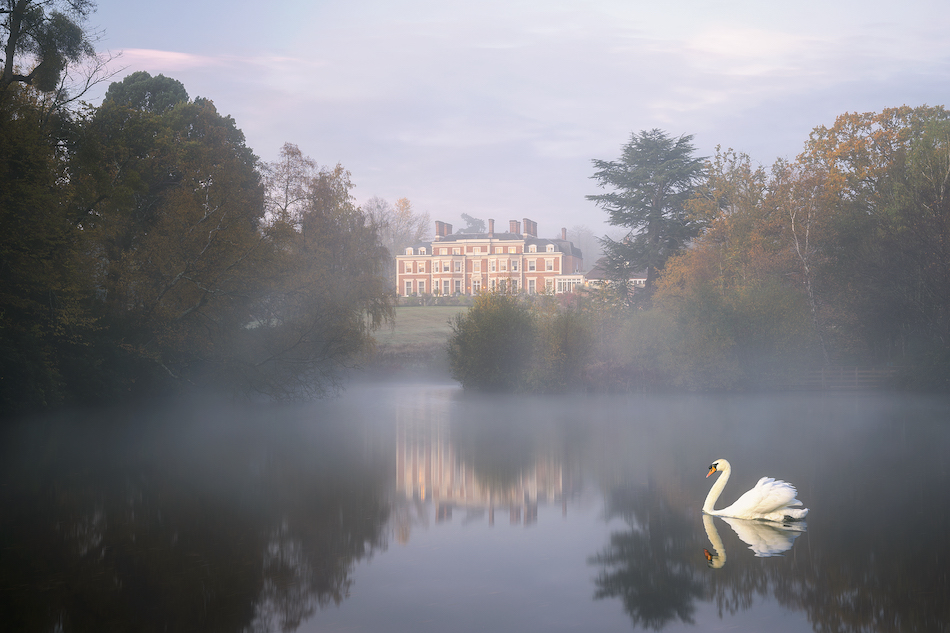 This is Heckfield Place Hotel & Estate, ten minutes by Range Rover shuttle from Hook station or 40 minutes' drive west of London's Heathrow airport. After the electric gate  opens, drive 750 metres up the winding approach, '5 ¼ mph max'. There, in the middle of the 162-hectare privately-owned estate, is the house, three-floors, stone-edged red brick, finished 1760 for Charles Shaw-Lefevre, Lord Eversley.
Today, with clever use of numerous Eversley outhouses, all now attached, this is the dream country house hotel. 45 bedrooms, designed by Ben Thompson, are perfect foil for such bits and pieces as induction tea kettles, Bang & Olufsen electronics, masses of hardbacks from Daunt Books, and maps-to-go showing the estate's many tree varieties.  
And, as part of the Heckfield family, you are invited, if not expected, to wander.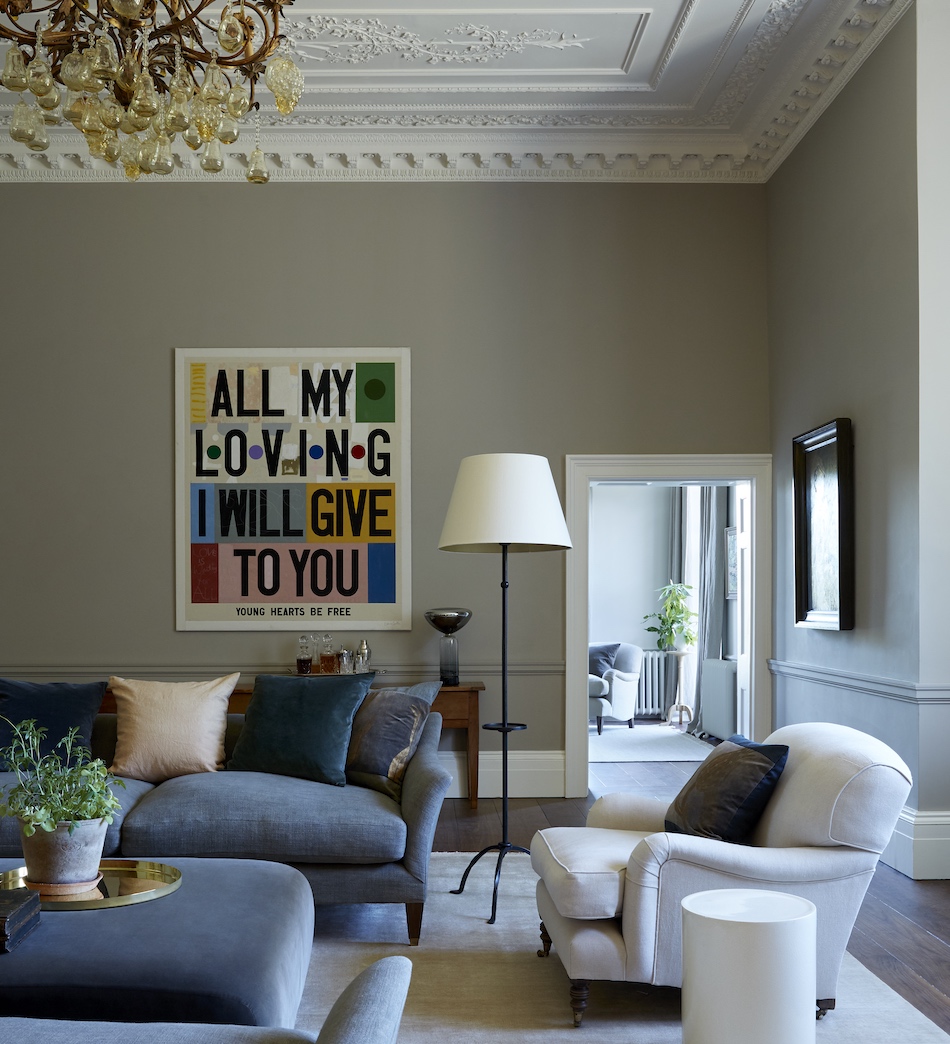 Check the house's drawing rooms, where today's pristine Financial Times as well as half-done jigsaws await attention. Walls here are stylishly hung with oils, from the last century and this. Walls of the main staircase, 26 steps in all, display 61 black and white photo portraits (Winston Churchill was snapped by Elspeth Juda).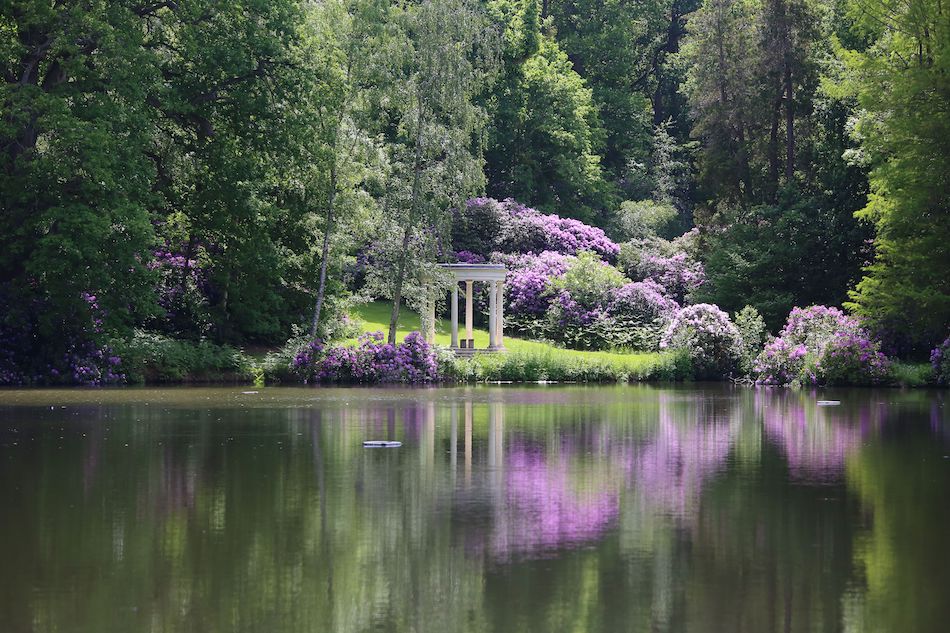 Take a breather, perhaps, with a 60-minute Wildsmith foot massage, named for the 19th century arboretum designer. Try the spa's 17 -metre pool, and wander outside far and wide. The biodynamic farm, with Berkshire Pigs, rare Aberdeen Angus cattle, Guernsey cows and sheep, provides much of the produce for Heckfield's sensational tables.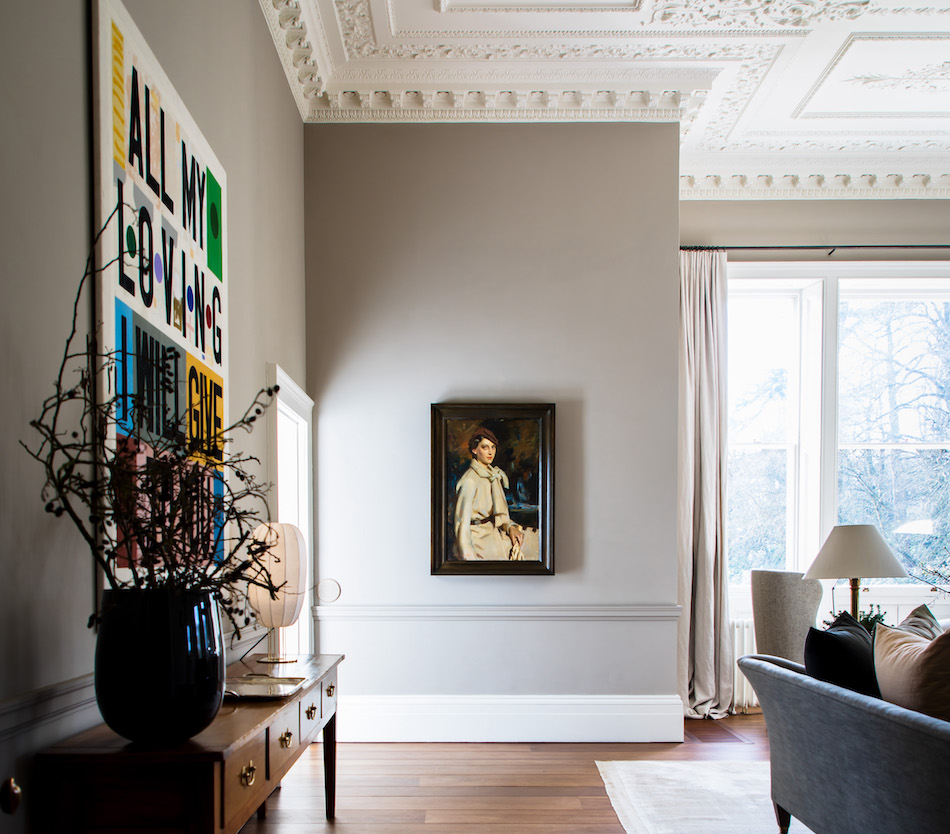 Australian Skye Gyngell, star also of Spring, at London's Somerset House, oversees all the food here. Yes, even a simple carrots and goat cheese dish, with rocket, can be seriously memorable – as is the beef that follows. Go wild and follow dessert with a Heckfield grownG&T, Sampling Gin, 12-Below Tonic, and citrus garnish.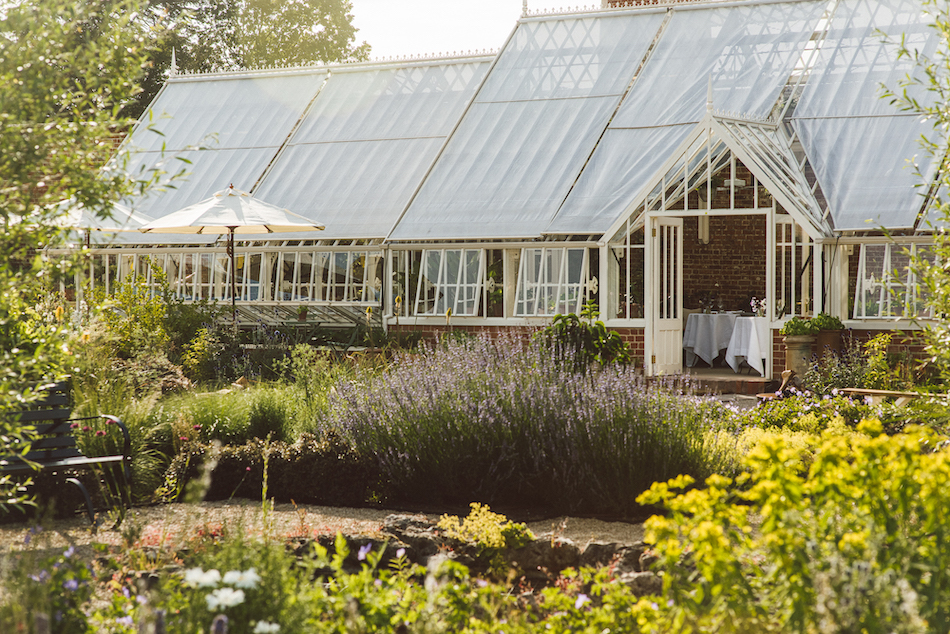 Bar staff, like female servers and many others are, by the way, dressed à la mode, the old-fashioned mode. Thanks to Maureen Doherty, who dressed Maggie Smith in the 2015 movie The Lady In the Van, these Heckfield Place supporters are 2022 fashionistas, in natural-colour loose clothes, comfy shoes. It's almost as if they're all starring in a home- Downton Abbey (is this in the packed programme at the hotel's 67-seat screening room?). 
Actually, forget Downton Abbey. Heckfield Place is gorgeously authentic.
***
Virgin Hotels Edinburgh
Now's the time to switch attention from English festivals to the Scottish capital. This year's Edinburgh Festival runs from 5th to 8th August, 2022.
Now's the time, too, to think Virgin. The just-opened Virgin Hotels Edinburgh, in the city's trendy Old Town, is conveniently only 11 minutes' walk from the Usher Hall, where many prime events happen. It's a unique hotel, brilliantly converted from India Buildings, a heritage group of connecting 1860s-vintage warehouses, with a church thrown in.
From outside, the dark grey sandstone exteriors may look a wee dour (such a Scottish word) but inside expect and get fun. An imposing open central atrium takes the eye up to the tenth floor roof. Of the total 222 bedrooms 18 are actually in neighbouring Old Greyfriars Church, now deconsecrated (there's also former-congregation space for weddings and other functions of up to 200).
All rooms, ecclesiastical or secular, have closets that can be curtained off, and brand specials, signature-colour bright scarlet landline phones and Smeg fridges. Rooms thoughtfully come with yoga mats and giving up on elevators to climb heritage-old stone stairs is out-of-breath exercise – as is walking Old Town's fascinating narrow streets, which do not seem to understand the word 'flat'. Oh yes, and the hotel does have a 24/7 gym.
Feed the mind with somewhat-idiosyncratic carefully chosen books in Virgin's Funny Library. Satisfy the taste buds with all-day food at Commons Club, where an open kitchen with giant Falcon range allows ringside preparation views of, say, slow-roast organic chicken or dry-aged Scottish beef. Try Commons Club's signature gin and tonic, a partnership with local Holyrood Distillery.  Opening shortly, on the lowest level of this fascinating Edinburgh hang-out, is yet another reason to think Virgin. EVE promises to be a never-to-be forgotten eatertainment space with giant allegorical murals from Dutch specialist Studiogiftig. Eve. It will have day-long edibles and potables and live Glastonbury-style music.
OK, bagpipes anyone? But why not, anyway, go the whole hog and rent, a kilt?  Virgin Hotels Edinburgh's own tartan happens to be yellow and, wait for it, red. You may even see it being worn by Virgin's enthusiastic GM, Scott McCardle. Edinburgh born and bred.
***
The Beaumont
Savour flavour of style at The Beaumont, London – so English, but course with essential ingredients from other global hotspots.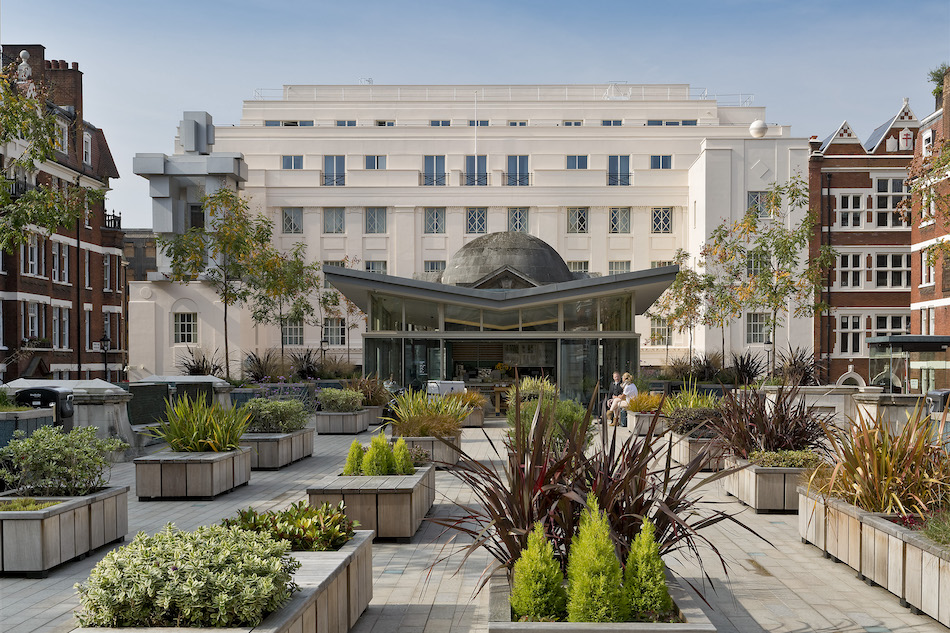 The just-introduced gorgeous cigar cabinet, for a start, was designed and made in Milan. Hotel MD Duncan Palmer had a space in the outer lobby – just after you enter from Balderton Street. He worked with bespoke furniture makers DeART, run by the two sons of Giovanni de Munari, who started the company in 1962.  The result is a heavily-lacquered cabinet with big display of Montecristo cigars and eight private drawers, all, like the main display, humidity- and temperature-controlled. Pick of the all-Cuba puffs is the Cohiba Supremos 2014.
The 72-key Beaumont, which has an additional 30 rooms and suites opening next year, acts as Mayfair's private club, but inclusive. The Magritte Bar is louche-but-not-louche venue for martinis and statement hats. Financial gurus are among regulars who come here to WFG, Work From Gatsby, an inner lounge that's also chicest afternoon tea venue. For main-meal dining Colony Grill's acoustics ensure neighbouring tables can't hear your multi-million short selling discussions. Sign the deal over 1983 Château Cheval Blanc or 1995 Opus One. Bordeaux or Napa? Bernard Arnault or Robert Mondavi?
The Beaumont offers a recipe of great names, led by its Chairman, Sir Nicholas Soames. Add to that name list Sir Antony Gormley. For the Beaumont he came up with ROOM, a two-floor suite with, upstairs, a wood-lined space holding a bed. Nothing else. ROOM has an exterior wrap that is a Gormley silver-man sculpture, as building-block like as his Angel of the North, above Gateshead, is graceful.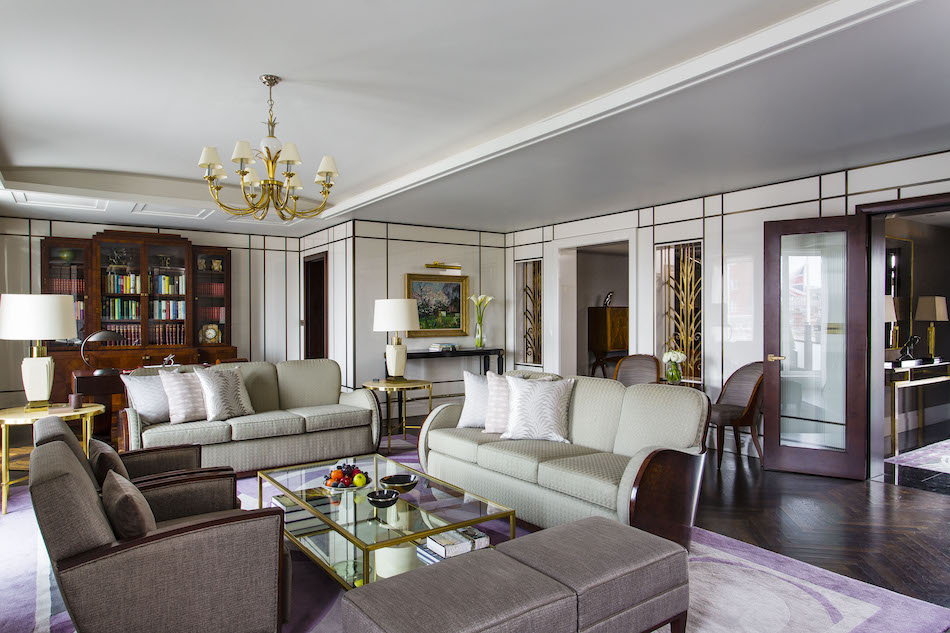 The hotel's superb literary evenings, real in the spiffing basement board room and, virtually, to culture-gourmets worldwide, feature such erudite fascinators as Bellingcat's Eliot Higgins explaining how he identified the 'Salisbury poisoners'.  Coming up on 3rd October 2022 is In Our Time host Lord Melvyn Bragg.
Need-to-know names abound. Doormen's titfers are Lock & Co, naturally. As part of The Beaumont's inclusivity, quintessential English-gent Duncan Palmer commutes by Bentley or Porsche. The Beaumont's hybrid 170 BMW house car comes with an erudite driver, Toni Dimovski,who, if asked, offers a polysyllabic history of former Yugoslavia while en route from Mayfair to Knightsbridge.  Savour every minute learning lots, with fun, at The Beaumont.
***
Hotel Baur au Lac
Ring out the old, ring in the new.  Today, Friday 1st July, Wilhelm Luxem, the boss – 'GM' – of Zurich's signature city hotel, Baur au Lac, retires to his French retreat to commune with nature. In comes a new reign under GM Christian von Rechenberg, already a well-integrated leader of The Bauer team.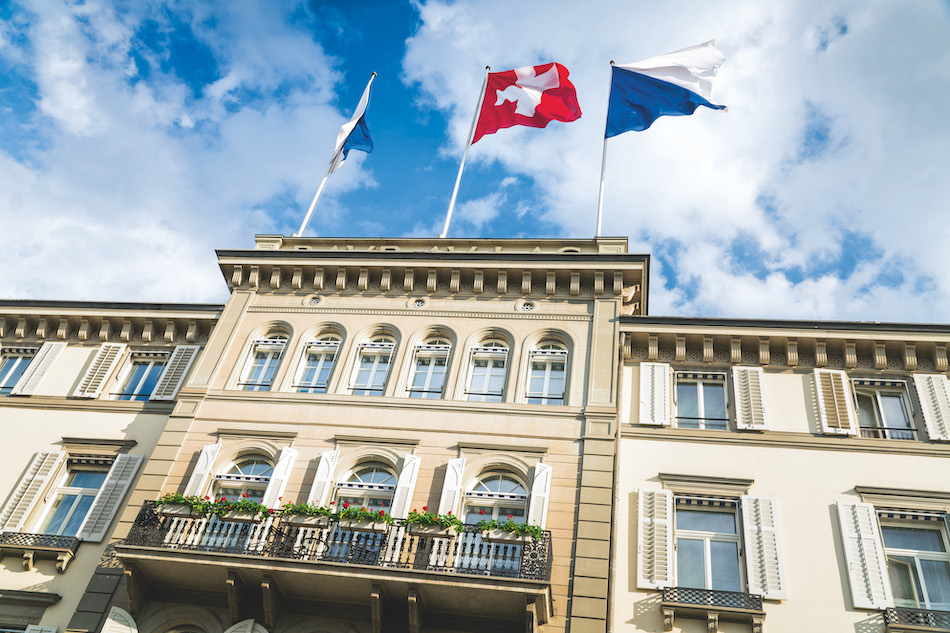 Seamless transition shows style. There's another Bauer example. Fourth-generation owner Andrea Kracht is similarly, but with no time cut-off, handing the reins to his only daughter, Marquita. Already changes are apparent.
There's a pop-up front desk while a new-look concept is finalised. Of course the Reception staff – the females immaculate groomed and in couture suits with Ferragamo-type silk lapel corsages – are as impressive as ever, as are the gold-key concierges, led by Jérémie Lammy who can somehow get your Rimowa wheelie's wheels replaced in under an hour.
The gorgeous garden's tiled terrace has been redone, with enormous umbrellas so it is popular for outdoor breakfasts through to late-night suppers (for Zurich's fahionistas, afternoon tea time seems to include ice cold Ch les Valentines 2020 Rosé). Gaze across the grass at the 20th annual Art in The Park sculpture exhibition, chosen by Andrea Kracht's wife Gigi with the help of the Baur's neighbour, Hauser & Wirth. This year's artist is bronze specialist Camille Henrot, who highlights desire, frustration and exhaustion.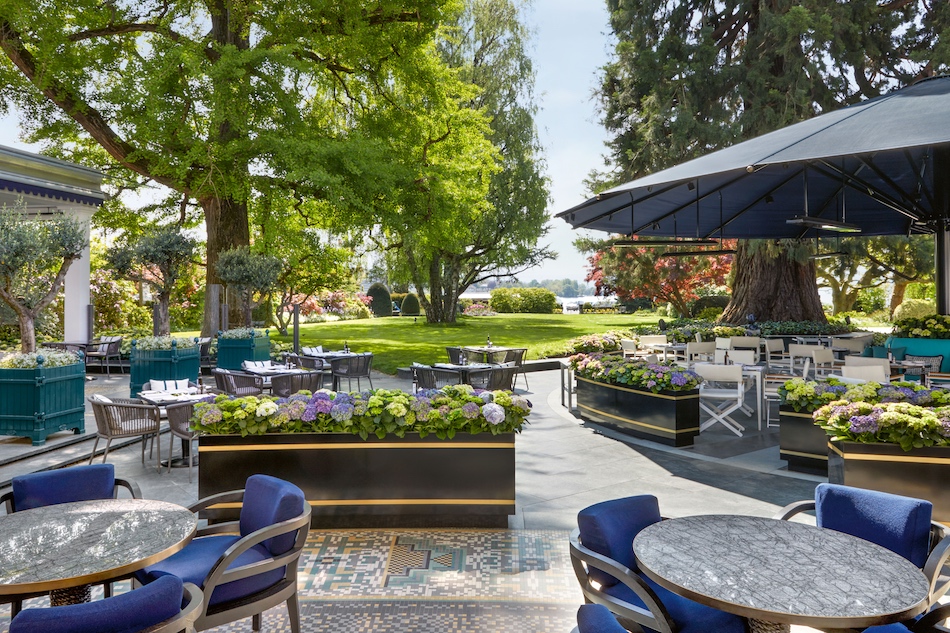 No need to exhaust yourself at Baur au Lac. Pair a short lakeside perambulation with a visit to Hauser & Wirth's own summer exhibition, pairing Giacometti with Picasso. Dine in the Baur's Pavilion. Tomorrow, wake up, say in lake view room 114, and head down 27 carpetted stairs to breakfast, in or out. Berries and ginger juice from the buffet, and the knife to cut the spelt health loaf is Laguiole. When you only go for the best some things never need to change.
***
Bürgenstock Hotel
Christian Sack, boss of Bürgenstock, 500 metres above Lake Lucerne, is determined this will be one of the world's top five luxury resorts within that number of years. Well, surely no other paradise has a hundred-plus experiences ranging from Picassos, real, through to making your own cheese, really?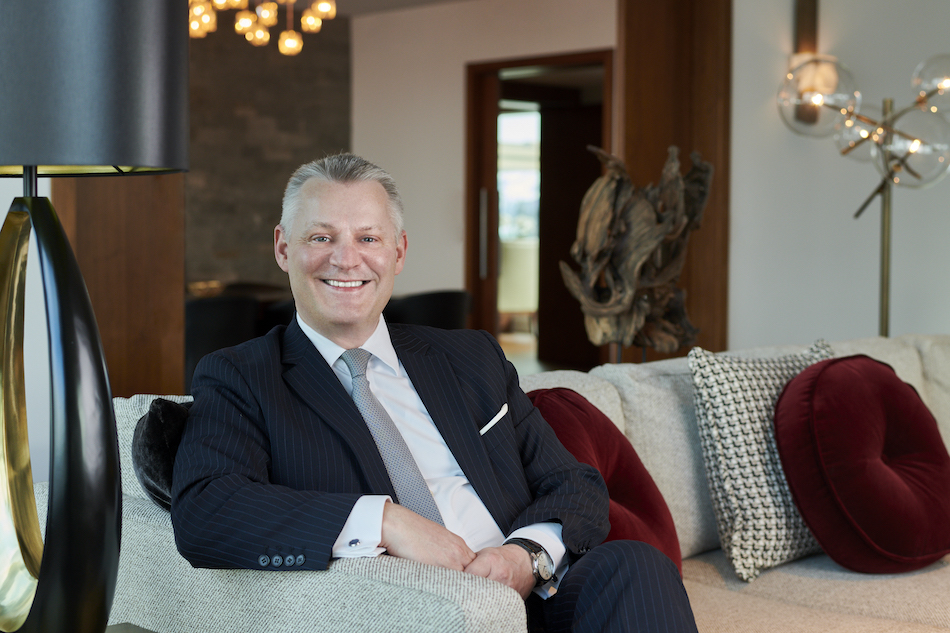 The 60-hectare resort, atop peaks and surrounded by serious mountains, includes several hotels. Crème of the Swiss cream is the nine floor Bürgenstock Hotel and Alpine Spa, 2017-vintage monumental. Of the 102 rooms, #706, the Penthouse Suite, is most sensational. It takes up most of the top floor, with a squash court-sized terrace, open roof, three open sides and a cantilevered feel. Inside, a working log-look fire looks into your double soaking tub which in turn overlooks pastures below.
Why not double-book? Spend hours private suite in the Alpine Spa, on the hotel's fourth floor. Again, double tub, but here there's also a 100% humidity steam shower and sauna-with-view, both perfumed to your fragrance choice. There are beds, for treatments.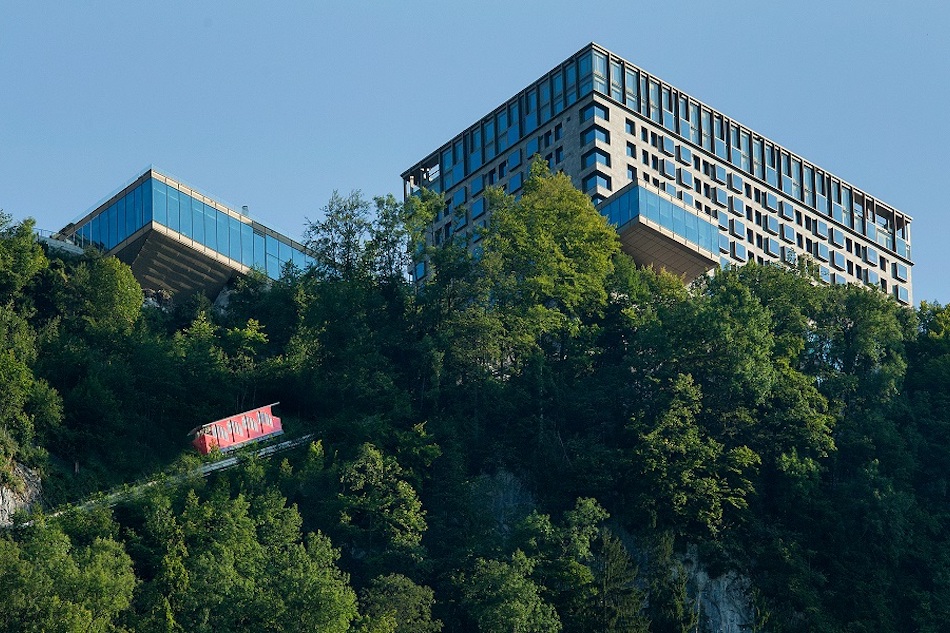 Combine glorious fresh air with exercise. It's an hour's return climb up to the top of Europe's tallest outdoor lift. Less strenuous is to take the pulley funicular, 1888 but just upgraded, from within the hotel, four minutes down to the lake. A boat awaits, Swiss-efficient, for a 15-minute crossing to Lucerne, and a seven-minute walk to a private show of the Picassos - there are five disjointed portraits of Angela Rosengart, who owns this and all the Klees, Légers and Mirós around.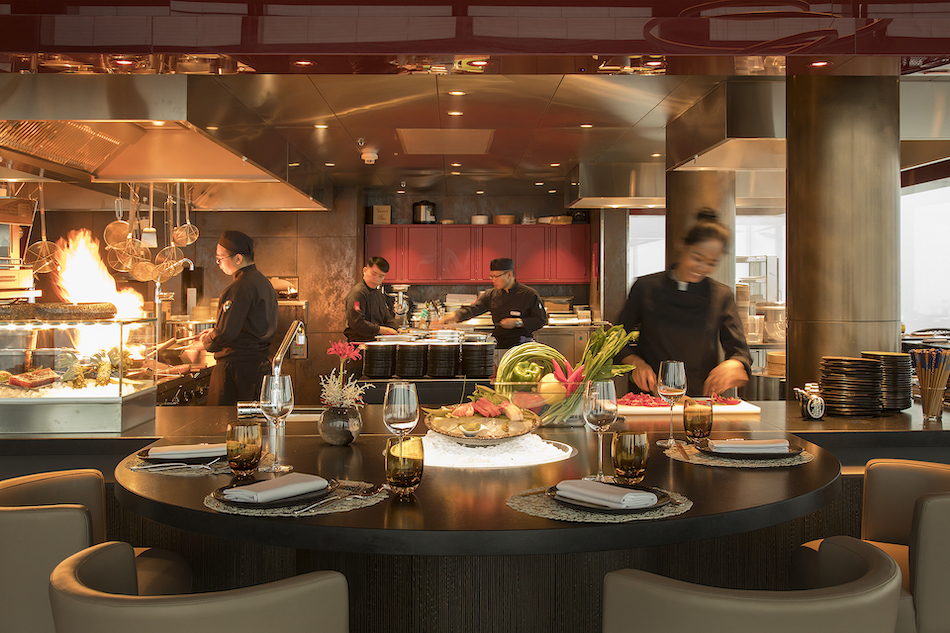 In between meals – Japanese, Persian or Vitality this time? – try cheese-making. One of the resorts' 50-plus local suppliers has 16 litres of fresh cow's milk already whatever-ing in a copper caldron with rennet etc. Break the curds repeatedly as the temperature rises to 48°. Turn it into a cheese cloth and then a mould, to mature, with daily turning, for six months.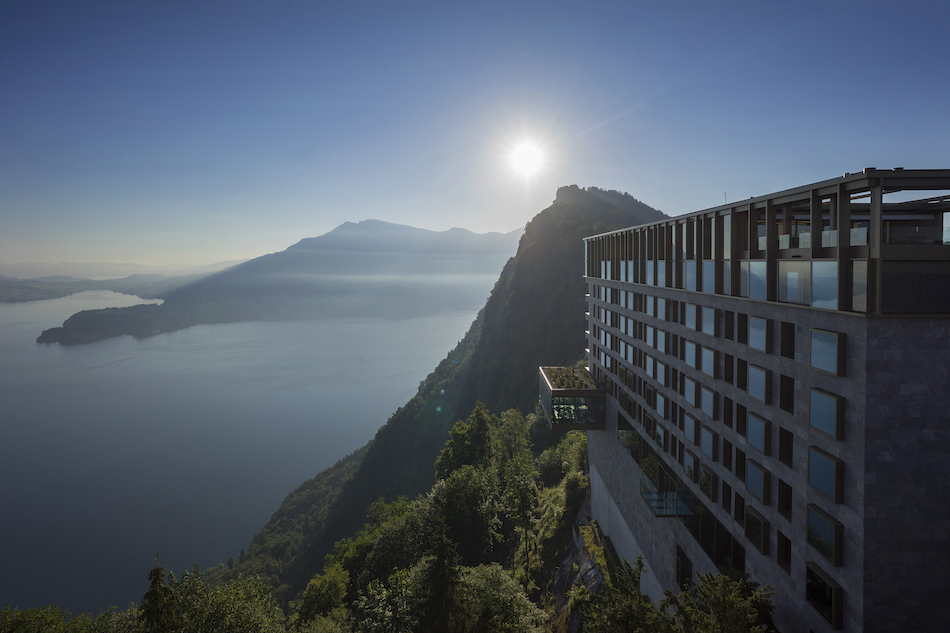 A pre-breakfast hike, listening to birdsong, past cows, cowbells, and all, sharpens the appetites. Breakfast, out on a terrace, is buffet brought to you, tea-type stands with spelt and other max-health breads. And cheese. As your car is brought to the hotel's main door, you walk out past a guard of honour of pristine Ferraris and Lamborghinis. This is Bürgenstock.
***
Mandarin Oriental Ritz Madrid
One of the meanings of the word 'flamenco' is twelve-count, and there is count, of one kind or another way, throughout an entire stay at the regal Mandarin Oriental Ritz Madrid. Its age, 1910, is written in gold on the building's side, on Calle de Felipe IV, next to the Prado. The thoughtful minutiae of the hotel's 2020 re-do is shown by the 160 bedrooms' Hollywood-style flattering lighting, GHD hair dryers and tongs in stylish leather movie-star carry-cases, and enough USB ports for every multi-million tech start-up.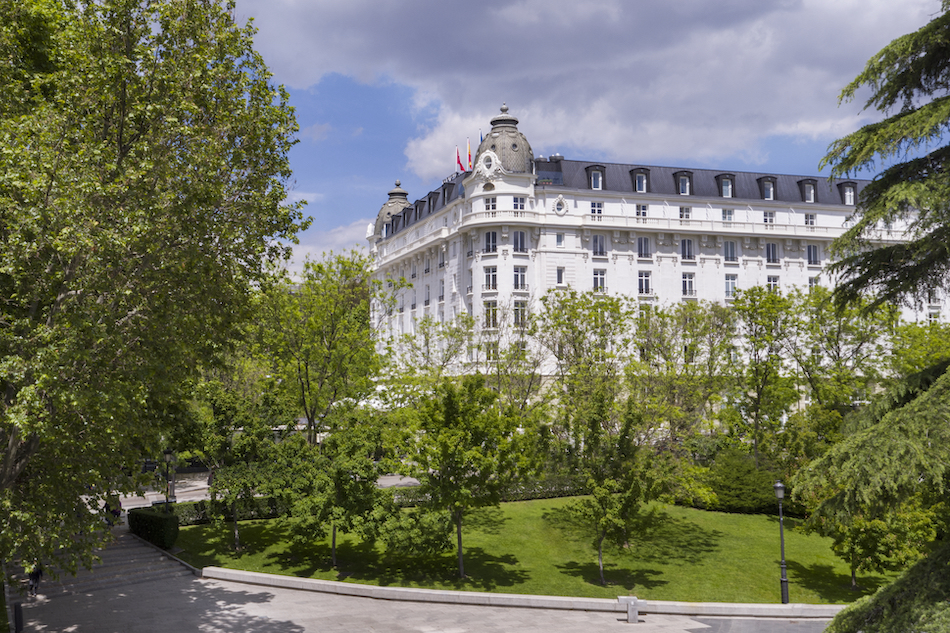 My favourite suite is 405. It's spacious and airy, its circular sitting room looking down at the hotel's year-round Garden restaurant, and across to the Prado. Designer Gilles & Boissier's imagination starts with door-mat facsimiles built into the ecru corridor carpet. Inside the suite there is both parquet and carpeting. Soft walls blend with the mushroom leather doors of the entertainment centre.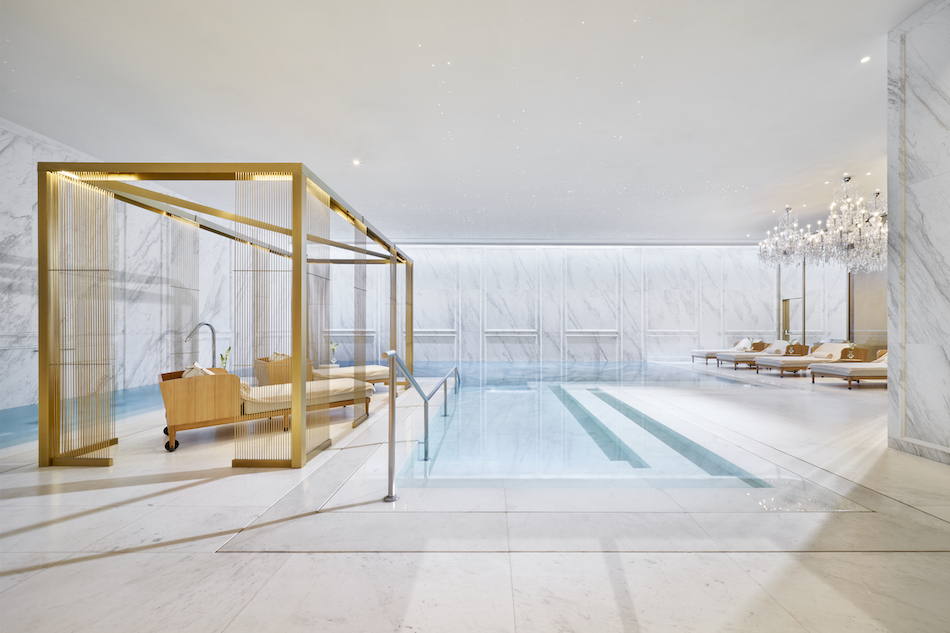 Down in the lowest level, there's what looks like a woodland of mediaeval tapestry, in fact paper-printed. Walk this shaded avenue, some 70 metres to a pale blue pool, with vitality stations. Head back up to ground level, to the central glass-ceiling winter garden, its chandeliers glistening. Turn, via a crumpled gold wall that might well be real 22 carat. Now, in the bar, you face a ceiling-high collage of Old Masters pastiches, in fact recognisable locals somewhat photo-shopped.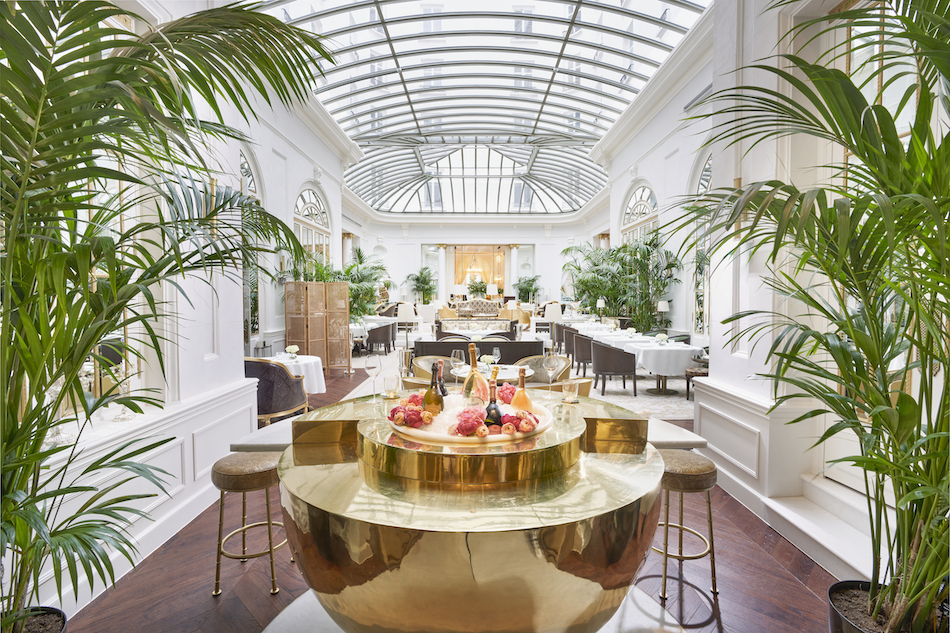 Dine out in the garden, equipped with Bordeaux burners or water-spray coolers as warranted. Real greenery dividers make every table exclusive. Start with jamon, paper thin slices, and cheeses. Go on to beef tartare in a bone and, in this heat, the sommelier might suggest Rebisaca 2021 Bodegas Gerardo Méndez. In the morning, breakfast out, or in, near buffet tables, jamon carved to order, more than 12 cheese and bread varieties – or simplify, a flat omelette on which to arrange smoked and gravadlax salmons.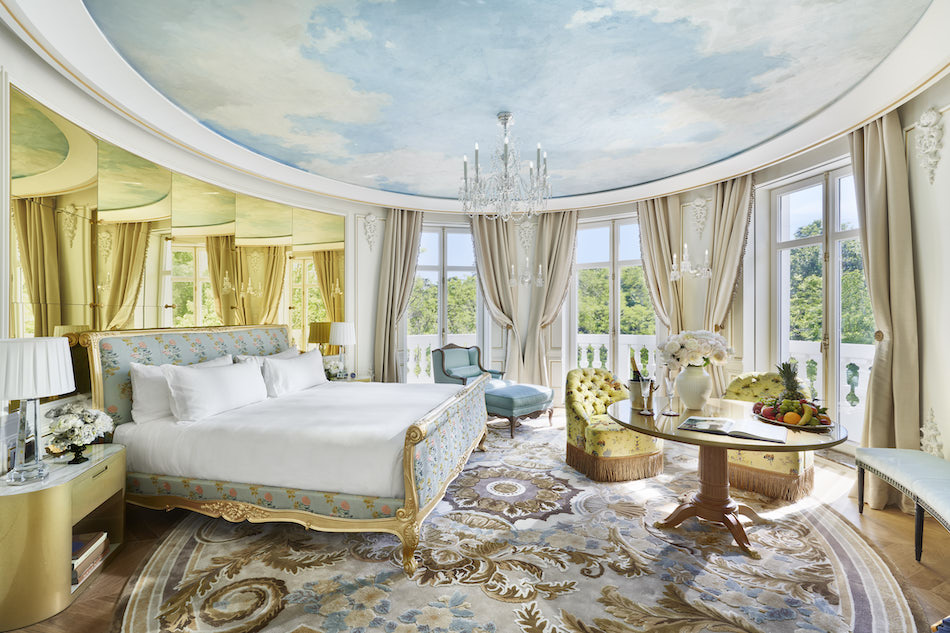 And turn tourist. Ask super-concierge Zoubida Santissi to arrange a tuk-tuk, electric naturally, for a scenic tour, immaculate streets nurtured by cleaners, many young females, all in catwalk dayglo yellow and grey. Churches galore plus a flamenco quintet, papá on guitar, mamá singing and three adult kids. Dresses with floor-dusting trains, the son a Mick Jagger clone in gold shirt, tightest black trousers and shoes that clump as quickly as any slot machine.  All strump to 12-count.
***
Museums Quartier 25hours Hotel
You expect paparazzi at 25hours Museums Quartier, Vienna - the so-fun hotel's glass porch has a wall of cameras, Kodaks and more, jammed together and stuck on firmly to prevent'em walking.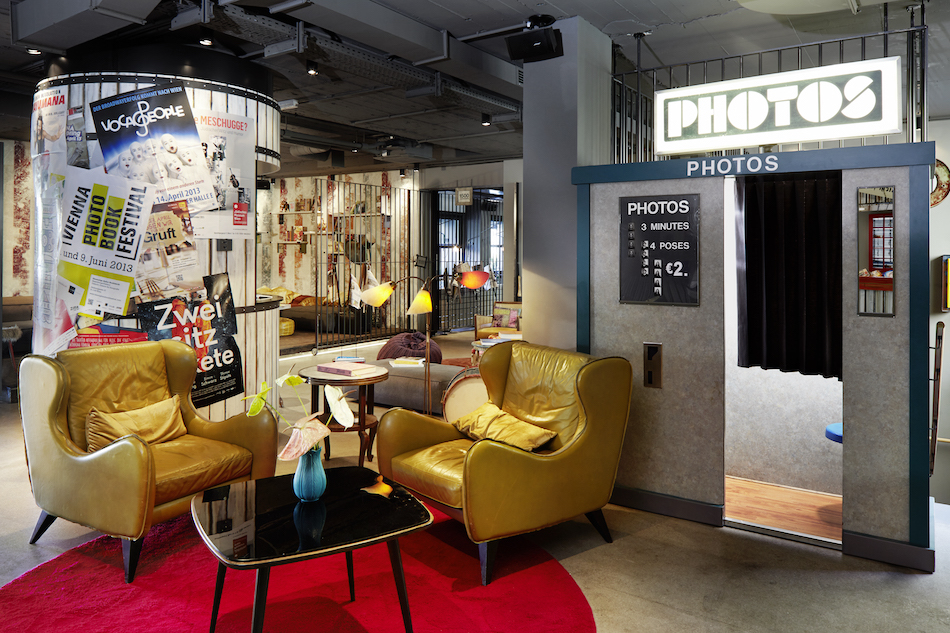 You smiled already, at metre-high orange wording WE ARE ALL MAD HERE above the entrance of the dark grey Brutalist building, 1.5 km from the Opera House. 25hours stands out from the immediate crowd of pale cream stone classics, museums and the like, around.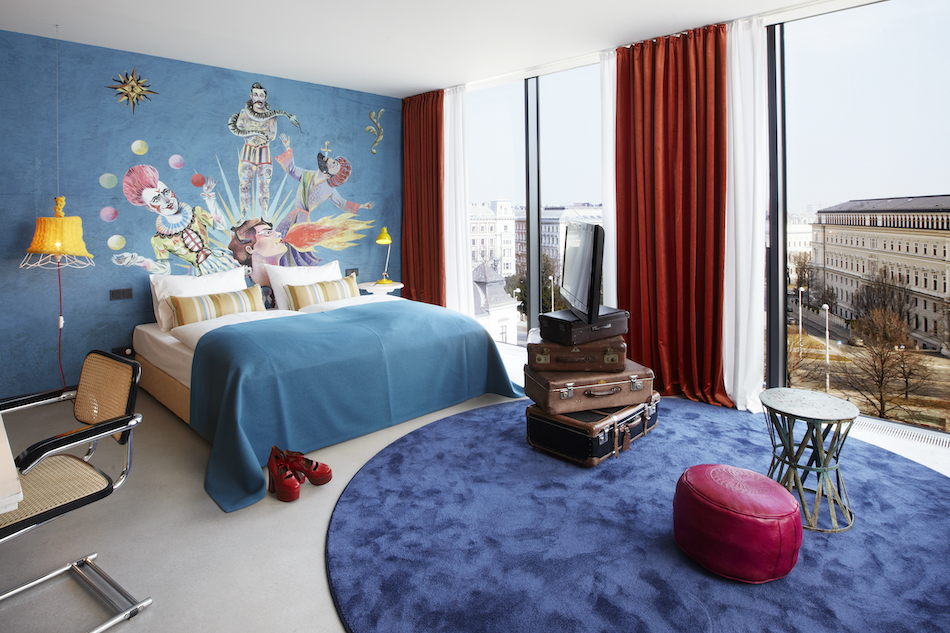 Thanks to designer Armin Fischer of Augsburg-based Dreimeta, reactions work overtime. Elevators' back walls have cell-like grills. The 217 bedrooms have hilarious acrobatic clowns on bedhead walls. But, and a big but, these rooms work, really work.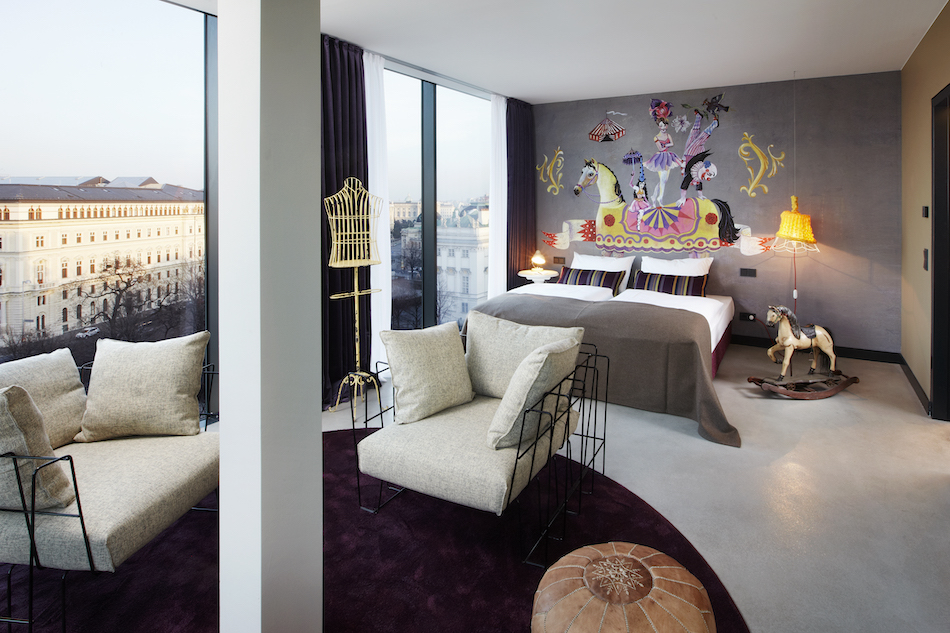 Take #711, a 'spectacular view' room. The all-wall window looks down at well-tended Weghuberpark immediately below. Wood flooring complements deliberately-rough wood doors – the mirrored closet door slides open on pram-sized wheels. Another door hides the refrigerator, with a big 'free' sign hanging on it. There's also a full working kitchenette, with microwave, induction hob, hanging utensils and quartets of china, cutlery, glassware. Yoga mats and whoola hoops might be useful. Oh yes, there are, bedsides and elsewhere, enough USB ports and sockets to satisfy Musk and Zuckerberg both.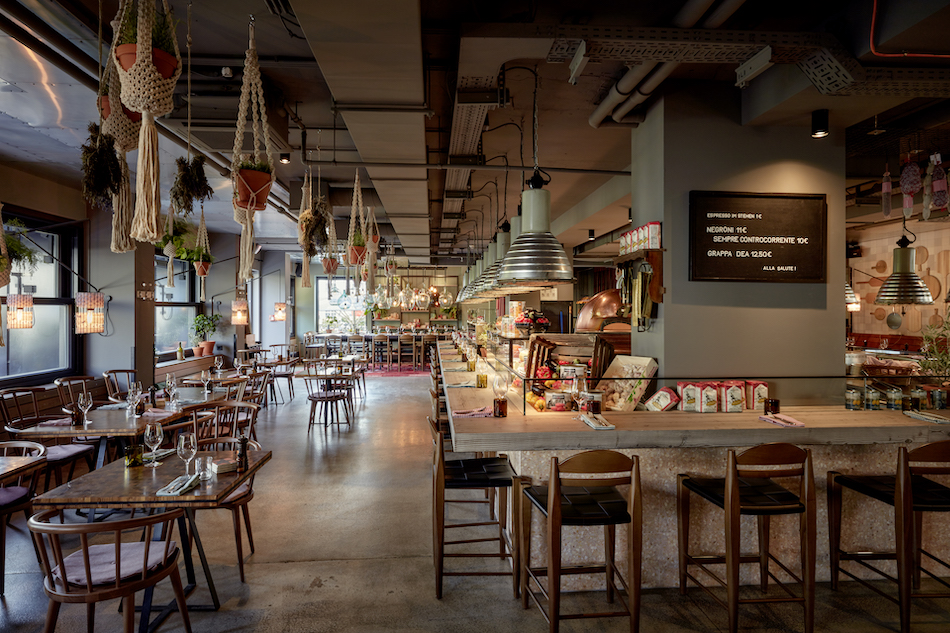 The eighth floor rooftop often has happenings but at all times the ground floor Ribelli is meeting place for nearby residents.  Devour enormous portions of truffle-cheese specials at Sunday pizza nights, baked in front of you. Don't miss breakfast, any morning. Viennese return for the buffet, hot and cold. Cut a slice of Gugelhof, the tall tubular cake promoted when Austria held the 2006 EU Presidency. Caffe Musetti, from Piacenza, exemplifies flavour (napkins announce, boldly, 'life is too short for shitty coffee').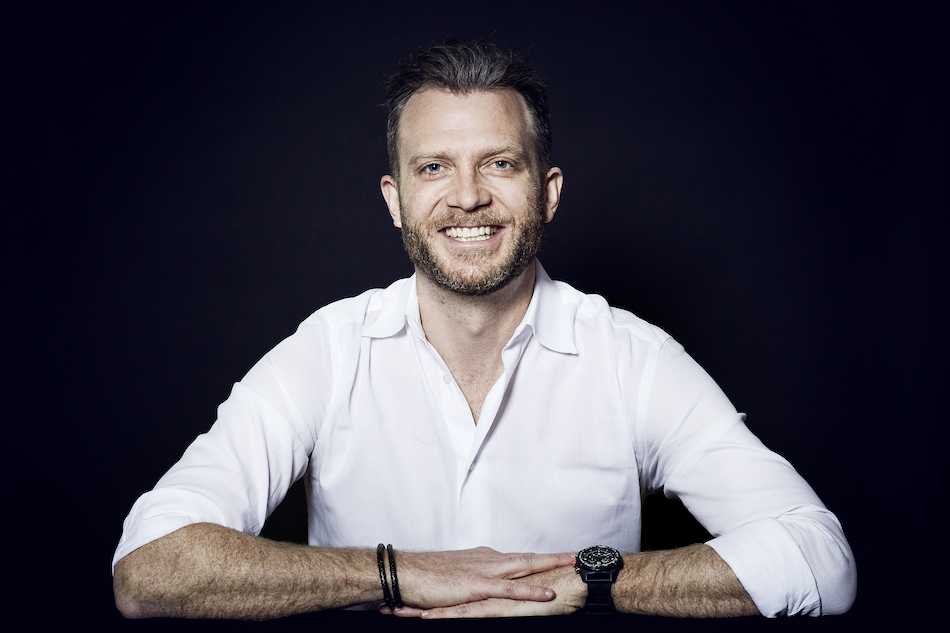 Business and leisure travellers, all ages smile here. As GM Martin Schrödl says, this place is fun.
***
Claridge's Hotel
An original bit of The Queen's Coronation Gown, designed by Norman Hartnell, is part of Claridge's Platinum Jubilee exhibition, displayed at the iconic London hotel all June. Toast Her Majesty in a Windsor Rose, as first served here on Coronation Day, 2nd June 1953.
On 10th November 1987 Queen Elizabeth II and The Duke of Edinburgh celebrated their ruby wedding at Claridge's. There's a long association with royalty here. Prince Philip's Greek relations, plus the Kings of Norway and Yugoslavia, camped out at Claridge's during WWII – Winston Churchill temporarily declared suite 212 to be Yugolav territory so that the future Crown Prince Alexander I could be born 'on native soil'.
Nothing is too much trouble for the owners and operators of this iconic 180-room hotel, named for its19th century founders William and Marianne Claridge. Need more space? Excavate far below Brook Street to install a pool, and more. Add floors above, for additional. Feed cultural appetite, with Damien Hirst exclusive NFT shows and, currently, over ArtSpace's show of 1000 sculptures by French humorists 'Les Lalanne', Claude and François Lalanne, as displayed by Manfredi della Gherardesca.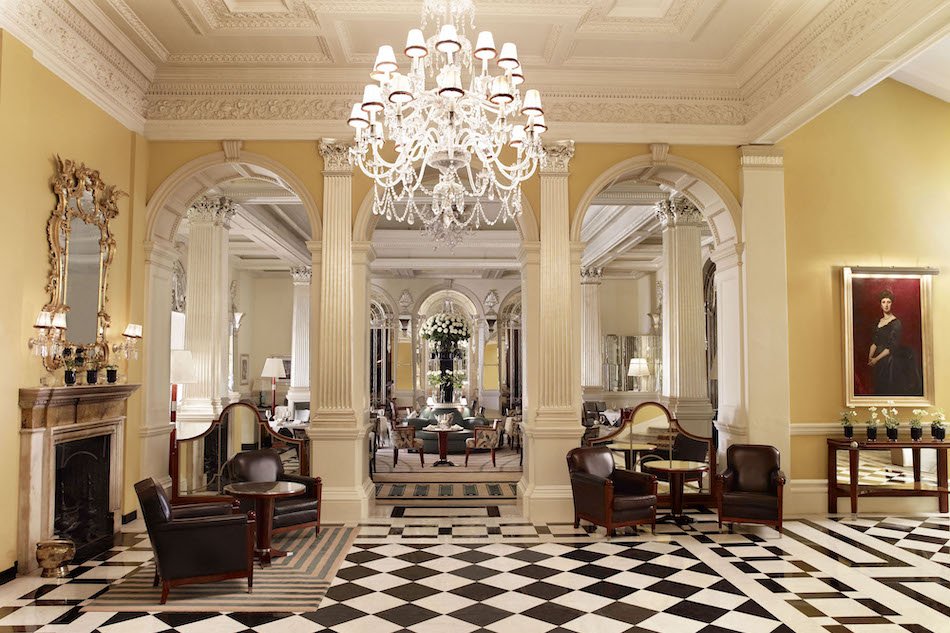 Book a Garbo facial or a Bogey & Bacall treatment, Champagne included. Breakfast under a 1966 photo of John Houston, in the Reading Room's stage set of Basil Ionides ceiling-high columns, Chihuly chandeliers over.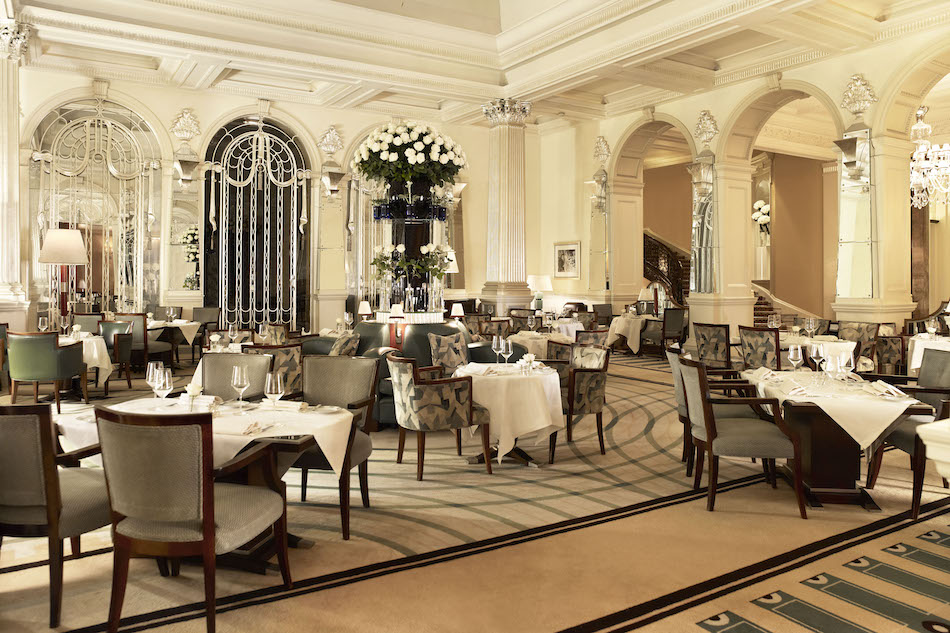 Enjoy crispy scampi and beetroot tartar, with a Pineau de Charentes and peach Almost Bellini, in the Painter's Bar. Until late 2021, explains Claridge's MD Paul Jackson, this was a corridor, before designer Bryan O'Sullivan waved his pink wand, Annie Morris added back-lit art wall, and someone added hip-hop remixes, French electro-pop and jazz.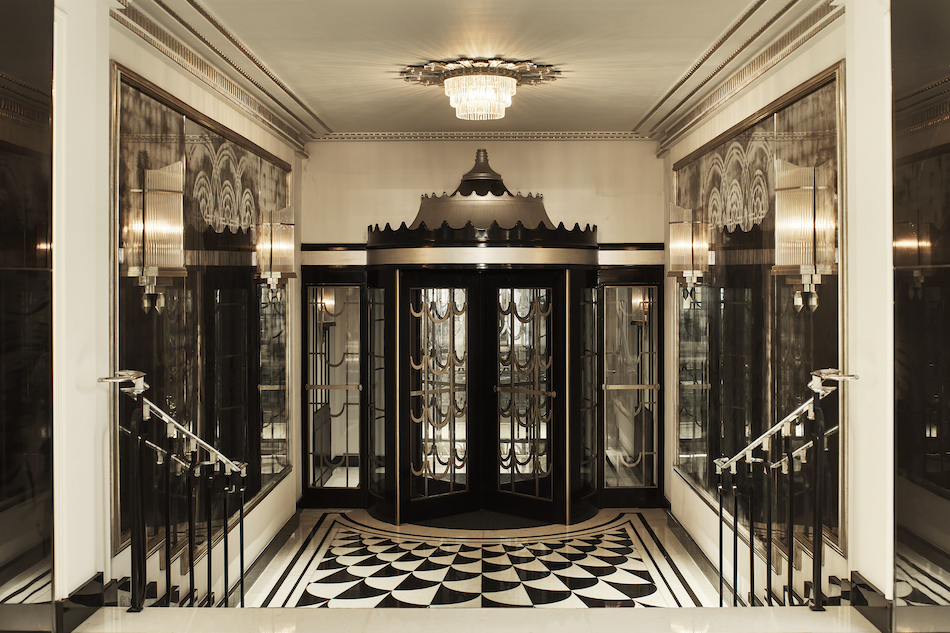 It was Spencer Tracy who declared he'd rather go to Claridge's than to heaven.
***
Hotel Villa d'Este
Imagine a run-around in a 1956 Ferrari 250 GT TDF. American Brian Ross' Pininfarina-designed treasure won top prize at the annual 2021 Concourso d'Eleganza. This Saturday,  21st May, the coveted 2022 Coppa d'Oro Villa d'Este will be announced. The beauty competition for bodies with wheels is sponsored by BMW, Sotheby's, Vranken-Pommery, and host hotel Villa d'Este, three minutes' north of Cernobbio on the west shore of Lake Como.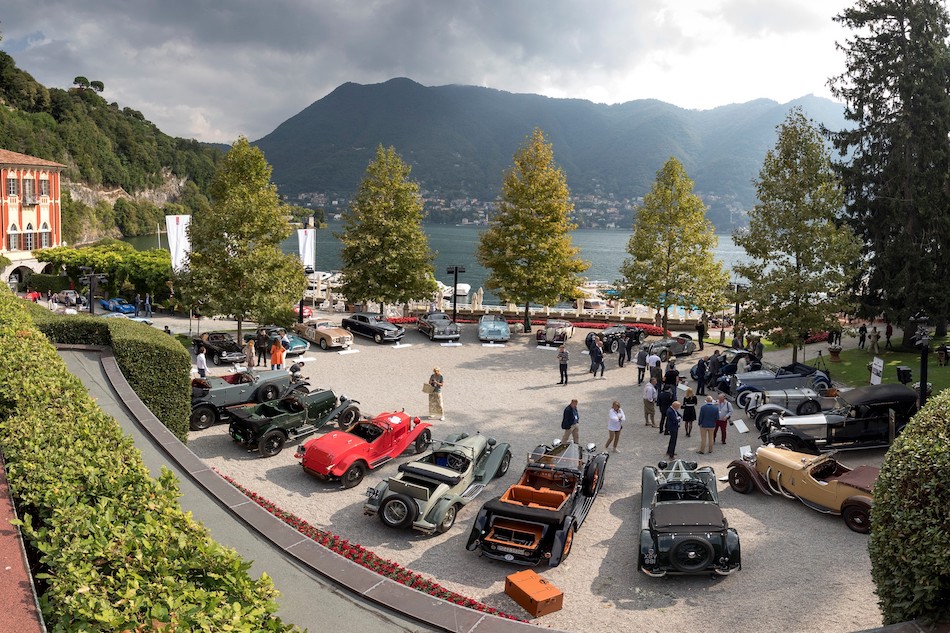 Villa d"Este's a curriculum of unique lessons. Start with history. There was apparently a convent here mid 15th century. A hundred years later the Cardinal of Como asked local architect Pellegrino Tibaldi, Il Pellegrini, to whisk up a villa. Much later it passed to a Milan playboy, whose young widow, a ballerina, proceeded to marry a Napoleonic general (to stop him feeling battle-homesick she had a near-vertical cliff face behind the villa sculpted with steps and towers, today a super-fit workout challenge).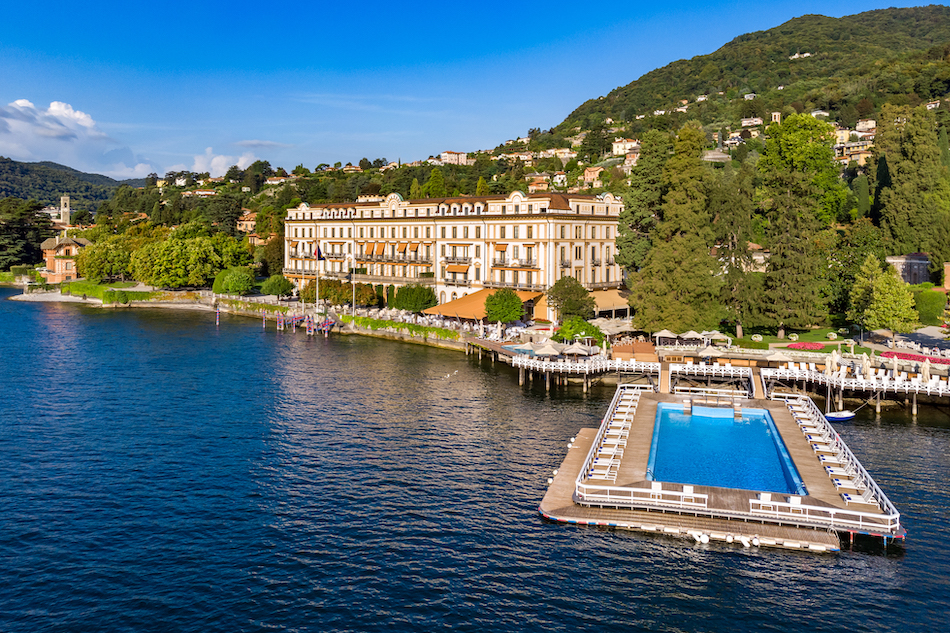 Closer in, King George III's estranged wife Caroline of Brunswick moved in, the villa became a hotel, and long-stayers included Empress Maria Feodorovna, Danish-born spouse of Tsar Alexander III. Continuing the real-life soap, in 1948, 32-year old Italian Countess Pia Bellentani shot her lover dead at a special dinner for 200 high society fashionistas.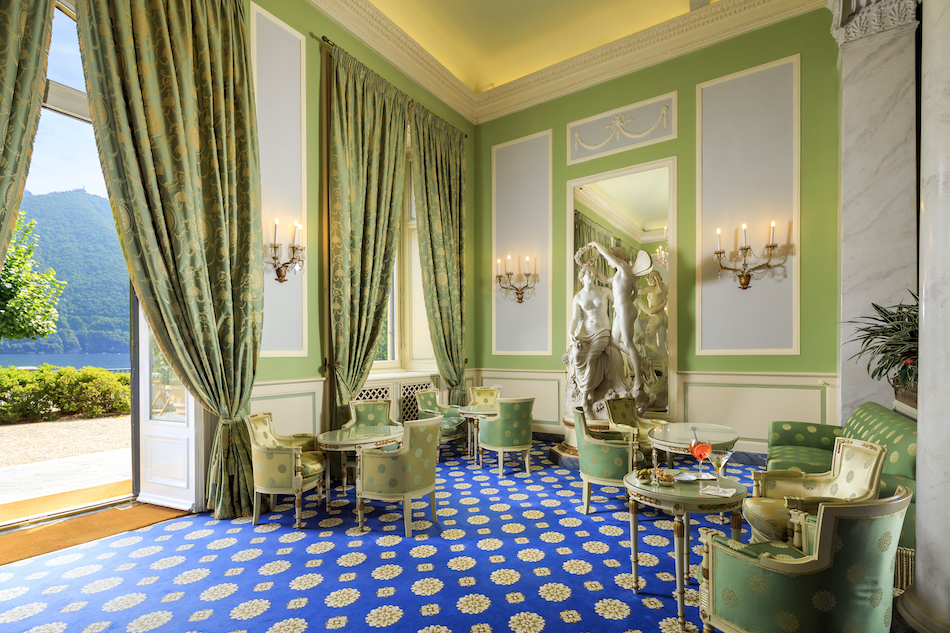 Now for food. Take a class in such memorable snacks as just-cooked truffle fries, finger-eaten in lunchtime sun on the wood deck around the pool that itself swims in the lake. At dinner, in the main Fontana restaurant, look through all-wall windows at some of the glorious 18 hectares of grounds. Ask for a possibly off-menu Risotto Verdi, with asparagus, cheek lard and raw porcini, as served 12th May 2022 at another special feast honouring composers who loved Lake Como. No shooting, this time.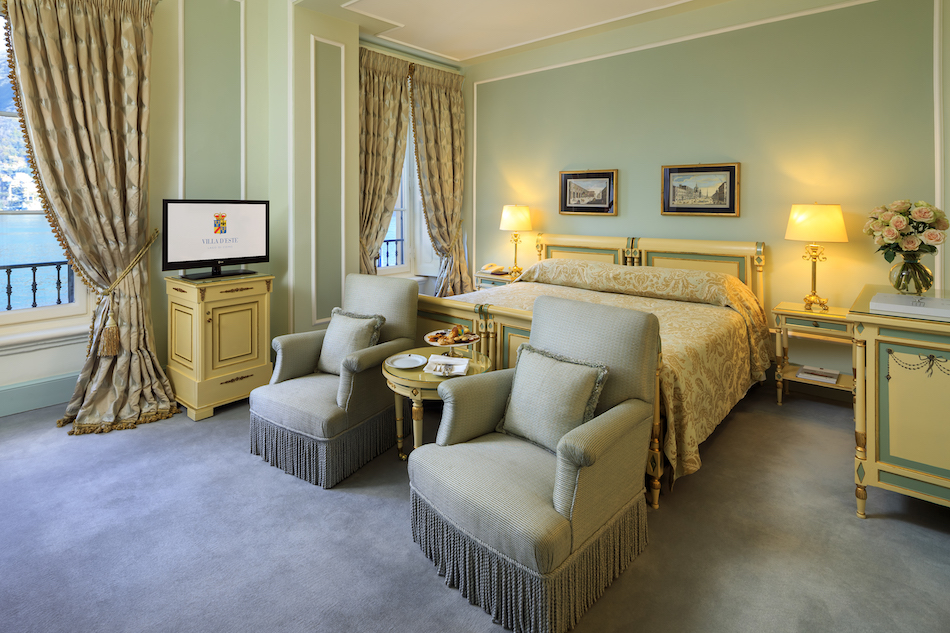 At the 152-room lifestyle resort, now run by CEO Davide Bertilaccio, there are seemingly nonstop happenings. Every year sees a serious wine weekend, and, separately, the Davos-type Ambrosetti Forum, invitation only. It's as if the hotel's owners, hardware kings Giuseppe and Luigi Fontana, don't want a second of boredom. Visit their boutique. Five different Panama hat styles, one with pearl band. Work out in the Sporting Club, reached via a Disney-type tunnel, or outside. Play golf, hike gradually up 126 water-flanked grass steps to a pietà-type sculpture, or show your own muscle by attempting that ballerina's assault course.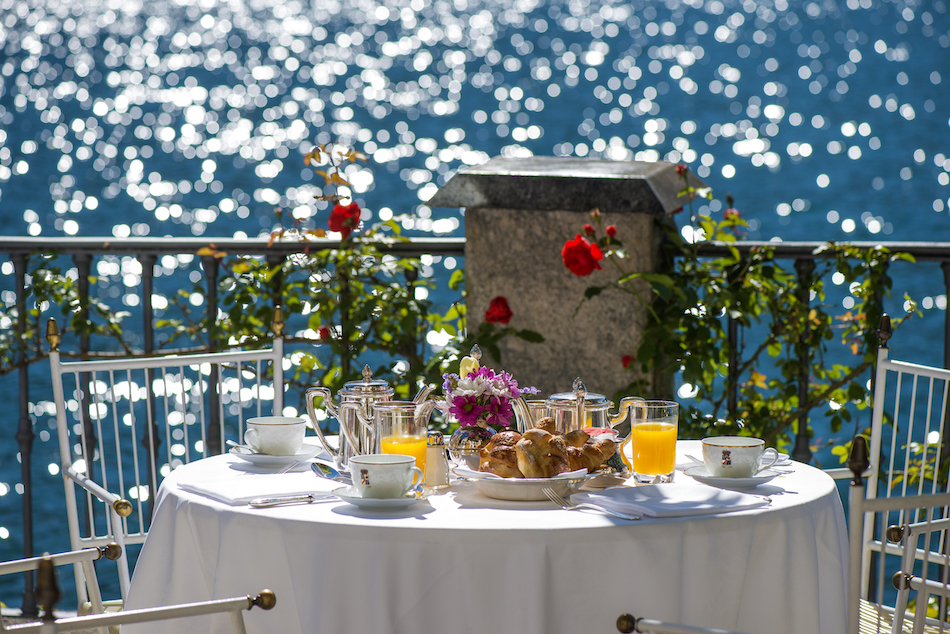 Breakfast. Already-warm sun, crisp white linens, delicate Bernardaud, locally-cured ham and fresh mozzarella, cappuccino – and gazing across the lake.
***
Hotel Adlon Kempinski Berlin
Little did a Mainz businessman, Lorenz Adlon, foresee that his name, representing hospitality, would be leading luxury brands. His peers include another man from Mainz, Johann-Joseph Krug, plus Thierry Hermès, Charles Lewis Tiffany, and Charles Rolls and Henry Royce, who first met in Manchester's Midland Hotel.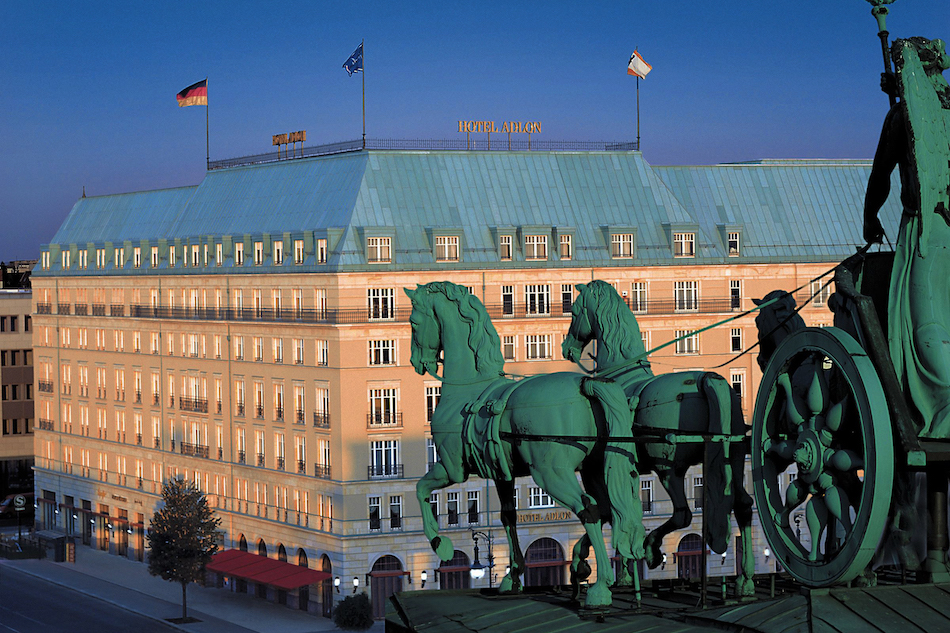 Lorenz Adlon wanted to please Kaiser Wilhelm II by building a German hotel to rival the Ritz establishments in London, Madrid and Paris. Adlon opened his one eponymous hostelry in 1907, next to Berlin's Brandenburg Gate. Today the 383-room Adlon Kempinski, survivor of such challenges as a devastating fire, plus war-time and ownership hiccups, remains, indeed, a signature world hotel.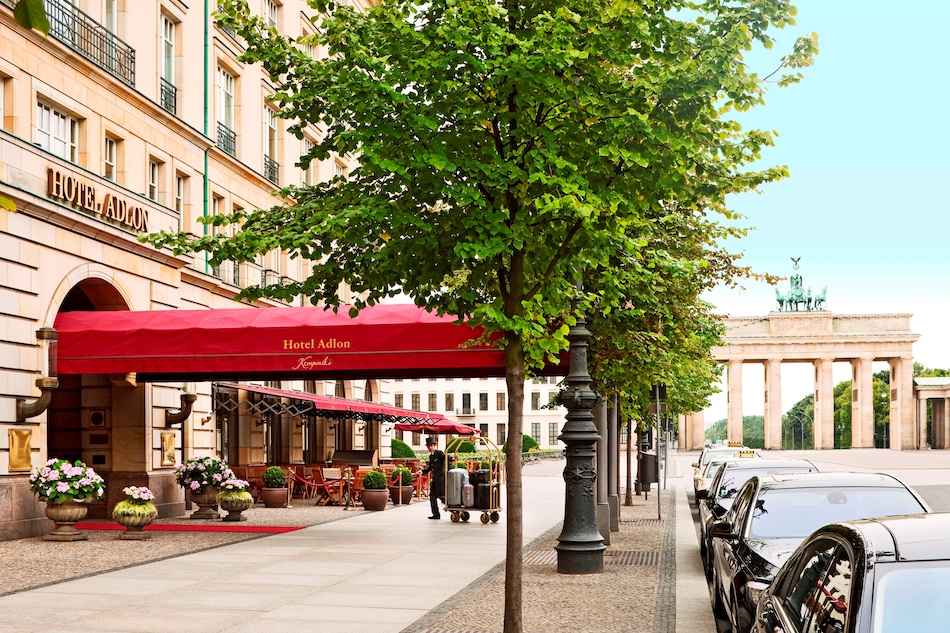 Arrive, and take four red-carpetted stairs up into a magnificent lobby. Ahead, a circular ceiling rises two floors: at ground level there's an extraordinary bronze Elefantenbrunnen fountain of elephants, copy of the 1907 original. The lobby resembles an unofficial club, afternoon tea takers Steinway-soothed and at all times meeting place for Berlin bankers and society names discussing whatever. To the left is a theatre-set of honey light, the stage for black suited gold-key concierges, and Kempinski-signifier Ladies In Red hosts.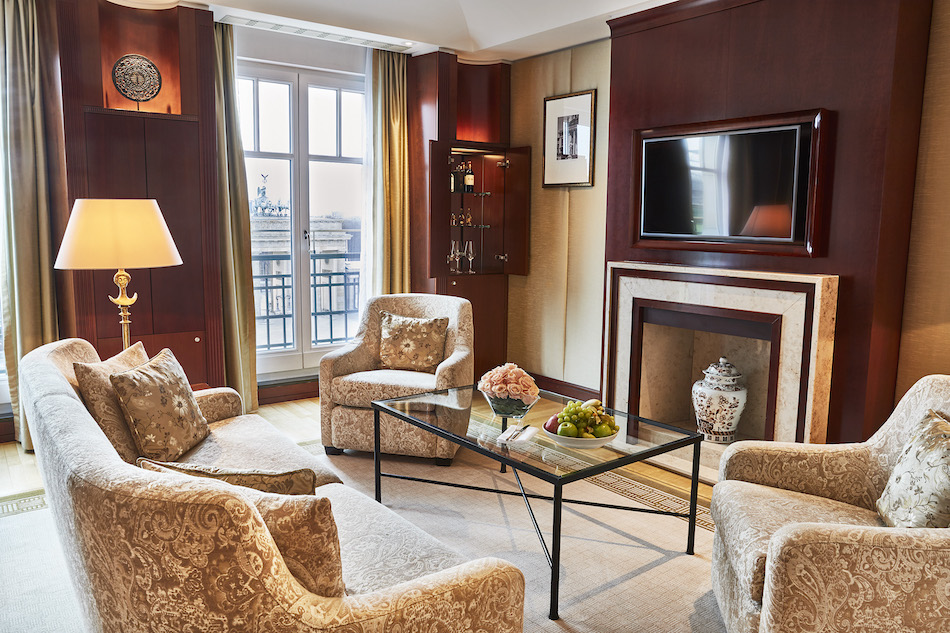 Any suites overlooking the Brandenburg Gate are most desirable (as one expects in Germany, windows, all double-glazed, open). Look down, too, to the constant activity in Pariser Platz, now traffic-free. There might be yet another citizens' protest against something or other. Opportunists in a motley collection of military-type uniform pose for hordes of tourists.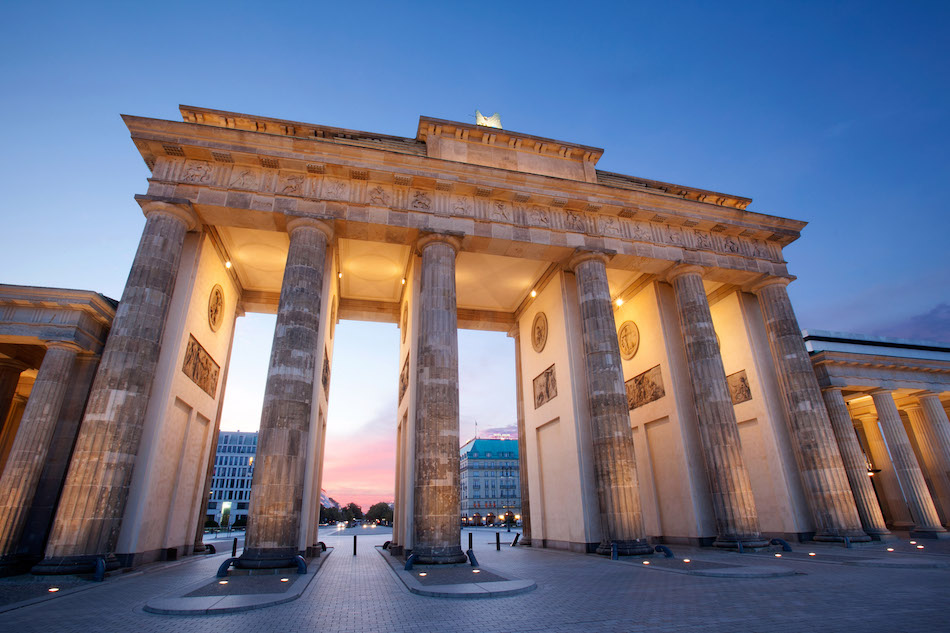 In Summer, Quarre brasserie extends outside, for better 'action watching'. Try its secret-sauce Adlon-Currywurst - they sold 6,136 last year. Go finer-dining, or Asian. Swim in the indoor pool, themed as an Italian villa. The sauna's a magnet, but be prepared for no-clothes. Head out, through Brandenburg Gate to the 210-ha Tiergarten, for invigorating walks and runs through well-tended forest.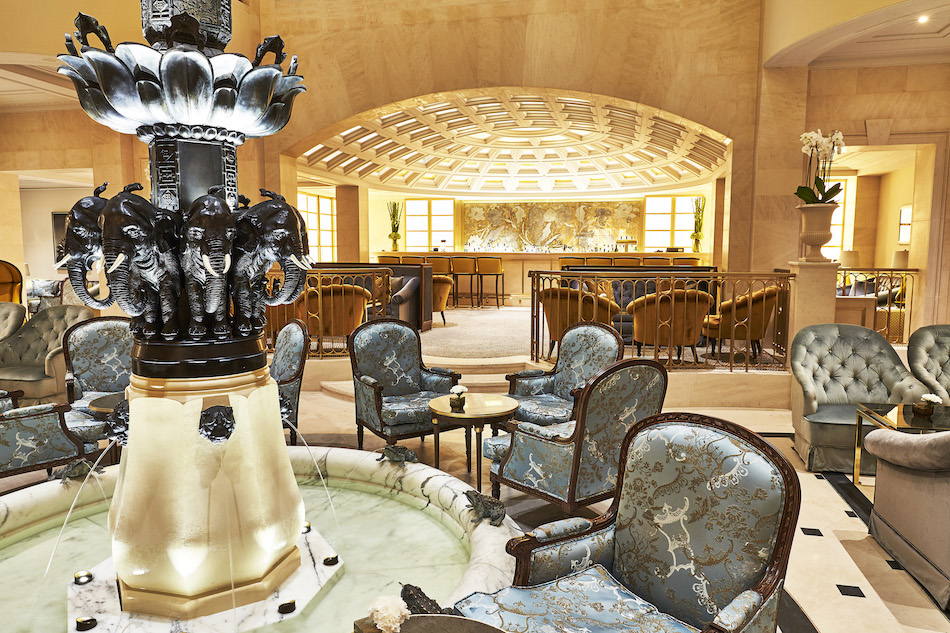 Final memories for many are the Adlon's justly-famous breakfasts - the buffet's splendid rote gruetze red berries could mark tablecloths, starched as crisp as black-suited servers' snow-white ankle-length aprons. Adlon style.
***
Turnberry Hotel
To master Mixology is just one of limitless reasons for choosing Trump Turnberry, on Scotland's invigorating west coast. In suite 123, The Cink Suite, a miniature Hendrick's came with tonic and other necessities. A cupboard holds full-size bottles of Hendrick's, plus Grey Goose, Havana Club and, on the Scotch front, both Ailsa Bay and Turnberry. Plus, of course, a bottle of Trump Meritage 2015, American Red Wine from the family's vineyard outside Charlottsburg Va.
Since President Trump bought Turnberry in 2014 it is said, with conviction, over £120 million has been spent on bringing 1906's railway hotel up to forward-future. Son Eric, guardian of the estate, is, currently, turning a neighbouring farm into a  giant organic garden, to feed hungry golfers and more (there will also be extended livery facilities, with possibly an equine spa, to satisfy equestrian-mad Mrs Eric).
Say Turnberry to many and golf dominates, and the Ailsa and Kintyre courses attract business worldwide – private jets almost commute to Prestwick, under half an hour away. Sporting and other groups often opt for the full-service one or two-floor cottage Villas, more private than the main house.  There, of the 120 bedrooms, choose one looking down the 152 steps to ground level: half a mile ahead is Turnberry lighthouse, today housing golfers' halfway snacks and a stay-in suite. Beyond is the Atlantic, with the Isle of Arran to the right. On clear days, the giant quasi-religious Ailsa Craig rocky crag where curling was invented, is clearly seen.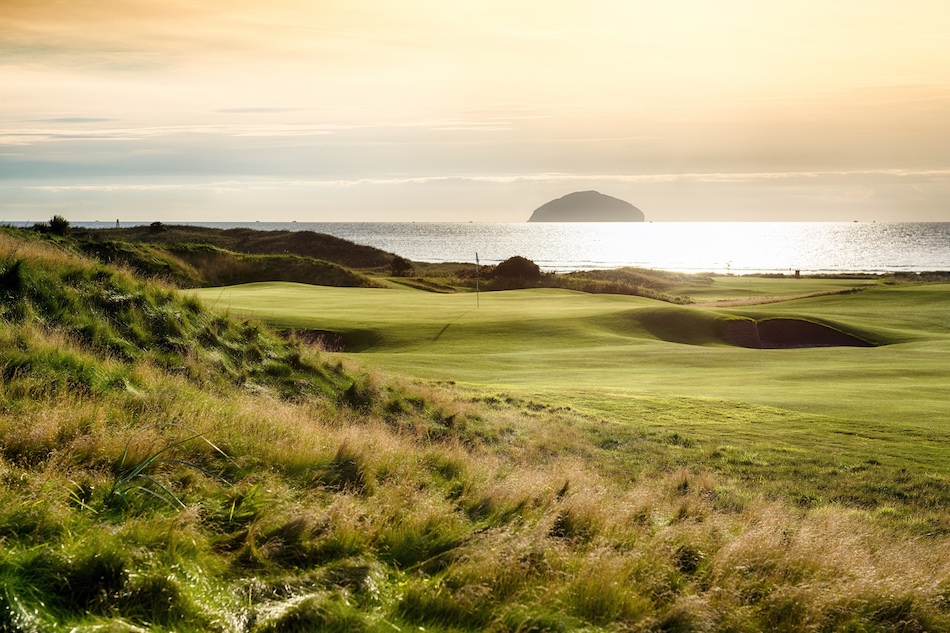 Earlier owners of Turnberry cleverly invested in a separate wellness haven, with an underground approach – lined with golf memorabilia – direct from the hotel. A conservatory-set pool allows look-as-you-lap down to the golf. The compact gym has Technogym's very-latest bits.  And oh, the spa, now entirely seaweed Ishga, 'water', a Hebridean brand that, once found, is never forgotten. Even the hand-sanitizer is a delight.
So much else is also an all-time Turnberry memory, too. The lone piper. kilted of course, heralding sunset. The egg-yolk Porsche outside the front door as if highlight to the all-white harl that blankets every building.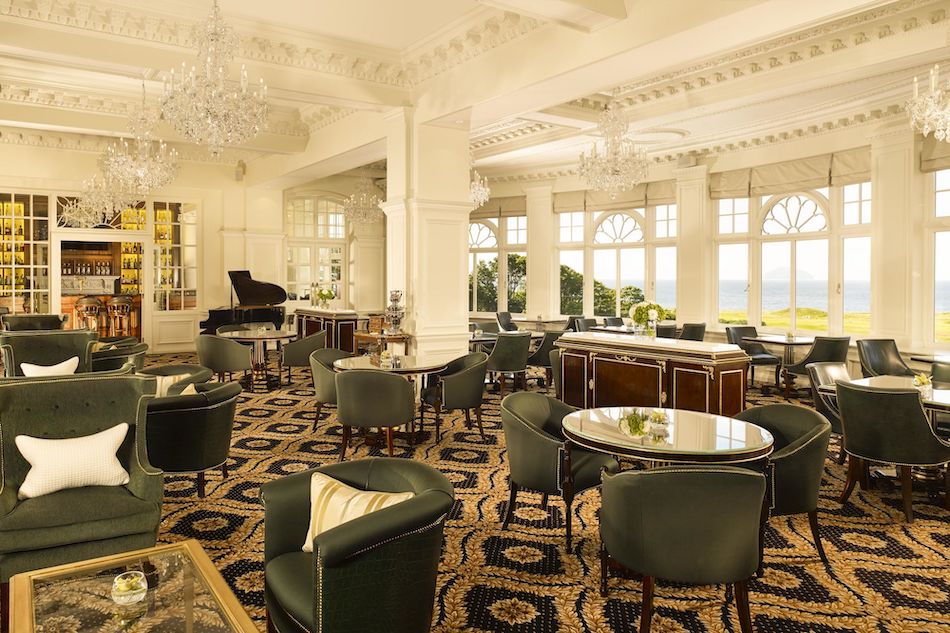 There's so much to see in the vicinity, from distilleries to Burns House Museum. Turnberry's breakfast menu, incidentally, includes a Burns special - Arran Cheddar hash with haggis, I would personally, however, opt for the buffet's three smoked salmons, plain, or with treacle, or Hendrick's. If your tee time's soon, however, go for a separate shot of morning alcohol in the form of Codorniu Zero Brut (it's not on your Mixology agenda).
***
Milestone Hotel & Residences
Hang out with Hermès in London. The setting is suite 106 of Red Carnation's Milestone Hotel & Residences, in mid-Kensington, 500 metres west of the Royal Albert Hall (or, on a more philistine level, the same distance east of Europe's largest Whole Foods).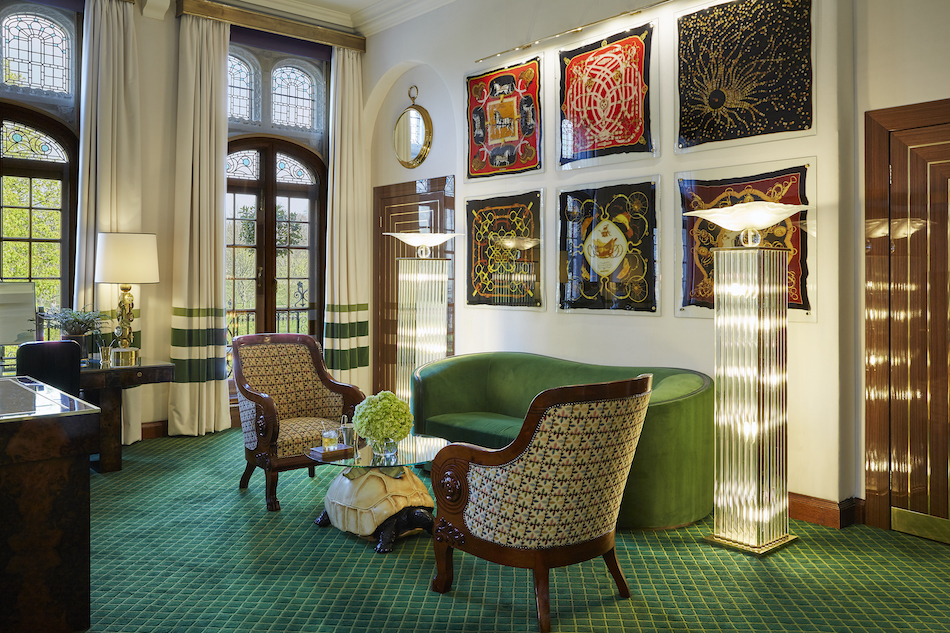 It's no wonder the ultra-elegant hotel room, suitably named the Hermès Suite, is so sought-after. There's four-seat dining on a Victorian terrace. The bathroom is Connemara marble. The bedroom, anchored by a modern frame-only four-poster, and a metre-long tortoise holding a glass tabletop, has an off-white and pine green palette. Four-metre tall walls host, in total, ten full-size Hermès scarves (one features Wedgwood medallions on a red background).
And you know it's personal. Bea Tollman, doyenne of the Red Carnation Hotels family, wore these scarves when they were latest head-cover fashion. It is she, with her daughter Toni Tollman, who has designed this suite, and the entire hotel. As well as 57 unique bedrooms, there are six longer-stay residences, ideal for families. 'William and Kate', for instance, is soft residential taupe throughout, two ensuite bedrooms, an enviable Siemens kitchen, and a salon with working fire (apparently a girlfriends-quartet said 'lovely stay but when do we see them?').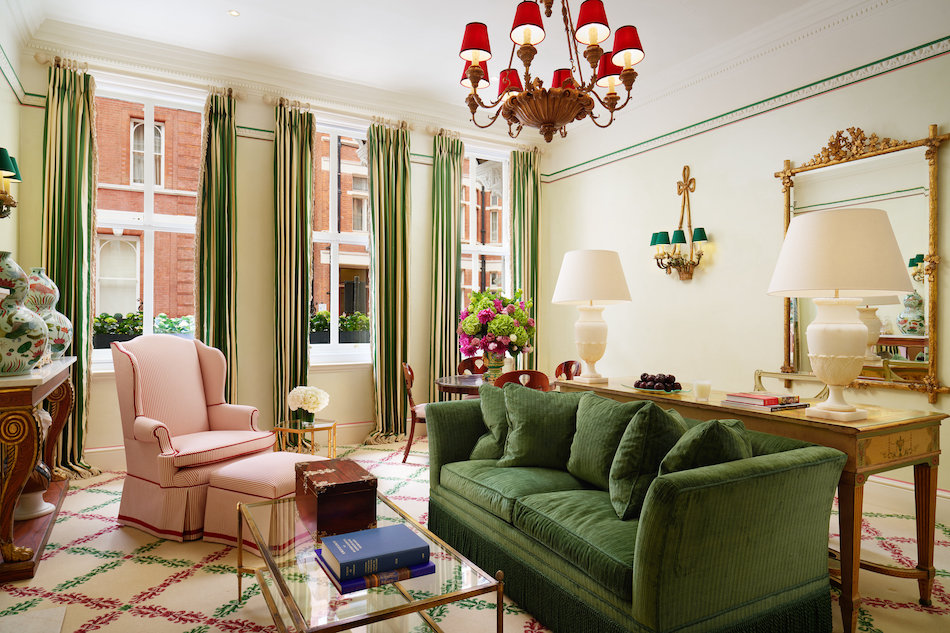 At least you can easily get to see their London home. Take the shiny wood and brass elevator, perfumed with recent polishing, to the ground floor. Tightly furled-red umbrellas, ready if needed, exactly match red roses – The Milestone could be an extension of Chelsea Flower Show. Cross Kensington Road to Kensington Gardens: no flowers in this part of the enormous park, merely avenues of mixed trees, many in bloom, and well-tended grass. 400 metres ahead, behind tall railings with brass addenda, and a lifesize statue of an earlier namesake, William III, is Kensington Palace. Which windows belong to today's William and his family?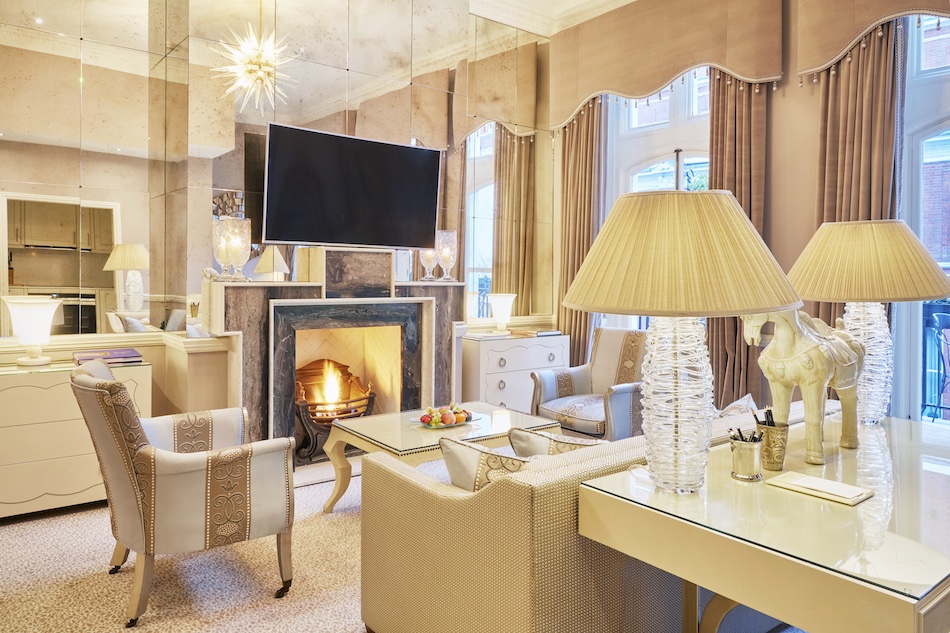 Back at base, you could head down to lower level wellness, for a Sothy's nOctuelle facial, or workout, in the vitality pool, or the well-equipped compact Lifefitness gym.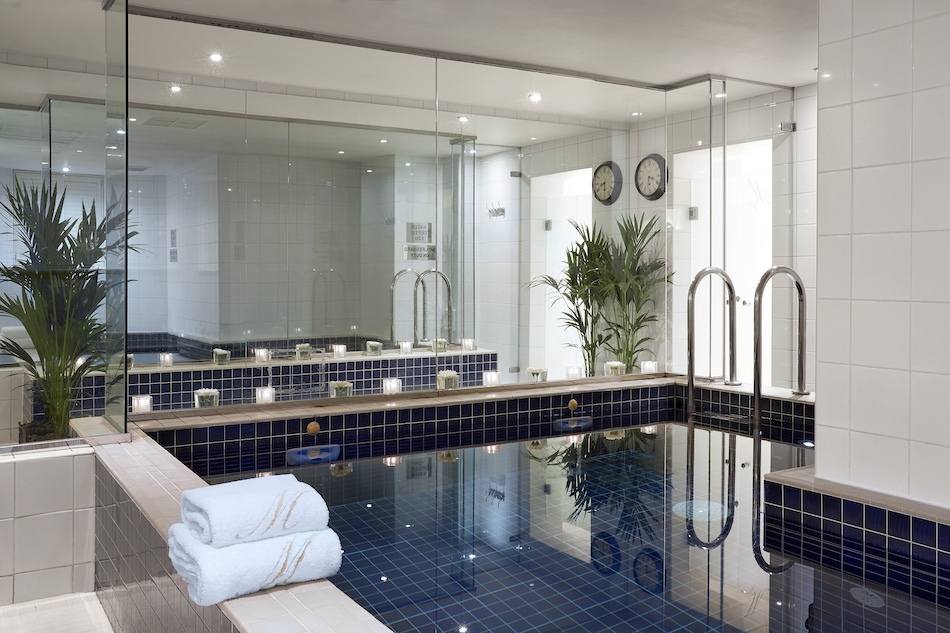 Think silver-pot coffee and whatever, in the all-day ecclesiastical look Cheniston's (Kensington's earlier name). Green and white check breakfast linens complement a waiter's scarlet eyewear and his ubiquitous Red Carnation lapel corsage. 
A final memory could be The Milestone's exterior railings, garlanded end to end in fresh wreaths of green variegated ivy and assorted white blooms. The Range Rover Autobiography town car, driven – truthfully – by Colin Monplaisir, awaits.  It's dark green.
***
Ashford Castle Hotel
April is start of Orvis fishing on Ireland's Lough Corrib, the lake immediately behind Ashford Castle Hotel & Country Estate. And throughout experiences tumble over each other at this magnificent estate in Co Mayo.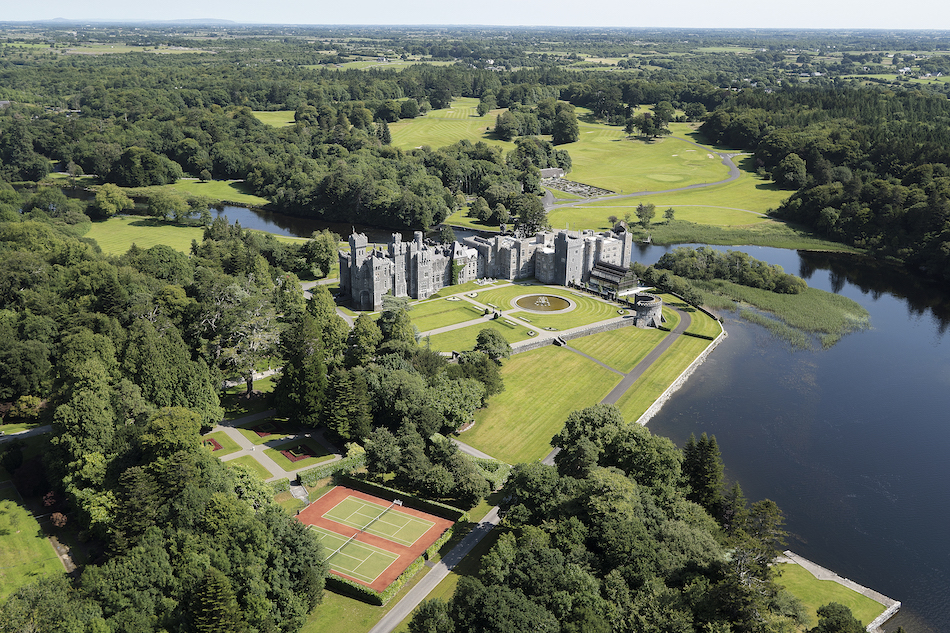 Ashford's history, for a start. The screenplay opens with a castle the de Burgo family built in 1228(surely the world's oldest luxury hotel?) Its space. Bordering the lough, 350acres  include woodland and grounds for endless walks, runs and bike rides. The sports. Think boating, and professional archery and falconry lessons – and golf.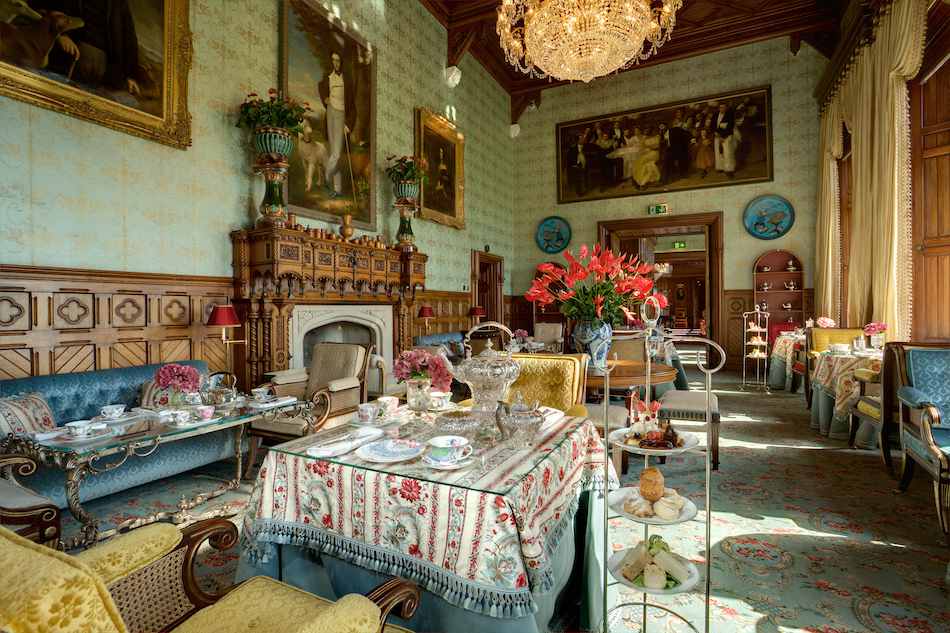 Bea Tollman, doyenne of the dynamic travel and tourism family with presence, it seems, in every continent, has overseen the re-do of what she now considers her Irish retreat. Soaring public rooms, with woodwork polished as mirrors, have roaring log fires, framed portraits of ancestors, and heritage displays. 
All 84 bedrooms are unique. A favourite, #430, looks across lawns to the lough. It's tall enough to have a mezzanine with a second bed (the master four-poster is gloriously curtained). The fire is already blazing. A welcome note tied in red ribbon accompanies a decanter of something potable, and home-made shortbreads. Soak in the deepest possible tub, with Voya, ethics+science toiletries evolved from Ireland's seaweed bathing heritage: wrap in the ultimate cuddly Robe Works gown, from across the Atlantic.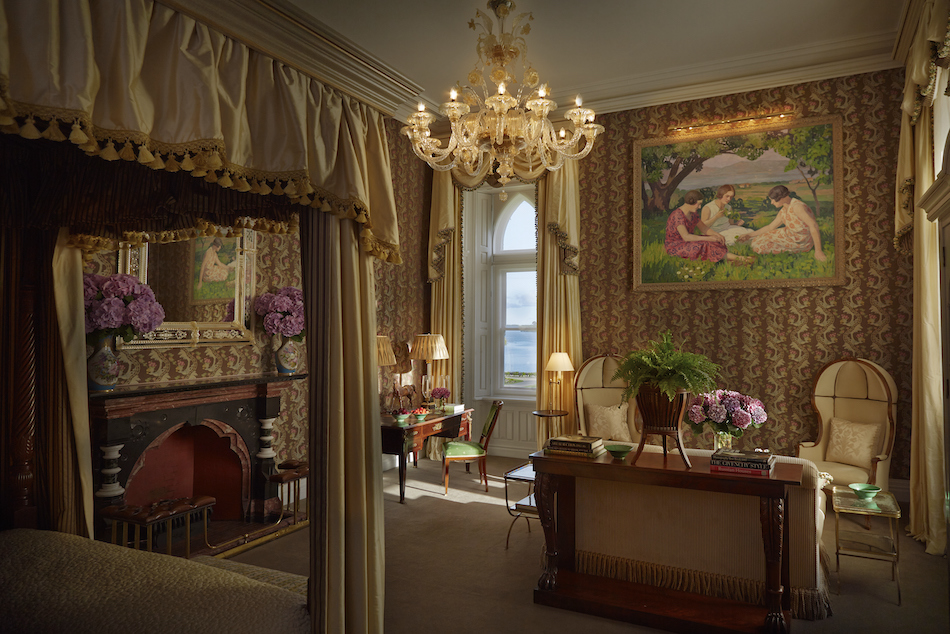 Eat Ireland's best, too, from Burren smoked salmon sliced tableside through to local Kylemore Farm cheeses. But don't be insular. Finish with a Valrhona rhubarb and vanilla chocolate. Let the admirable spa feed your face with Elemis.
Walk it all off, a kilometre to a mediaeval church, still working, and not much further to Cong village. There's a lifesize sculpture of John Wayne and Maureen O'Hara on your way. They shot The Quiet Man here in 1951, but no need to keep quiet about all this, today. Year-round, Cong, and Ashford Castle, are on the bucket list you didn't imagine.
***
Nobu Hotel
Picnic in a park is such a delightful English pastime, but let's make it extra special. Stay at Nobu Hotel London Portman Square and ask Andrew, or one of the other equally-charming concierge types, to arrange a Nobu hamper, a bottle of chilled Laurent-Perrier, and a rug to sit on. Take all this over the crossing of Upper Berkeley Street and Gloucester Place and into Portman Square, the late 18th century garden exclusive to those who live around the square, plus hotel guests.
The 249-room hotel is ageless lifestyle. The two floor lobby, by David Collins, is highlighted by oodles of glass walls, a ceiling-hung futuristic sculpture, and by really impressive warm staff. Without exception they're young, enthusiastic and chic, dressed by Nicholas Oakwell in black – did he also choreograph the multi-coloured beads at the ends of one guy's Afro beads?  Women seem to dance, some in floating-wings jackets based, suitably, on origami.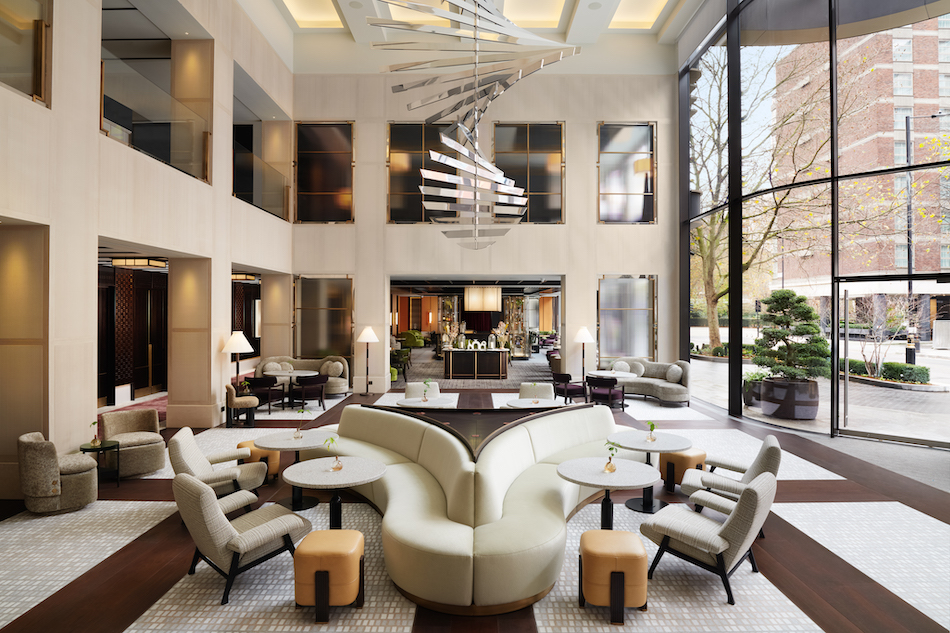 Apart from a printed welcome from Nobu himself, a Japanese tea set and ryokan-style bedside lights, suite 802, a haven of taupe and tweed, was international style, with such touchpoints as Himalayan bathsalts for the really deep soaking tub. 
This hotel showcases best of the world. The first-ever Nobu Spa has latest Technogym, from Italy, and the 13 Pilates reformers are Merrihew, named for Canadian designer and owner, professional actor Lindsay Merrihew, from New Brunswick.
And the restaurant, a heaving mass of 125 diners (full, both main meals). Watch the Japanese chefs, after eight years of training, knock up, say, Sashimi salad with Matsuhisa dressing, Avocado tartare, A5 Japanese wagyu, cooked new style, or tataki, or toban yaki, or in tacos, or simply as 'steak'. Dine up at the kitchen counter to see chefs' secrets at close hand (at breakfast, cleverly, a frosted glass screen hides the stoves, and that counter holds the buffet – don't miss the Iceland-style sheep's yoghurt, and Forman smoked salmon.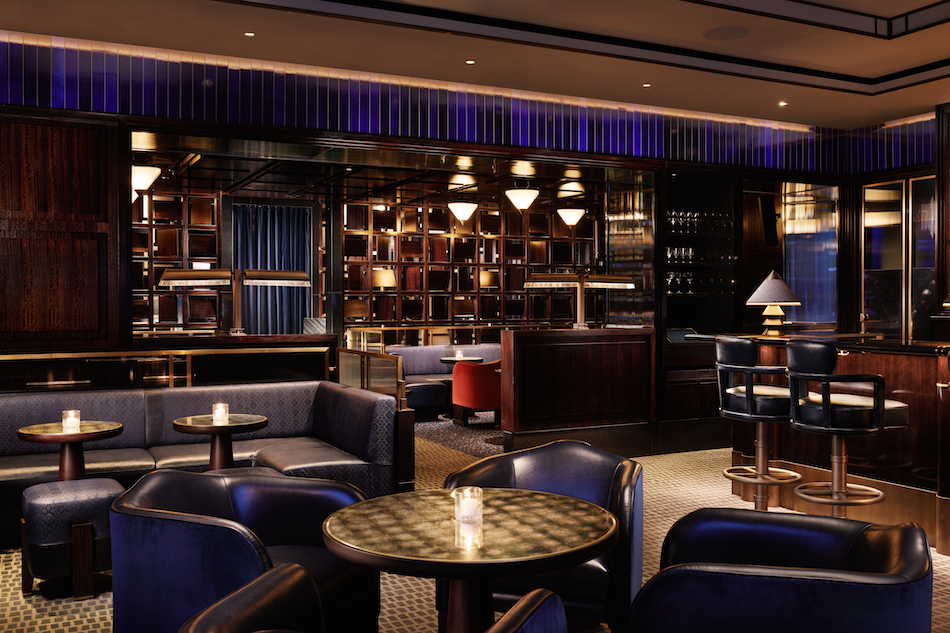 To be honest, smoked salmon Nigiri sushi would be perfect under the oaks in the Square. With bubbles, of course.
***
Hôtel Martinez
Make-believe you're movie mega. In Cannes, of course. Get top billing at Hôtel Martinez, part of Hyatt's Unbound collection. This Sunday, 10th May, is all-star opening of L'Oasis, its 2,800sq m garden on the ballroom rooftop. In among greenery and floribunda there's a one-person, 20-metre lap pool. Find, also a 600sq m Carita Spa, and a 200sq m gym with latest Technogym bits and pieces.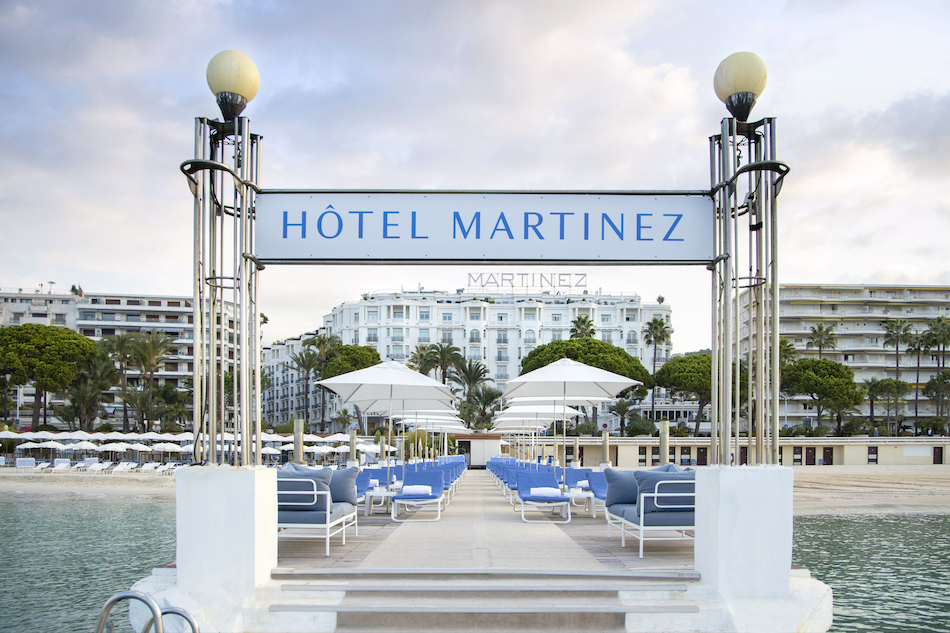 Also, up on the hotel's seventh floor, two new magnificent Penthouses await, designed like the rest of the 409-room year-round resort, by that genius, Pierre-Yves Rochon. Throughout, he's evoked memories of years ago - Emmanuel Martinez opened the doors here in 1929. Think pale colours, and bias cut slinky fabrics, perhaps draped around Marlene Dietrich. Today's top entertainment celebs, by the way, include Martinez influencer My Fair Princess star Fan Bingbing, a former Cannes International Film Festival jury member.
Of all the 409 rooms and suites, choose one that is sea-facing (I especially liked 531 as it offered a really good work-out using the elegant original oval staircase rather than elevators – okay purists, one floor higher would have been even more calorie-consuming). Anyway, look out, over the terrace of the indoor-out Le Jardin du Martinez, and across La Croisette to the Martinez Beach Club. Art Deco at its best.
That's what hotel GM Yann Gillet wants, to be the best. As always he can show off the hotel's haute cuisine talent. The night before the Film Festival starts, the Martinez hosts dinner for the festival jury in its Michelin two-starred La Palme d'Or. Usually, Christian Sinicropi's best-seller is lightly-smoked Notre-Dame de Valcluse trout with cold seaweed infusion – add at least a flute of Taittinger's Comtes de Champagne in honour of the hotel's former owner. Now the million-euro question is what will the chef serve this year's jury, on 16th May 2022
***
One&Only Royal Mirage
A hundred years ago celebrities flocked to Cannes for the dolce vita of the French Riviera. They stayed in the new Carlton Hotel, and probably took constitutional walks along La Croisette to see another hotel, being built by Emmanuel Martinez. And if you were really top notch you would dine off something at least inspired by Escoffier.
Jump forward to today and it is Dubai that is top of the global travelista luxury list. And, similarly pairing destination with a celebrity food icon, you need Mauro Colagreco. He's the Argentinian-Italy wunderkind whose awards for Mirazur restaurant in Menton have spawned clones worldwide.  Brand Colagreco has gone viral.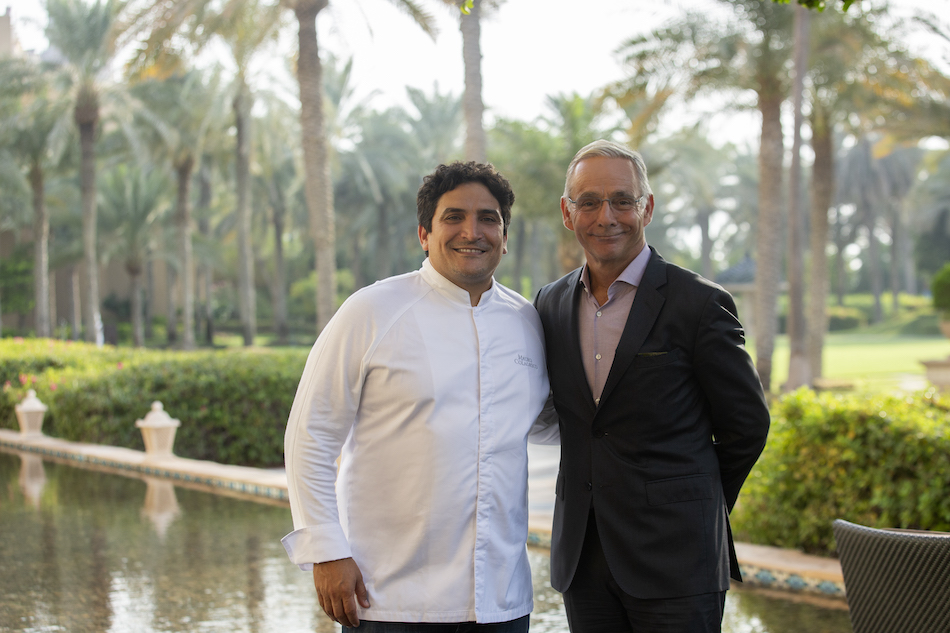 In Dubai he is the food genius at One&Only Royal Mirage, whose big boss, Olivier Louis, cleverly signed him up before all the hype. At the rear of the complex, in the immaculately tended gardens running 250 metres to the sandy beach and the azure sea, there are Celebrities, The Beach Bar & Grill and Esplanade.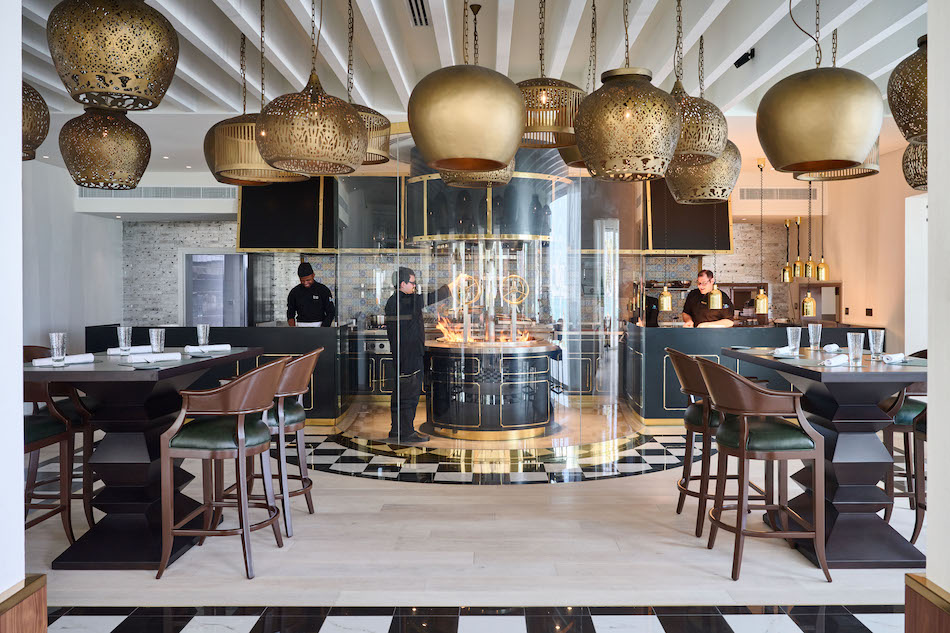 Forget the uncertainty around some Michelin three-starred experiences.  Here you find laid-back luxury with style, perhaps not surprising from a literature graduate who also studied economics. Give'em what they want and you make more. Colagreco food is simple,  say mahi-mahi ceviche with leche de tigre, and 120-days grass fed ribeye, Argentinian of course, like the Trivento Reserve Malbec 2018.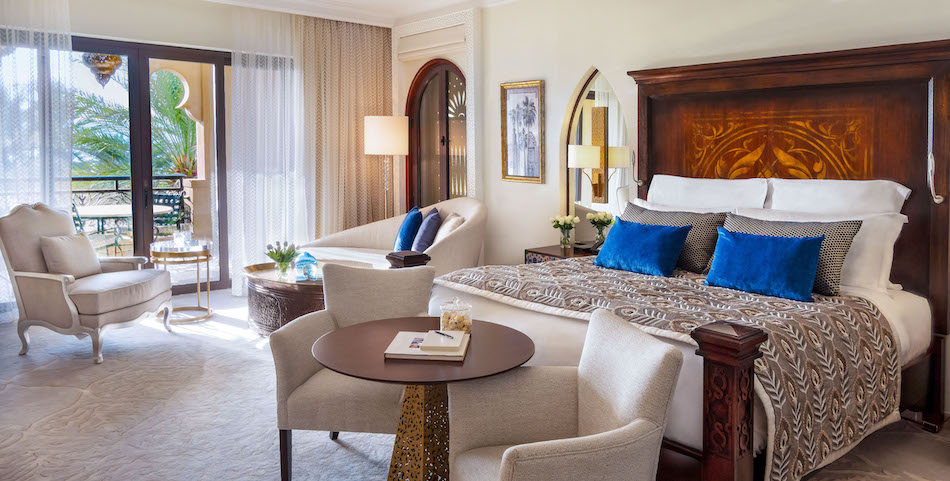 Staying in one of One&Only Royal Mirage's three hotels is also simple. Simple style. Cognoscenti choose the 48-key Residence and Spa (the 200 staff are anonymous until one second before you need them). Inside, it is cool and a little Arabic. but not too much so.  I walked 30 metres over Persian rugs to my private staircase, 20 stone steps up to suite #34, about 70sq m with nearly that again in terrace to look down, at the gardens. Close in, there are metal-leg seating arrangements under tall Royal Palms, for breakfast through to late-hour nightcap.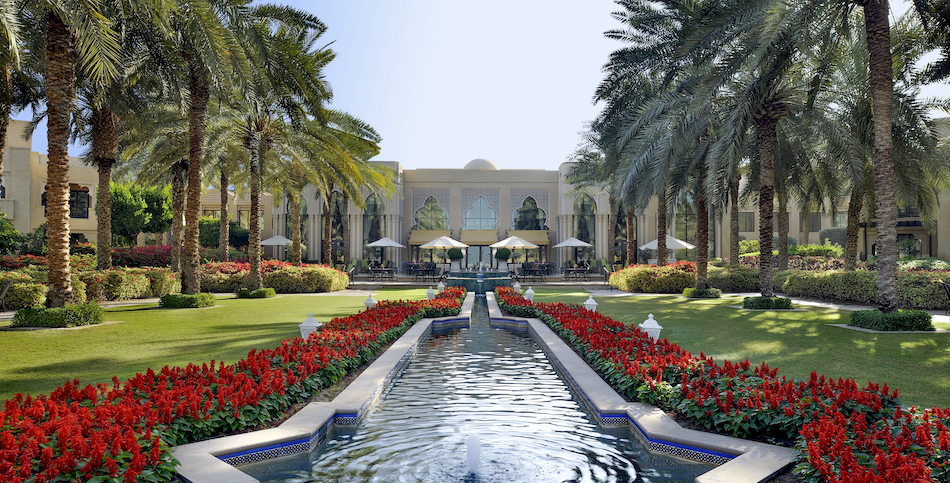 Although naturally #34 has an espressso machine, my wake-up coffee will, in Limoges of course. be down there, listening to the birds in the palms and dreaming of the Colagreco effect. Top notch IS possible.
***
Regent's Seven Seas Splendor
Why bother with your own private yacht when Regent's Seven Seas Splendor has a marina cantilevered off the stern of the fifth-floor deck?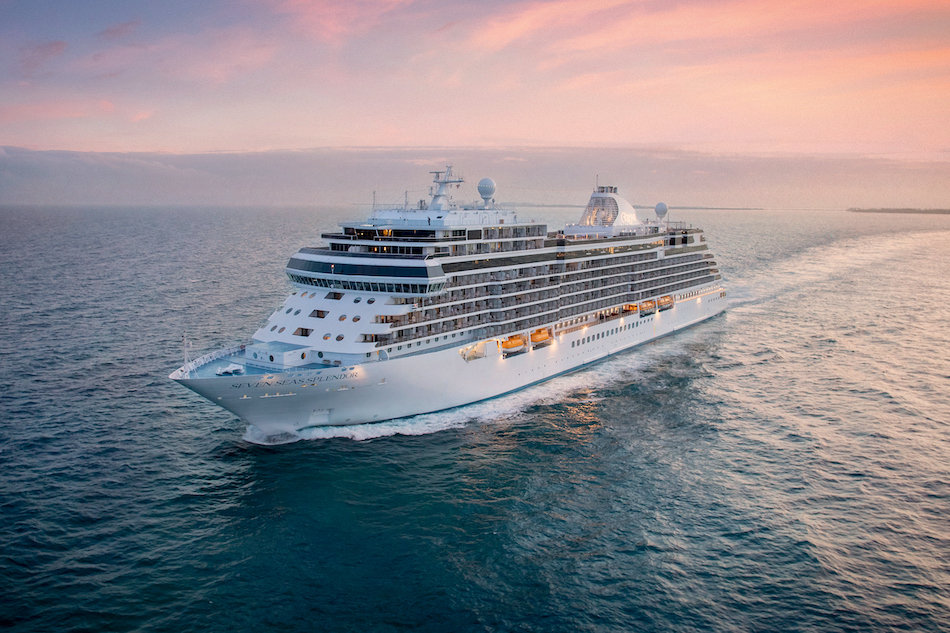 Frolic in the marina pool – far less noisy than the main, but bigger, pool on deck 11. Alternatively watch the marina jollifications through the glass wall of the spa's sauna, adjacent to a cold room, and an aromatic steam chamber.
In between savour what could well be the best food at sea. Caviars, red and black with all the trimmings, are on offer Sundays and holidays. At dinner, choose between a world of styles. Gregarious Chartreuse chef, Loic, ex-Ducasse, produces an haute cuisine Dover sole with sauce Grenobloise. Prime7, Raynaud china, Riedel glasses, flies its man-size USA Prime steaks from the Mid West. Pacific Rim, entirely female-staffed, is entered around a two-metre tall metal dragon, sculpture naturally.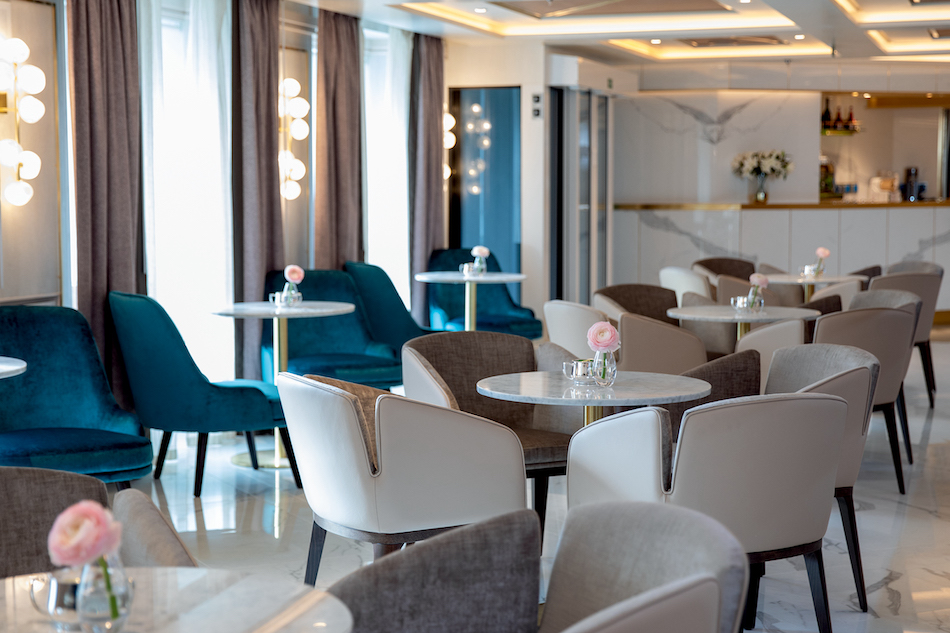 Unusually, Splendor has a professional-standard Culinary Theatre, headed by a Culinary Institute of America-grad. Learn to cook local dishes, say moussaka off Santorini, perhaps after a land tour to visit farmers' markets.
Somehow find time to read Assouline coffee-table books in the library, or take lectures, or order yet another glass of Heidsieck in your suite – other than cook classes and spa, everything's all-in, including tips.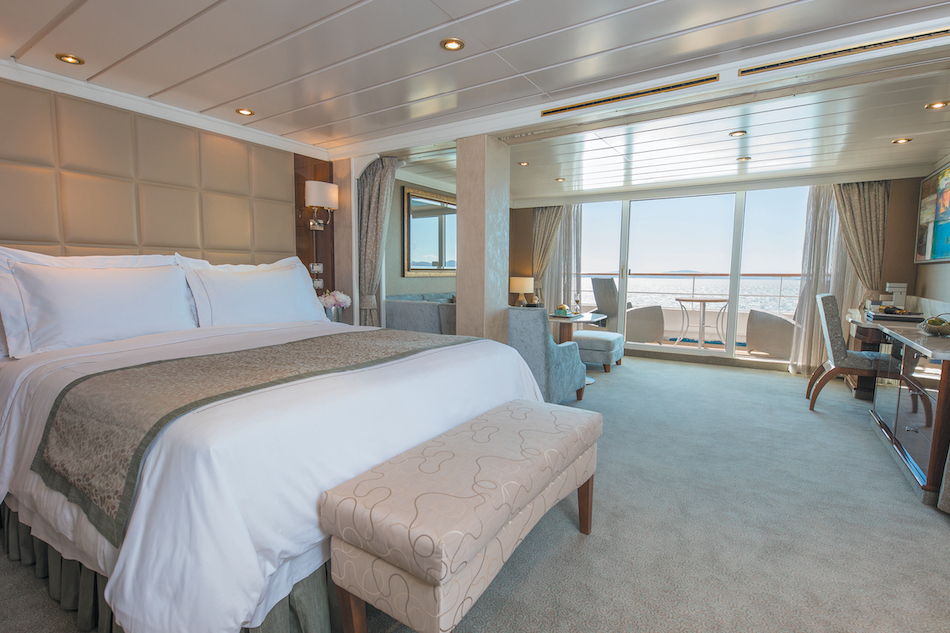 All 375 'rooms' have sizeable balconies. Top of the range is the 444 sq m Regent Suite but, honestly,  #944, mid-ship, is ideal. Easy to reach any bar after an early-evening bubble-soak in the really deep tub, choose dinner, catch a show, sleep like a log on a 30cm-high Savoir mattress. Watch the sunrise while walking the deck. Good, it's caviar breakfast, with a mother-of-pearl spoon. If you beat the rush, you even feel this IS your private yacht.
***
Setai Hotel
The Setai Miami Beach tops global bucket lists for vibe eatertainment – and more. Consider this. This Tuesday, yes mid-week, over 200 dined at the 130-room hotel's beach-set Ocean Grill, which sensibly has instantly-removable Italy-made roofing 'just in case'. Simultaneously, nearly 600 preferred The Setai's Jaya restaurant-plus.
And yet you can feel intimate, at both venues. You know service will be thoughtful, by young professionals, graduates in body language's emotional intelligence.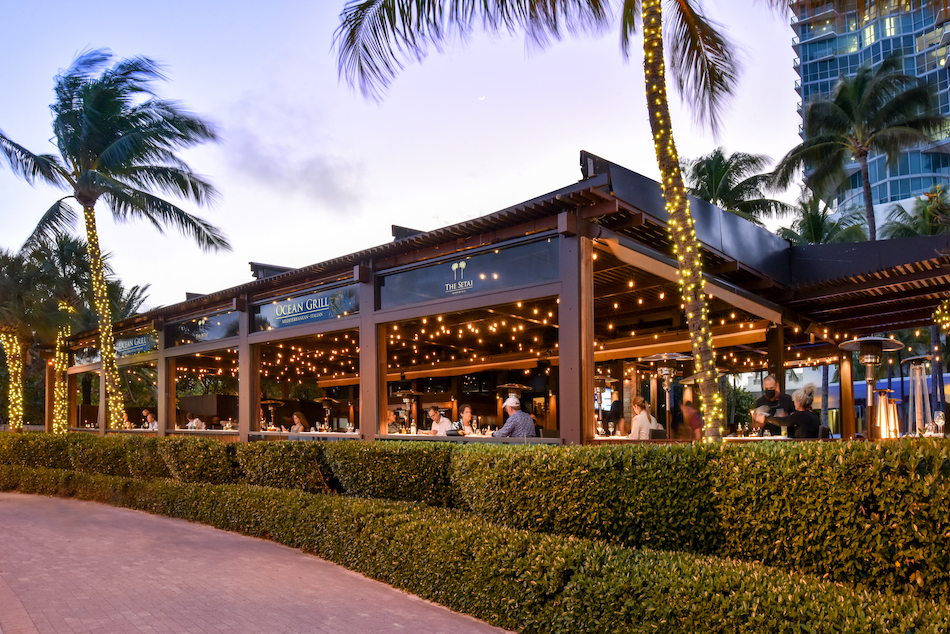 Jaya is an easily-seen corner spot on trendy Collins Street. Dine inside, in one of many high-ceilinged rooms, or outside, around, or in, decorative pools (tables are in water-free alcoves, flanked by ceiling-high living palms). Jaya is peaceful at breakfast and lunch. Dinner is another matter. An ongoing son et lumière show of multi-coloured lights and electronic music is complemented by occasional DJs. At weekends stilt-walkers and other entertainers join the glitter performance.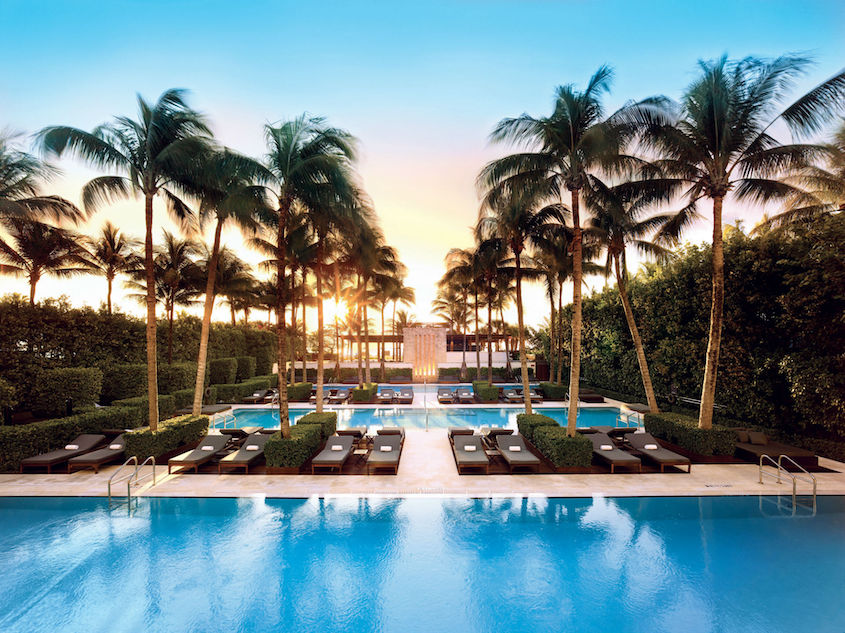 Ocean Grill's entertainment is subdued sounds of exercisers tramping South Beach's famous beach walk, crashing of waves beyond. Here around you, people-watching is a silent guide to southern Florida's appeal. Top of their professions include household-name financiers, some New Yorkers drawn to Miami mode (some live in the residences that are part of The Setai complex – one resident, with over two million followers, posts daily images of sunrise from his terrace).
Miami Beach, to me, IS The Setai, a Leading member. From suite 2403's balcony I looked down, over three parallel lap pools, thoughtfully different temperatures, to the Ocean Grill. Walk there, past eight double-width loungers, cleverly surrounded by two metre-high living bushes. People-watch nibbling shaved and charred artichokes. A man-sized Arkansas steak and Grigich Hills 2017 Napa Valley Cabernet Sauvignon. Eatertainment, orchestrated by ringmaster Alex Furrer, the Swiss-efficient Managing Director.
***
Merrion Hotel
The Merrion Hotel, Dublin, is art gallery plus. For a start, this 143-room Leading Hotels of the World gem has history. It was put together, as if a jigsaw, from four adjacent 18th century townhouses, one of which was Wellington's birthplace.
It has location, on Upper Merrion Street, a few minutes' walk past St Stephen's Green to the best-shopping of Grafton Street, and turn left for Temple Bar, right for Trinity College Dublin (TCD) or continue straight, for the River Liffey. The Merrion's seven vehicular minutes, sports fans note, to Aviva Stadium – traffic permitting.
And art. The hotel's philanthropic shareholder Lochlann Quinn has, with his wife Brenda, loaned 159 items for permanent display throughout the hotel and its gorgeous garden, framed, as it were, by Merrion buildings around. Here's a sculpture of artist Jack B. Yeats by Laurence Campbell 1911-1964, done in 1944 when the sitter was a septuagenarian: there are also several paintings by Yeats, including a 1925 view of The Old Grass Road in Kinsale. The hotel offers a do-it-yourself art audio tour, and if you want yet more culture, the National Gallery of Ireland is three minutes' walk away.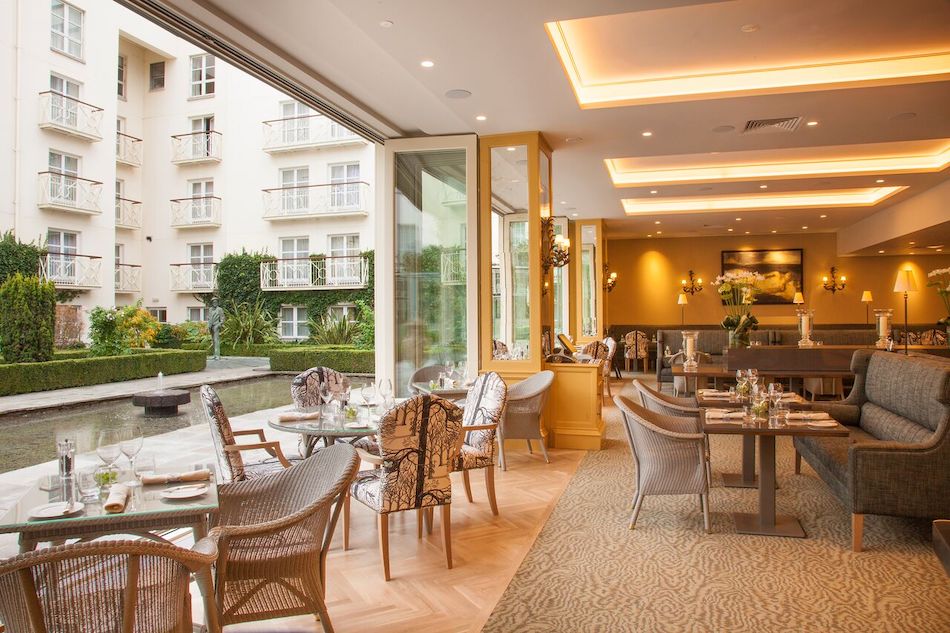 The Merrion's also a gathering place of today's VIPs – the imposing Department of the Taoiseach is literally just across the road. Ireland's decision-makers network in the hotel's semi-basement Cellar Bar, the brick-walled, barrel-ceilinged wine vaults of three centuries ago.  Dine gastro-pub there, or, for modern Irish in a most agreeable nature-filled environment, head for The Garden Room, a garden-set conservatory that, contrary to supposed general wisdom, works like a dream despite having no street entrance.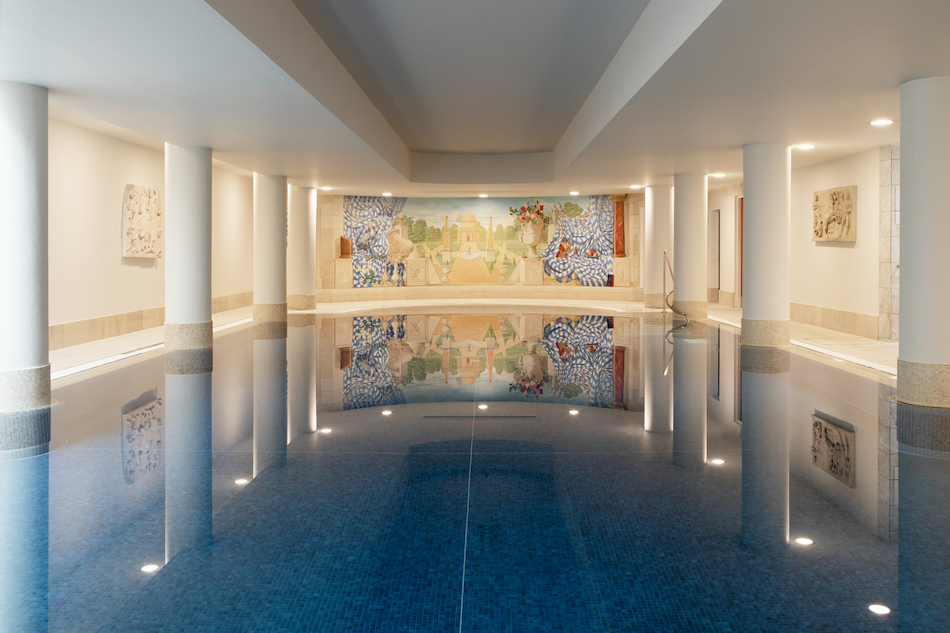 You can, however, access the gym, the 17-metre pool, or the spa, for a Biologique Recherrche or ESPA treatment, without going past 'front desk', which is all honesty more akin to a well-loved Georgian house than any hotel's reception.  For additional calorie-consumption, by the way I always used 29 historic wrought-iron-railed stairs to get up to room 183, overlooking the peaceful inner garden. I could see some statues out there. Was one Yeats? I must return.
***
Caesars Palace Dubai
Think differently. How about cavorting like a Caesar, on the most beautiful beaches in Dubai?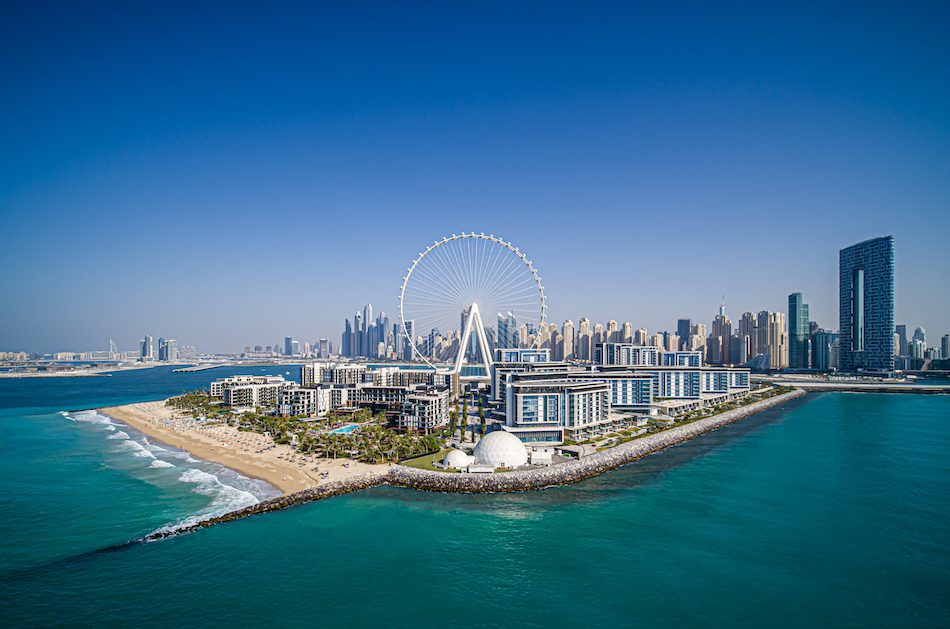 Caesars Palace Bluewaters Dubai may sound a little over-the-top but apart from a larger-than-life statue of one of the Roman emperors (not sure which) you will not be reminded of Vegas.  What you will have throughout your stay in this modern five-floor block is sumptuous and thoughtful luxury.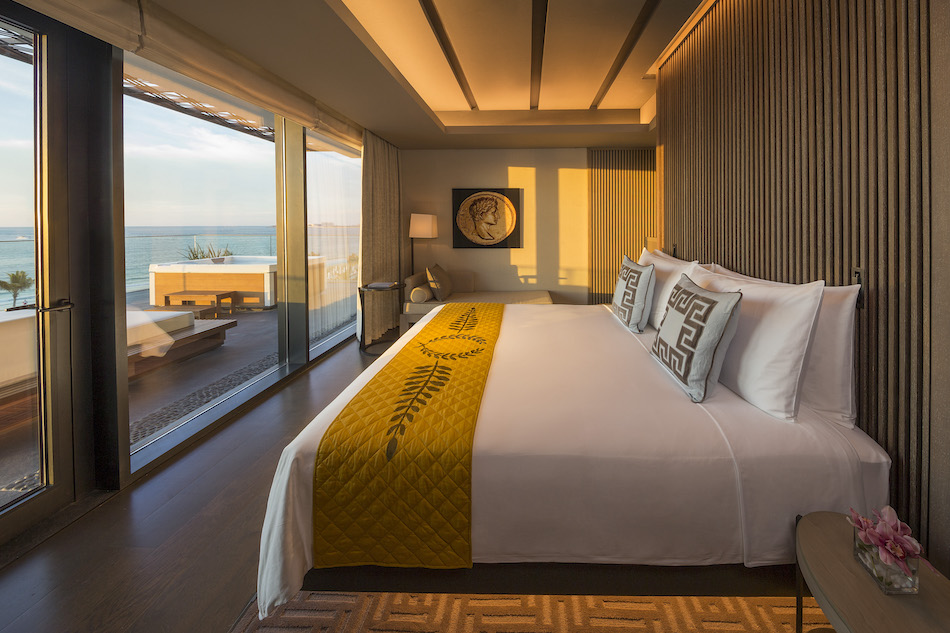 Choose one of the 301 Palace rooms that has best views of the nearby Ferris Wheel, the world's tallest (not surprising, remember this is Dubai), and, only 200 metres away some of the 1.7kms end-to-end of private beach. Presidential Suite #525 gives you 278 sqm of interior, with some all-glass walls and, as an extra, a wrap-round terrace large enough for a hot tub.
Although branches of both Hamley's, for the latest toys, and Madame Tussards, with its realistic waxworks, are under five minutes' walk away, this is a hotel for staying put. Why bother to go off-campus? There's a great spa, a Havana Cuba cigar lounge, and memorable food. Demon Duck is Hong Kong's sensation Alvin Leung doing sexy Asian. Gordon Ramsay, at Hell's Kitchen, does, well, 'Gordon' – try his perfectly-aged Australian Wagyu as you dine outside, under splendid greenery with highly agreeable background vibes from the DJ at nearby Cove Beach, which packs in Dubai's top KOLs (key opinion leaders), Gen-Ys and youthful Millennials. Breakfast outside is memorable too, though the only sounds now are birds, and the occasional jogger or walker making the most of the resort's beach-hugging track.
I wonder, if, all those millenia ago, any of the real Caesars had such a satisfactory stay.
***
Carton House
Live like an Irish lord, at least while you are at Carton House, a Fairmont Managed Hotel 25 miles from Dublin airport. Reminders of the FitzGerald, Kildare and Leinster dynasties permeate your stay.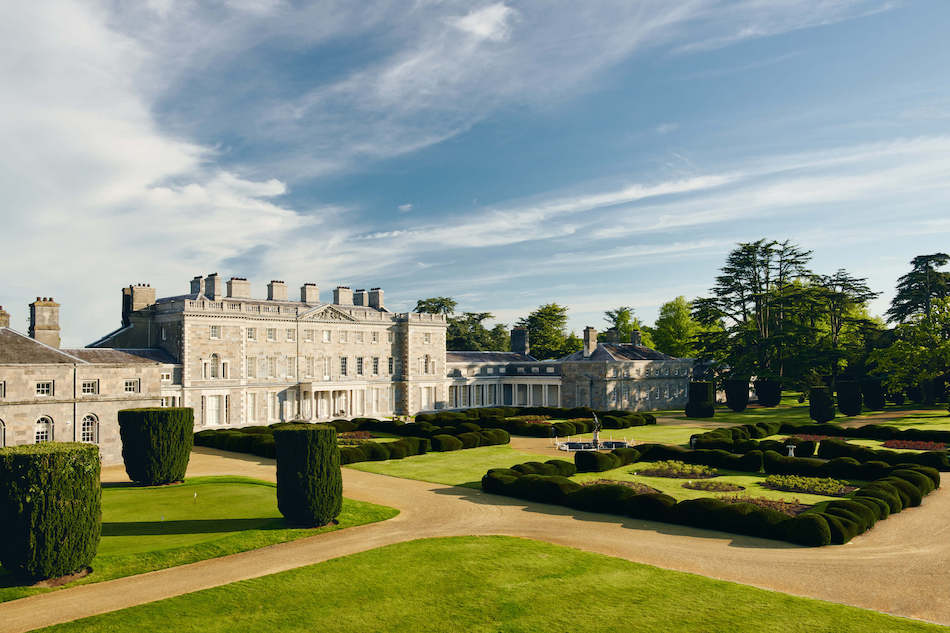 Breakfast in the portraits-hung Gold Room, its soaring white and gold-leaf barrelled ceiling complemented by dozens of vertical gold pipes on one end wall, show there was once an organ here. The adjacent Butler's Pantry still has over 30 bells with clangers, each with a different tone and labelled for a specific room. As a change from Emerald Isle history, Lady Emily's Chinese Boudoir's midnight walls display applied panels of Mandarin silk.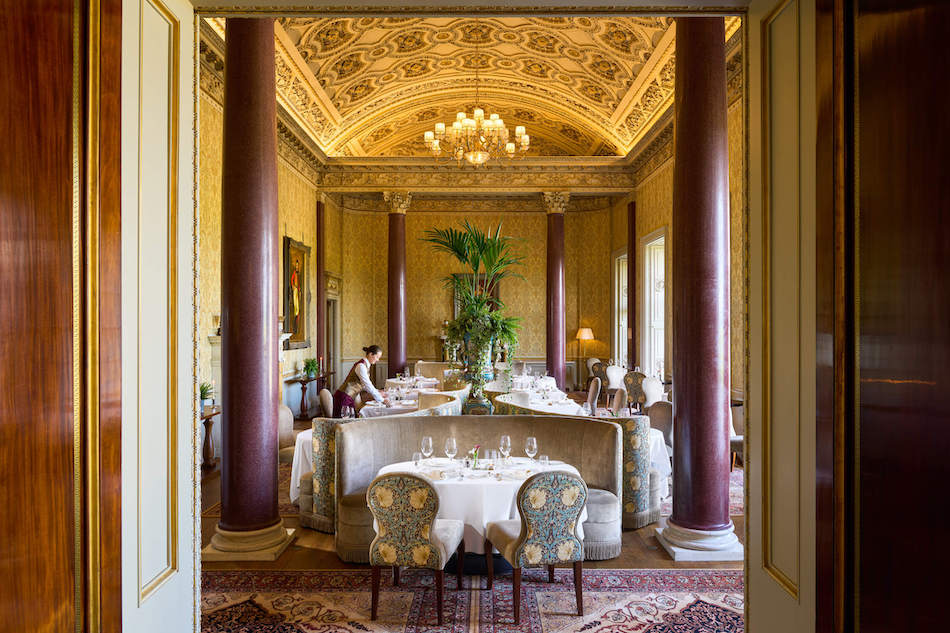 John Mullen, US-based founder of Apple Leisure, bought this 1,100-acre estate as a memento of his roots. The uninterrupted rolling landscape conveniently came with two champion 18-hole golf courses, one Mark O'Meara and the other Colin Montgomerie. Add a football pitch, booked out as practice by Chelsea, Real Madrid and other top-level clubs. And, guarded by immaculately manicured topiary and centuries-old Cedars, there's a three-floor stone mansion.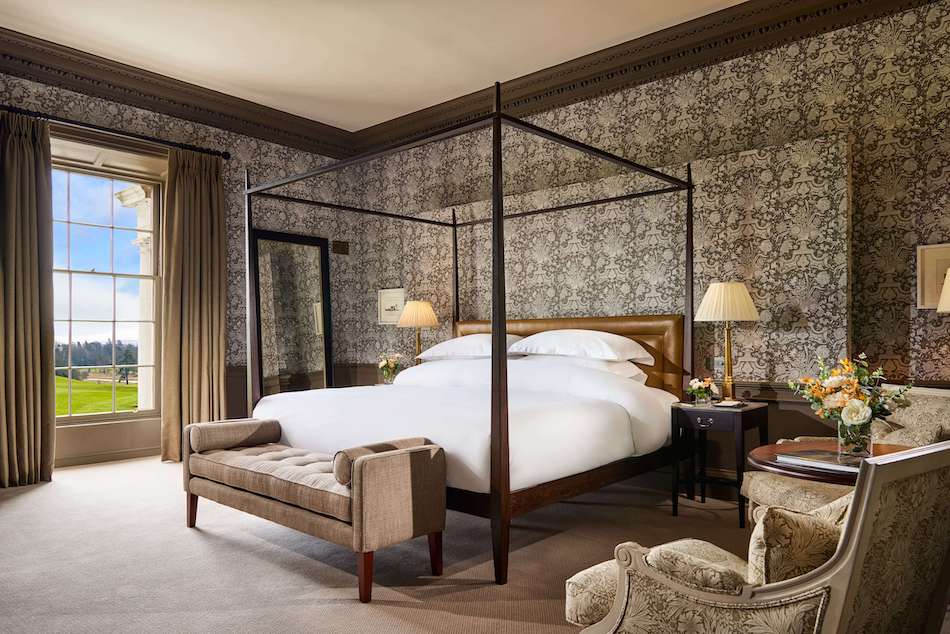 All 1739 vintage, the house and its numerous outhouses are now imaginatively connected. Today the entire stone and glass entity measures at least 300 yards end to end. At one extreme a tasteful new block houses nearly all 169 bedrooms, well thought out with ample sockets and USB ports:  #166 is handy for the two-floor gym, 18-metre indoor pool and Aromatherapy spa. I was in character-full #40 on the top floor of the main house. The superb mattress, surrounded by outline-only four poster, was Fairmont-standard. Overall-leafy wallpaper was location-suitable.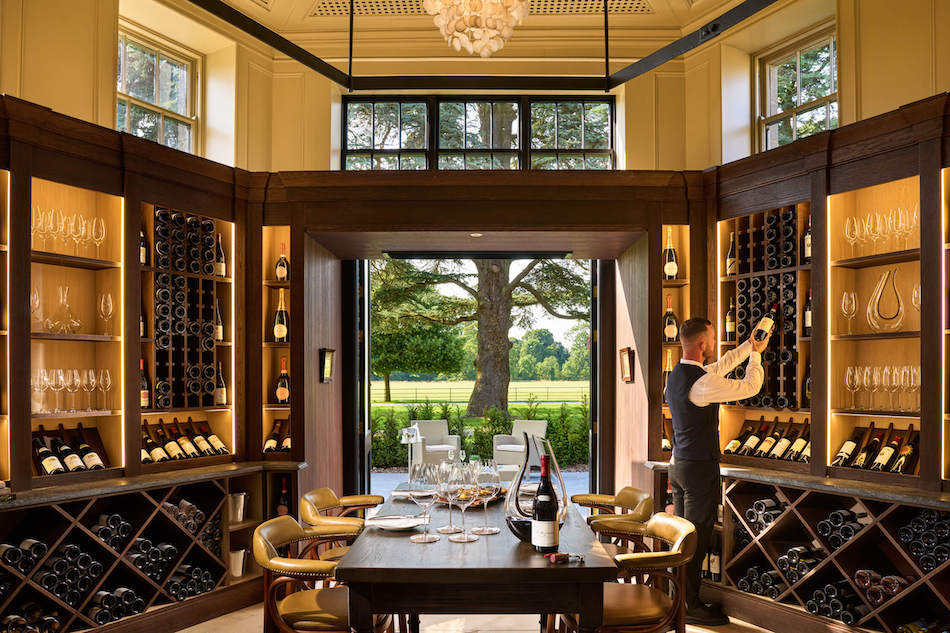 I loved dinner, at a high-up table in the one-time Cheese Room where Derek Kelly and colleagues, working a massive Berto's range, uses local produce for, say, Koji-marinated Achill Island lamb neck with kelp-infused mash.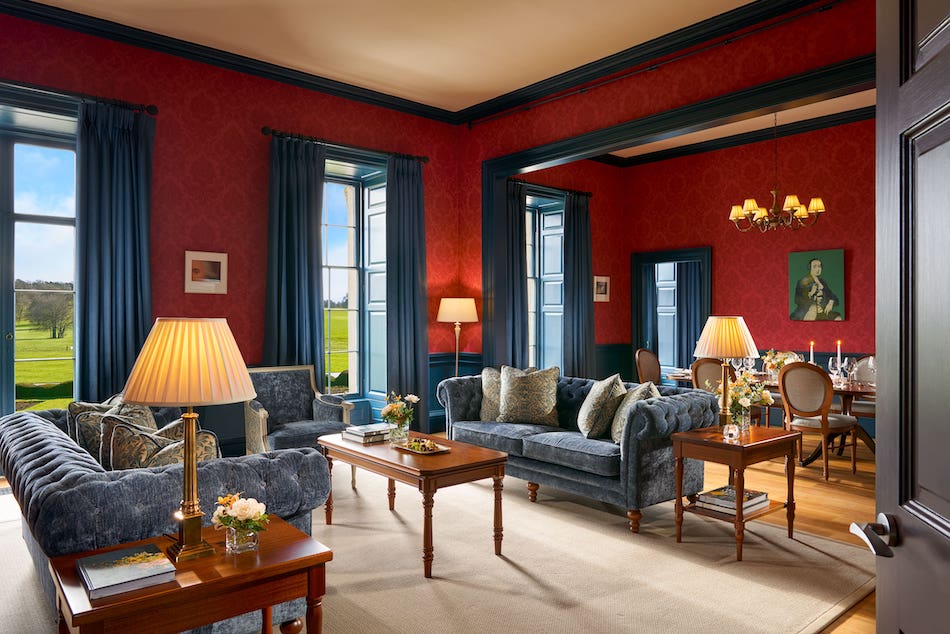 The equally-memorable breakfast, by contrast, is elegantly nibbled in that Gold Room. Try the hotel's signature Carton House plate, Foxbrook eggs, Crowe streaky bacon, Dublin Gold sausages, Tommy Doherty black and white puddings, and more. Dare I admit merely followed an apple-avocado smoothie with an egg white omelette with soda bread?
***
Four Seasons Resort Sharm El Sheikh
Soak deep and long, in a tub perfumed with Nefertari Red Sea salts and rose petals, as you look through some of the thousand-plus manicured palms and across a couple of azure kilometres to Saudi Arabia. But this is Egypt, the uber-luxury Four Seasons Resort Sharm El Sheikh, and the view across the Red Sea is to Tiran island. The 80 sq km island, guarding the Straits of Tiran, was a catalyst for the Six Days War in 1967 and today its sovereignty is overseen by the Kingdom of Saudi Arabia.
Luxury travel can be an education in geo-politics as well as life.  Sharm El Sheikh, for instance, will be top of the world's press again this November when it hosts Cop-27. Not surprisingly Four Seasons Sharm El Sheikh Resort is already booked solid and as if planned for that event, within the next few weeks new villas will double the resort's capacity, to give a total of 315 rooms.  Imperial Suite 3016, in the new block, gives two ensuite bedrooms for its 250 sqm, and Wimberly Interiors' pale taupe colouring complements wall-hung colour-free outline art. Nothing grates in this theatre of discreet luxury.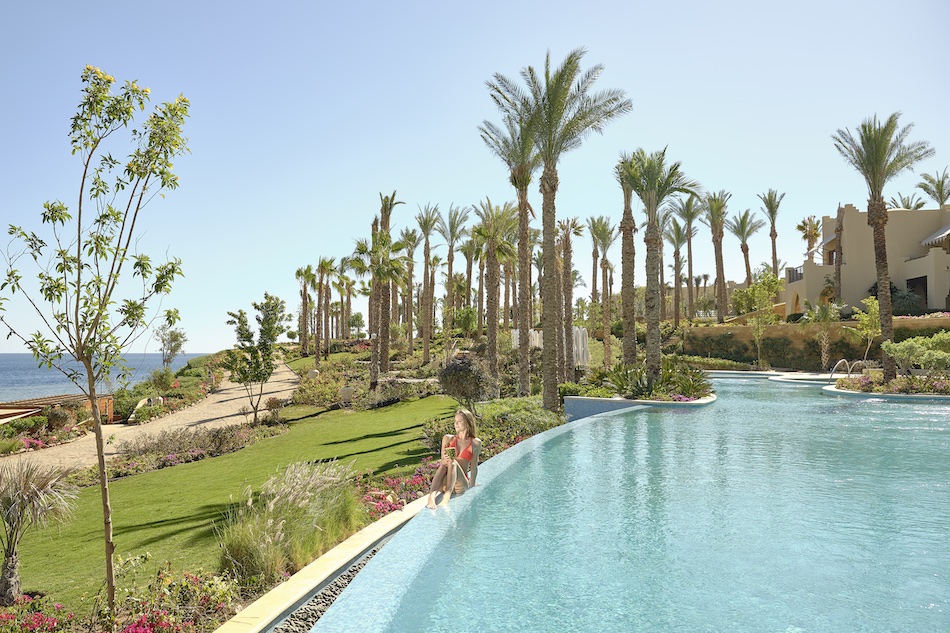 The 34-hectare complex skirts the Red Sea and its clean beaches. All rooms are in two-floor sand-coloured villas, dotted in between trees, immaculate lawns and well-groomed bougainvillaea. Because of the steep lie of the land, there are two 20-person funiculars to move between levels, or you can take dozens of well-marked tiled steps to help combat the culinary challenges that are heightened when high-octane GM Sam Ioannidis is a passionate and professional chef.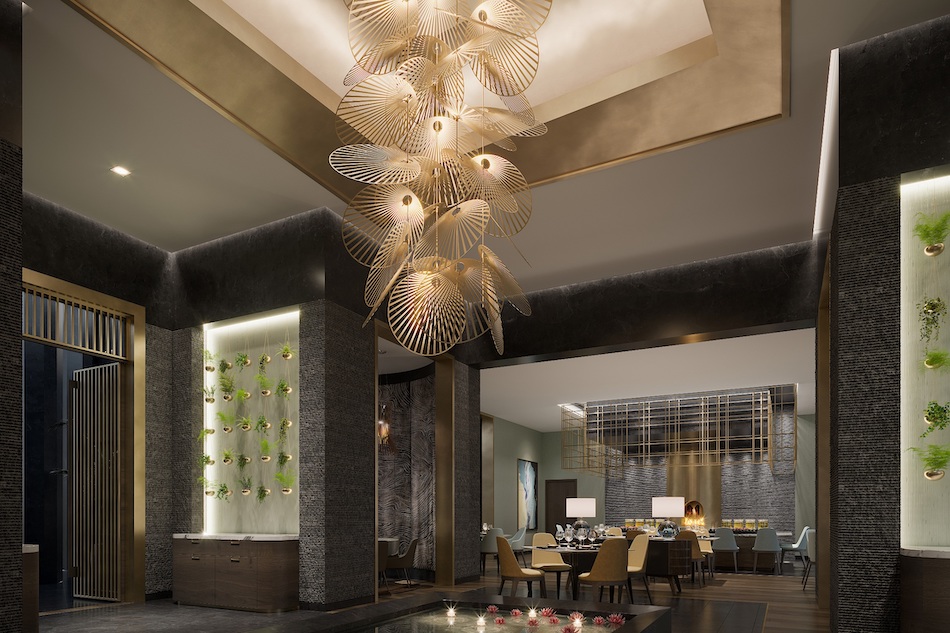 Plan your trip carefully. Fly private or low-cost into Sharm El Sheikh and via the hotel book VIP through visa-free immigration. Arguably Egypt's only Maybach then glides 15 minutes through the rugged-mountain landscape. Later, change into super-cas gear for more landscape immersion, to take tea with Bedouin. Back at base, the food leaders, Italian dominated, suggest Japanese-perfected Asian or, naturally, Arabic or, perhaps black giglia with calamari. Because of exorbitant import taxes, don't veer from really-commendable French-made domestics from the north coast, say Ch de Granville 2019 Cabernet Sauvignon Merlot from Alexandria.
Soon there will be 18 holes of Robert Trent Jones II golf, but meanwhile, there's boating, swimming, tennis and recuperative deep-tissue jasmine-rose massages whenever you want. Recover some more, with another rose soak.
***
Bvlgari Hotel
Honestly, for as near to a perfect stay as you can get within five minutes' walk of Harrods, book at Bvlgari Hotel London – confusingly, the hotel brand sometimes uses a V rather than the standard U.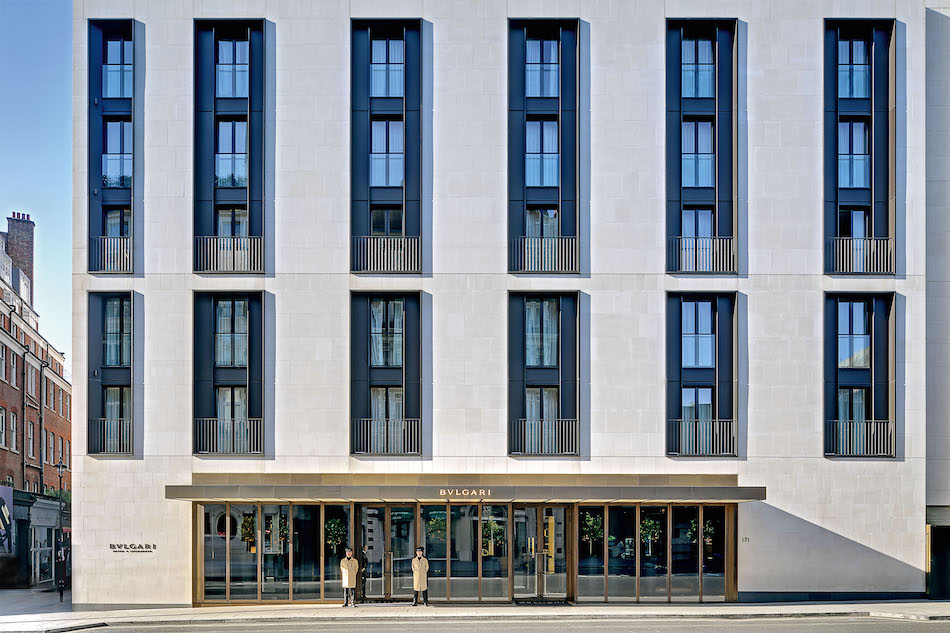 Why? The decade-old discreet nine-floor building, looking like a Bulgari boutique, has found its place, set as it is equidistant between Harrods' sage-liveried doormen and the natural greens of Hyde Park.  You are welcomed by hotel staff in black roll-necks, designer suits. Everyone knows who you are, but no-one intrudes.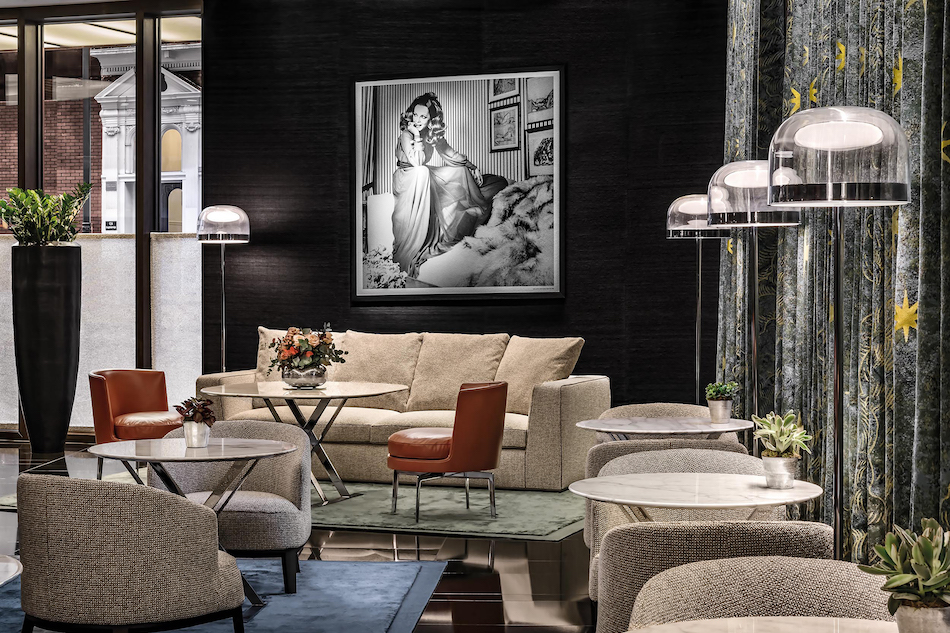 Over the years Bvlgari Hotel London has softened. The lobby, anchored by a jet-fuelled fire and 1960s Gian Paolo Barbieri images of the just-departed Monica Vitti and her contemporaries, is now subtly coloured. Another evolution of the original Citterio-Viel in-your-face design is the separation of the two-floor rear entertainment area. Today a dedicated Knightsbridge Green entrance attracts the A-list locals, hungry for, say, heavenly just-made ravioli cacio e pepe in Sette, overseen by Manhattan's legendary Scarpetta. You sit wherever, in a thoughtful mirror-surrounded ambience by Thomas Juul-Hansen, the New Yorker also doing forthcoming Mandarin Oriental residences in London's Hanover Square. Postprandially, incidentally, Bvlgari's subterranean Nolita is just the nightclub Knightsbridge laps up. Having an onsite cigar emporium's an additional plus.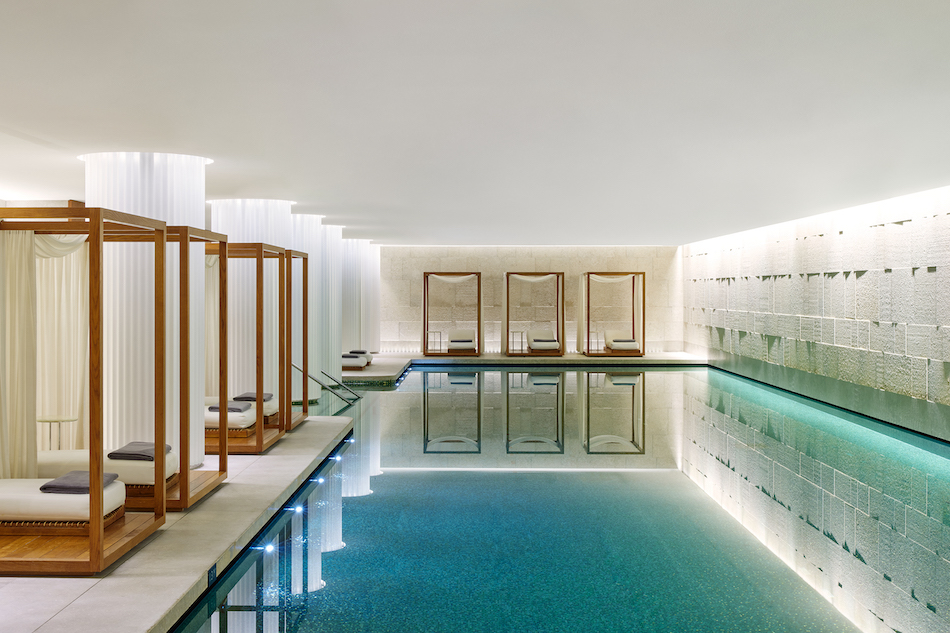 Locals, too, savour Bvlgari's club, a Lee Mullins/Workshop partnership that also comes with a golden 25-metre pool. Book, separately, for 111skin recovery, and-or private work-or-leisure screening in the 42-seat cinema.
Many hotel guests live like locals, here. With an astonishing 57% overall repeat rate, Brits join Americans, and Middle Eastern cognoscenti, in choosing Bvlgari London, where even the smallest of the 85 rooms is 43 sqm (I would opt for book-filled Bvlgari II, with a 360° fire).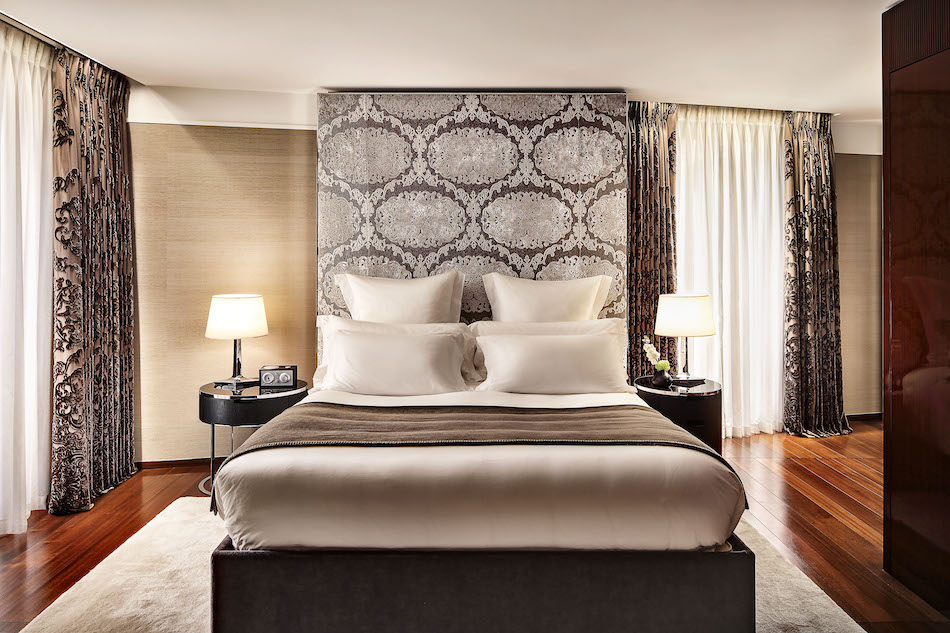 The final plus here is the international team, many from Italy, including Ischia. They operate as a well-trained A.C. Milan, or rather Olympiakos as their captain, hotel GM Kostas Sfaltos, pairs Greek military experience with current lifestyle coaching.
***
Raffles The Palm Dubai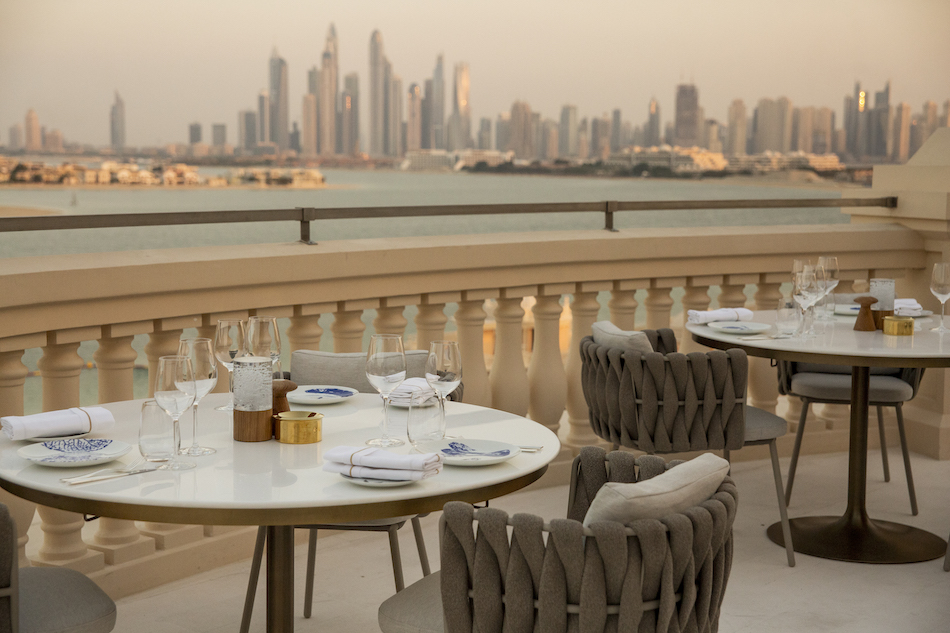 Breakfast at Raffles Club, on the sixth floor of Raffles The Palm Dubai, provides the space and quality that epitomise new-look luxury. What was formerly Alain Ducasse's restaurant, with 400 seats, has evolved to an all-white space highlighted with a few well-chosen red-hued paintings. Somehow the effect is akin to sharing an A380 with only a few other quality-seekers.
But this is even better than such dreamed-of airborne exclusivity as here you can sit, or -modern architecture that makes up Dubai's mainland skyline, with Burj Khalifa, the sail shape of Burj Al-Arab hotel, and the world's largest Ferris wheel and more. The sun came up as I turned to go back inside, to my table.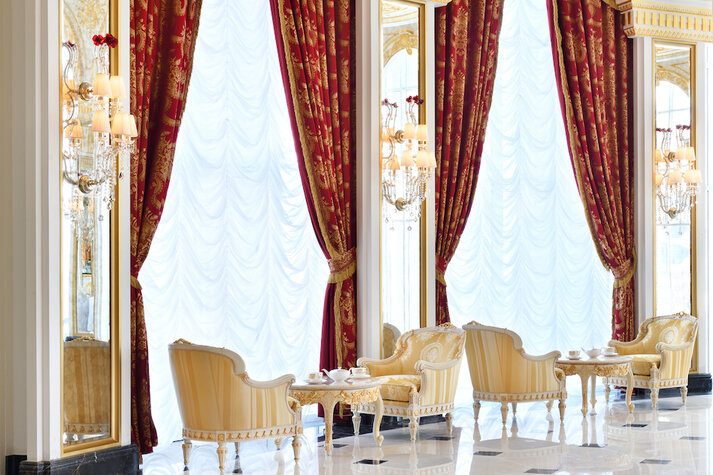 A glass-covered buffet sported a living kumquat tree, plus literally dozens of fruits, juices and yoghurts – and an oozing honeycomb. My requested egg white omelette arrived liberally doused in Oscietra, the flavourful coffee was quickly replenished, as needed.
Ayman Gharib, the Lebanese MD of Raffles The Palm Dubai, will not compromise on quality. His 390 bedrooms are all suites, starting at 65 sq m (more and more small groups are opting, he says, for one of his ten villas, two or four suites each). This could all be over-kill, with 6,000-plus crystal chandeliers and acres of real-gold gilding throughout public areas. But, thanks to intense planning, the spontaneous professionalism of even the most junior butler or server makes you feel relaxed. Walk the grounds, enjoy the 1.5 kilometres of sandy beach, the 23-room Cinq Mondes spa, the best-selling Maltagliati veal ragu at Piatti, outside, or Matagi's black miso cod, inside.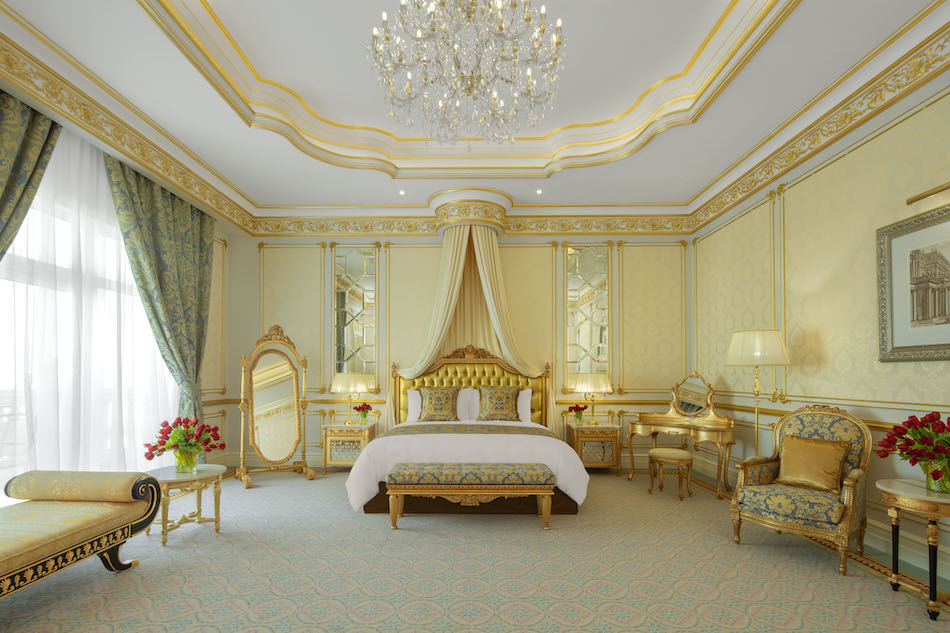 And a final Raffles Club post-caviar sensation, Alain Milliat strawberry on a warm croissant. Downstairs, the Mercedes S-class, with pristine copies of today's Financial Times and New York Times, awaits. To the airport for the 1020 British Airways flight - an A380 as it turned out.
***
The Limewood Hotel
A bottle of Salon Le Mesnil Blanc de Blancs 1990 could be a romantic connoisseur's choice of the extensive list at Limewood, in England's New Forest. Pair this with Wild line-caught Cornish sea bass crudo with blood orange and fennel, continue to Primi of Iron-aged chorizo and aged parmesan risotto, and then Lyons Hill farm 90-day Somerset Saxon chicken. For Dolci, choose Apple tarte tatin, vanilla gelati, and Château d'Yquem 2008.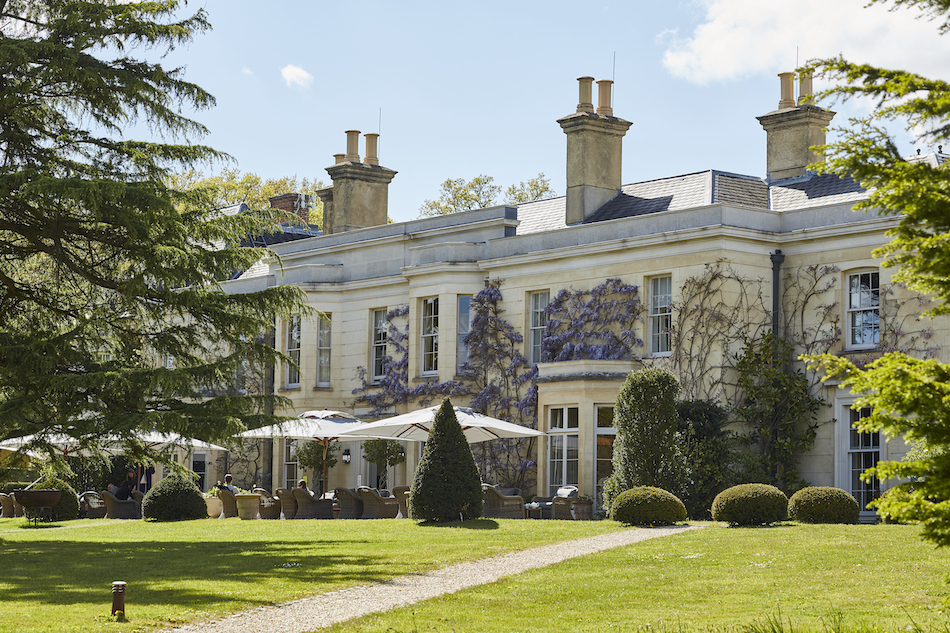 The setting is quintessentially Anglo-Saxon, what with all the wild ponies you passed driving to Limewood through the open landscape of the millennia-old Forest, but this luscious hotel's cuisine is Italian-inspired. It's all the work of Hartnett Holder & Co, headed by Angela Hartnett and Luke Holder. If time permits, take a class in pasta perfection in the HH&Co Backstage kitchen-table cook school, beneath the restaurant. Definitely savour, say, their New Forest portobello on sourdough at breakfast in the Scullery, or lazing in your room.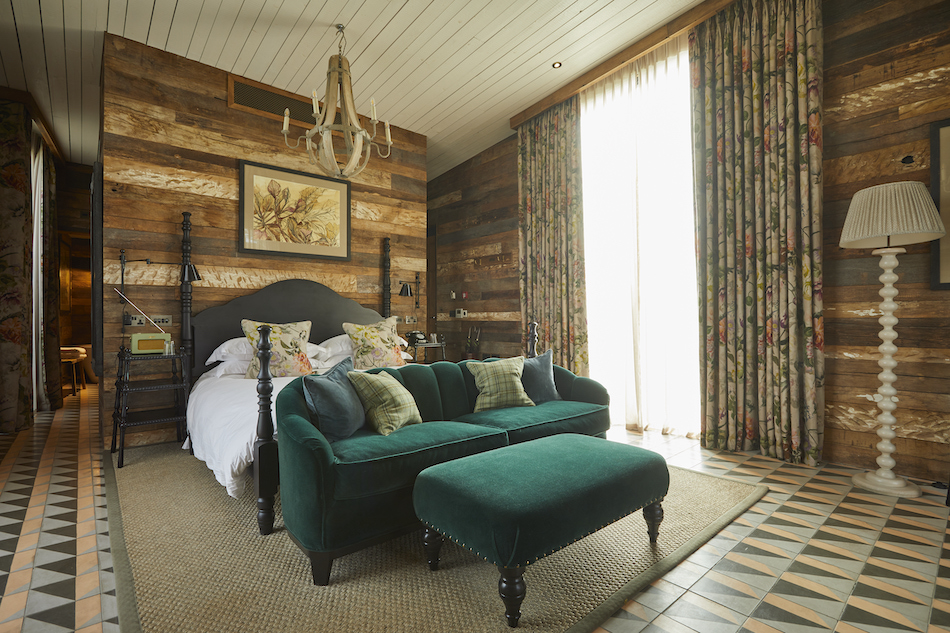 Of the 33 rooms, suites and 'other options', some might say the very-private Lake Cabin offers most exclusivity, but I like room 3, upstairs in the two-floor main house. It's about 60sq m, white, pastel and softly floral, with just a few beautiful antiques perfectly pairing with the free-standing tub and so-nice electric rack for heating enormous towels, and a sexy nightgown.  Thoughtfully, a hidden room divider can be pulled across, hiding ablutions from the gorgeous bed.
An increasing draw, says hotel GM Kenneth Speirs, is feeling here. There's a first-class Technogym, and a spa that attracts locals from far and wide. Guys and girls come for Sarah Collins' facials, say her Skinesis Stem Cell Lactic Power Peel. You may well also coincide with one of the regular Amelia Freer wellness retreats. She naturally advocates healthy eats, including such high-fat foods as avocado and oily fish. Her extensive and interesting Seasonal Wellbeing Journal ignores alcohol but never fear, your bottle of Salon awaits.
***
Fairmont Windsor Park
Wellness today wraps around the whole person, encompassing agility, flexibility and top-of-class when it comes to beauty, mental, nutritional, physical and a whole endless range of wellness ingredients.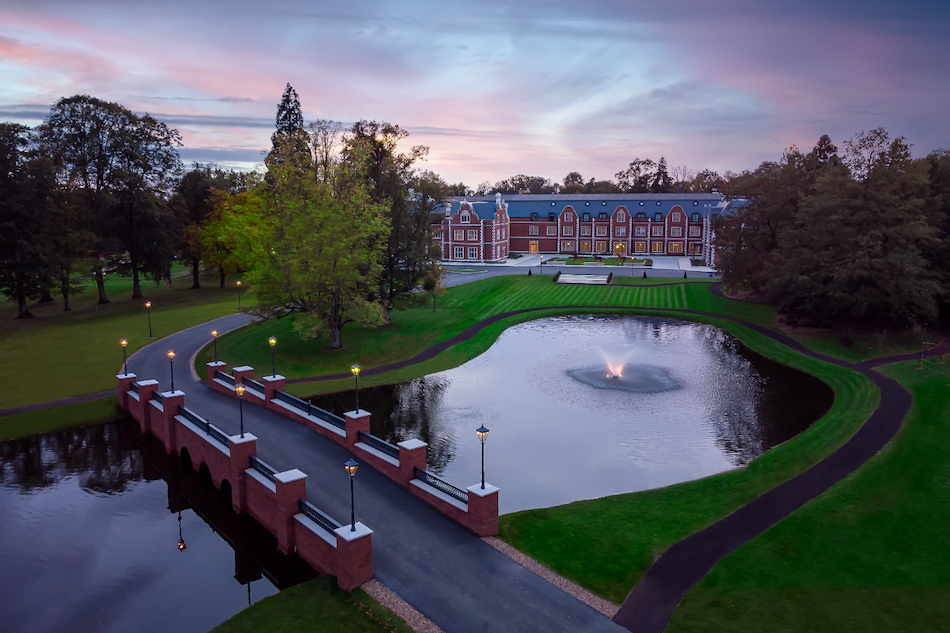 The best overall wellness facility I have ever seen opened officially 1st January 2022 at Fairmont Windsor Park, 20 minutes west of London Heathrow.  Look at the evidence: two floors hold 2,500sq m of wellness.
Bodyscan Analytics' 4D body scanner shows you who you really are, in minutes. Spend under five minutes total in the two adjacent Cryotherapy Chambers (one -60° and then go for the -110°, sic) and you are already better than that.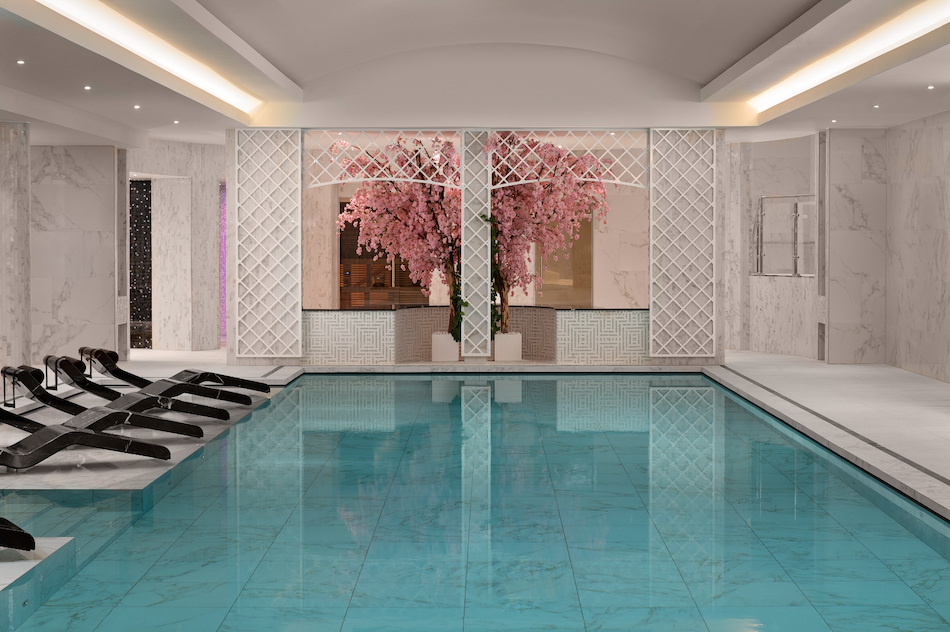 Ponder a La Sultane de Saba hammam and an Ashiyu footbath, laps in the 20-metre indoor pool (or swim outside). Work out, 24/7, with the latest Technogym bits and pieces, or take some of the 70-a-week daytime classes encompassing boxing, pilates, spinning and yogas. Have a Truefitt & Hill shave, a Comfort Zone therapeutic or Face Bible medical-aesthetic facial, a Mauli body massage and EVO or Nailberry nail update. Head outside for real cycling, or tennis, or hiking or golf. Try customised smoothies and vegan fare in Greens Freshly Made Wellness.  And if you still need them after all, Wellness Director Carlos Urrutigoity has mind therapists at the ready.
There's already a highly-popular Membership club but, as introduction, try it all when staying at this amazing 210-room hotel, freshly built on 40 acres of what was the lush tree-filled estate of the banking Schroder dynasty. Owner Surinder Arora has similarly invested in the best. One of the 15 mammoth events spaces, all of which open to dedicated outdoor-lawn overflows, is set up for live white horses, for significant weddings, or for ceiling-hung cars, for product launches.
Arrive, and you might be ferried all of 200 yards from the car park in a buggy, with a Rolls-Royce nose. Stay in, say, top floor suite 2094 and you look down, over the estate, its lake with a jet d'eau to rival Geneva's, and a Schroder double avenue of lime.
***
The PIG Hotel
Connoisseurs looking for the best English labels should head to the newest PIG in this growing stable, or rather 'luxury farmyard'.  As always at a PIG hotel, the wine list is a densely-packed, back and front, A3 sheet. At THE PIG in the South Downs, there is an extensive really-local South Downs section of whites, with ten sparkling and six still wines, but pride of place goes to an Essex Chardonnay, from the Bunker family's Danbury Ridge Octagon Block (2018 vintage, listed at £125). Wine enthusiasts preferring to stick to a Pinot Noir, by contrast, have a more select choice of three labels, including another Octagon Block, same year, same price.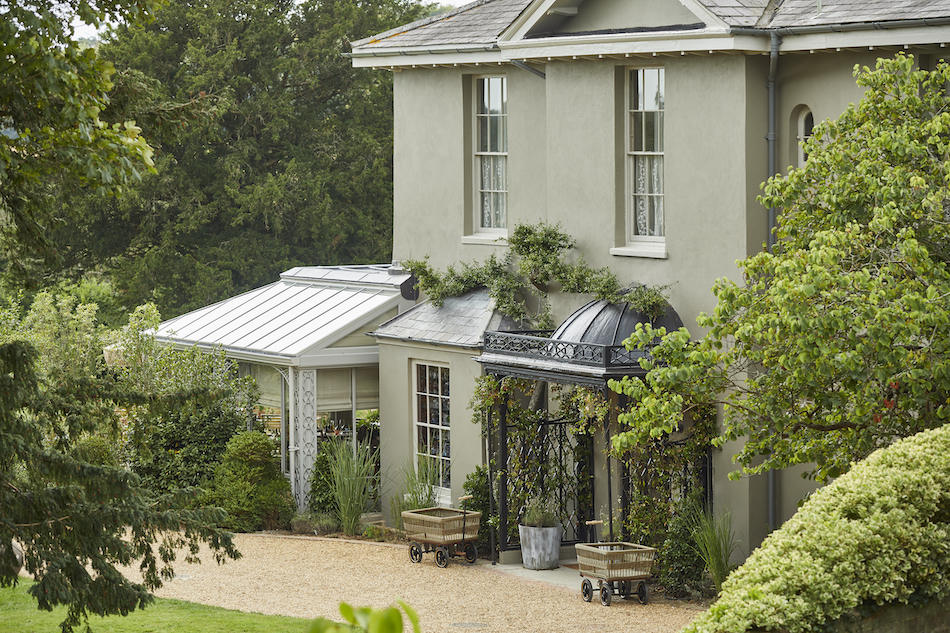 Opened September 2021, THE PIG in the South Downs is already a hit with new-look luxury-philes. It's under an hour from London, south down the A29, before Brighton, then, clearly signposted, five miles west through rolling rural countryside.
The two-floor 1770s manor house, which has five bedrooms, is now more house+outhouses, which have become 25 other 'rooms'. Some choose double-size shepherds' huts in the double-size (= two acre) Walled Garden. I love Gracie's Shed, the one-time one-pony stable for the family pet, now a luxury-lifestyle bedroom, completely – floor, walls and ceiling - lined, like the adjacent bathroom, with recycled wood. Look out, across the front lawn with centuries-old cedars, to the hotel's own vineyard, a planting of over 4,500 vines, mostly Gamay.
Drink, and eat, in the brand-signifier giant conservatory attached to the main house. Your well-scrubbed old-wood table bears a living strawberry plant, and yummy herb-infused olive oil, plus local butter.
The chef, Kamil Oseka, one of few non-Brits making this PIG unique, is immediately keen to show off his pickling room, fruits of a passion learned from his grandmother back in Warsaw. From the 25-mile menu, perhaps go for a beetroot symphony from the garden here, and an old-English faggot – just as my own grandmother made. Tonight's lamb-pork medley came from Madehurst, under five miles.
Reserve quickly. Londoners are packing out this PIG, its rooms and its tables.
***
Firmdale Haymarket Hotel
Take an art walk around Central London on Saturday 29th January 2022. The morning tour starts at Firmdale's Haymarket Hotel with an introduction to some of its treasures, chosen by the group's co-owner and designer Kit Kemp. Her choice, by the way, includes sculptures by Liverpool-born Tony Craig, officially Sir Anthony Douglas Craig CBE RA, now based in Wuppertal. Among other Craig claims to fame, incidentally, is that our Tony's son, Sir Daniel Wroughton Craig CMG, 53, is also now knighted, but as a CMG. Yes, Tony Craig begat 'James Bond'.
Back to art. Having learned about Kit Kemp's taste, Firmdale Hotels' Cultural Ambassador Olivia Paterson takes charge, and you have an intimate visit to some of Mayfair and St James' most prestigious galleries. End with story-telling over a three-course lunch at the hotel's Brumus Bar & Restaurant.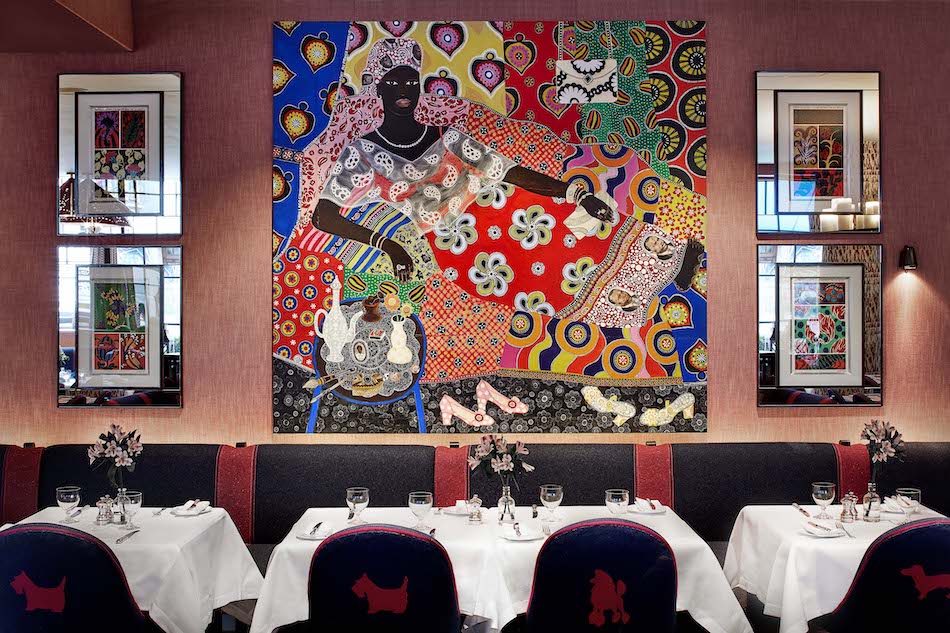 This is a hotel, by the way, that has quite a story of its own to tell. Originally an early-19th century building attributed to John Nash, it was, in the years up to 2007, the West End's main American Express office, providing a lifeline to international travellers. Many experienced-travel globalists instantly recall heading there to pick up messages from the family, back home in Boston or Brisbane, or, sadly, to get help about missing travellers cheques. Now, thanks to its owner, the Crown Estate, and Firmdale Hotels management – here led by Operations Manager Lisa Brooklyn - it is a really convenient 50-room hotel, with a townhouse appendage.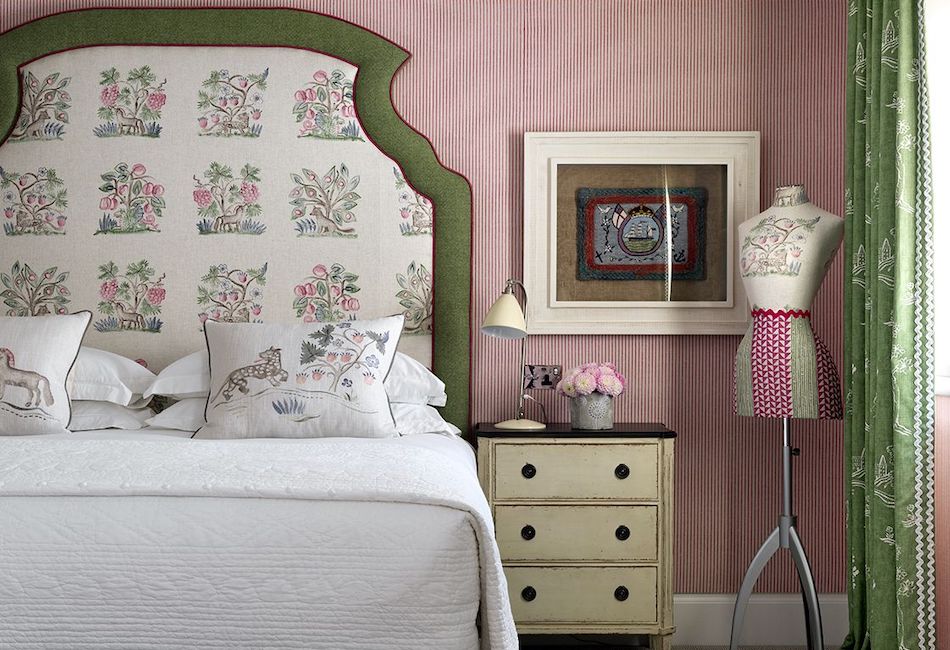 The 85sq m Suffolk Suite, in soft complementary pastels, of course, has a Firmdale differentiator, a full size tailor's dummy that is, so Kit Kemp, 'wearing' a skirt that matches your bedhead. Throw your coat over the mannequin, or dress it in the rented gear you'll wear tonight to Only Fools and Horses, The Musical, playing next door at Theatre Royal, Haymarket. So convenient, and such fun.
***