Enness Lifestyle Ambassador, Mary Gostelow, is known worldwide for her unique insight into worthwhile luxury overnights, at city-centre superlatives through to safari ultra-tents. Here, exclusively for Enness Global in 2021, she shares personal thoughts, [email protected]. 
***
The Gleneagles Hotel
What a way to start a new year, sausage rolls and a wee dram of Gleneagles' own-label single malt at 3 a.m. on Saturday 1st January 2022 - just before the resort's Henry Hall closes for what remains of the night.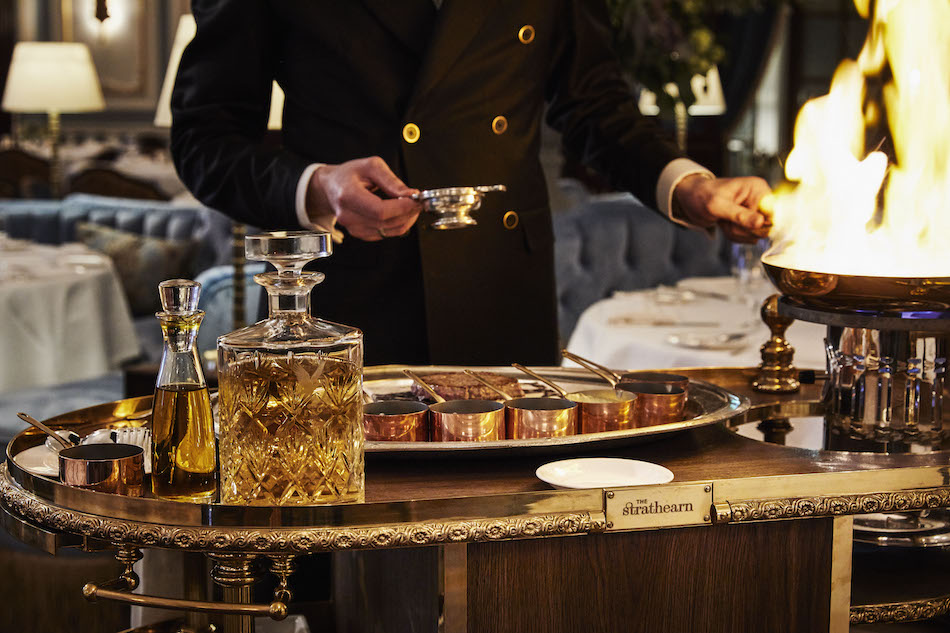 The whisky's new, but seasoned, launched three months ago, a 750-bottle special edition of 11 Years Old nectar produced by near-neighbours The Glenturret. What distinguishes it? Sweet tasting notes of toffee, cinnamon and vanilla alongside aromatic flavours of dark spice, rich fruit cake and warm ginger, all reminiscent of fireside evenings at the 233-room resort.
Gleneagles would, if it could speak, describe itself as 'the glorious playground'. Its 410 hectares offer everything, well almost everything, today's glory seekers want. You have championship golf, and archery, and off-road driving. There is equestrian as well as push-bike riding.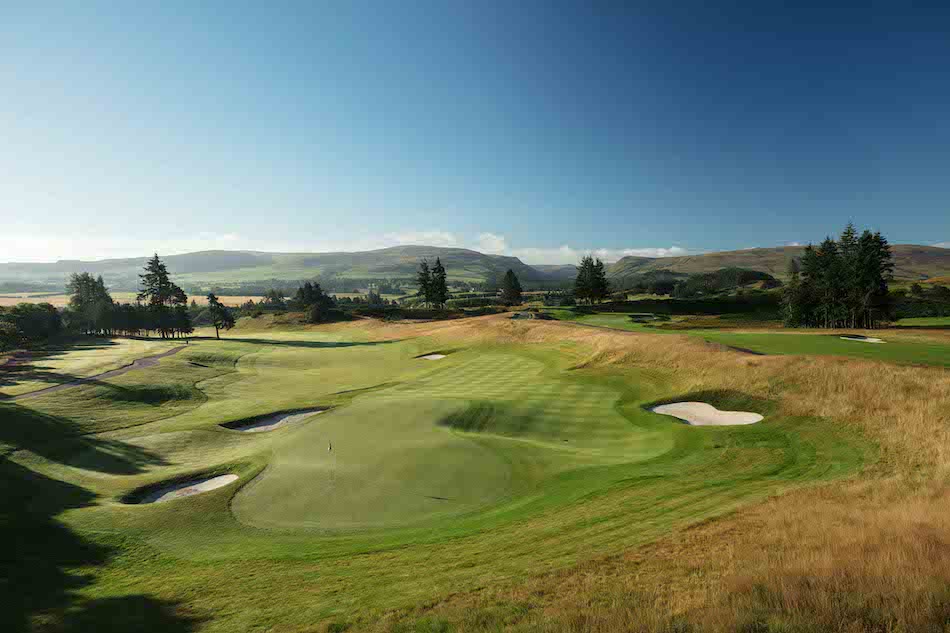 Wellness includes two indoor pools, one for serious and the other for more larking-about exercise, and climb above them to one of UK's most impressive fitness facilities. Skill & ARTIS TechnoGym, at its best. Talking of supreme, Gleneagles has a Burlington-type shopping arcade. It does not, by the way, offer a standard, or even a special, kids' club.  It has, instead, an entire wing, accessed with a special key, day-time only, for all the next generation wants – hotel boss Conor O'Leary came up by the food, and drink, route.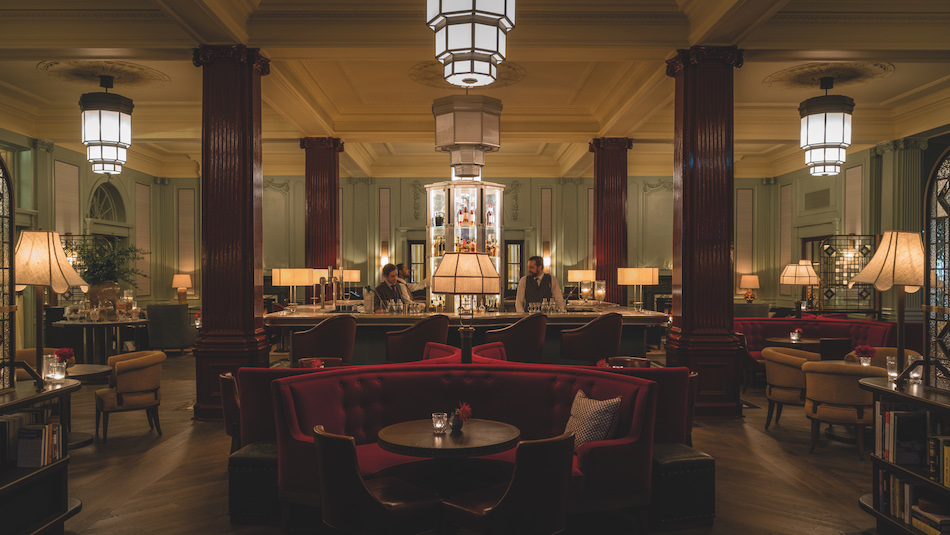 Kid-free, I would ride and run, ready for New Year's Eve preamble at the inside-out Johnnie Walker Blue bar, then, at one of the many options, dine and dance. And after that nocturnal wee dram I would, hours later, wake up, say, in room 586, on the top floor of Braid House, named for the designer of the King's and Queen's golf courses. Look down at the putting green below, and, in the distance, to the Ochil Hills. And now, continuing this glorious-playground theme, to a Tata Harper recovery facial, for yet more stamina.
***
Hôtel Majestic Barrière
When the world's top luxury travel advisors – call them agents, concierges, what you want – when they meet, where DO they congregate?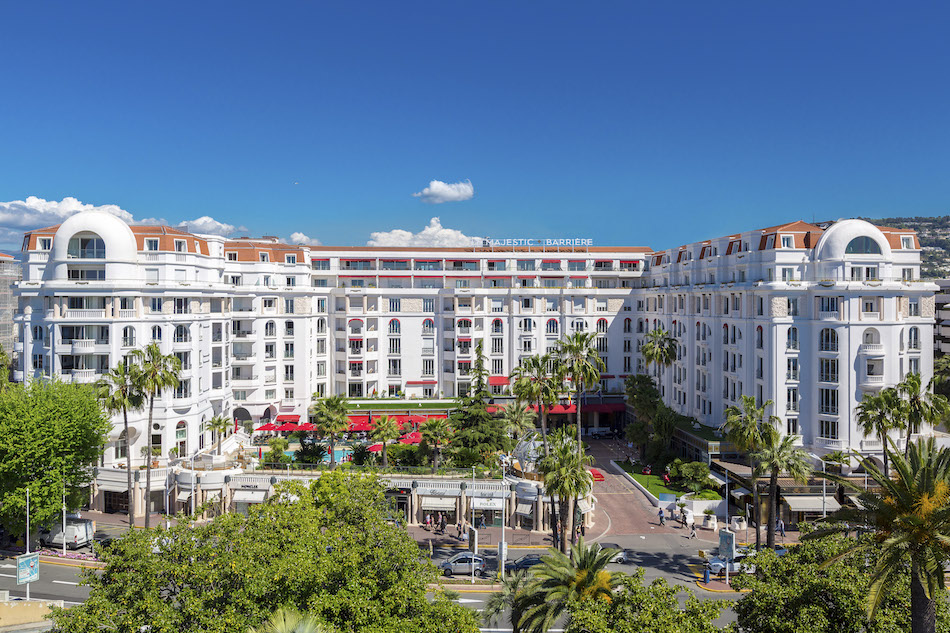 Nearly 5,000 of these specialists met last week, in Cannes. They came from Albania to Zambia (though most were from the USA, with lots of UK, Europe, Russia, Asia and Australia thrown in). Anchor hotel for cognoscenti networking was Hôtel Majestic Barrière, a Leading Hotel of the World.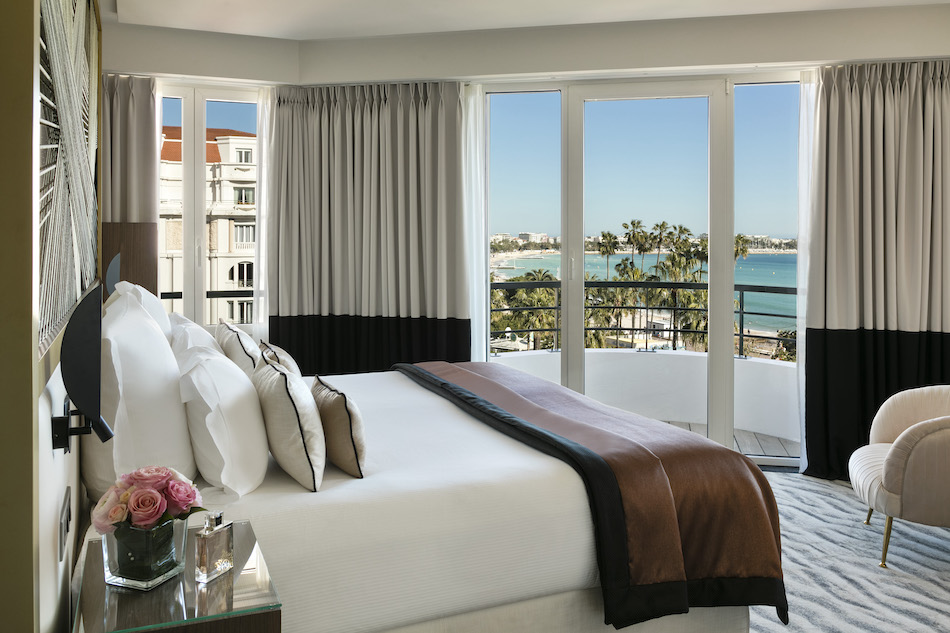 The 1926-vintage beauty, with 349 rooms, is thoughtfully set 100 metres back from La Croisette for maximum quiet. Premium of the front-facing rooms is the 450sq m Suite Majestic, 7th floor rooftop with an 11-metre pool out on its 150 sq m terrace looking across to the famous steps of the Cannes Film Festival.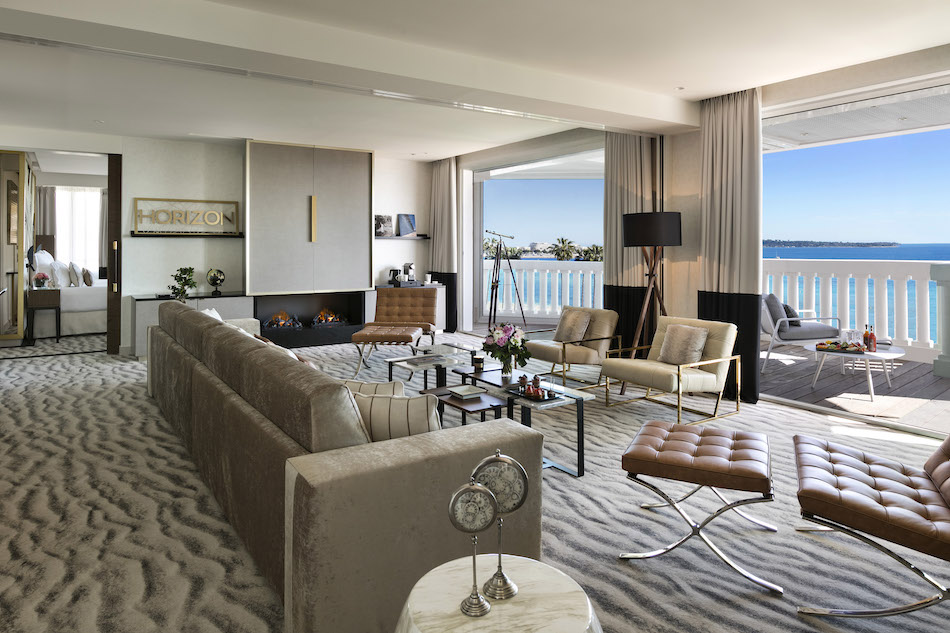 The Desseigne-Barrière family, owners of the Barrière brand, know what today's multi-generationals want.
Example. Among the Big Brand Boutiques within five minutes' walk from the hotel are mouth-watering Dior, Moncler and Zegna, but also a dedicated Dolce & Gabbana for kids. This part of town, also, is a treasure-trove of eating places: reserve ahead for top-list La Môme, in Impasse Florian, and help one of Antoine and Ugo Lecorché's chic servers snip living herbs to add to your olive oil (try the raw artichoke salad here – wow!).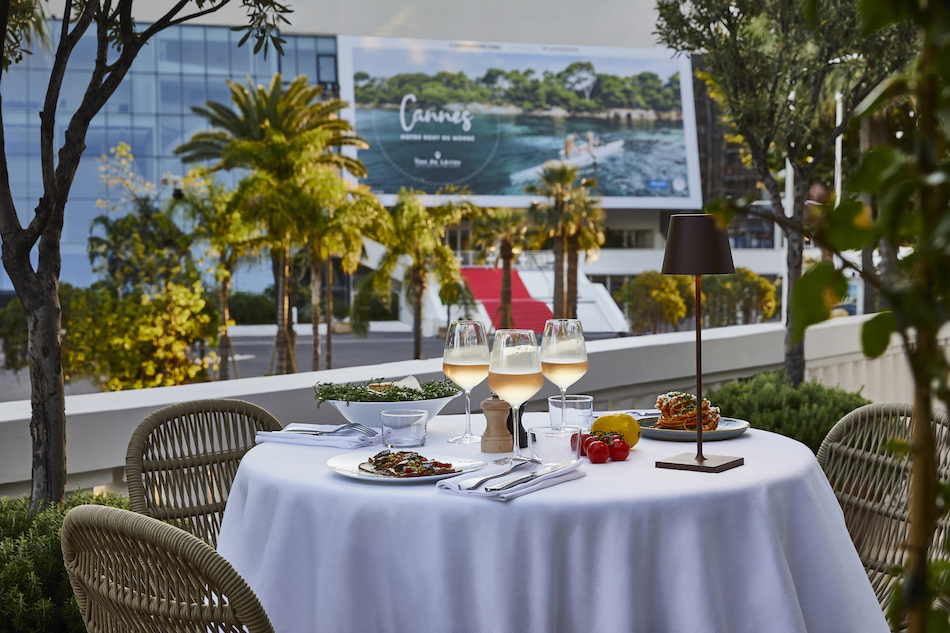 Do as the stars do, and also eat-hotel. Hôtel Majestic Barrière's Director, Charles Richez, comes from a Parisien restaurant family, and generosity is his middle name. The copious breakfast buffet includes four different butters, main meals at Fouquet's, named for the company's Paris, and soon New York, hotels, have an admirable steak tartare, balanced by slimline frites. Eat out, pool-side, or across the Croisette on the hotel's private beach. Wherever, eat your heart out. You ARE a star.
***
Hotel Indigo Verona - Grand Hotel Des Arts
Romeo, Romeo, wherefore art thou Romeo? That is the romantic cry not only of Shakespearean scholars but of movie addicts worldwide. Ever since Gary Winick's 2010 movie Letters to Juliet, starring Vanessa Redgrave et al, there's a nonstop deluge of incoming messages coming into Verona from every nation (yes, it's like writing to Father Christmas in Lapland). Marvellously, teams of Verona volunteers email back, spreading the appeal of actually coming to Verona.
As well as oozing Capulet culture and the nationwide appeal of Brand Italy, Verona, a UNESCO World Heritage, is also renowned for its opera, in the Roman Arena di Verona amphitheatre. Its next highly renowned Opera Festival, its 99th, is slated for 17 June through to 4 September 2022.
Where to stay, at any time? Hotel Indigo - Grand Hotel Des Arts is eight minutes' walk from the Arena, straight along Corso Porta Nuova to #105 Corso Porta Nuova. The clever conversion of a central-city palace dating back to the 18th century is now a 62-room stylish hotel. There are four 48sq m corner suites, one on each floor. All have the same layout but the ground floor one looks directly into the hotel's inner garden.  
Could this once have been the Capulets' own home, perhaps? In fact, what is usually considered their base, Casa di Giulietta, is only 16 minutes' walk away. Hotel GM Tina Ingaldi loves trekking the city, and she can give you directions to her own favourite flea market, 20 minutes' walk away. Back at base, relax with Arya Bar & Mixology comfort foods, say baked eggplant and mushroom-cream pasta, perhaps paired with Shakespeare Martinis, composed with Grapeheart Gin.
***
The Pierre
Manhattan's Christmas decorations are always awe-inspiring but this year they seem more spectacular than ever. At Grand Army Plaza (Fifth Avenue and E 59th, with The Plaza to your west, and Apple Store and Dior to your east), the fountain has been completely lost in a gigantic white wedding cake of a theatrical pop-up, complete with fake penguins jogging in and out of caves and a lifesize polar bear popping up and down from a glacier.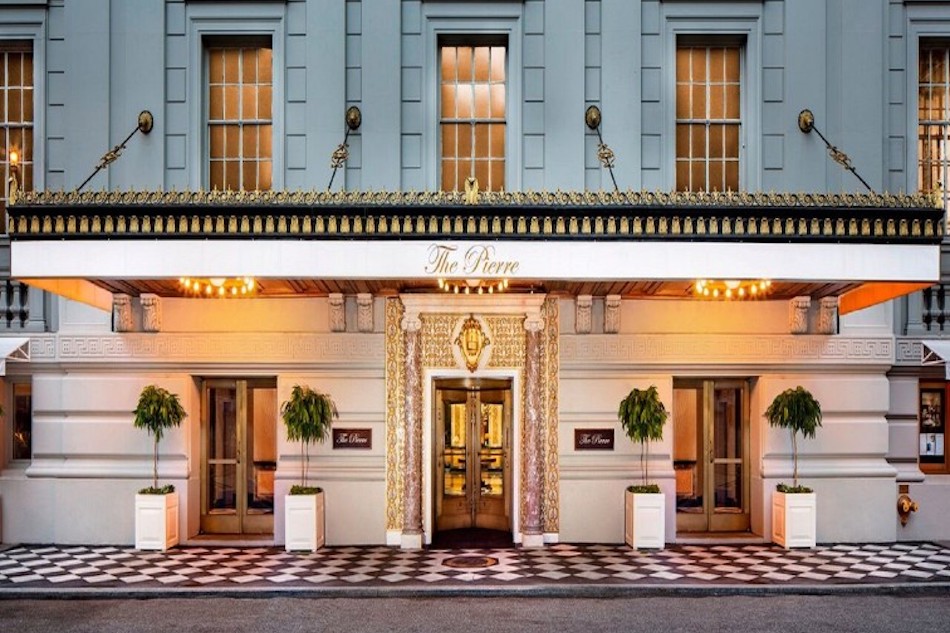 Every luxury boutique competes for best window display, and nearby hotels get in on the act. The Gdansk-born doorman at the Fifth Avenue entrance of The Pierre, a Taj Hotel, reckons over 80% of passers-by, if iPhones are handy, shoot the 1.5-metre diameter illuminated bauble that stands on the sidewalk there.
When The Pierre opened in 1930 the 41-floor tower had 700 bedrooms, and 80 residents who deliberately chose lower floors. Today the hotel, now offering 187 considerably-enlarged rooms, has spectacular views from, say, corner suite 3710. Stay here to look far down at Central Park's foliage, changing colour as the day progresses through to sunset peeping through Upper West Side high-rises.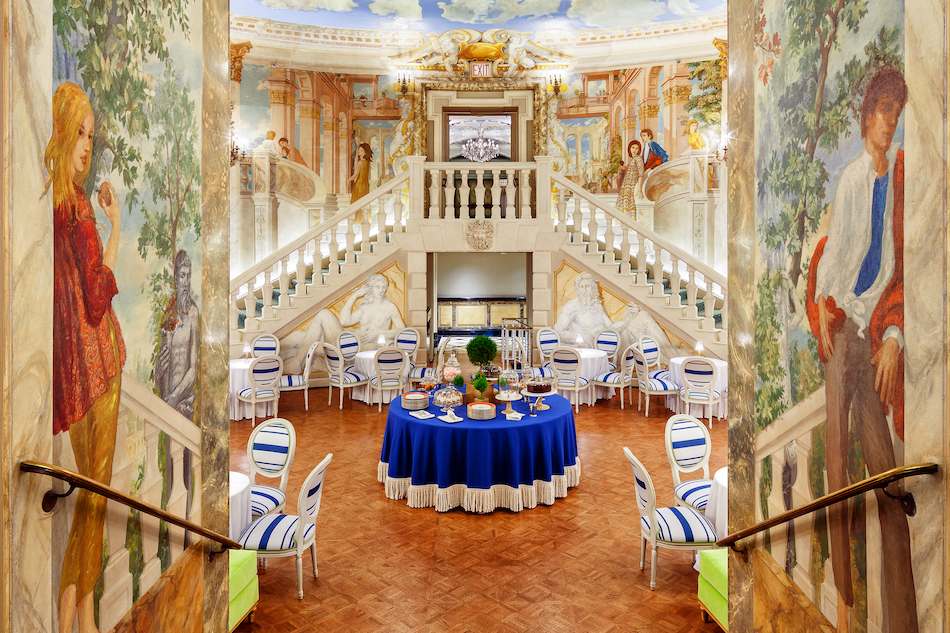 You might coincide with one of the near back-to-back High Society weddings for which The Pierre is famous. You will undoubtedly interact with the knowledgeable locals when eating at the hotel's indoor-outdoor Perrine. Like them, perhaps go for burrata and pear (yes, really – caprese is so yesterday) and Dover sole, showing that yesterday can, sometimes, be today and tomorrow.
***
The Newbury Boston
The brand-new Newbury, Boston, may be an old building, formerly known as Ritz-Carlton and then Taj, is indeed BRAND new. It's on Newbury Street, running immediately to the west of Boston Common. If this is what other Newburies (?) will be like in the future, other luxury groups must lookout.
Frankly, this is already Best in Boston. Big praise goes to the hands-on boss, Carlos Bueno, a live-wire impresarion who listens and takes note, minutely. He is backed up by the property's location. As well as Boston Common, a few minutes walk take you to Charles River – watch Harvard and other eights on their daily rows – and Boston Public Library, and Boyston's side-by-side boutiques.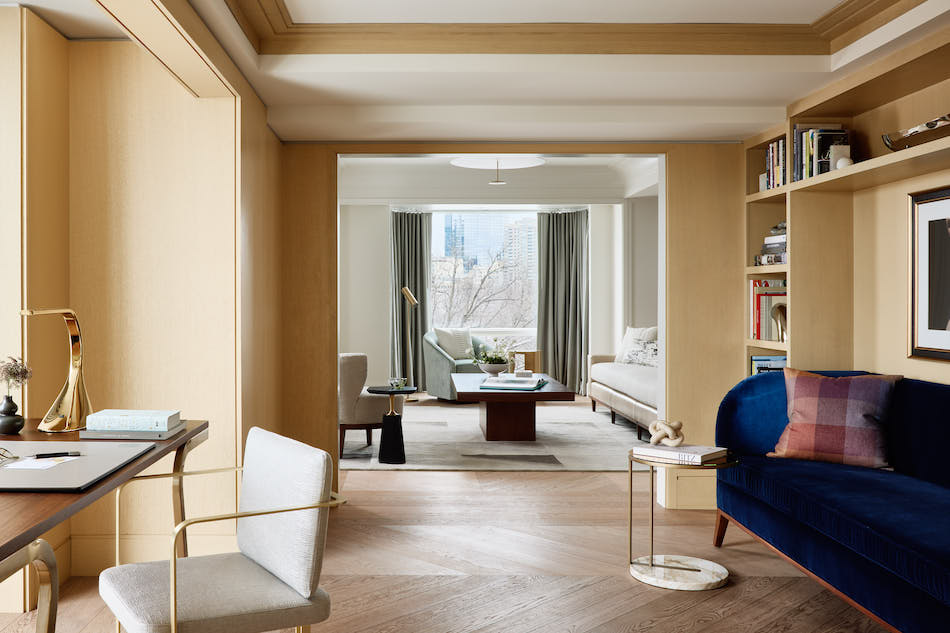 Tiffany and Zegna in fact are actually in the hotel, reached from Newbury Street or the sparkling black marble lobby, which still has, though not now working, its hotel guests' 1927-vintage mail drop, next to the fully modernised elevators. The ground floor, and first floor imposing ballrooms with twig-design carpeting mirroring outside nature, are Jeffrey Beers. Stunning modern art complements decades-old Murano chandeliers. 42 of the total 286 rooms, all Alexandra Champalimaud, have real fires (choose your preferred wood): I love the 138 sq m one-bedroom #731, an airy palest-pastel haven looking directly into treetops.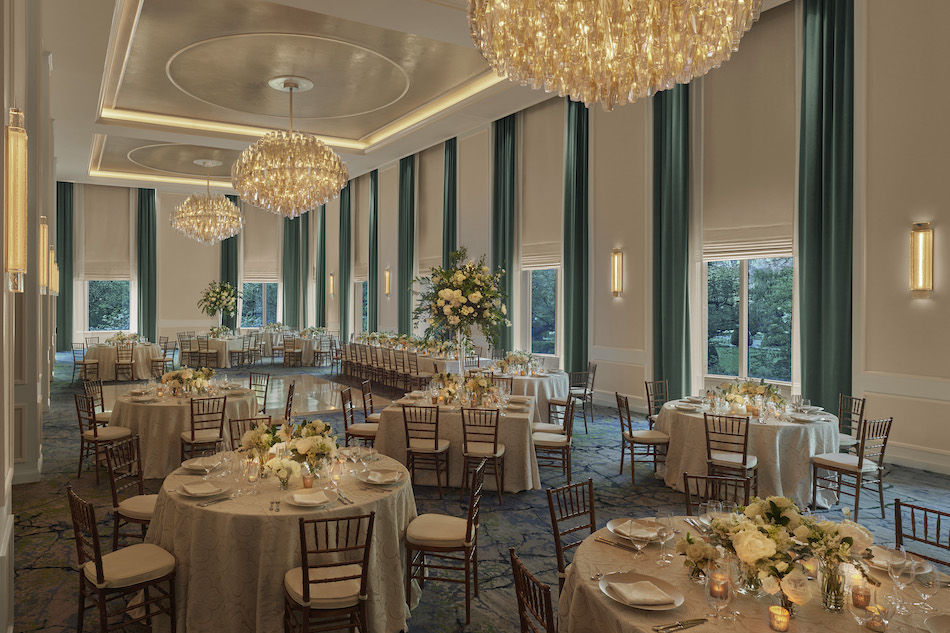 Do not miss the quirky Ken Fulk elevator, street to rooftop-conservatory restaurant Contessa, run by respected foodies at Major Food Group. Book ahead. Tables are packed out, Pizzas on silver stands or Puglia burrata for Boston beauties or Berkshires gourmets. Alternatively order a peaceful bite down in the ground-floor bar or adjacent art-and-book-lined Library – another real fire, another of the Newbury's non-stop Mayflower memories.
***
Airelles Château de Versailles, Le Grand Contrôle
For the ultimate memorable New Year, think Paris, or rather Versailles - though you do have to source richest Rocaille silks and get your seamstress working. A quicker alternative is to buy 18th century gear on Amazon (ever thought of Jeff Bezos covering his pate in a £10 white court wig?).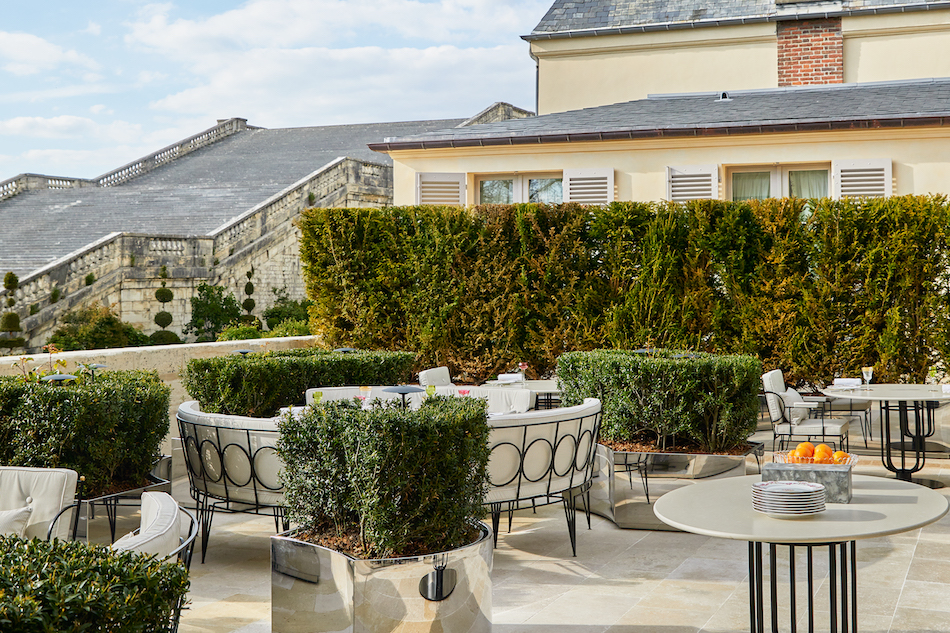 Why all this preparation? Airelles Château de Versailles, Le Grand Contrôle, hosts a themed New Year's party. Friday dinner, 31st December 2021. Expect an elaborate multi-course dinner, planned by Alain Ducasse who sadly is otherwise engaged that evening, but drink his health in the wines that come with the pairing.  After that, there is a themed Ball. Later retire to your room to build up stamina before Saturday's New Year's Brunch. Yes, more Ducasse delights downed with bubbles.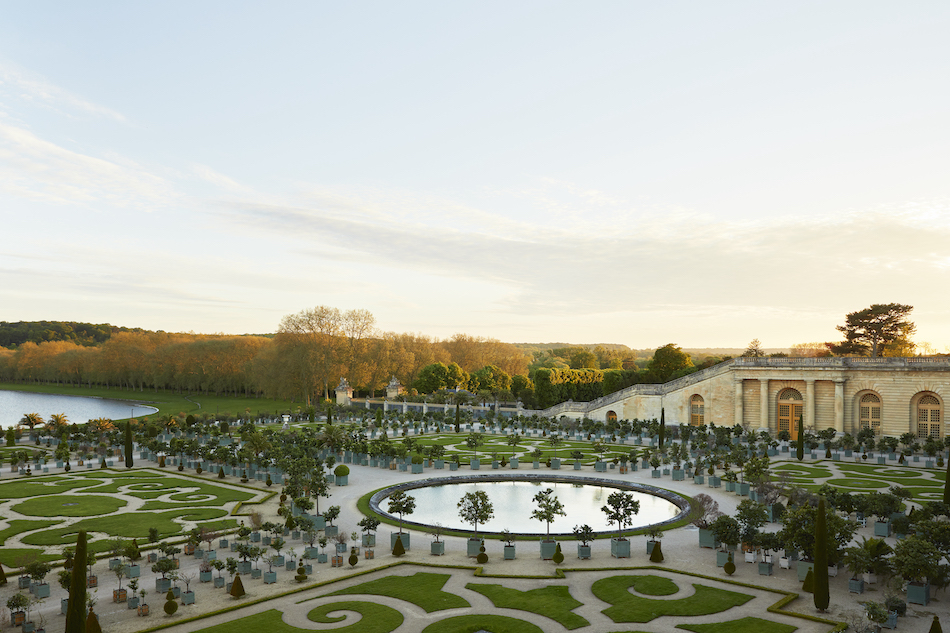 Since its opening a year ago Ducasse has been closely involved with this unique hotel, heavily overseen by UNESCO and French heritage: although Louis XIV did not start construction of Versailles, he made it de facto capital of France in 1682 and it remains, for many, the heart of the country. The hotel, leased from the Ministry of Culture, is a barely-transformed conversion of the Sun King's Le Grand Contrôle treasury.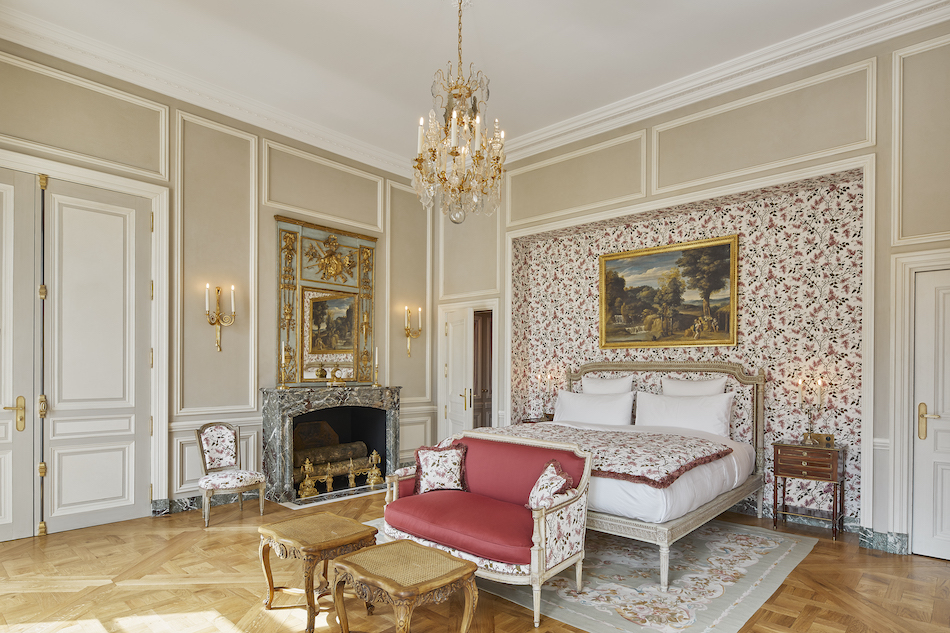 Today, there are 14 bedrooms, and most look directly out over Versailles gardens. Expect original wood floors and modern four-posters. There are glorious patterned fabrics, and pink suede covered tablets provide latest technology. You honestly do not miss television screens.
And other than the New Year celebrations, walk in those magnificent grounds, explore the main chateau and revel in superior, and so thoughtful, service from a hundred passionate hotel team members led by Julien Révah, himself a dyed in the wool – sorry, hand woven silk – Parisian. When it is all over someone, probably not in breeches and white stockings, will drive you back to Eurostar, or wherever.
***
The Hay-Adams
Since the USA opens its borders Monday – 8th November – it's a great opportunity to rush straight to the heart of that country, the White House.  No, sadly overnighting there is not an option, but the nearest bed, legally that is, is 100 yards north across grassy Lafayette Park, at the 145-room Hay-Adams (GM Nicolas Béliard).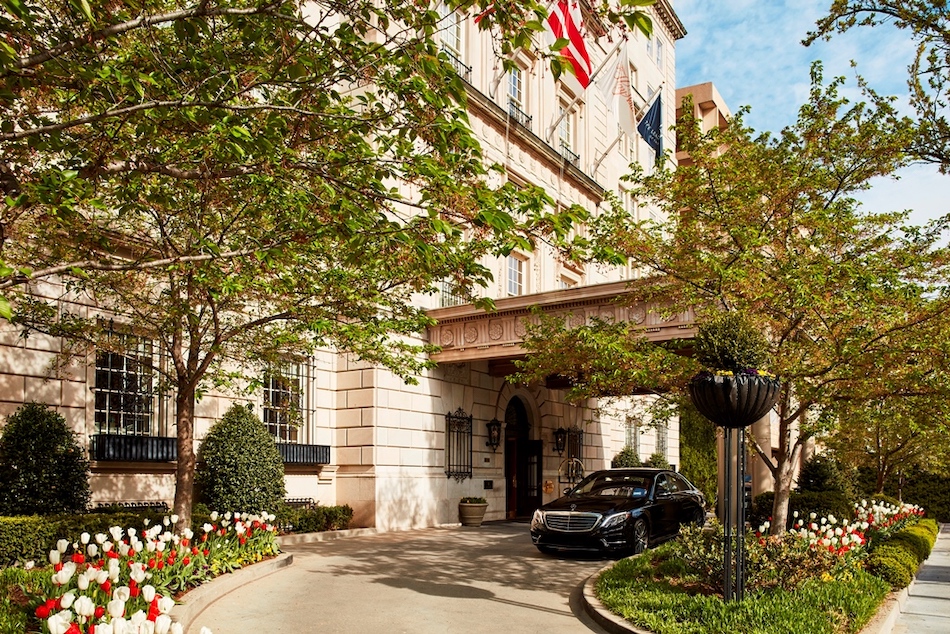 To feel right at the heart of the political action, head quickly down to the hotel's intimate basement level Off The Record bar, thoughtfully open from 4.30 p.m., seven days a week.  This the scarlet-hued speakeasy where household-legends and aspirants, plus lobbyists and hangers-on hang out repeatedly. Some of the regulars are caricatured on the drinks coasters.   Look around the bar's walls, too, at framed cartoons, loaned from the Library of Congress, a unique collection of political likenesses by Politico's Pulitzer-winner Matt Wuerker.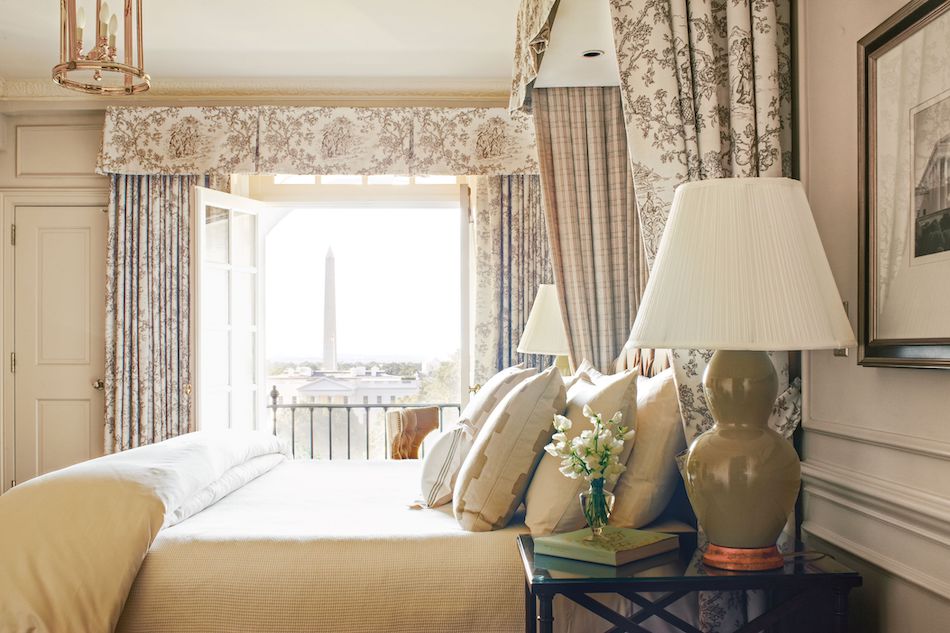 The Hay-Adams has always been, well, significant. It was originally two adjacent private homes, owned by good friends, historian Henry Adams, 1838-1918, and politician John Milton Hay 1838 –1905. Privately owned today by a banking billionaire, the upper floors of what is now one building still hint at residences. One of my favourite suites is #512-4, on the south-east corner. Both rooms look east across 16th Street to the Presidential church, the buttercup-and-milk hued St John's: the sitting room also offers view south to the White House. Designed like interiors of the entire hotel by traditionalist Thomas Pheasant, the suite's 18th century rural-vignette fabrics are a reminder of the past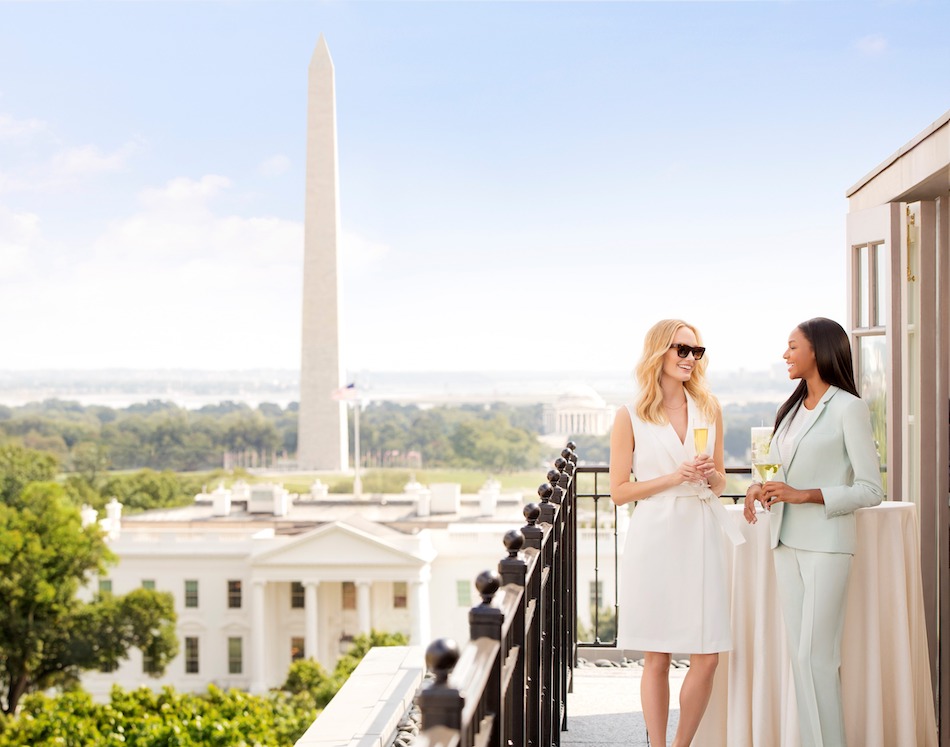 But the hotel is also up to the minute. Much of Lafayette restaurant's produce comes from a 140-acre farm overseen by the University of DC College of Agriculture's Urban Sustainability & Environmental Science department. Similarly, the decade-old addition of The Hay-Adams' tenth-floor rooftop's all-weather conservatory is absolutely 21st century. Book this space for anniversary parties, or weddings, any number, two to 350 – but add in the supposed presence of at least one more participant, virtual at least (if the Stars and Stripes are flying over his home, President Biden is as close as can be).
***
De Crillon Hotel
What is French style? Take a bit of history, add design and at least a pinch of fun and the recipe should work. De Crillon, A Rosewood Hotel, is a winner in the Paris Palaces class.
It could not be more central, at the north-west corner of place de la Concorde, immediately to the east of the Presidential pad, the Elysée Palace (west-facing rooms are so close you feel you could reach out and shake Macron by a manicured hand). Although it had been built for Louis XV in 1758, De Crillon is actually named for the family which owned it for many years in the 19th century. It later hosted the setting up of the League of Nations and during WWII some lucky French and UK commanders temporarily lived here.
Design. Swim, in a basement pool that Chahan Minassian's turned into a theatrical stage set, and the adjacent 24/7 gym is not bad either (whose lucky-13 outside members, all pillars of new-look Paris, hang-out for good equipment, including sports-pro Theraguns, and top-gear networking). Suite 528 - designer Cyril Vergniolta – was comfort luxury, with a large cashmere throw, Victorian-look Buly toiletries, and a minibar with Krug and already-mixed double-size cocktails complementing a curlique trolley with full-size cutglass decanters. Your butler, come to escort to Michelin-starred L'Ecrin, sports an haute couture cravat you covet, instantly. Like all team members' gear, it's by Hugo Matha, 26-year old heir to a vineyard dynasty.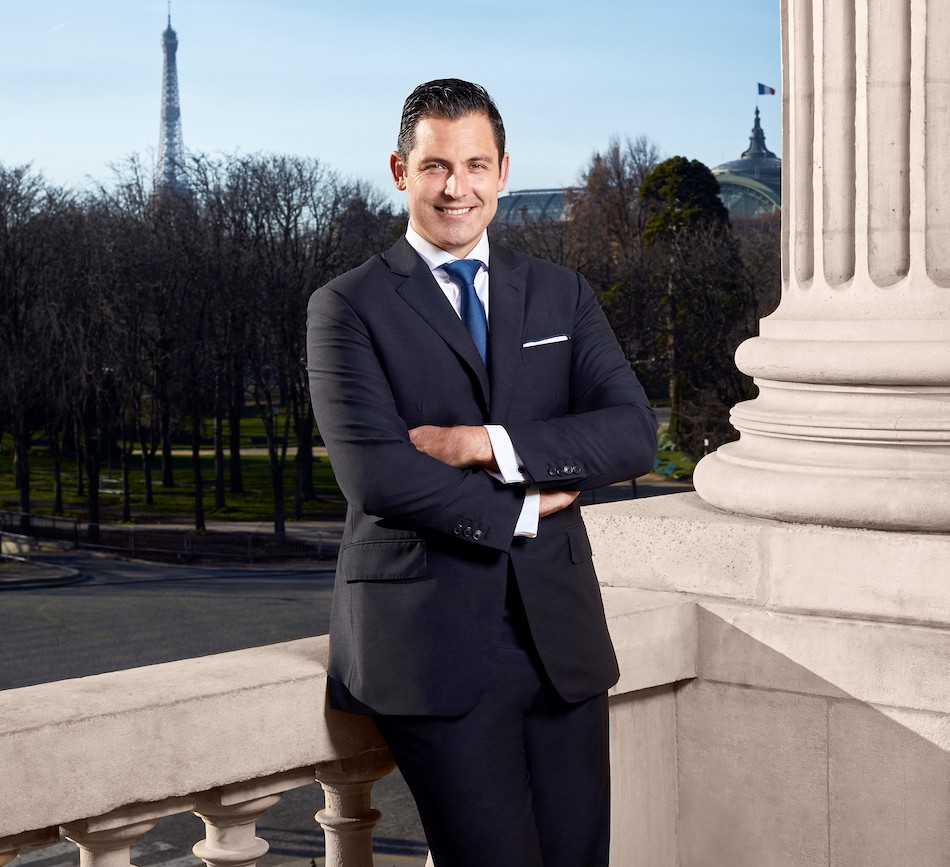 Vincent Billiard
Home-churned vine-leaf butter is one of three flavours, with just-baked mini baguettes that start a L'Ecrin meal. While canapés are presented on hollowed-out vine trunks, you choose a number of courses, sommeliers suggest wines, and then, and only then, doth chef Boris Campanella design your food. Leaving, pass standing-up signet and other rings, 22-carat, all at least 30cm-diameter, and sculpted by celebrity goldsmith Christophe Grünthaler. As the Millennial-Parisien hotel MD Vincent Billiard says, life must be fun: is it true he recently enlivened a 150-strong business lunch with jazz, and unbelievable tricks from David Jarre, magician son of Jean-Michel, and Charlotte Rampling?
***
The Langham Hotel
Curling, that winter-sport-on-ice, is not usually associated with London. Here's the tip. The garden courtyard of The Langham, London, is a packed-out dining venue summer long. Now, it changes, chameleon-like, to become The Curling Club. Seven days a week, noon until 10 p.m., from 24th November until 20th February 2022, this is the innovative way to celebrate the festive season. Entertain, or use as the perfect answer to team building.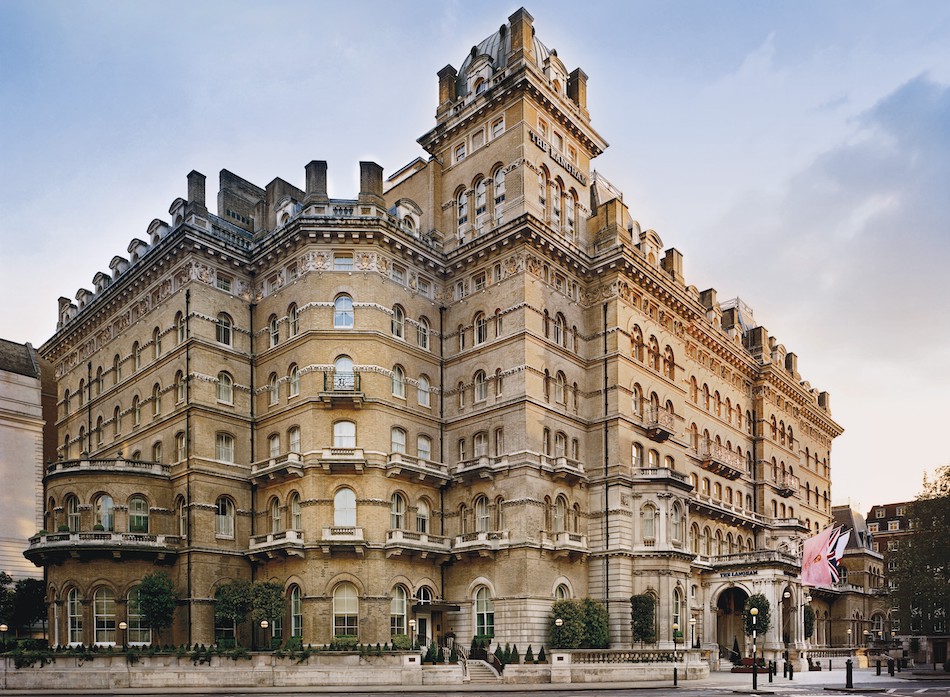 31-year old Eve Muirhead, part of Team GB that won Bronze for curling at the Sochi Olympics, is advising. Here in London, players will compete in pairs on three parallel, eight-metre lanes of slippery, artificial ice. There are two packages, both three hours' duration to allow an hour either side of the 60-minutes on-your-lane (we do not recommend scoffing the Scotch as you play). Both Curls of Wisdom and Clean Sweep offer exclusivity and a photographer, plus street food and drink. For unlimited fondues and raclettes, and endless wonderful whiskies, go Clean Sweep.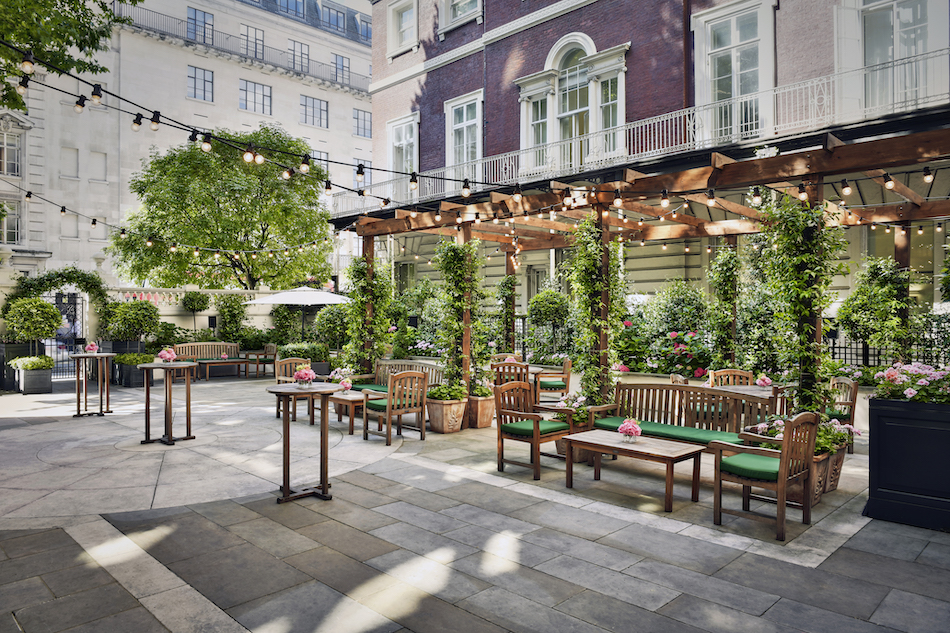 And for ongoing memories of the occasion, stay at least that night, at The Langham, London. Each room is unique: quirky suite #912 is a favourite of GM Doris Greif, and my own list includes #445, looking north to Regent's Park handy for the third floor Club lounge, contender, thanks to its library, furnishings, and superb food, for best in the UK.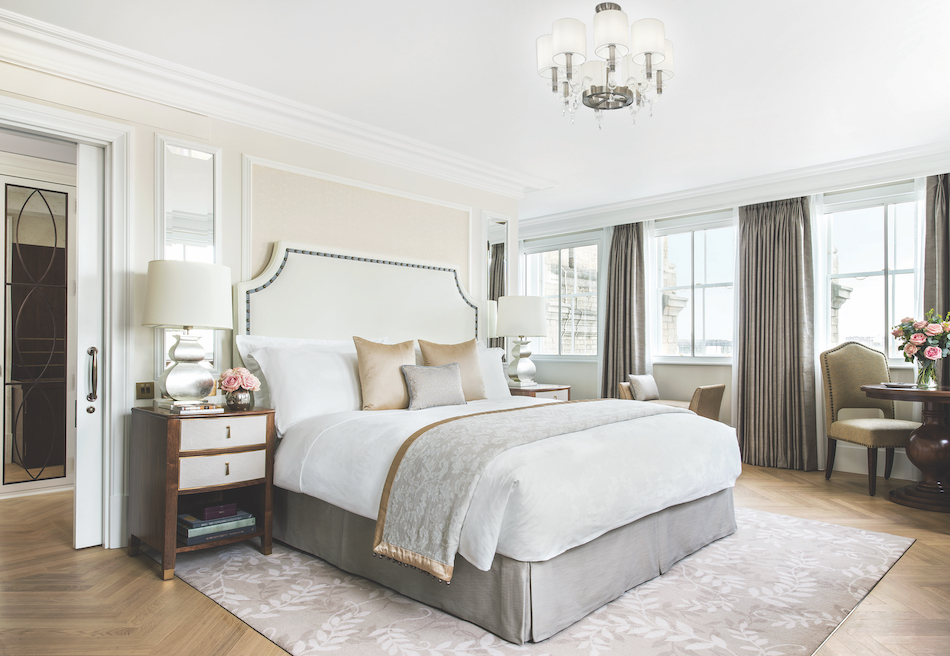 At the end of the day, too, put on the sleek Pye designer pyjamas that come with all suites. They're yours, to take home.
***
Fari Islands Maldives
If you want real privacy, head for Patina Maldives Fari Islands. The high-octane GM, Marco Den Ouden, GM, doesn't believe in Googling people. Is this one reason that the five-month-old resort's already on many 'world-best' lists.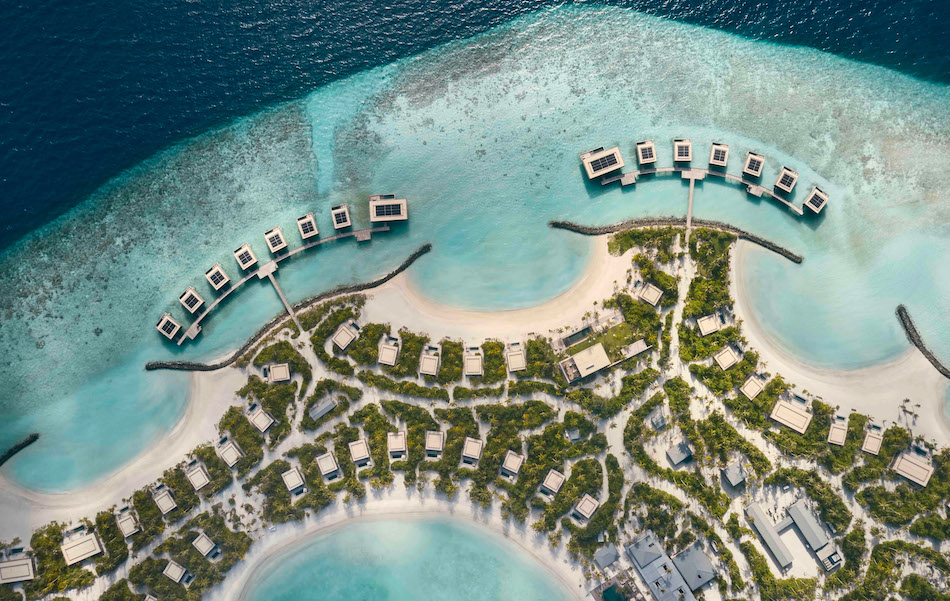 Patina Maldives Fari Islands occupies all of a 41-ha island, one of four of the Fari Islands in the North Male atoll, a 50-minute speedboat from Male International Airport. Go for the 1,800sq m Beach House, two floors, three bedrooms that sleep a maximum nine, a 21m-long pool.  If that's already occupied by celebs – but of course you don't know which – there are also 90 pool villas, plus, pool-free, 20 Beach Studios.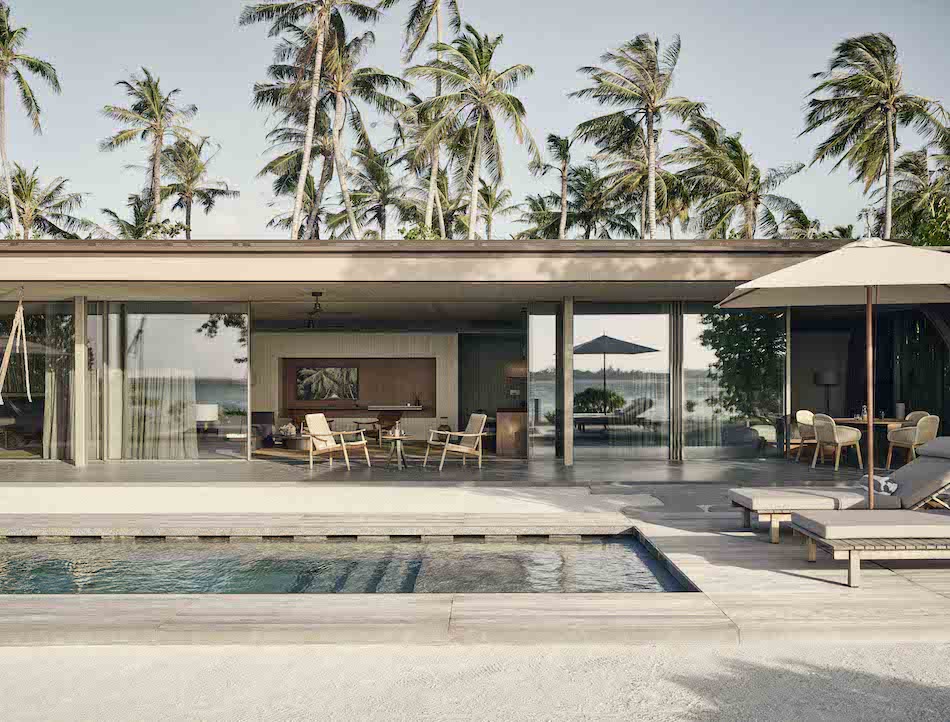 There are 12 eating venues, full- or half-board, or à la carte. Soon there'll be another seven dining options when a sibling, Capella Maldives Fari Islands, opens on another island, five minutes away by non-stop dhoni shuttle. Charge, wherever. Patina freebies, incidentally, include welcome bubbles, daily gelato, evening cocktails and campfire marshmallows, bikes and paddleboards, laundry, kids' club, and, whenever you know you need it, the 24/7 Reboot gym.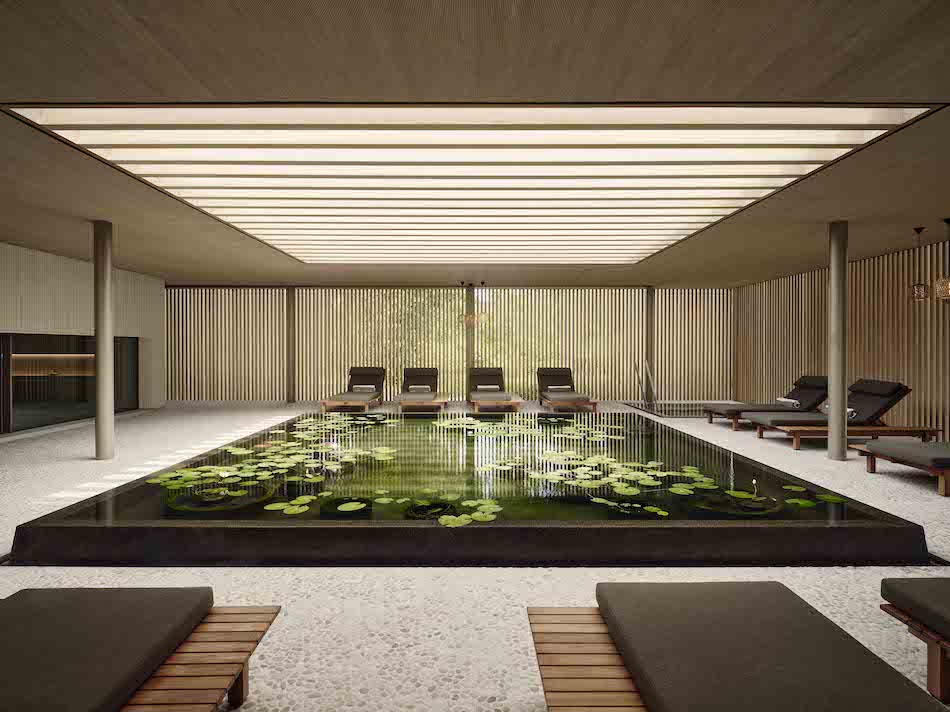 Some spend far too long luxuriating poolside, smothering elegant cheeks in Haekel's eco-marine face cream while chewing bespoke Nourished lozenges: glasses of the house Champagne, Duval-Leroy Femme de Champagne Grand Cru Brut, fit well into this scenario.
And a bonus is that, whatever you are sybaritically up to, no one need know who you are.
***
Santa Marina Mykonos
This must be the most intimate working chapel in Greece - St George's, at stunning Santa Marina Mykonos, high above Ornos Bay, in the south-west of the island. Typically Greek, the chapel is pristine white outside, like all the buildings on the eight-hectare estate. And of course, the chapel's a kaleidoscope of colour inside, with amazing ancient icons. Take out the confessional and the space holds ten at most, so the numerous weddings and baptisms held here take place outside, in front of the chapel, a memorable photographic backdrop.
Self-made Athens-based shipping tycoon Elias Papageorgiou loved this hilltop site and in the 1970s he bought the land. It then had four buildings, a pigeon loft, a windmill, another chapel and a small house, which became his holiday home. As he was, by all accounts, gregarious and a renowned host, accommodation expanded as needed to offer his many guests somewhere to stay.
His daughter, Christiana Papageorgiou, a confirmed design-mad fashionista, now owns and runs what has become a 114-room Luxury Collection hotel. She only wants the best. Take Ruby, Villa 242, a two-floor 217sq m beauty which comes with a totally-private 170sq m courtyard (there's a 16-metre pool). Its all-white Neff and Smeg kitchen would delight any celebrity chef. Two bedrooms are downstairs but best sunset views are from the two upstairs. Look across the Bay to Delos Island as you watch pretty-amazing orange-gold sunsets.
There are two super-yachts for day- or overnight-charters. The spa has ESPA plus 112skin all-round science-based wellness led by a Harley Street surgeon. Food is all-day Mykonos Social, by Jason Atherton, and for fun outdoor evenings, Buddha Bar is one of the best of that party-goers' brand. Reef is a highly-personal boutique – naturally Christiana Papageorgiou is buyer, choosing floating robes and Vegas-type accessories she herself adores.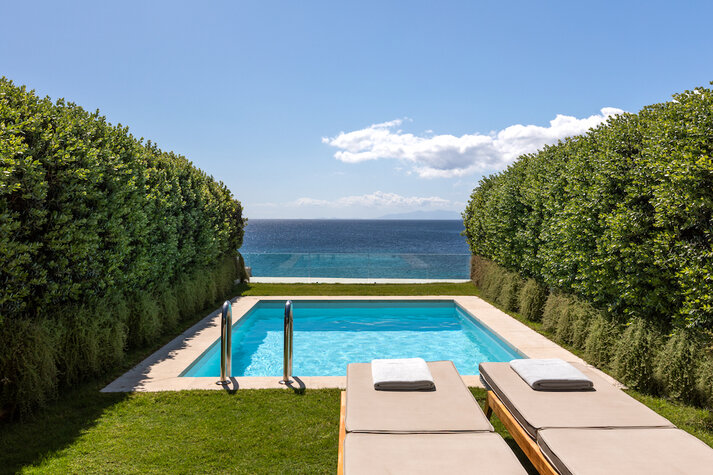 Book now, for the 2022 season that starts April. Many repeaters have already reserved, not only suites but exactly-timed daily wake-up personal trainers and the hair appointments that are quite necessary in Mediterranean winds. Santa Marina is a luxury cult, and you could even add a wedding vow renewal.
***
Vienna Hotel MOTTO
Glamour is back, according to fashion pundits (think of the Jenny Packham glitter-gown that The Duchess of Cambridge wore to the première of No Time To Die this week). And, actually, glamour is back in luxury hotels, too.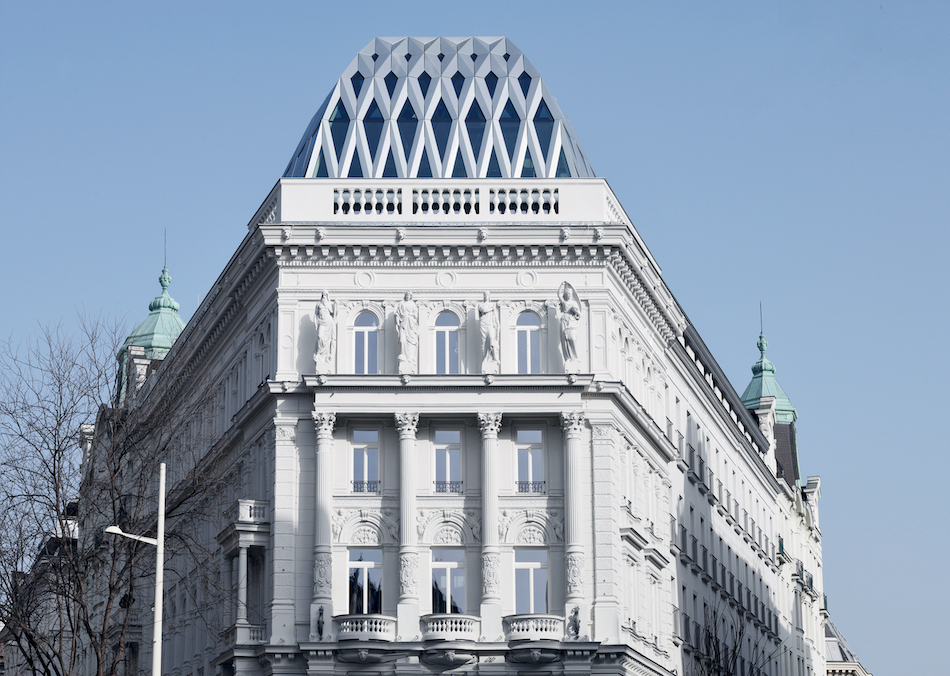 Fanny Holzer-Luschnig is opening GM of Vienna's Hotel MOTTO, a story-filled 91-key hotel operating under this name from Saturday 2nd October 2021.  What a story it has to tell. Bernd Schlacher, owner and creative director of the MOTTO Group, says floral fabrics and other design features combine the glamour of Paris in the 1920s with traditional Viennese architecture. Yes, rooms are compact – the best are 24sq m Chic Suites – but they ooze history.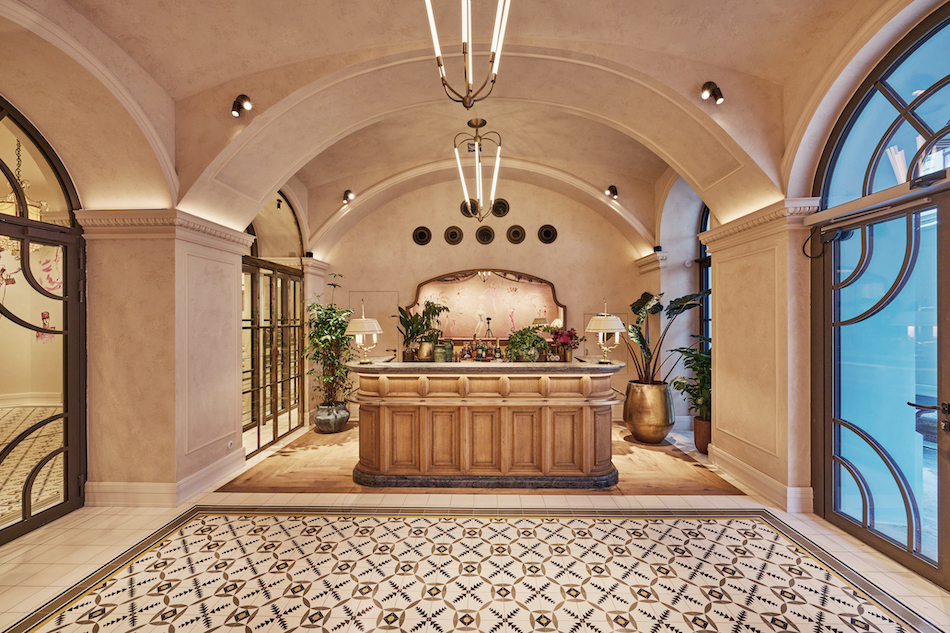 There was a building on this Mariahilferstrasse site as early as 1665.  It was known as the Golden Cross and not much was known about its next century or so other than the musical Strauss family, Johann, Josef et al, supposedly lived here around 1827.  In 1872 it was renamed Hotel Kummer, and it became a social hub for artists, painters, sculptors, writers, actors and musicians who gathered for coffee, wine and the like (Hotel Kummer was immortalised in John Irving's 1981 novel The Hotel New Hampshire)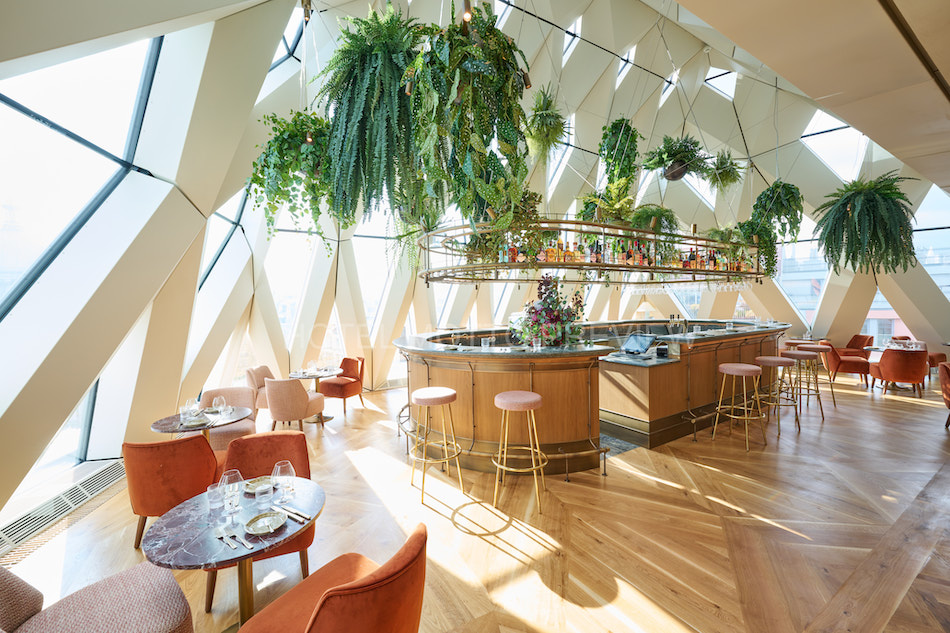 Now it is being put on the map yet again by restaurateur Schlacher, who has already built up a strong fan base for his MOTTO pub, MOTTO am Fluss restaurant, and catering. Here, at the hotel, he has turned the top two floors of the building, under a gigantic new dome installed by Arkan Zeytinoglu Architects into Chez Bernard - Restaurant et Bar. At ground level, the hotel has a MOTTO bake shop, and a pub garden.  MOTTO menus feature house salads with wild mushrooms, and MOTTO goulash, with more mushrooms, and, naturally, Wiener schnitzel, with cranberry stew – and Simmentaler beef, and, best of the best, Laguiole knives.
Nothing but the best for Bernd Schlacher, who sources organic and then utilizes left-over bread into brewing MOTTO beer. He claims not to offer extravagant frills but his
MOTTO motto does seem to be eclecticism, with more than a hint of glamour.
***
Soneva Fushi
Literature and lazing, lying above the Indian Ocean, is surely a new experience. It will be yet another added emotional memory at Soneva Fushi in The Maldives. André Aciman, William Dalrymple, Peter Francopan and Namita Gokhale will be among 30 globally-renowned authors taking part in the resort's first books festival, 13-22 May 2022. It's a partnership with JLF, Jaipur Literature Festival.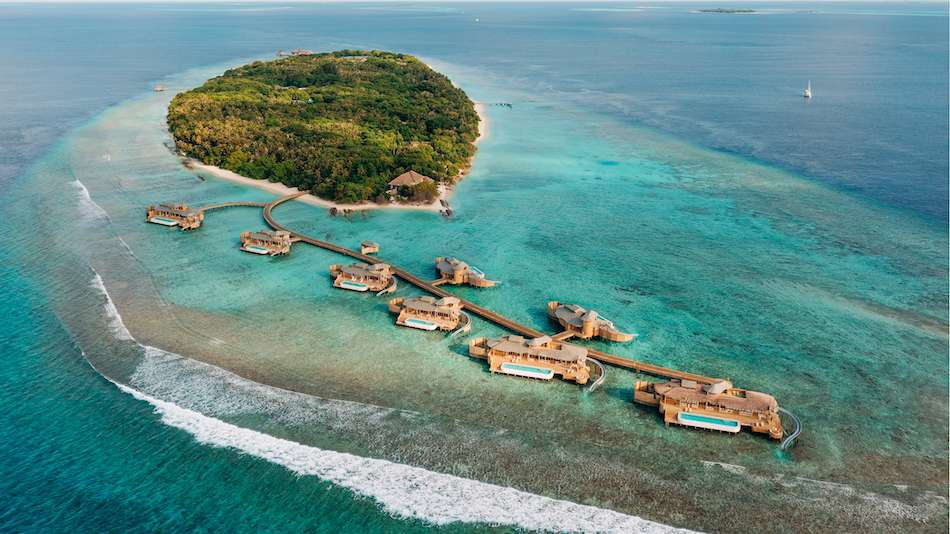 To Soneva-followers, this is all such an obvious evolution of the niche brand, named for Sonu Shivdasani, an Oxford-graduate culture nut, and the love of his life, Swedish fashion designer Eva Malström.  Sonu, a slow-life sustainability leader, opened Soneva Fushi in 1995, on Kunfunadhoo, a 1.4 km-long island 100 kms north-west of the Maldives' capital, Male – a seaplane flies you to Soneva Fushi International Airport, a pontoon 500m from the shore.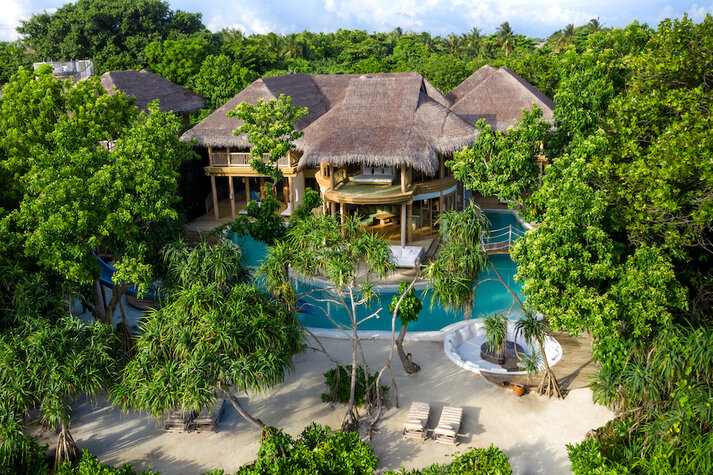 The 71 detached villas, one to nine bedrooms and on-beach or over-water, all have barefoot-luxury Robinson Crusoe appeal, paired with the latest tech and such indispensables as personal wine cellars.  Wherever, plan such memorable edible entertainment as castaway picnics, private sandbank dinners, sushi specials and chocolate made à la minuit. Go swimming with stingrays, learn glass-blowing, and try not to fall off a delightfully retro city bike while struggling along sand pathways, to explore yet more.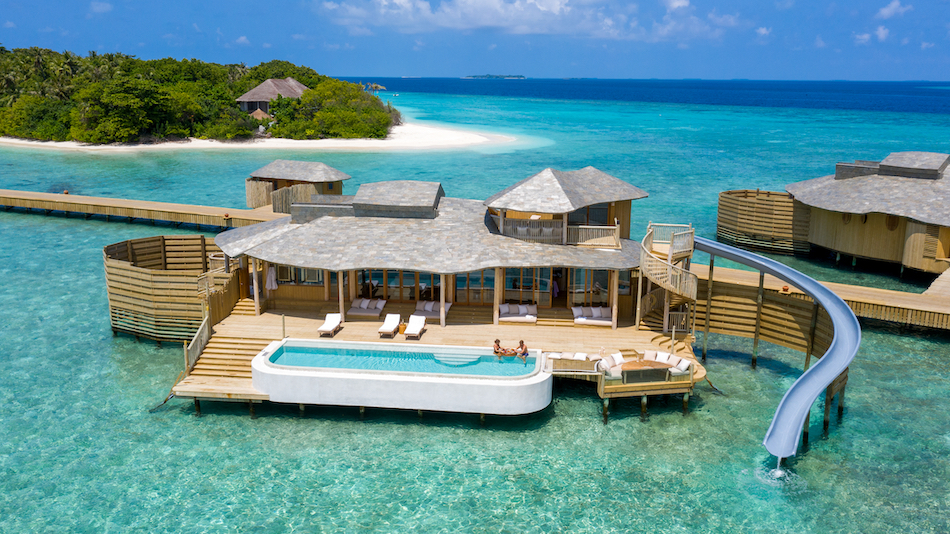 And then, back home on your deck, above the sand, or the ocean, ask your Man Friday butler to pour a flute, of Krug of course. Dream about adding Dalrymple to the moment.
***
Red Carnation's Milestone Hotel
Ever thought of foraging in London?  Red Carnation's Milestone Hotel is directly across the road from Kensington Gardens, and no, do not think of mushroom-gathering there, in the front gardens of Kensington Palace. The hotel partners with Totally Wild UK, professionally led by James Wood, and you are more likely to be driven a few miles to Hampstead Heath to learn, and practise, the fascination of wild food.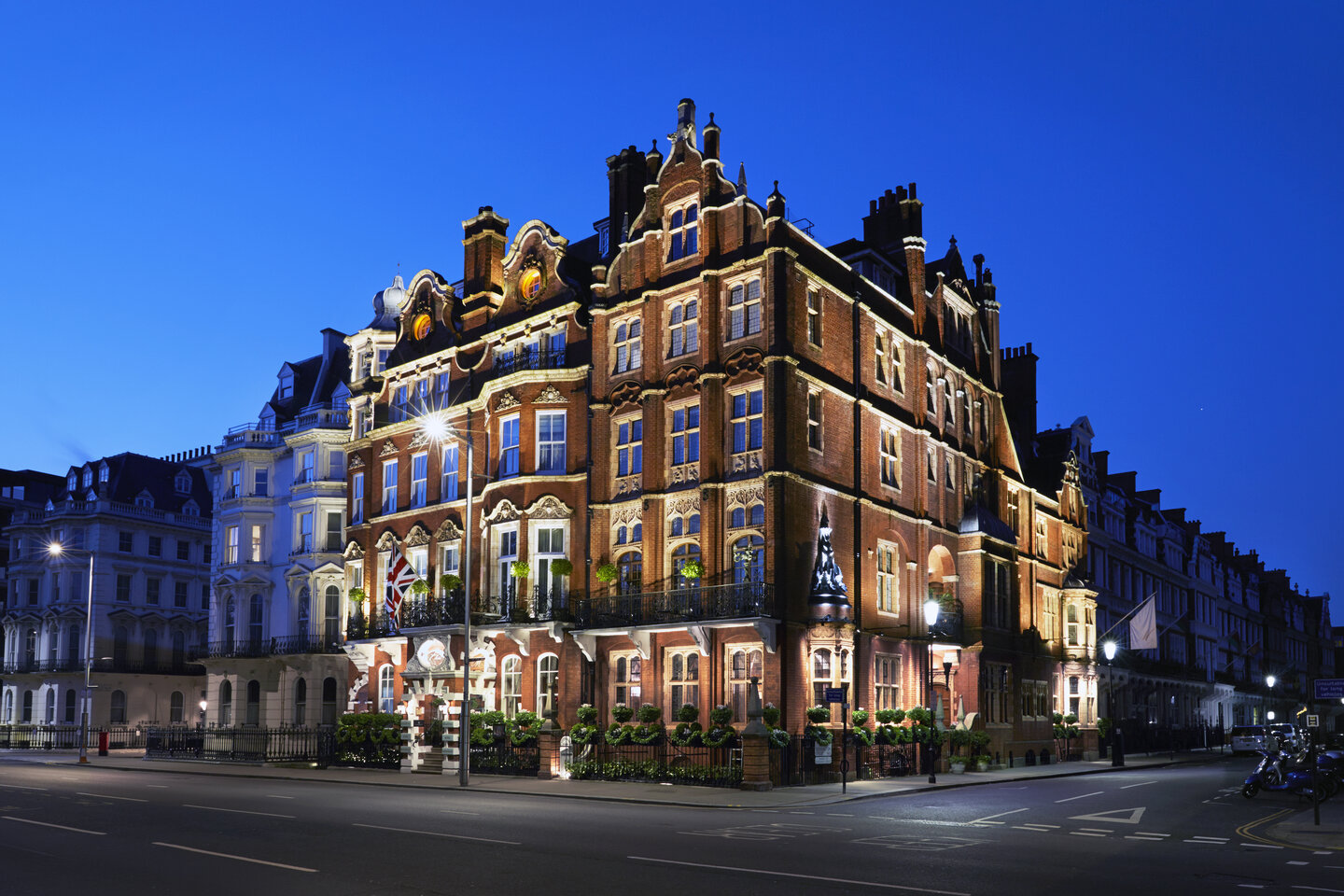 I would personally finish such a memorable three hours with a reviving dip in The Milestone's indoor workout pool. Take afternoon tea and perhaps then walk five minutes, by prior arrangement, to what is on today at the Royal Albert Hall, with whom the hotel has a long-standing preferred partnership. At some point, too, I would have a Dover sole, with a glass of Bouchard Finlayson Crocodile's Lair Kaaimansgat 2017 Chardonnay: the hotel's Cheniston restaurant, by the way, intriguingly has an integral 1880s-vintage chapel.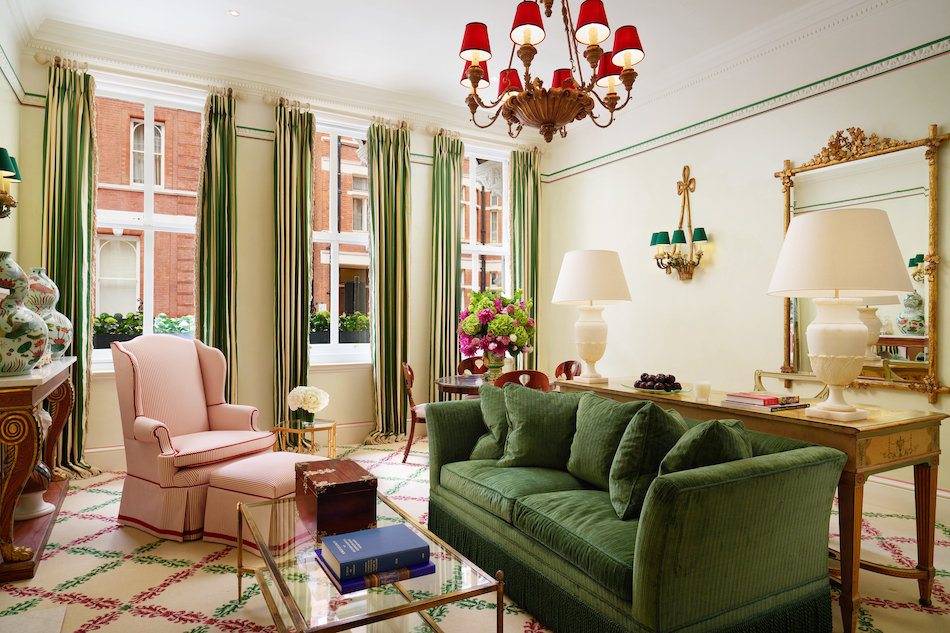 Of the hotel's 57 bedrooms, think of #407, named for Art Deco designer Emile-Jacques Ruhlmann. It's a symphony of ebony and gold - the 48sq m space, looking across to the Palace, is reached down six steps.  Insider tip. You might just spy James, as in Bond, around. GM Andrew Pike hosts regular bubbly Bond events.
***
The Gainsborough Bath Spa
Staying in a 500-year medical establishment is not everyone's glass of ale but the three-bedroom Townhouse at Gainsborough Bath Spa is unique. Two minutes' walk from the 99-room Gainsborough Gainsborough Bath Spa hotel, itself a historic beauty of a hotel, is its three-floor, three-bedroom Townhouse, a conversion of an Elizabethan doctor's office.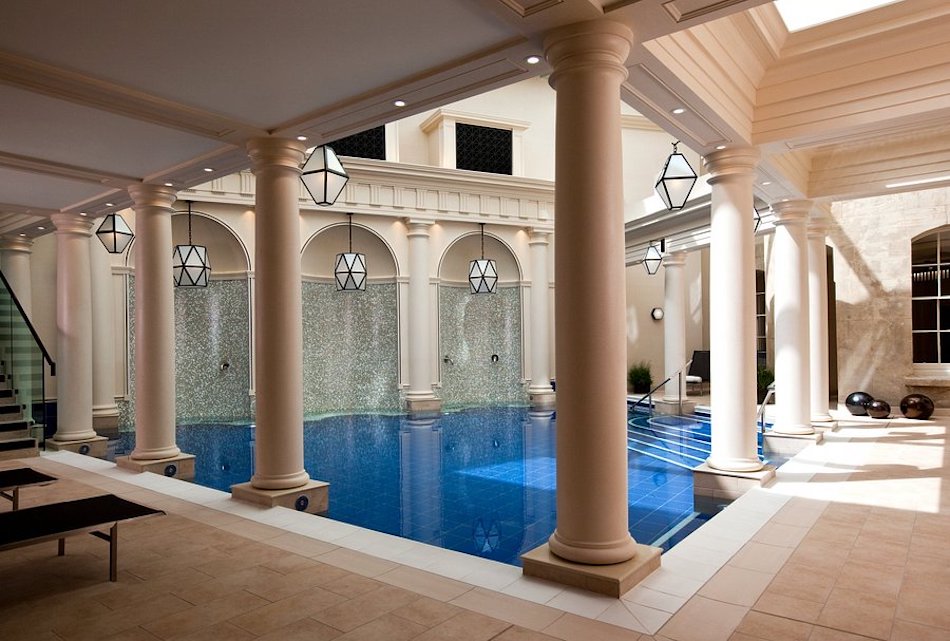 One caution. Since earlier Elizabethans didn't have elevators, be aware of 31 stairs to Townhouse's master bedroom, or a further 20 to the other two bedrooms – which does make main hotel's 24/7 Technogym unnecessary. The myriad of Townhouse's good points begins at ground level, with a remarkably well-equipped kitchen (DeLonghi, and a powder-pink Smeg), complimentary cocktail tray (Billecart Salmon on ice, Bombay Sapphire and Glenlivet 1924, all unopened bottles), a Jane Austen library, hardback of course, and a veritable gallery of 19th century engravings of Doulton hooded bathtub styles. The master bedroom, a dream of palest teal and silver with a jewelled over-bed canopy, has an actual rolltop bathtub, no hood but metal lined and, rare for its ilk, quite easy to get in and out of.
The word 'bath' comes continually to mind. Bathing in Bath Spa waters, right here, is a must: swim gear is on hand if you've left the Vilebrequins behind. Think also Bath Chairs, Bath Chaps, Bath Olivers and, ideally from Sally Lunn's place three minutes away, Bath Buns. Yes, walk the immediate vicinity, for tourist sites and retail that is Bond Street meets Borough Market. At dinner time, after a couple of cocktails in the hotel's semi-speakeasy bar, another 10 minutes' constitutional brings you to Ivy Bath Brasserie. Sensibly, in a city that is truly foodie-fab, Gainsborough Bath Spa has no main-meal restaurant but Concierge Adrian Millard, a former music teacher, has got a coveted reservation.
And when you have, for the time being, tired of all this Bath stuff, it's another seven minute cobble-clatter to the station, for the seemingly every half hour 80-minute train back to London Paddington and another world.
***
The Augustine
How many saints have eponymous vineyards? St Wenceslas does, and what is more, it is right next to Prague Castle. It is said the patron saint of the Czech Republic was, indeed, a keen viticulturalist.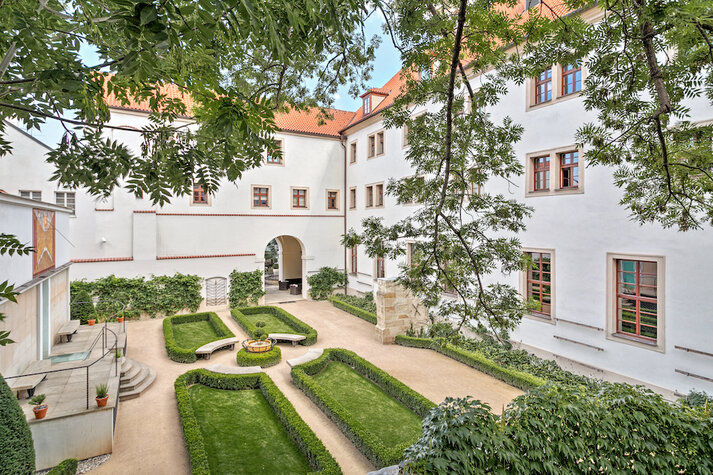 The Augustine is an ideal base for visiting the vineyard, the Castle, Charles Bridge and, indeed, much of the fascinating city's old town. All you need is well under half an hour's walk, but you do need sneakers as roads are cobbled and, in some cases, really steep.
But recover back at the 101-key hotel, part of Marriott's Luxury Collection. I always enjoy this hotel, evolved from seven adjacent buildings of a mediaeval monastery that is, in fact, still partly working: one building is private, home to the few remaining Augustinian monks, who are also responsible for the superb cathedral-like church – hotel guests can visit, to pray or at least gaze in awe up to the soaring heavens that are its vaulted roof. I recommend the 150sq m Presidential Suite is 150 sq metres, or one of the two Tower Suites that are especially popular with global-level CEOs.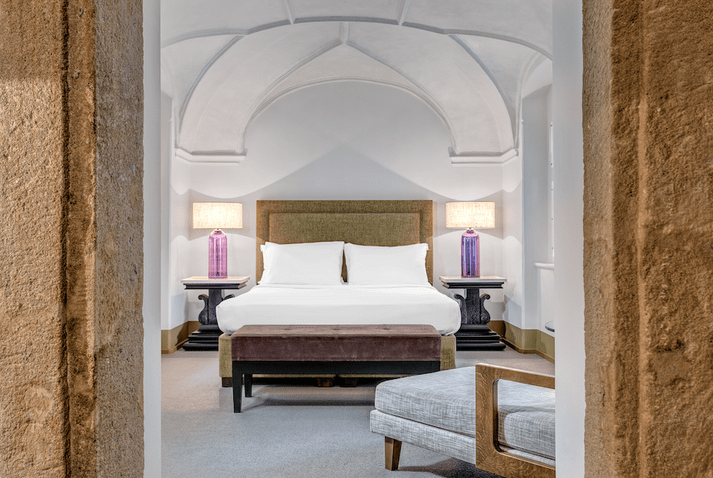 If you need any more exercise after your sightseeing, there is a good gym. For dinner, I would choose a table in one of the grassy cloister courtyards, and perhaps, as a salute to the Austrian heritage of GM Mario Egger, a schnitzel, with a glass of Frankovka Vinarstvi Veseli nad Moravou 2019, or a pint of St Thomas beer, brewed specially for the hotel according to Augustinian recipes going back to 1352.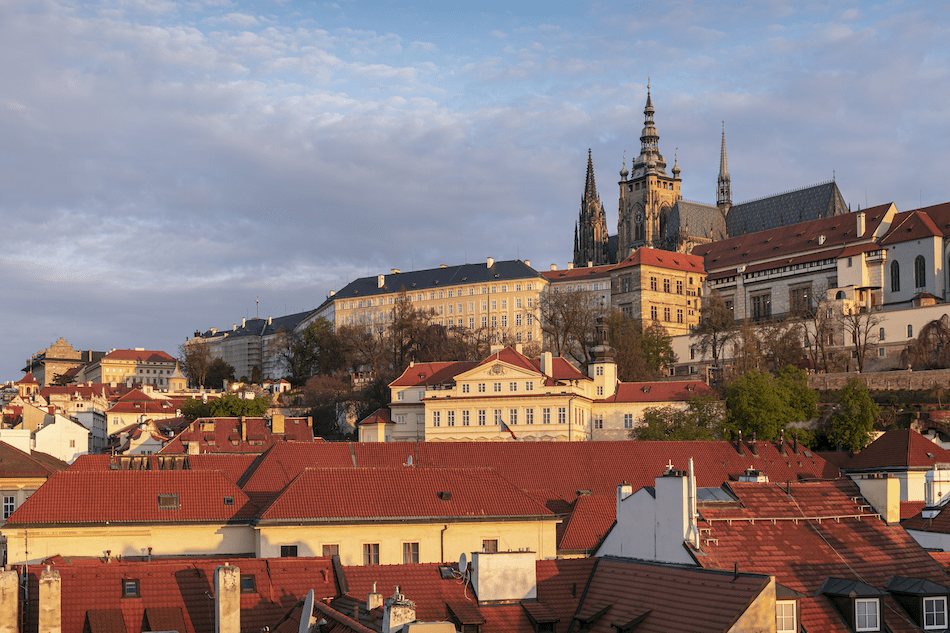 It's worth noting, by the way, that Mario Egger has, consistently for the last four months, taken this hotel to the top of the Luxury Collection's Europe stakes for customer service. He achieves this with only 65 full-time staff. Everyone is more than willing to do anything: the Revenue Manager was discussing local wines with French visitors and they all ended up having a vineyard tasting dinner together.
***
The Langham Jakarta
The Langham Jakarta opens 9th September 2012, so get in quick. And to show business sense, use the stunning new venue to host a dinner of your Crypto club (no-one need know that you cunningly joined the Langham Supper Club, which gives a 15% food, and drink, discount for up to 24 – and we all know that even Messrs Bezos and Zuckerberg like saving the odd cent).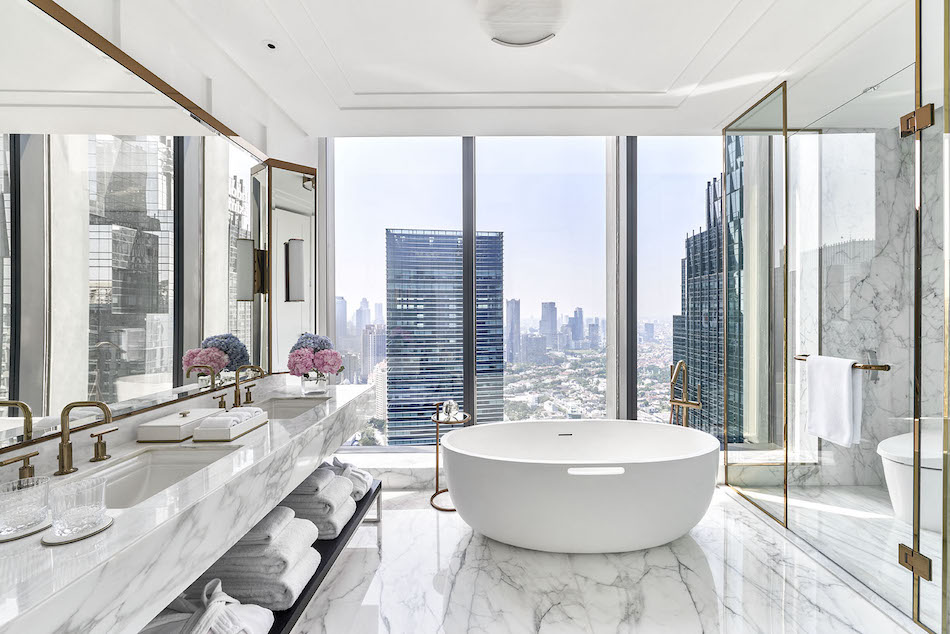 The Langham Jakarta is directed with artistic flamboyance by Gaylord Lamy, who previously added a light touch when converting what became The Langham Sydney. Now, at his 223-room new baby, he recommends the 380sq m Presidential Suite, on the 60th floor. Stunning views, 25sq m balcony, two bedrooms, an elevator with direct access down to the garage.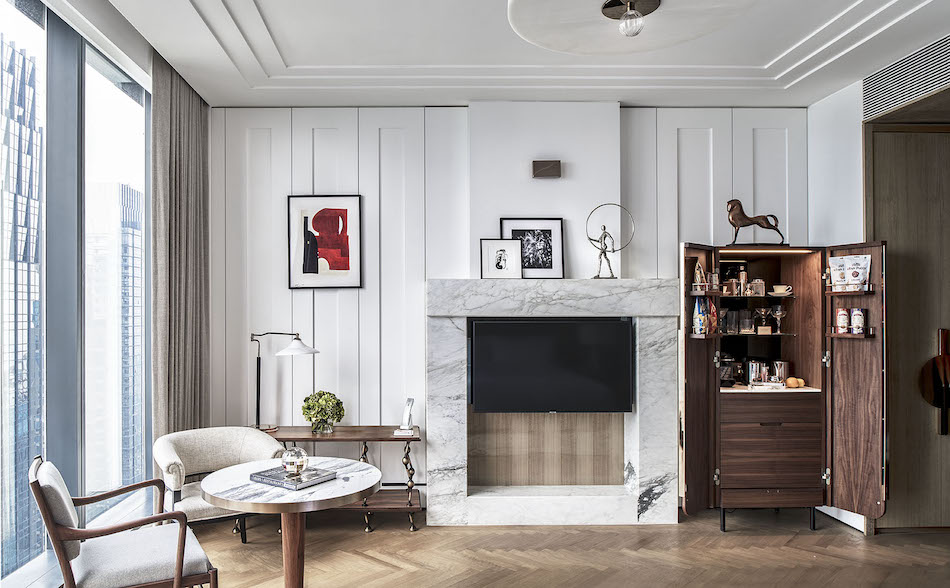 It all sounds fairy-tale. Alice, for Wonderland, offers whimsy meals breakfast through evening, and Tom's, by Tom Aikens, is haute cuisine meets comfort – and being Langham, expect afternoon tea, Michelin-level Cantonese, a continuous froth of Champagnes and cocktails at Artesian, sibling to the London bar named for the mediaeval well under The Langham London. Of course there is a brand-standard powder-pink town car but here, in Indonesia, is something else, the country's highest pool, on the 63rd floor.
***
Berd's Chisinau McGallery Hotel Collection
What happens when Moldovan pharma giants chat with an Italian furniture designer? The answer is BERD'S Chisinau MGallery Hotel Collection.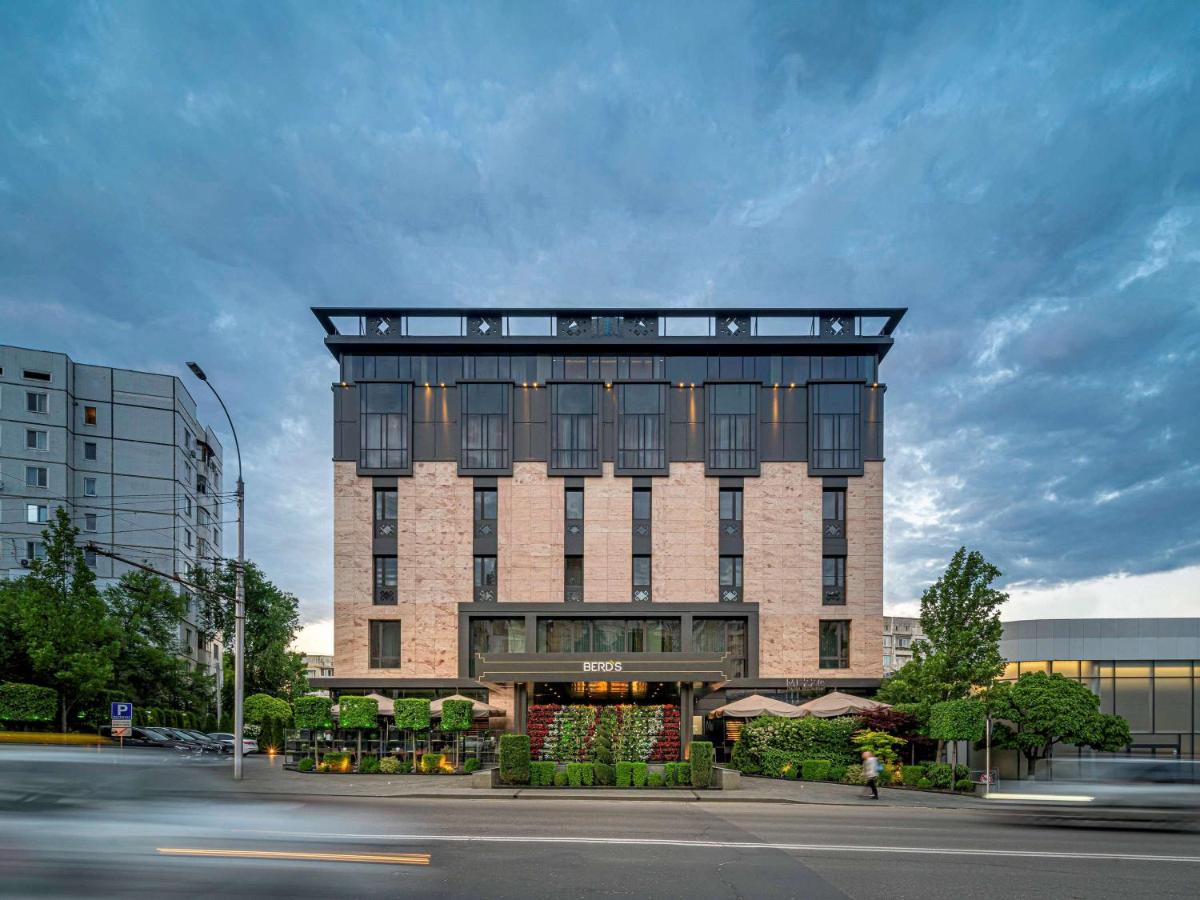 Dorian and Lucia Berdos founded Felicia pharmacies in Chisinau, capital of Moldova, in 1997. Keen travellers and enthusiasts of beautiful luxury hotels, they wanted their own, in their home town. The result is a 33-key hotel infused with Italian culture, thanks to Milanese designer Luca Scacchetti, founder of Scacchetti Associati and today led by his wife Cinzia Anguissola Scacchetti: best tribute to him is the hotel's 200sq m Prestige Suite, on the sixth floor.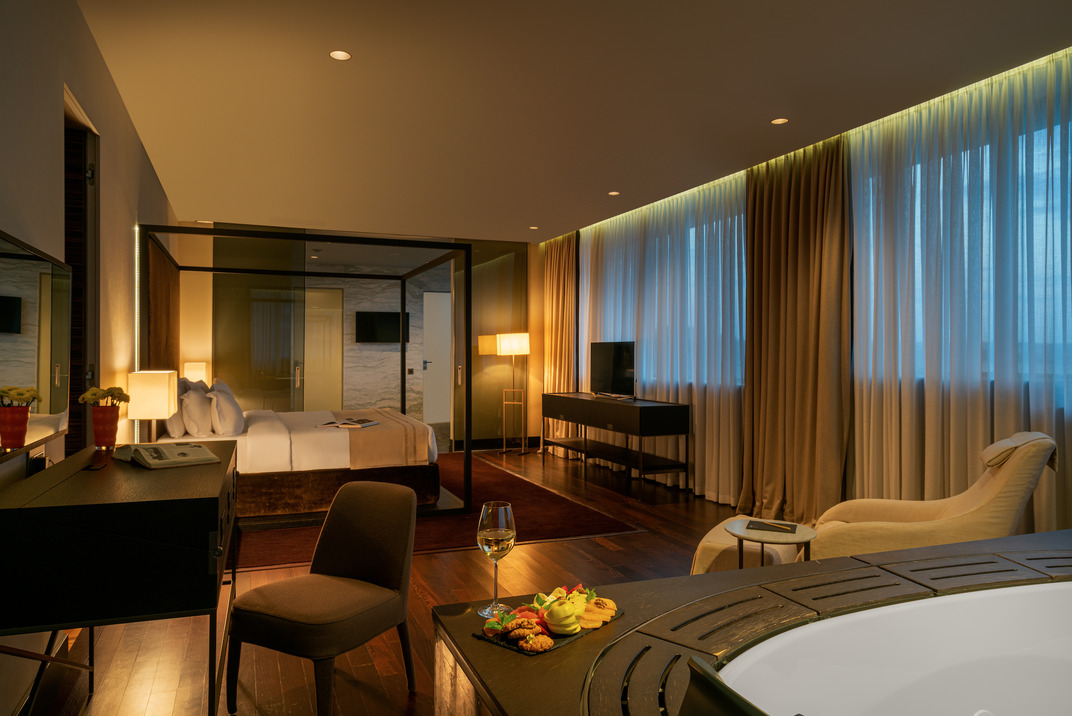 Every floor's corridor is hung with old, and one-off, carpets – here, for instance, is a 19th century Basarabian carpet showing of five-generation Tree Of Life family tree. As hotel GM Tatiana Istrati says, there is so much to learn about Moldova.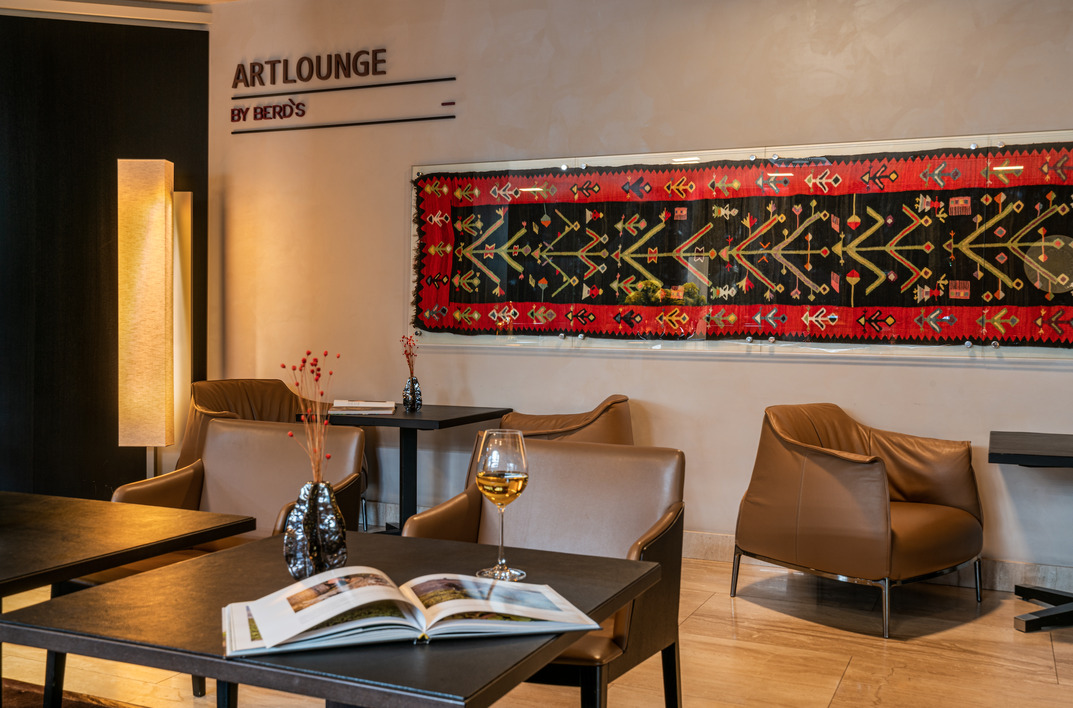 So, for intrepid wanderers who want to add to their collection of countries visited, here could be one to add to the list. The 34,000 square-kilometer nation, landlocked between Romania and Ukraine, has a population of only 2.8 million. Ideally fly by private jet to Chisinau airport,15 kms from the hotel, for BMW pick-up. 
A city walking tour is an eye-opener to ancient churches, Stalinist architecture, and going inside today's homes in traditional style. A short drive can include cherry brandy centres, and such wineries as Purcari, whose Negru de Purcari Vintage 2015 is on the list back at base, at Mezzo.
Accor's MGallery brand stresses style. Although its best seller is beef wellington, Mezzo continues the hotel's Italian DNA. Milanese risotto in Moldova (or think carpaccio in Chisinau). Yet more memories await.
***
Four Seasons Hotel Megève
Aeronautical engineer Nevile Shute's epic 1950 tome A Town Like Alice still inspires thoughts about turning desert to destination. In 1919, Trygve Smith - that era's equivalent of today's personal trainer - was tasked by Baron Maurice de Rothschild's wife Noémie to find a perfect location for a ski resort to rival St Moritz. He suggested what is now Megève.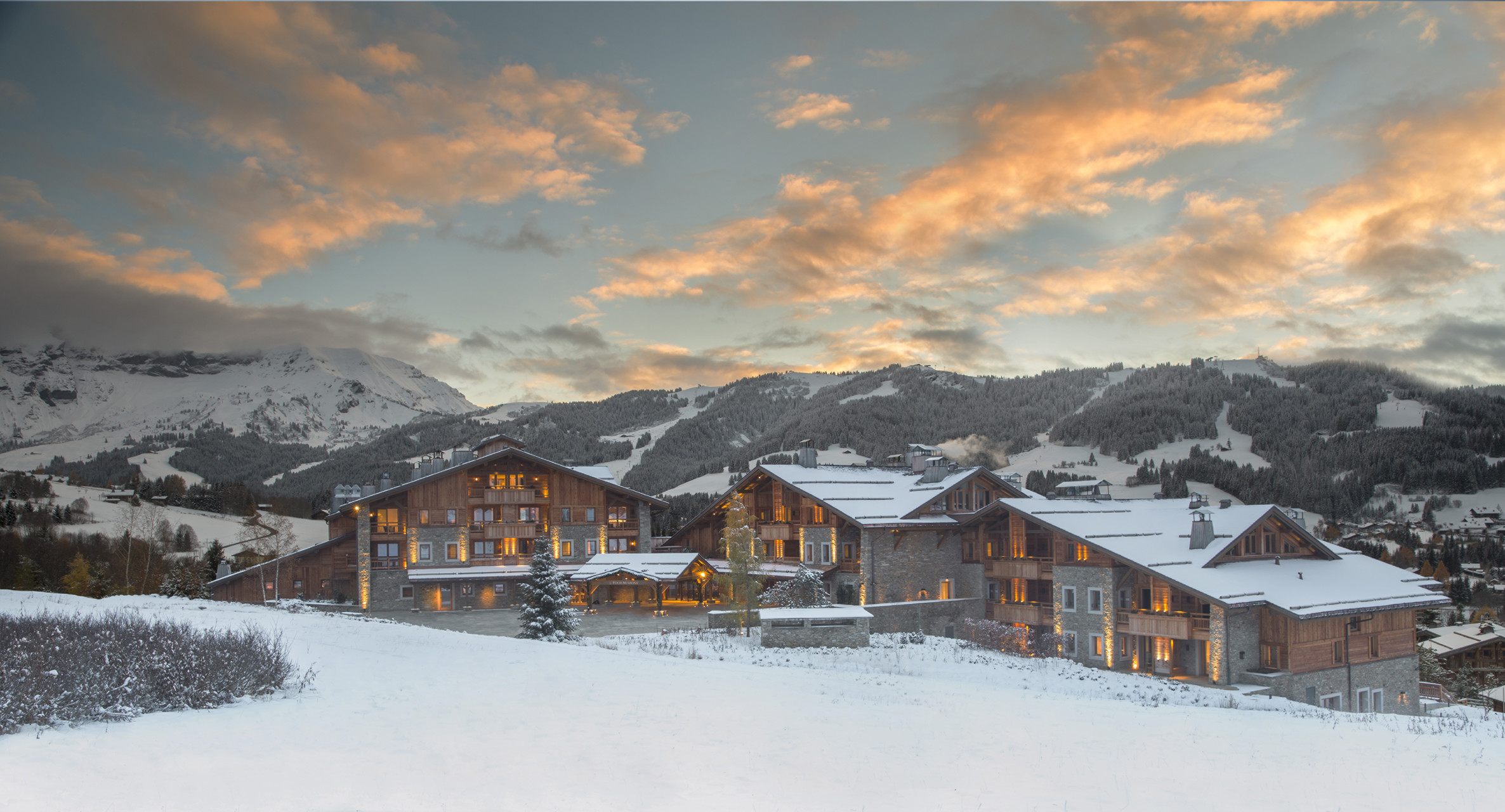 The de Rothschilds bought land. Led by the determined baroness, they constructed a golf course – later upgraded by Henry Cotton - and a hostelry, Hotel Mont d'Arbois. The fledgling resort was nurtured, as it still is, by the family.
Along the way, visitors have included Audrey Hepburn and Cary Grant, Jean Cocteau, Charles Aznavour, but unlike, say, that other French luxury pinnacle Courchevel, Megève has always remained a discreet and authentic village.
In 2019 the Rothschilds partnered with Four Seasons. The 96-key Four Seasons Megeve Collection is actually in two separate buildings. Les Chalets du Mont d'Arbois, Megève, A Four Seasons Hotel, is winter-season only. Two kilometres away, Four Seasons Hotel Megève, is open two-seasons: book now for such summer activities as farm visits, and hiking, before the hotel closes 26th September 2021 (it re-opens for the winter season 14th December 2021).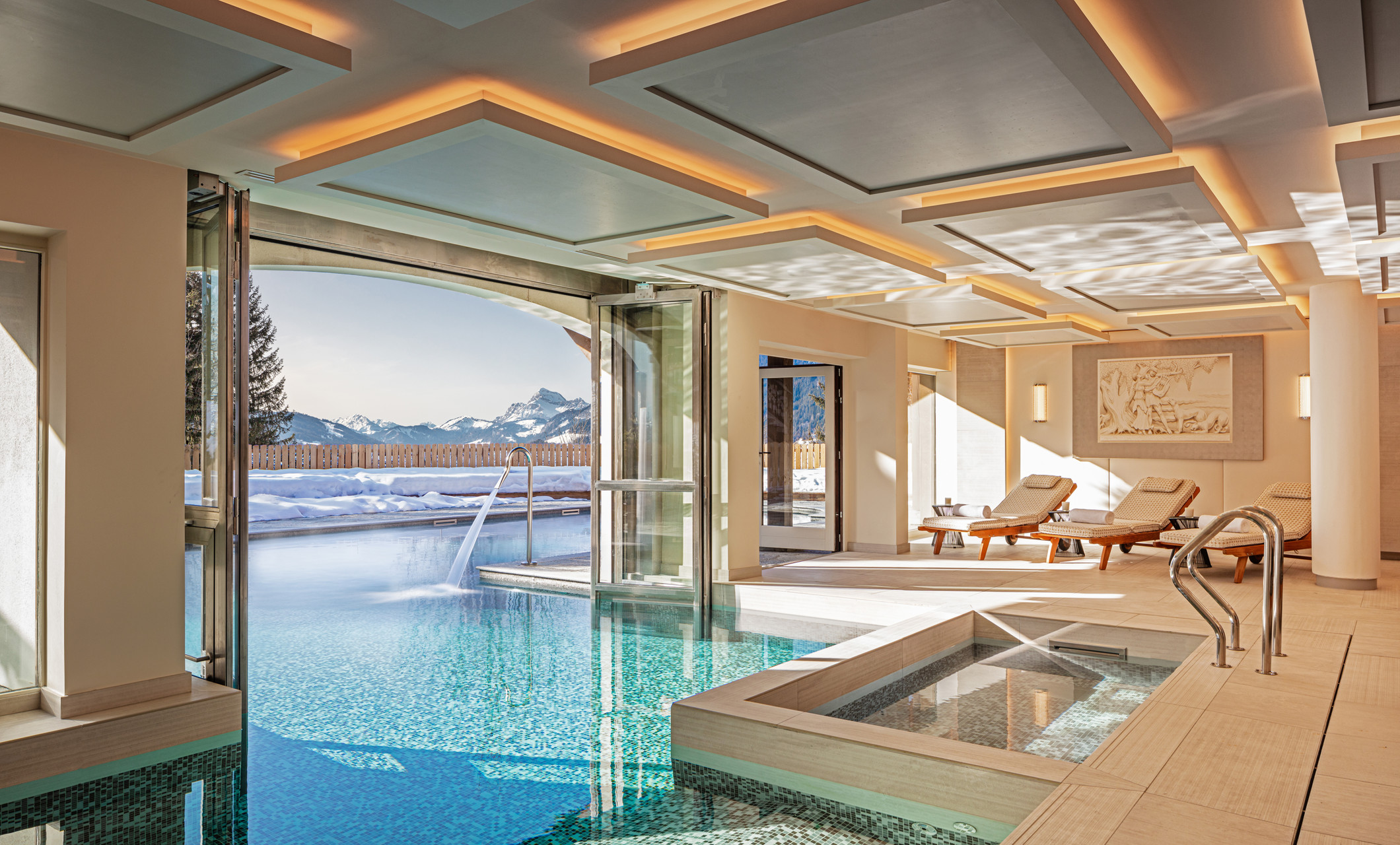 The 359sq m Suite Mont Blanc, #510 on the fifth floor of the main hotel, is, incidentally, ideal for small groups or large families as it can be extended to five bedrooms. Four Seasons Hotel Megève is all very family-oriented: for teens, a well-equipped games room complements the younger siblings' club. Eating possibilities range from fine dining at just-opened La Dame de Pic – Le 1920, by cooking's lady leader Anne-Sophie Pic, through to alpine auberge, or pizzas and pastas.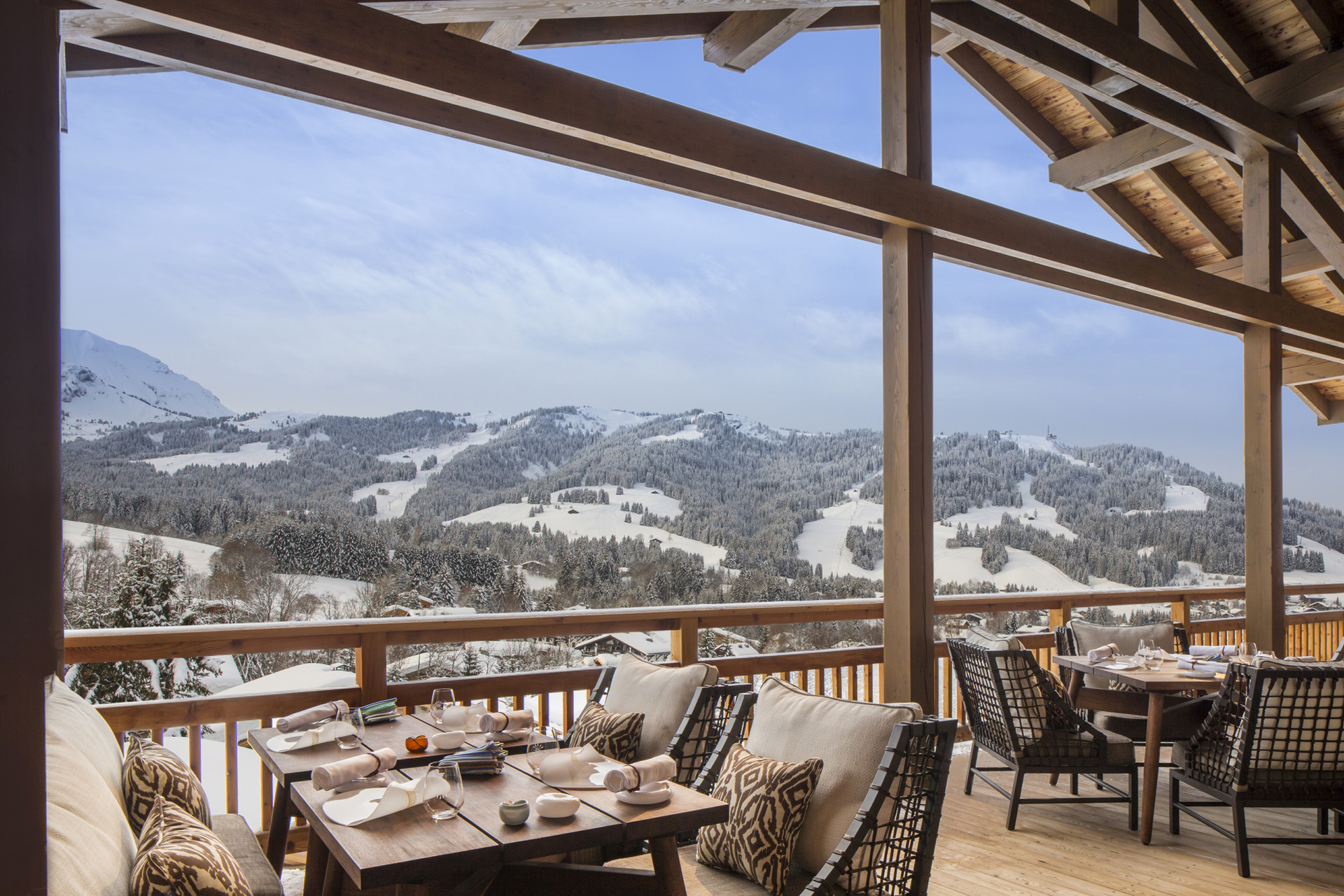 And just as Shute stressed the importance of ice cream in the heat of Alice Springs, doubtless Stéphane Gras, Four Seasons' onsite boss, has that available here, too.
***
Ritz-Carlton Montreal
There are ducks galore at Ritz-Carlton Montreal – except, that is, on menus.  Just as if they were perfect (human) catwalk models showing the latest styles, here there are always five birds, as white as bridal finales. They live on the island in the middle of a squash court-sized pond in a tennis court-sized pool, overlooked by the L-shaped hotel.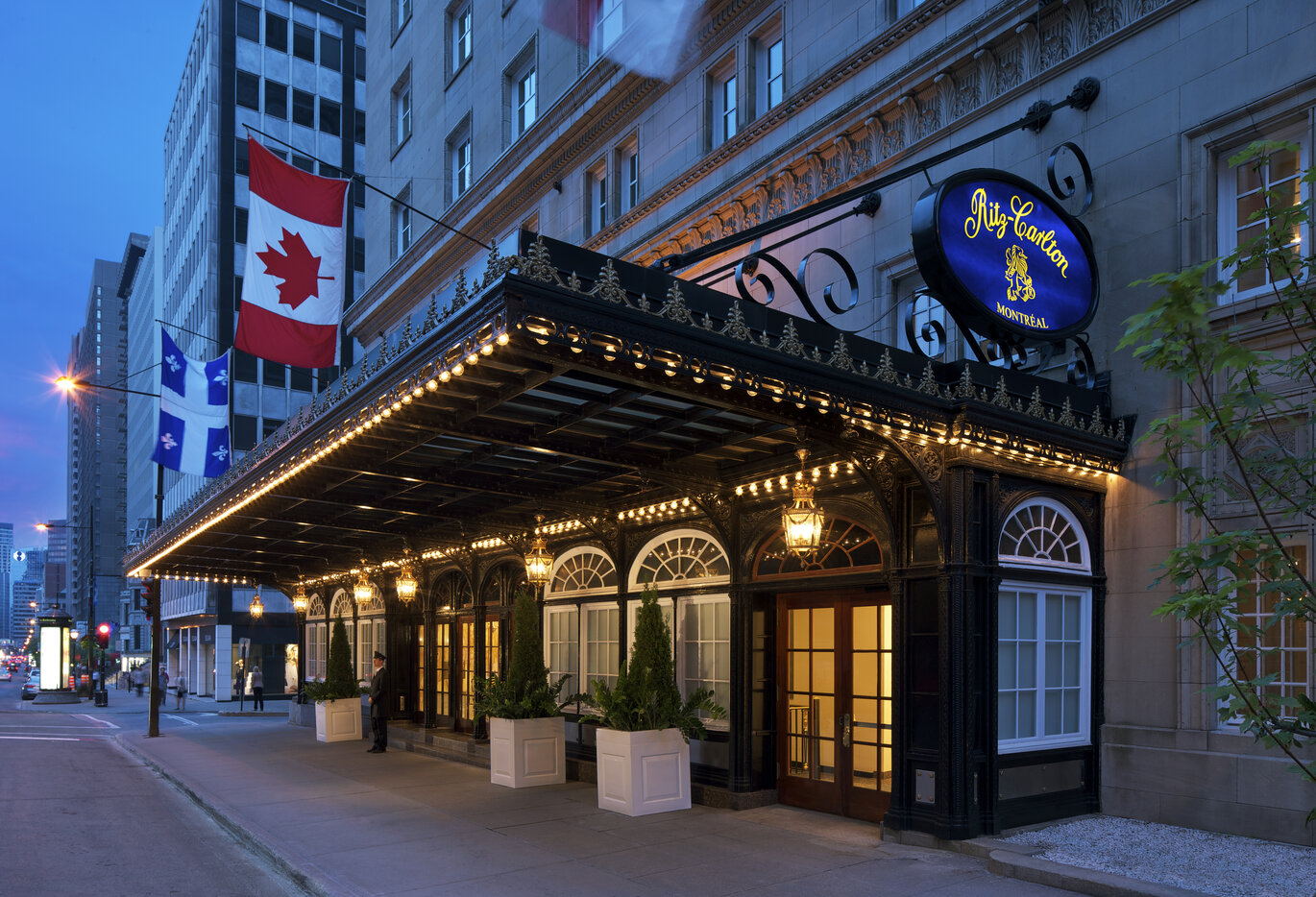 Ritz-Carlton Montreal has been making waves since it was opened, by Cesar Ritz and pals, back in 1912. It has over the years attracted such notables as Howard Hughes, who for a time lived in most of the eighth floor.
For the last nine years the 129-room hotel has been owned and run by the Torriani family, and one son, Andrew Torriani, is very hands-on and forward-thinking GM.  Here, for instance, you find the working salon of Montreal's top floral artist, Alain Simon, who knows exactly what displays might highlight a Maisonneuve home.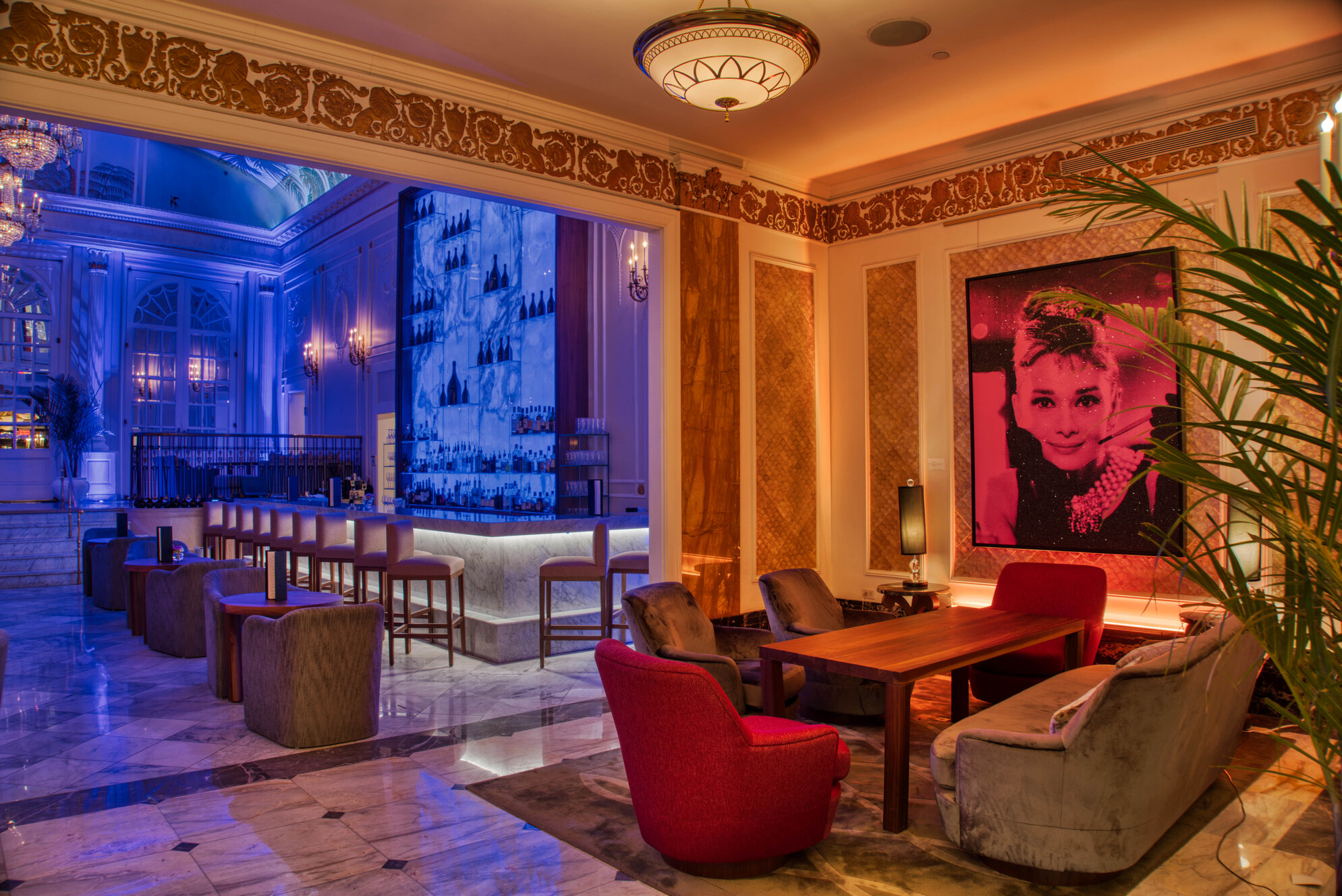 Locals come, sometimes daily, for the so-traditional afternoon tea but also, from breakfast on, for inside or outside networking in Daniel Boulud's Maison Boulud, designed by Japan's super-star Super Potato. Talk ice hockey, especially Molson Canadiens, over a limited-edition Molson Canadian Stanley Cup Batch beer.  Move out to the terrace for home-smoked Canadian salmon. Pair Alberta beef, AAA Angus of course, with 16 Mile Cellar's Rebel, from Niagara Escarpment.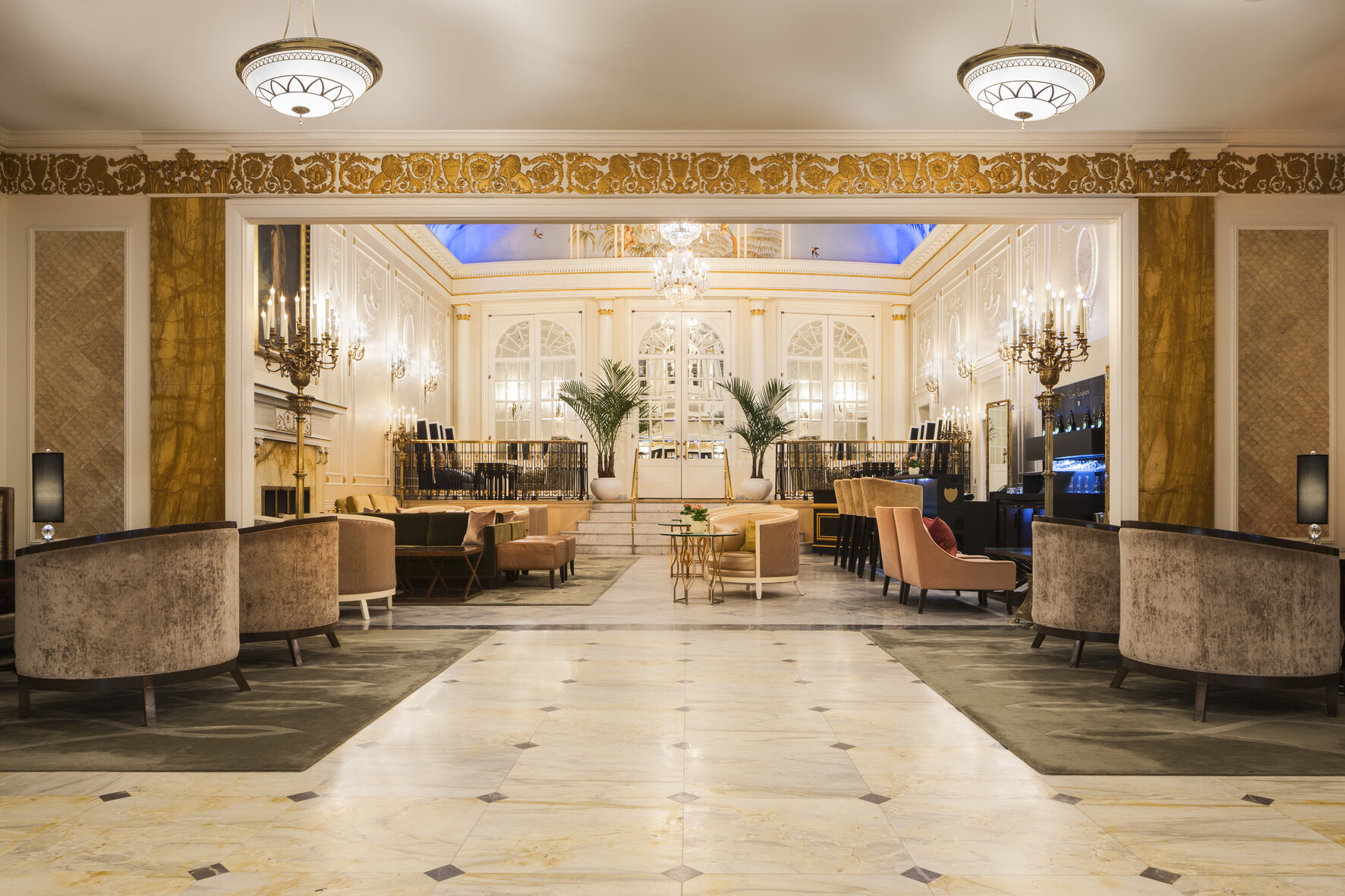 After all this eatin'n'drinkin consider a heart-rate challenging run up Mont-Royal, for superb views far down to the St Lawrence and Vieux-Montréal. Back down to base, learn more about the old city (there's a graffiti and murals exhibition now through to 22nd August). Try retail-recce, new gear in Holt Renfrew Ogilvy and upcycled in Gaillarde.  And then, back home – ideally in the top, eleventh, floor 470sq m Royal Suite – look down at the birds.
***
The Balmoral, Edinburgh
Design your own tartan at The Balmoral, Edinburgh – a Rocco Forte Hotel - where some of the hotel's staff, not surprisingly, wear tartan trews from Kinloch Anderson (I declare an interest here as a few years ago I temporarily had Kinloch Anderson's Middle East concession – great timing as it was just when Paris decreed latest haute couture fashion to be tartan hot pants). Kinloch Anderson holds the Royal Warrant, and The Balmoral's own tartan concierge helps hotel guests design a bespoke plaid. Other Balmoral performers can arrange an introduction to bagpipes, or haggis, and tastings of some of the hotel's over-500 whiskies?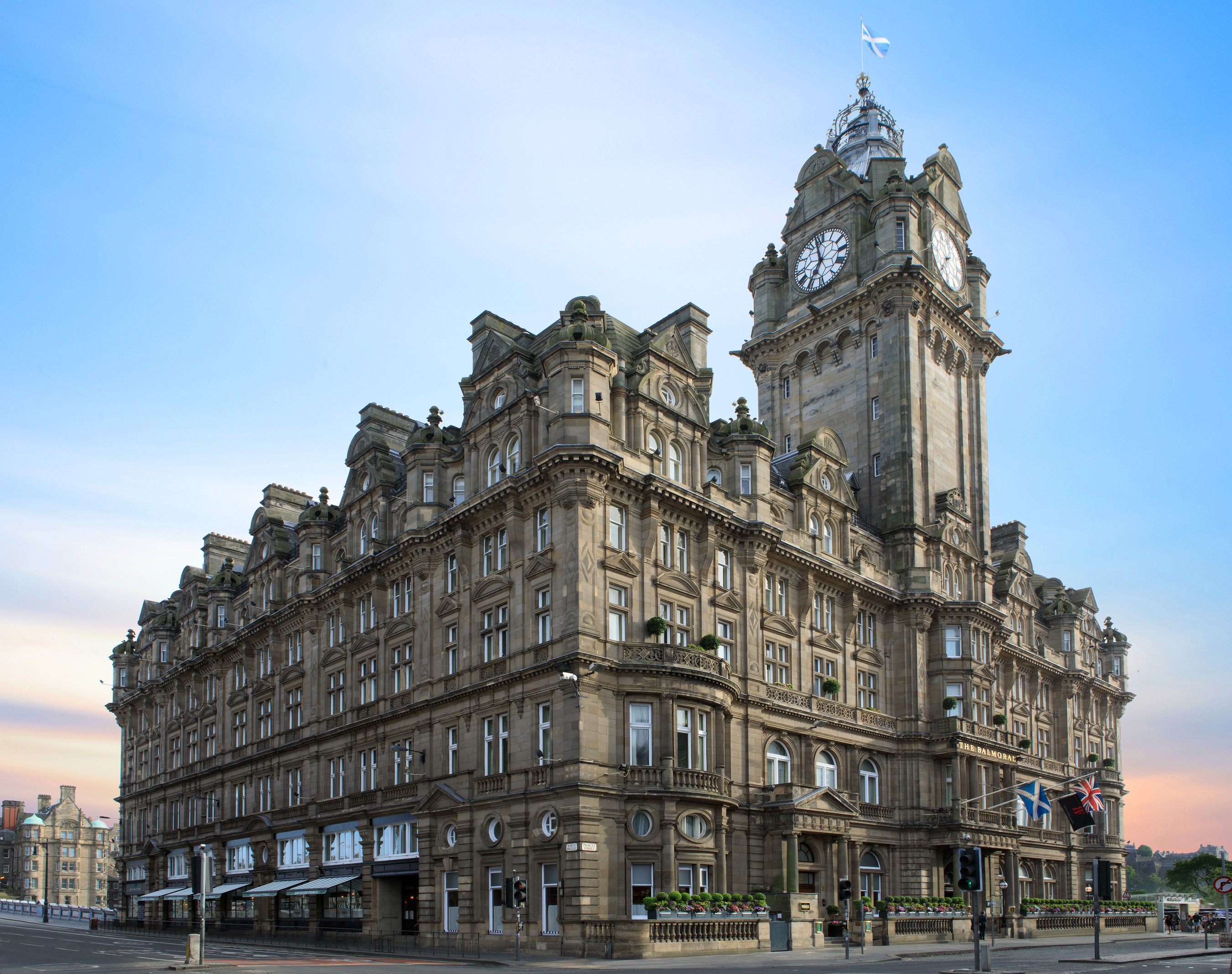 Scotland's high fashion, particularly right now. The 250th anniversary of the birth of Sir Walter Scott, 15th August 1771, is being celebrated here and around the literary world (who realises, incidentally, what ups and downs he had in his financial life as a result of continual share speculating?). 
Staying at The Balmoral is easy. For a start, arrive by train. Just under four and a half hours after leaving London's King's Cross, you disembark at Edinburgh's Waverley, and immediately enter the 188-room hotel's south door. The north-front main entrance opens directly on The Royal Mile, running from Edinburgh Castle to your left and right down to the Palace of Holyroodhouse, official Scottish home of Her Majesty. 
Channel 5's series, Inside The Balmoral, among the best of the current spate of reality-television hotel programmes, was brokered by Sir Rocco's niece, Channel 5's Hotel Inspector, Alex Polizzi. Yes, this hotel is something of a family affair. Alex's mother, Olga Polizzi, is lead designer: I loved #230, the Bothwell Suite, with its suitably-Scottish palette of soft greys and blues with hints of heather-purple for. I looked out at the Castle, and felt immediately at home, in Scotland.
The interior pool, with adjacent ESPA, are equally popular with both hotel guests and locals. Another big draw is the Palm Court, full every day with mainly-distaff afternoon tea takers.  Locals also flock to Brasserie Prince, overseen by Alain Roux. Also book ahead for Michelin-starred Number One, where Edinburgh-boy Mathew Sherry's seven-course menu includes such Scottish products as Loch Duart salmon, Orkney scallops, and Jim Brown's Gaindykehead beef, followed by Blairgowrie strawberries.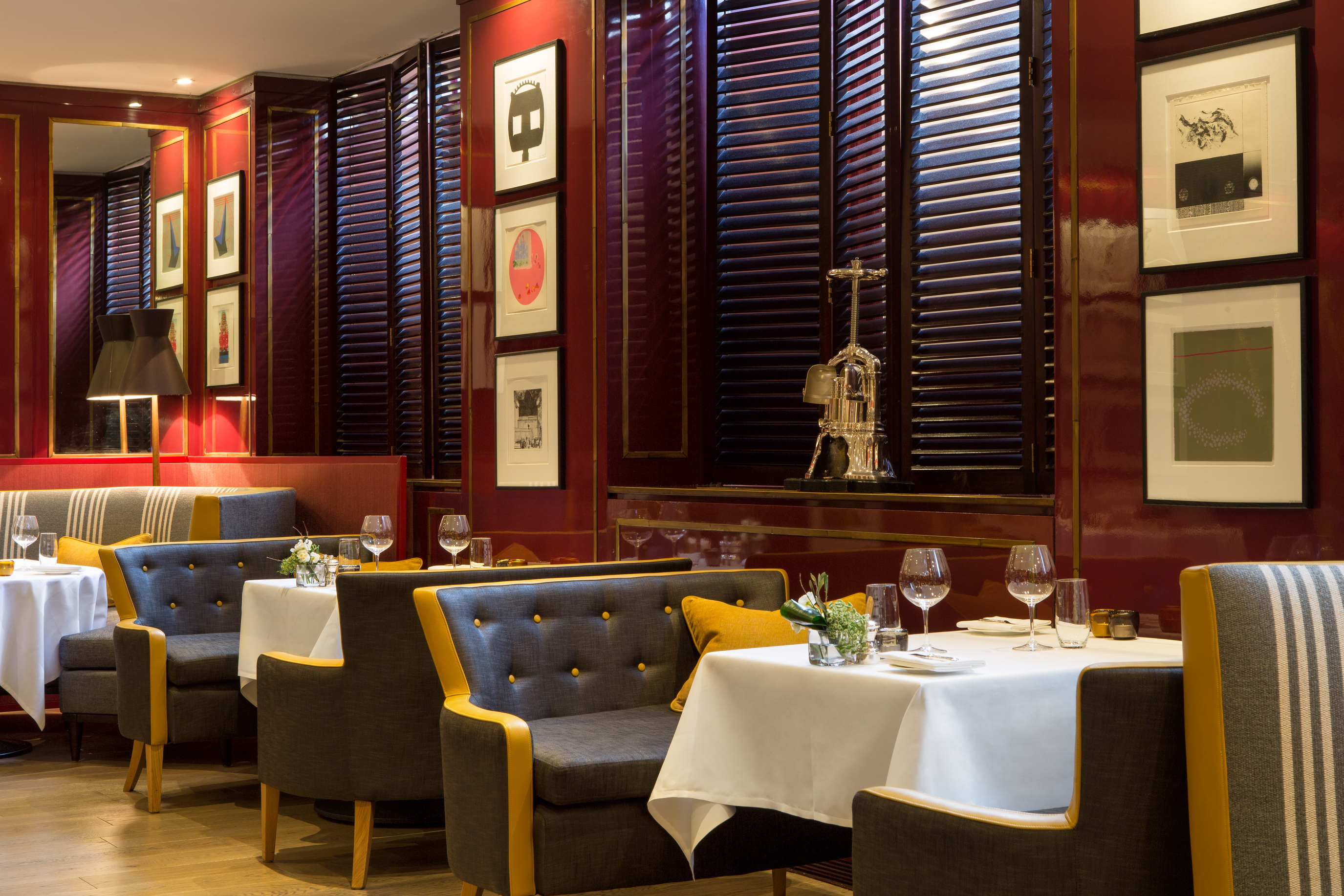 I had a really early departure. Breakfast arrived on the dot of 4.30 am. An ambassadorial gent, sunflower tie and matching lapel flower, awaited for the 20-minute drive to the airport. Waverley, the book Sir Walter Scott finished in 1814, is now top of my must-read list.
***
Summer Lodge Country House Hotel
For a glass of 1999 Ch de Fargues Sauternes, head for the Dorset countryside – Summer Lodge Country House Hotel, Restaurant and Spa, 20 minutes' north of Dorchester, to be precise. Strasbourg-born Sommelier Eric Zwiebel, UK's representative for Best Sommelier of Europe 2021, has over 1,600 wines in his cellar, and his lists are impressively stocked with Madeira, Marsala and Port, all available by the 75ml glass, and still wines, in 175ml or 250ml or full-bottle (yes, they have at least one Corovin extractor). Oh and there are over 300 whiskies, and dozens of gins. Instead of sipping an icy G&T, you could always try Conker Dorset Gin as marinade for Cornish monkfish ceviche. To continue with chef Stephen Titman's local dishes, go on to Jurassic Coast brill with sweetest-ever Isle of Wight tomatoes, and finish with elderflower espuma.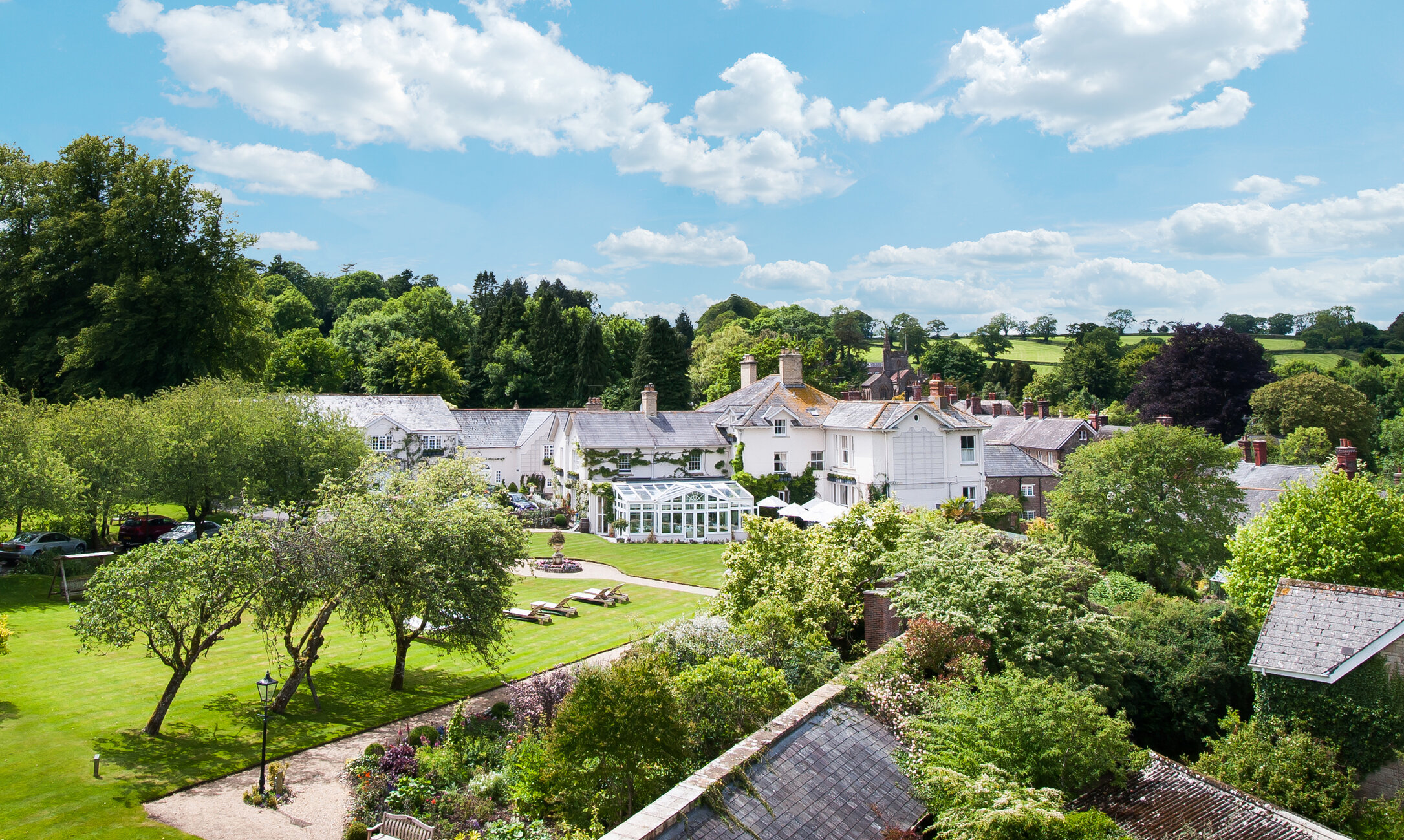 Summer Lodge, the building, can be traced back to 1789 and at some point architect-writer Thomas Hardy added an extension that included a ground level window large enough for the then-owner's donkey to wander in and out. In 2003 South African entrepreneurs Stanley and Bea Tollman, owners, inter alia, of Red Carnation hotels, bought the house, grounds, and, it seems, much of the encompassing Evershot village. Today the 25-room gorgeous boutique hotel is, in effect, their English country base: beeline for the 83sq m Garden Suite, with a private garden, and an original Matisse.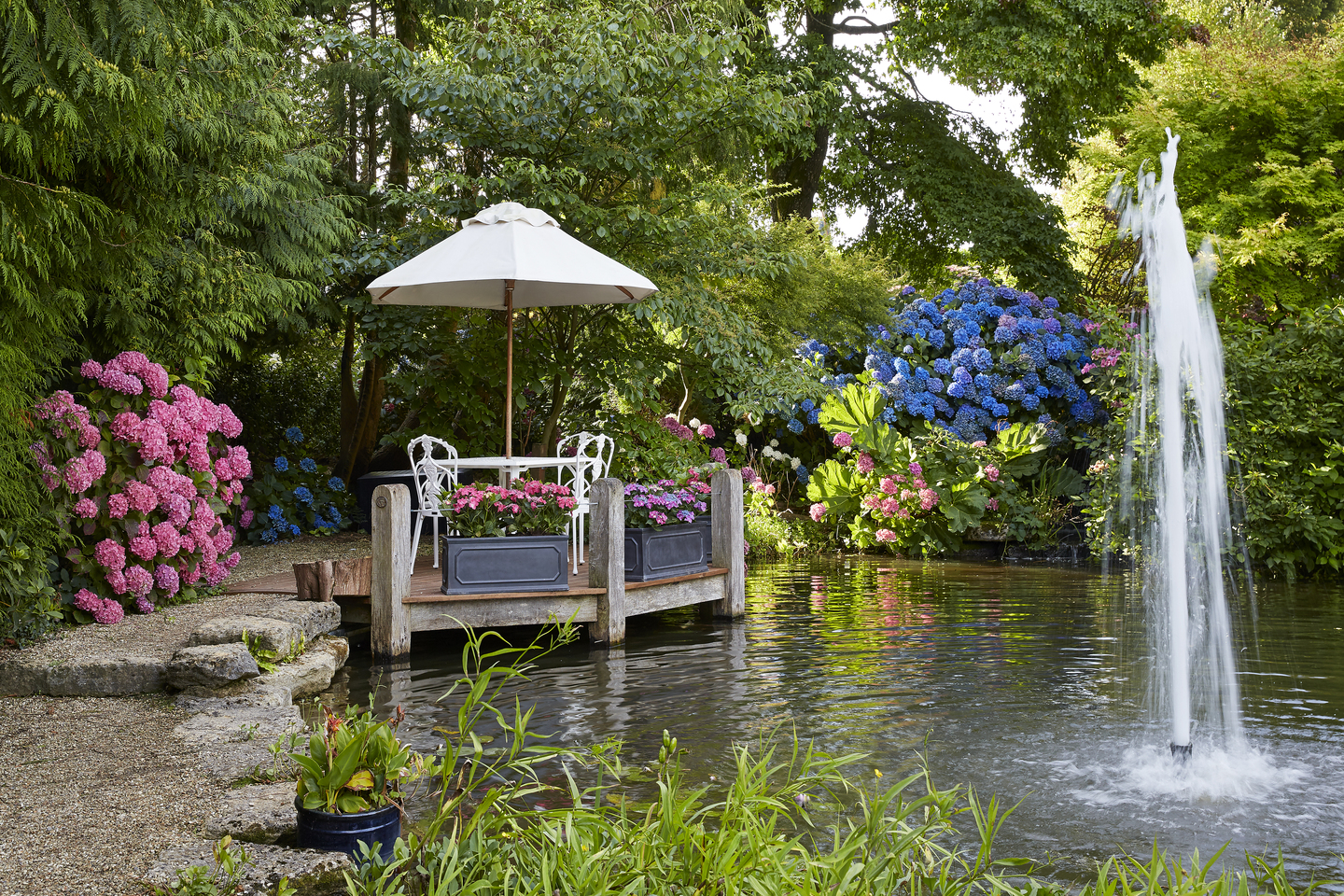 Actually there is art throughout the main building. Even the starched white-covered restaurant tables become displays, for bird-decorated show plates hand-painted by Dorset-based Slade graduate Richard Bramble. Each table also holds, as at Mosimann's Club, a 10 cm-tall sterling silver pheasant sculpture, by Harare's wildlife master, Patrick Mavros. Yes, Summer Lodge broadens the mind.
I coincided with a day-course on dahlias. I admitted an extensive vegetable garden on enroute to the spa (for an Elemis Garden of England Rose Restore, or any treatment, book at least a month ahead, though gym or 10-metre conservatory pool are always available. Perfect croquet and tennis. Ask-a-specialist to differentiate between a couple of dozen gigantic koi. Be amazed at a living sundial, fully eight metres across: the hours, and central marker, are all formed of exactly-cut box bushes, and time changes, twice-yearly.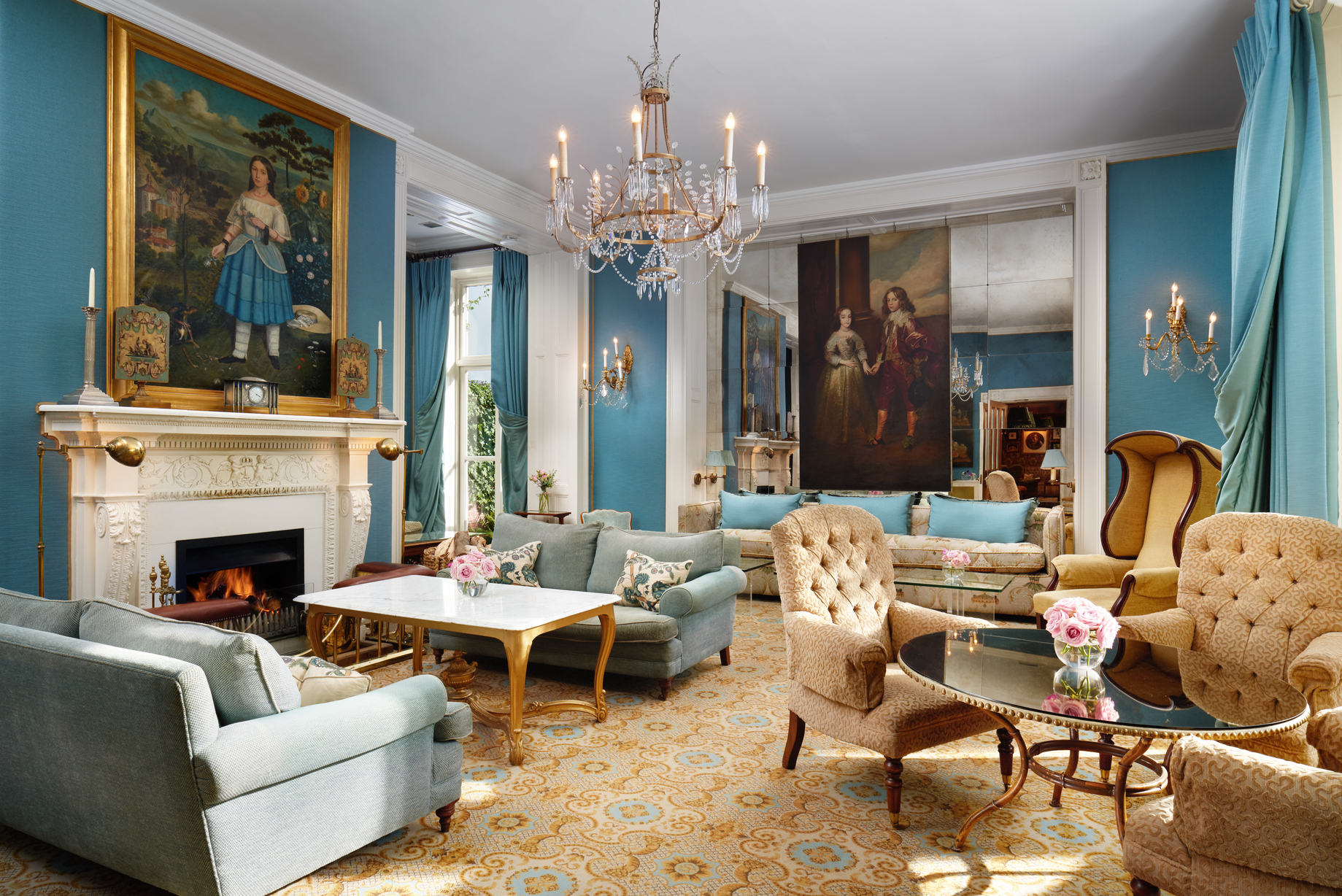 And when the sun is not shining, curl up inside, by a real-log fire, and wallow in history, art, and hardback books ranging from Corot to, say, Okavango Delta's Xigera Safari Lodge, the newest beauty in the Red Carnation portfolio.
***
The Langham, Jakarta
Austin's first post-war saloon, the A40, came off the assembly line in 1947 and the earlier Devon model was replaced by the Somerset five years later. Much to his glee, Gaylord Lamy, GM of The Langham, Jakarta, found an extremely rare 1957 Austin A40 Somerset there, in the Indonesian capital. R2828AP, now Langham baby-pink but with its original engine, will be on hand for the 224-room hotel's opening 9th September 2021.The car, he says, strengthens the British heritage of the hotel brand, begat from the London home Sir James Langham built in 1797.
The car will undoubtedly be indispensable, say for weddings. Indonesian matchings trump any others, by the way. Thousands may be invited, and quite a lot will turn up. If you receive an invitation, it will clearly list day and time, and venue, but ask for etiquette help. What's a suitable sum to take as your gift? Don't expect a thank-you but your attendance, albeit momentary, is recorded, a commemorative token is given you in return and you process the reception line. The Langham's ballroom holds 800, considerably more when standing-only.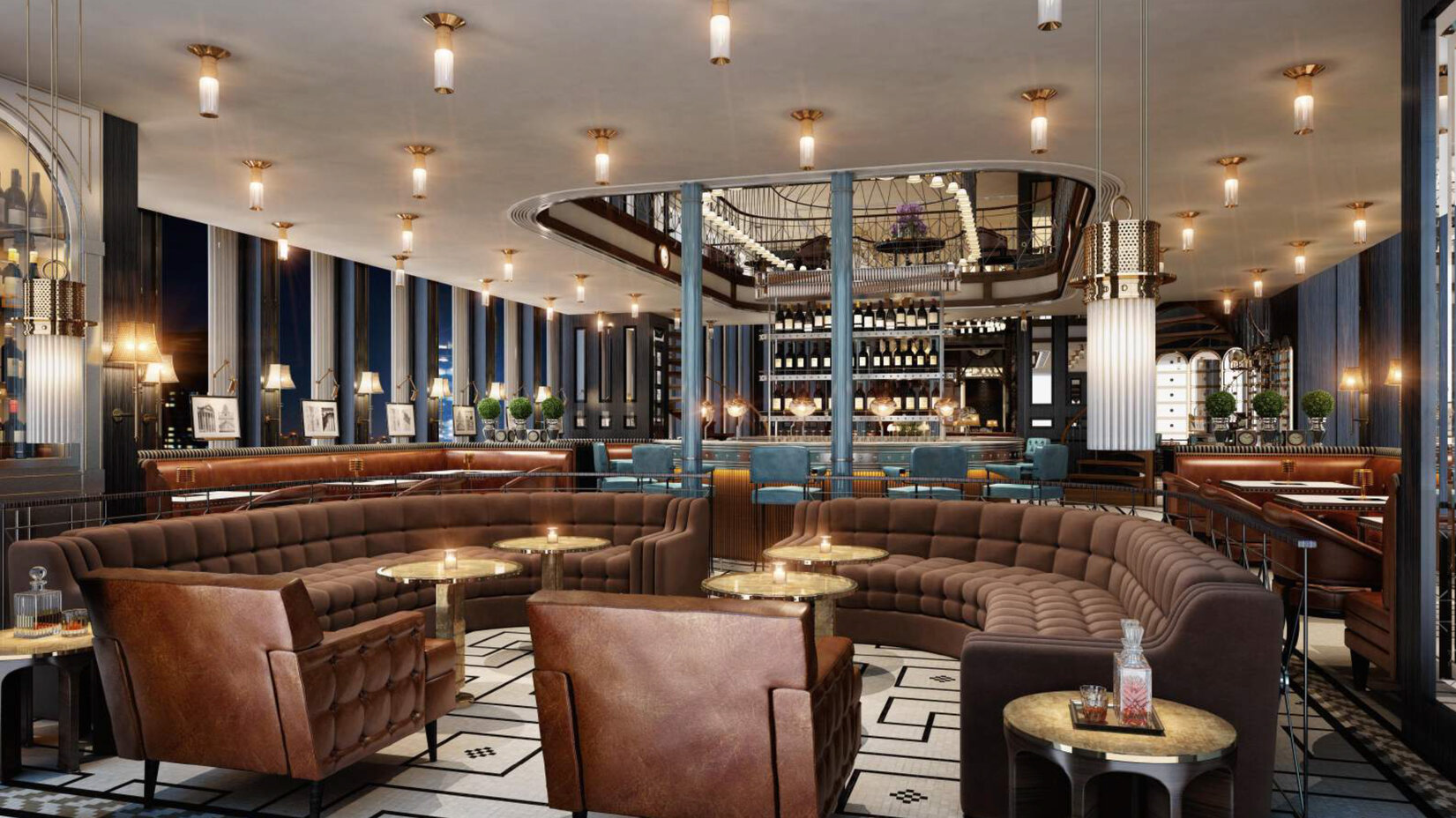 Best suite, by the way, is the 380 sq m two-bedroom Presidential Suite, on the 60th floor: the home-like club lounge is 59th floor. Even higher up, on the 63rd floor, is the 16-metre heated indoor pool, and there's outdoor swimming way down in the sixth floor Chuan spa. There are dining options, too, including Langham signifier T'ang Court Cantonese. Try European at Tom's by Tom Aikens, by the ever-evolving Norfolk-born culinarian who promises here to offer Jakarta's foodies proteins cooked on the bone, complemented by tableside-carved beef roasts and, on a separate trolley, Italy's best burrata display.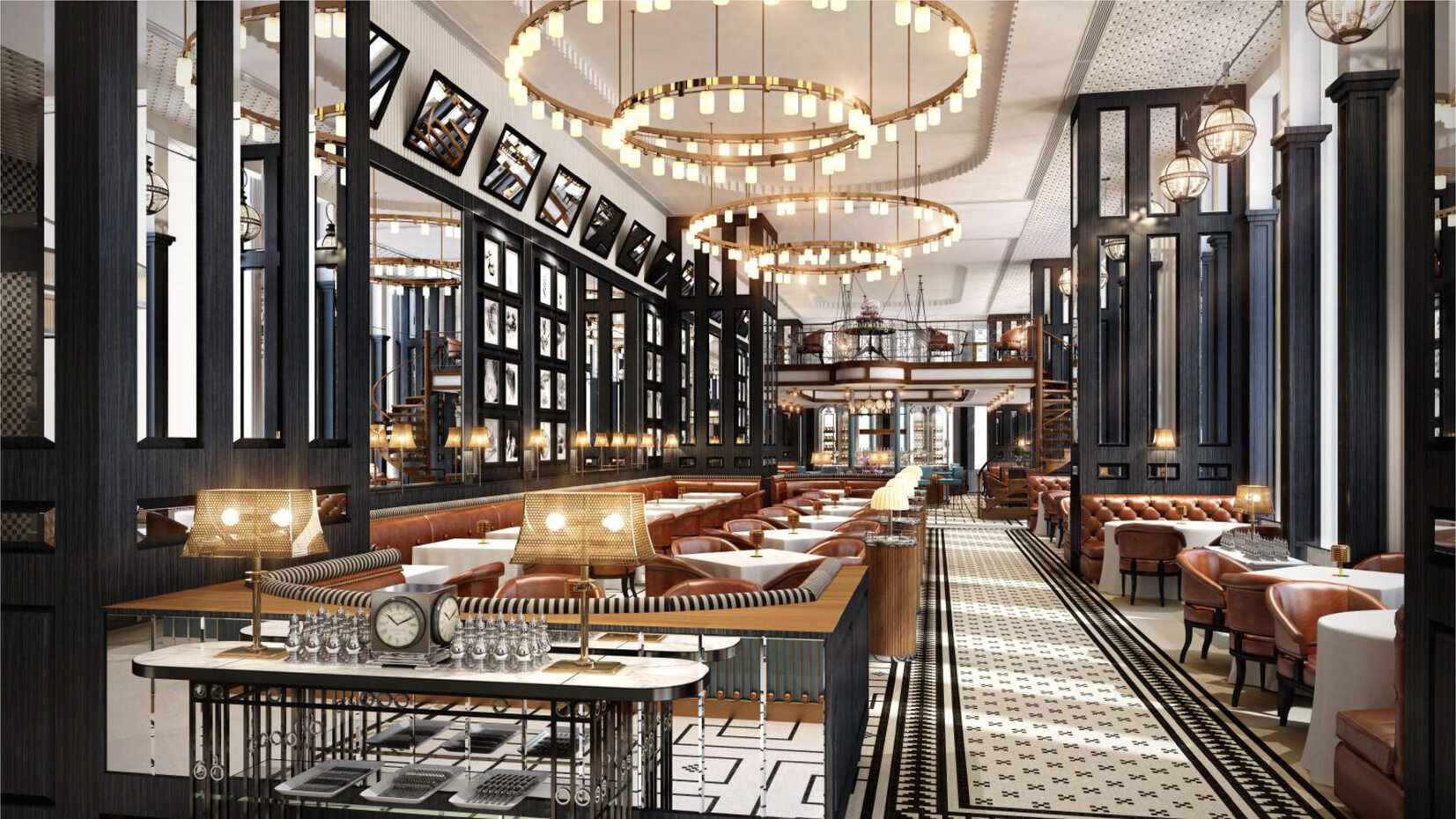 I am excited too by the thought of Alice's, for Langham-famous afternoon tea and, also brand-specific, a pink drink, be it Champagne or rosé or a cocktail from one of Jakarta's largest gin selections. And then, perhaps, how about a spin in that pink vehicular beauty?
***
The Newt in Somerset
A confirmed room reservation at The Newt in Somerset is worth more than its supposed weight in gold – or the Hermès Himalaya Birkin's 245 diamonds. Until then, a day-trip must suffice.
It's 8.30 am-6pm, London Paddington first-class rail to Castle Cary, ten minutes from The Newt. The everything's included comes with onboard breakfast and afternoon tea, both The Newt's own produce, and in between tours of some of the estate's 800 acres, including Baroque-style modern gardens, apple plantations, bee and cyder tutorials and tastings, a slap-up you-choose lunch, and shopping (perhaps the same championship in-season produce that The Newt supplies daily to London's top restaurants). 
And when you can secure an overnight, know some prefer the 17 rooms in The Farmyard, once the estate dairy. Others opt for the 23 rooms in, or around, the main house – an understandable favourite is #3, up 21 stone stairs from a conservatory (other upper rooms are reached by a unique panelled slimline elevator, by Otis for The Titanic). The Clockhouse is perfect for four-room buyouts, and The Granary, the only one tub-free, is hideaway with raised platform bed above the admittedly-bijou bathroom. 
Wherever, stay over in a curtain-free theatre empathetically designed by co-owner Karen Roos, AKA Mrs Koos Bekker of Tencent fame. Shutters and walls are bespoke Farrow & Ball, hairdryers Dyson, radios Roberts, your hardbacks probably include Hobhouse tomes - the estate's proprietors for over two centuries until 2013.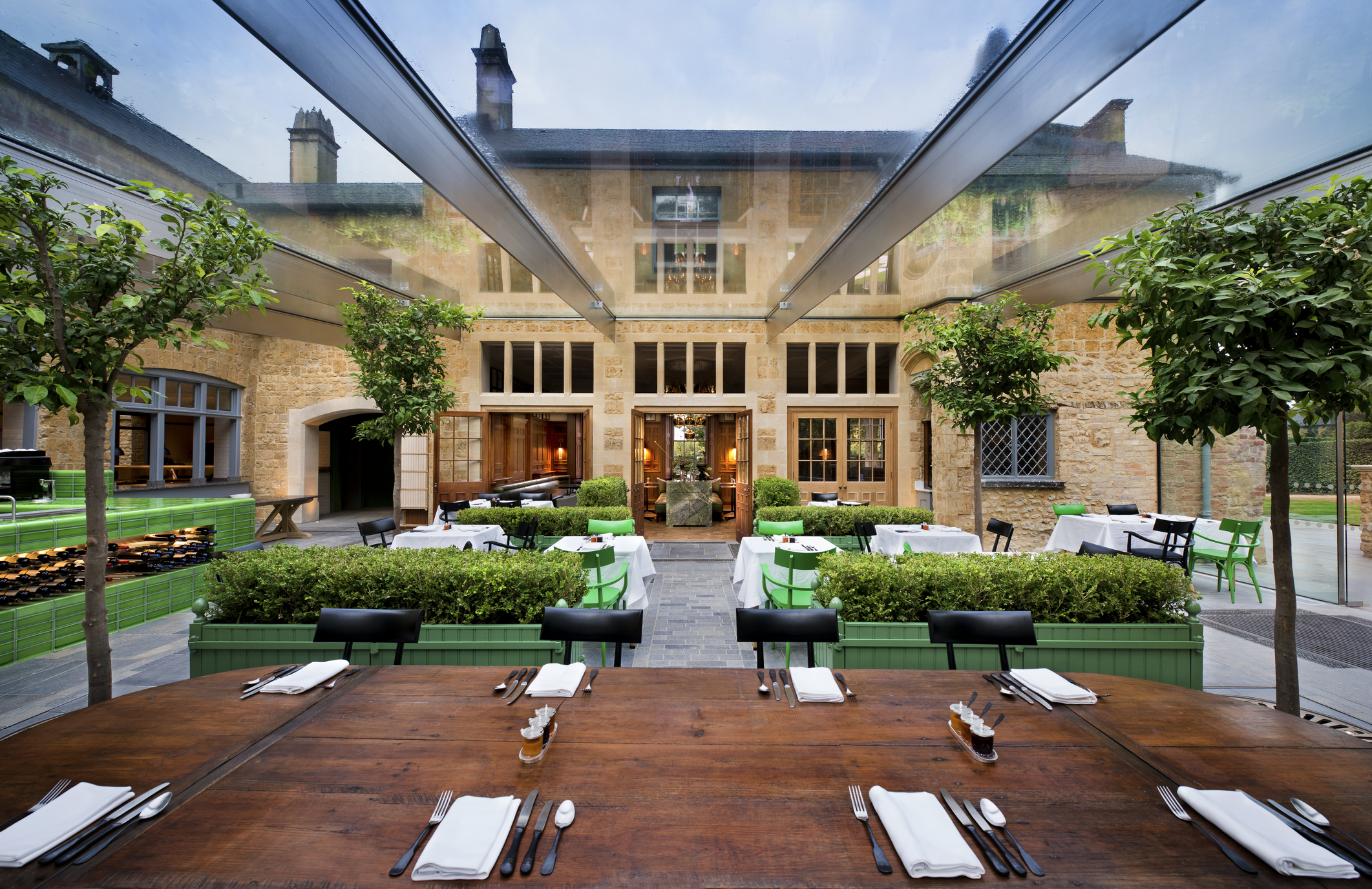 Host made-here cyder tastings or a max-12 cellar dinner, English sparkling interspersed with South Africa's best, from the Bekkers' Babylonstoren estate. Food everywhere is grown today, made today, elevating. Both Farmhouse and other-house, perhaps fortunately, have breathtaking 20-metre indoor pools, and yoga-plus. There's a scenic Technogym, a bevy of bikes and buggies await – and you can run forever, in all those acres, before day-trippers start arriving.
***
Villa d'Este
'A carefree state of mind with seemingly unlimited space is the ultimate luxury these days' says Danilo Zucchetti, who personally, as boss of Villa d'Este on Lake Como, seems to portray ultimate luxury (he never raises his voice, he is always quietly smiling and cognoscenti know they can rely on him 100%).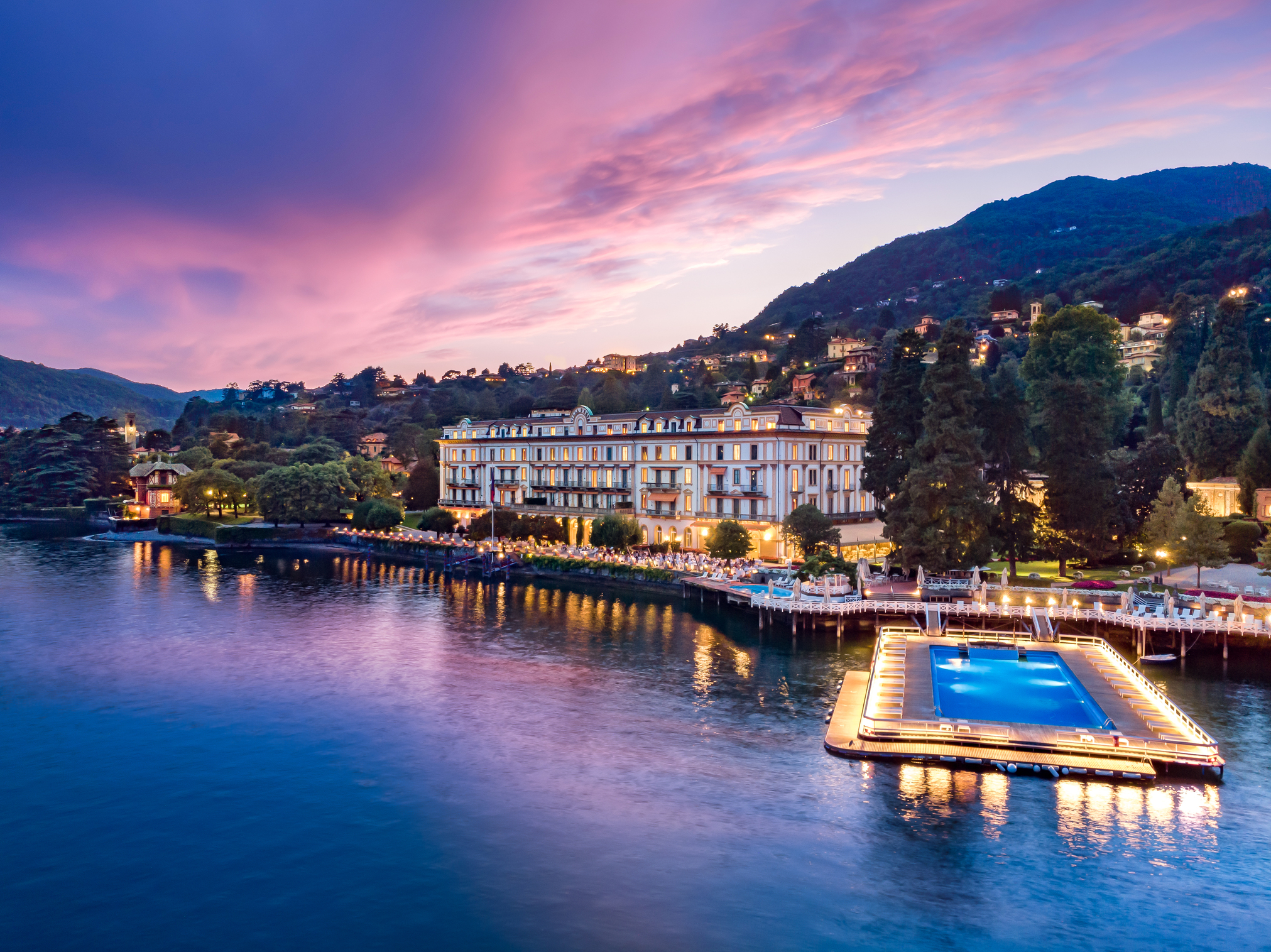 Regulars regard Villa d'Este and its unique 4.5-hectare lake-side grounds as a private club, thoughtfully designed for the new Governor of Tivoli in 1550 to reflect his stature. Today, over 30% come back again and again, opting for favourite rooms in the 133-key main block, or in the 33-room Queen's Palace, three minutes' walk away. And there are detached villas, say the 1815-vintage, 650 sq m three-floor Villa Cima, right on the water's edge, its interiors all Loro Piana.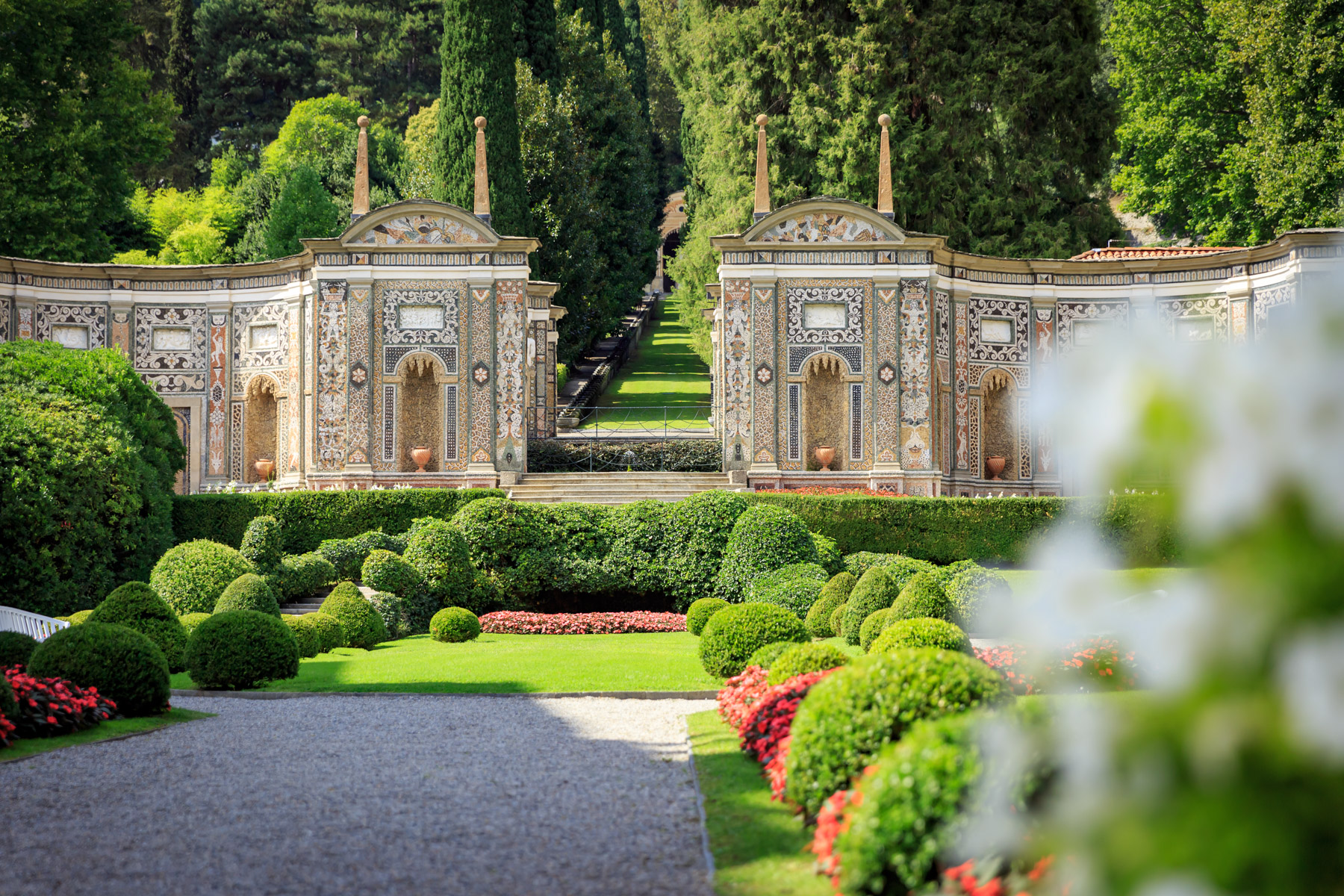 No other luxury resort has an outdoor theatre of 80-foot high mountainside towers and fortresses interspersed with lifesize classical sculptures – reach 'Hercules and Lichas' via 126 wide grass steps flanked by waterfall drops. Think history, to convent nuns, and via George III's queen to countless entitled personalities. Today's myriad of stories include a 500 year-old Plateno tree, and, every year, all sell-outs, Concours d'Elegance Villa d'Este, the Ambrosetti think-tank, and the Villa d'Este Wine Symposium.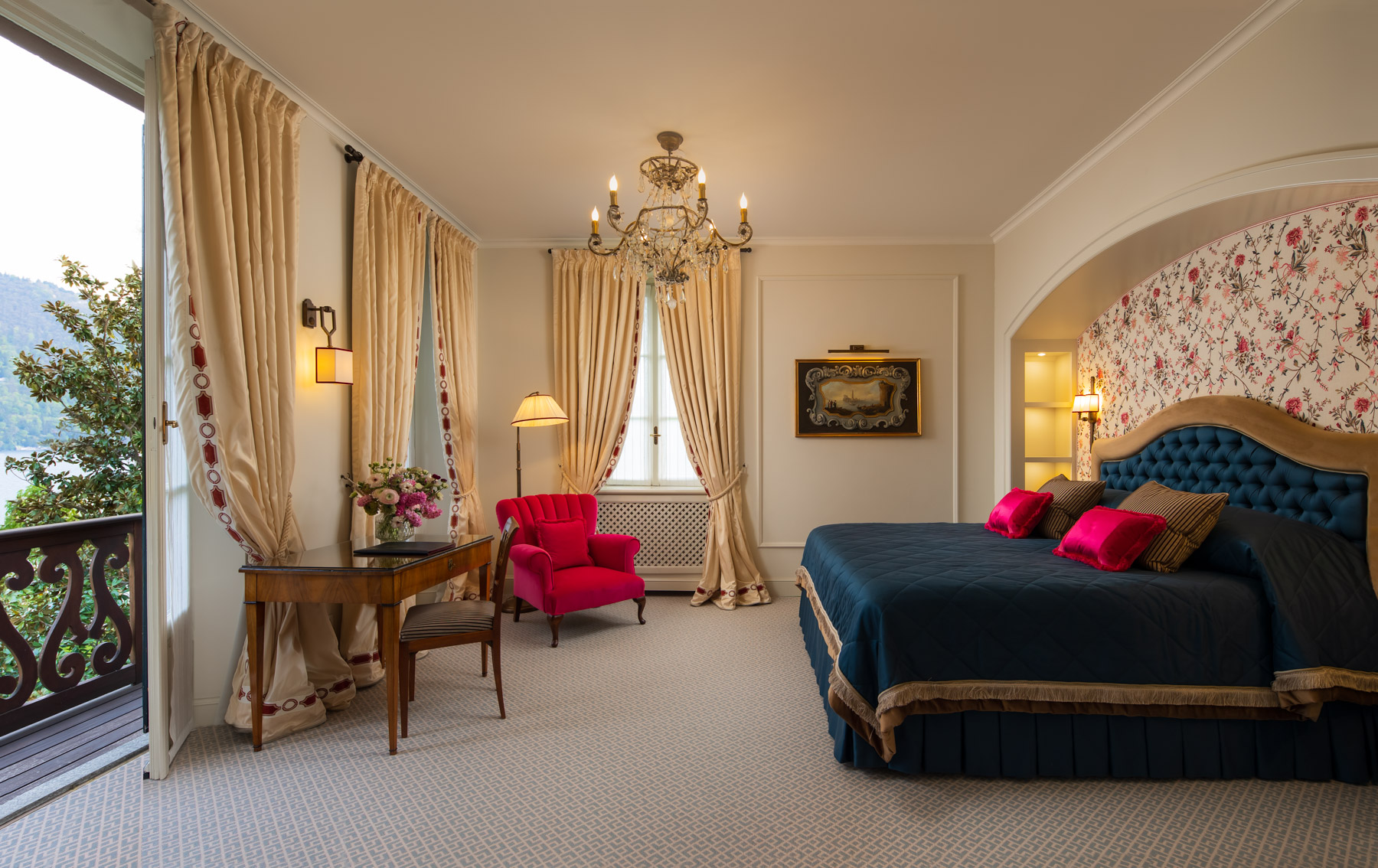 There's also a more-orthodox PMC, private members club, an indoor sporting venue with sizeable indoor pool. Summer long, there's also an Olympic-sized floating pool in the lake. A Saturday special is take a morning cruise to Bellagio in the resort's 1960s Dolce Vita launch and, back home, sit overlooking both pool and lake while indulging in just-made fries and chilled Krug.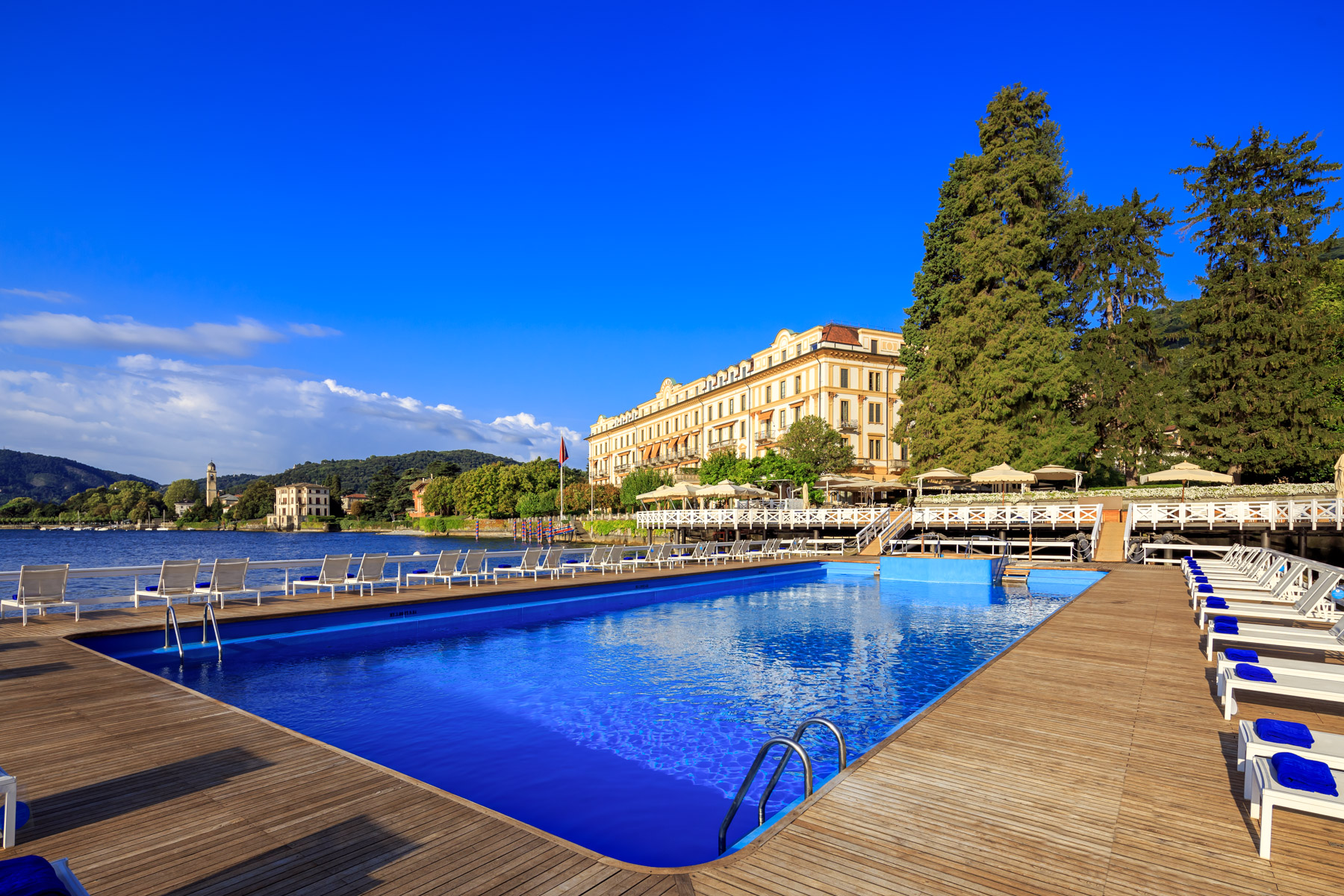 Apart from that, stay here, at your Villa d'Este home. Why venture out, to the unreal-real world beyond the elaborate wrought-iron gates, when Villa d'Este seems the ultimate paradise, with eternal stories always still to discover?
***
The Carlton Tower Jumeirah
Is silver a sign of style? The 8th Earl Cadogan – Eton and the British army – wore a silver toothpick in the breast pocket of his Savile Row suit and, as preamble to after-dinner at a pal's Chelsea apartment, while the ladies 'retired' out came the Cadogan silver. Switch to another style leader, Sir Winston Churchill, who famously said his tastes were simple, and the best. He was a Pol Roger fan, and the Epernay-based company currently suggests Pol Roger Winston Churchill 2012 together with a limited edition Champagne tankard, in 18th century style, by another Royal Warrant holder, glass blower John Jenkins.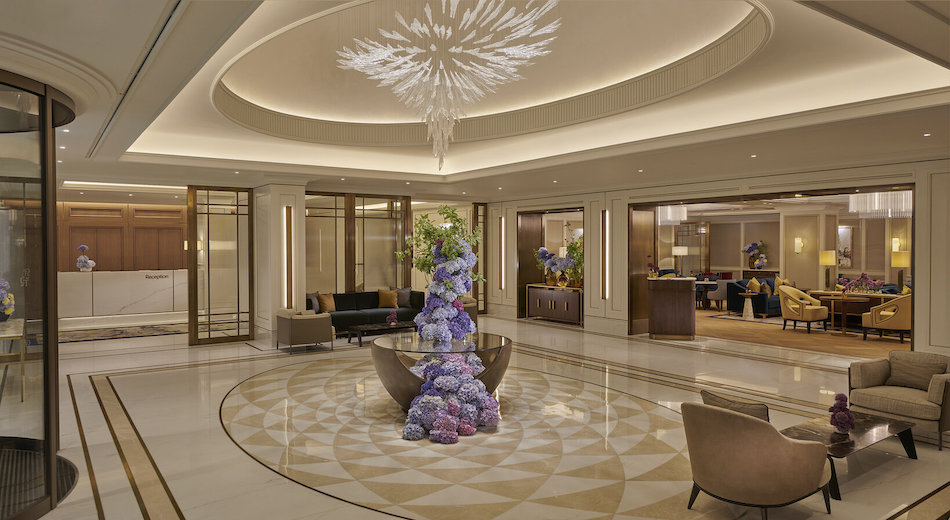 Pair silver, and Champagne tankard. I have a silver tankard, marked CT1961 for the year of the opening of London's 18-floor Carlton Tower Hotel, when a launch party saw a thousand discerning guests demolish 423 bottles of Champagne plus, it is recorded, 144 bottles of gin. Today, the knowledgeable await the hotel's re-birth, this coming Monday, 26th July, as Carlton Tower, a Jumeirah hotel – MD is suave Aaron Kaupp. It has 186 keys, and the premium 167sq m Royal Suite can be extended to three bedrooms or the entire tenth floor. Whatever, ask for a south-facing room to look down at Cadogan Gardens, which gives free entry to hotel guests for picnics, walks, tennis or jogging – you also have a hotel-guest pass to the rooftop Peak Club, essential hangout for Chelsea fashionistas.
The hotel's eatertainment opened 21st July. That day, Marco Calenzo's best-sellers at Al Mare included tuna with black truffles, and, at breakfast Thursday, hotel-branded CTJ French toast (no take-aways or home deliveries, you need to call in and eat onsite). And Champagne? Well, you have Pol Roger, and 29 alternative brands. And then perhaps head out, turn right, five minutes to Sloane Street. Take a Santander-branded pick-up bike or walk.  Frankly, in under ten minutes up and down Sloane Street, from Sloane Square, to the south up to Harvey Nichols to the north, you have 68 stores, alphabetically from Alberta Ferretti through to Yves Delorme, via such other luxury brands as Salvatore Ferragamo and Tiffany. Harrods, also, is only a proverbial hop, skip and a jump away – why not ask about toothpicks from their Sheffield-based bespoke silver partner, Ron Carr? 
***
Four Seasons Hampshire
Four Seasons Hampshire easily handled 27 helicopter movements in one day during Goodwood's Festival of Speed earlier this July - but, says GM Andrew Harrison, the 580-acre property can cope with anything, as it has done since the late 11th century days of the Domesday Book. He is, admittedly, more used, however to single-aircraft helicopter movements, say bringing spa customers or new overnight arrivals saving time through a mere ten-minute hop from Farnborough Airport's Norman Foster-designed private jet terminal.
My favourite Four Seasons Hampshire overnight would be in #4007, the Royal Suite - Martin Brudnizki design, 2,420 sq ft, two-bedrooms. Reserve as far ahead as you can as all 133 rooms and suites seem, currently, to be full of happy families, staycationers and WFW, Work-From-Wherevers. You can even chair a multi-million global excom meeting, perhaps, while gently cruising in the 70-foot Four Seasons boat on the Basingstoke Canal, half a mile across the fields from the main Georgian house, a brick and stone affair.
Away from WFW, fish for trout in the Tundry Ponds, dug in 1810 and confusingly named after the Russian word for treeless (in the last decade, over 7,000 trees have been planted here). Perfect equestrian and archery skills, play croquet and tennis. Cycle, run or walk. Utilize, indoors, two Olympic-sized pools, one themed for kids' entertainment. Lift-and-reform, at least facially, with a Spa one-hour Inhibit treatment. Meditate on Wild Carrot's terrace, and dine local, say beer-battered fish and chips with crushed peas, followed by Eton mess, its meringue drowning in Hampshire strawberries and oodles of whipped cream. 
Toast life in Exton Park Blanc de Blancs 2011, from Southampton, or bespoke-label Hazy Hog Cider, from Hogs Back Breweries in Surrey. Look around, 360 degrees, taking in the house and what looks like, thanks to many acres of re-wilding, a game park.
If you chopper away, incidentally, look down over that re-wilding, a 'safari land' currently hosting lifesize animal bronzes loaned from Farnborough Sculpture Park and ongoing home also, in reality, to newly-returned nesting skylarks, barn owls and Purple Emperors.
***
Ritz-Carlton, Millenia Singapore
How about a 'soup' that is not for drinking? At Ritz-Carlton Millenia, Singapore, savvy spa-addicts may opt for La Mer Miracle Broth facial, a 90-minute treatment to empower skin renewal. While this is going on a live cellist plays. 
Ritz-Carlton Millenia is a one-off. It's a 32-floor sculpture, soaring up past a giant hemispherical hole at third floor to let evil fly through and away.  Inside, look left or right to Dale Chihuly glass sculptures on lobby walls. There are in all 4,200 pieces of modern art here: think David Hockney and Frank Stella.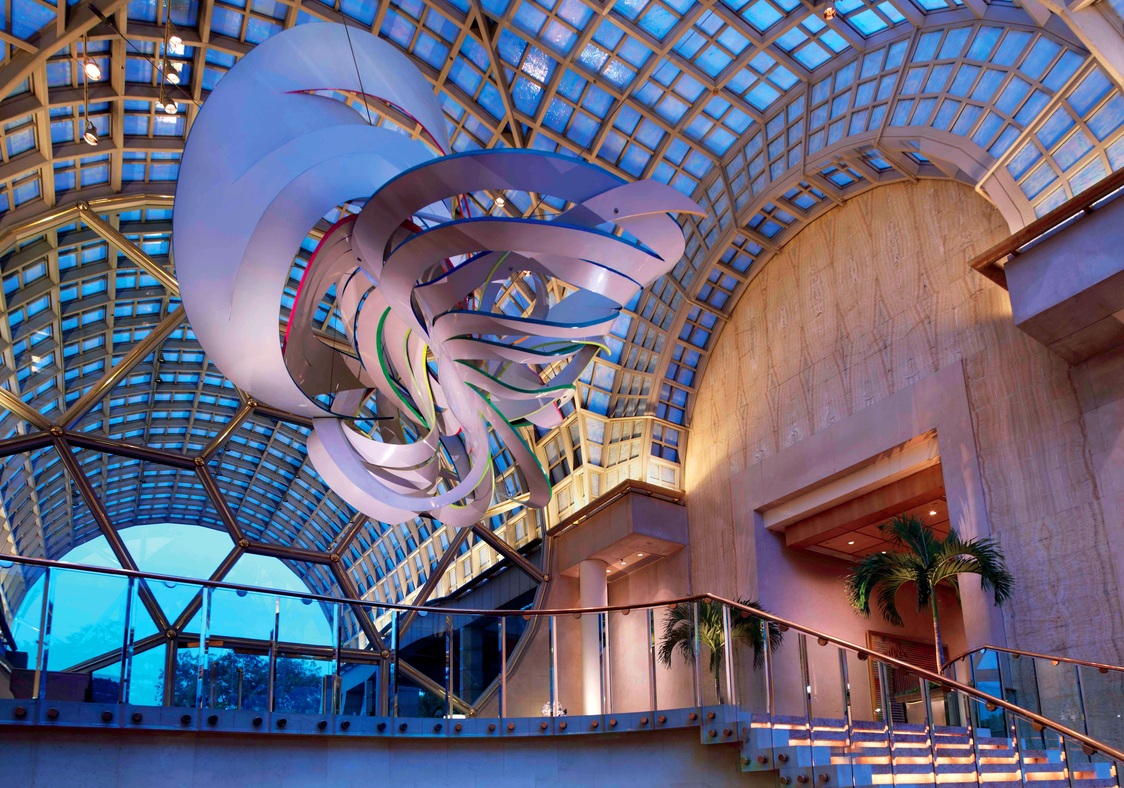 The 32nd floor Ritz-Carlton Club lounge has supplies to do your own art, perhaps while sipping Roederer Rosé, or trying the eight-bottle oenothèque. Downstairs, there's Japanese Wagyu at Michelin-starred Summer Pavilion – or retro-1960s sensations at Republic, or, at Colony, Asian cuisine from seven kitchens. 
This is a 608-room hotel and I recommend any Club room, ideally front-facing – my favourites are end suites numbers -16 and -26. There is also the two-bedroom, 218 sq m Ritz-Carlton Suite, with dining, or meeting, seats for a dozen. Think big, here, at Ritz-Carlton Millenia. The GM Peter Mainguy sets that tone. He has at least a dozen motorbikes, vintage fire trucks and other one-off vehicles for his rare times off.
***
The Alpina Gstaad
Does yoga invigorate or inspire dozing? Six Senses Spa at The Alpina Gstaad offers Yoga Nidra Sleep programmes. Take a short session or sign on for three days, which includes two hours of biorhythm treatment. At any time, anyone can benefit from invigorating Nepalese crystals lining the spa's salt room, or swim, indoors in a 25-metre infinity pool or outside, in a 14.5-metre pool heated year-round thanks to output energy of wood-chip heating from a Saanen community plant.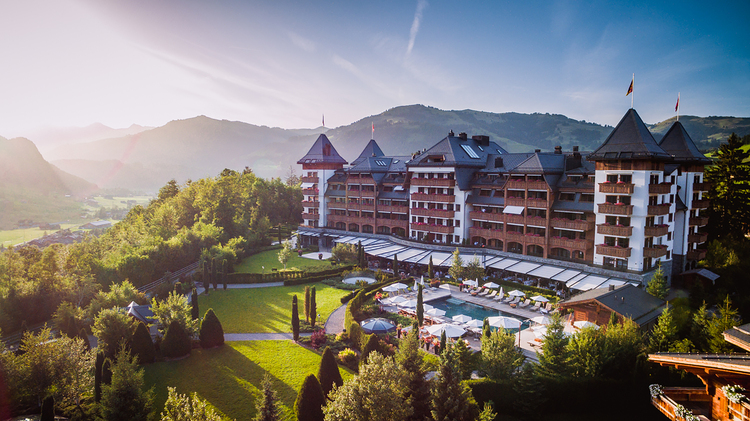 This is a notably thoughtful chalet-like hotel, with 80% of its pine and oak walls reclaimed. There is additionally Alpine fir, say lining the walls of Megu, which Gault Millau says is Switzerland's top Asian restaurant – designer Noé Duchaufour-Lawrance has also incorporated antique kimonos, and slatted wood partitions inspired by Kyoto temples. To accompany a Grand Master-level sake list, try Tetsujiro Ogata's tuna tataki with truffle soy sauce, or go for the seven-course Omakase menu. Or, alternatively, eat elsewhere in this hotel for all-senses: haute cuisine in Sommet, Swiss-comfort in Stübli or, say, a to-go picnic with Saanenland cold cuts and cheese and Alpina's own-baked bread. Do not overlook the 1,700-bottle wine cellar, or the cigar hangout.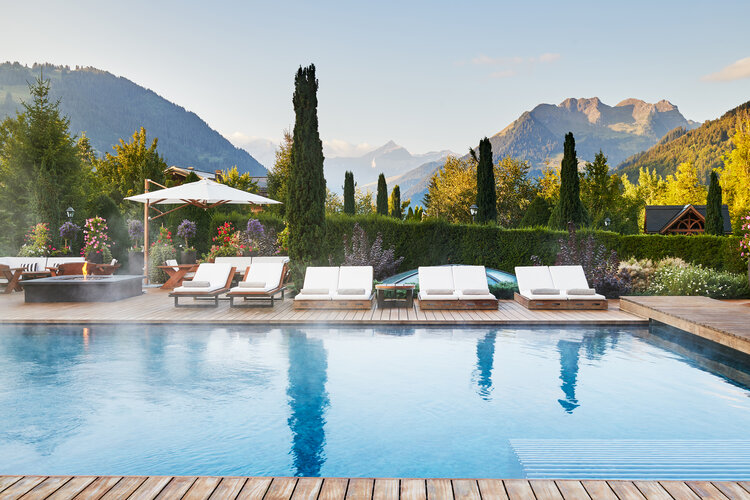 The 56-room hotel is absolutely right for today's luxury-lifestyle, offering quality, plus privacy and space – in fact it was opened in 2012 by Swiss entrepreneurs Michel Bach and Jean-Claude Mimran. Drive there, perhaps, to evoke a smile, in a BMW 2022 Alpina B8, and you head directly down, to a subterranean, unseen, arrival. Get most space in, say, the 400 sq m #501 Panorama Suite duplex: you have a private spa, and the third bedroom is up 18 steps, truly in the roof's peak.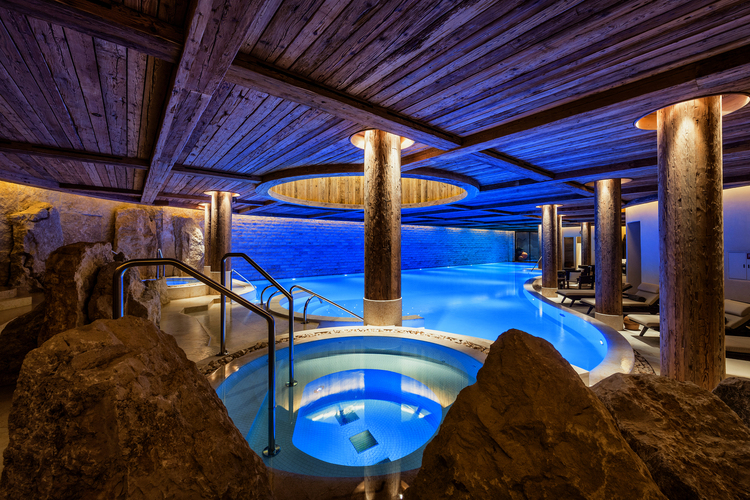 There is luxury for kids, at the so-alpine Tree House Club. There is luxury for all, in nature. The gardens are Jean Mus design. Eschew the main Technogym to e-Bike the nearby alps.  Luxury in arts and culture. Book the private screening room for that favourite movie. Gosh, all this is so exhausting…
I would have to tell GM Tim Weilland that I do not need sleep yoga after all!
***
Waldorf Astoria Versailles - Trianon Palace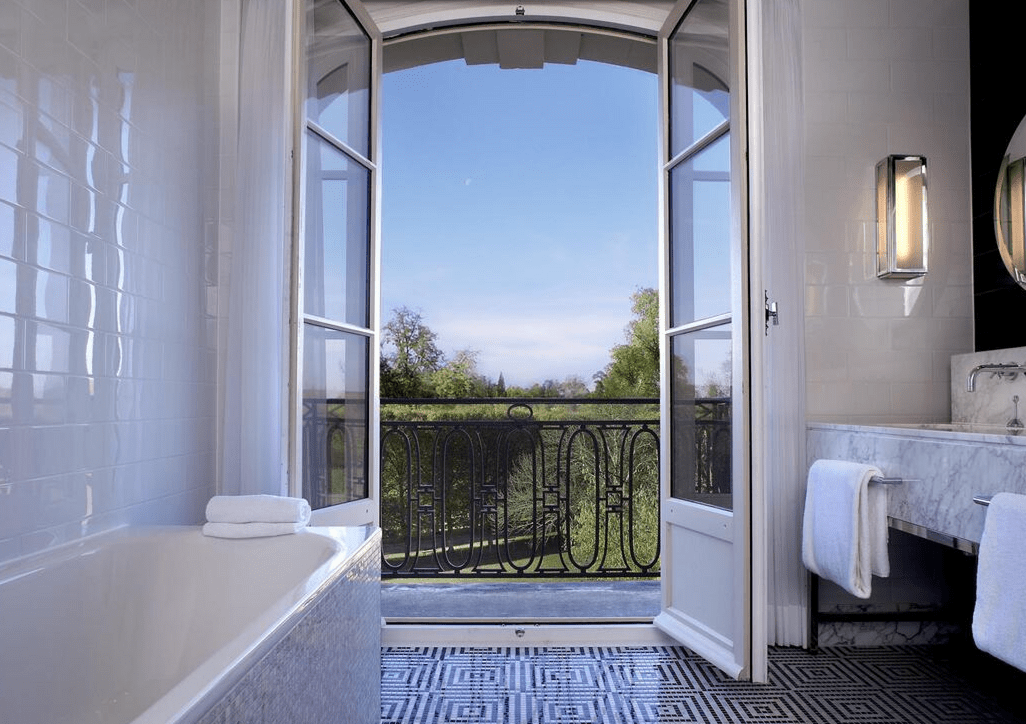 Normandy-born Catherine Pégard, political journalist and author of Versailles: From Louis XIV to Jeff Koons, Assouline, is highly-active head of the Château's events committee and general fund-raising. She hosted a Pommery-bubbled Les Lalanne opening reception, on Saturday 3rd July 2021, on the terrace of Trianon Palace Versailles, A Waldorf Astoria Hotel, partner hotel for such special Château happenings.
Art lovers walked ten minutes through the grounds to this gorgeous hotel, which Financière Immobilière Bordelaise's Michel Ohayon bought as part of a collection of unique icon hotels that also includes Waldorf Astoria Jerusalem. Trianon Palace, built 1910 by René Sergent, designer as well of Hotel Plaza Athénée in central Paris, under half an hour away, was planning venue for the Treaty of Versailles, which Georges Clemenceau subsequently signed in 1019 in the main Château.
I have made several visits to Trianon Palace and I definitely recommend booking for the main, 100-room, block rather than the separate 90-key block.  My favourite space is #602, one of the rooftop's turret rooms. I love 360-degree views from the room's private terrace, big enough for dining for four: the vista pans round from the Chateau's formal gardens to pastures with lots of – real – sheep. Down on the ground floor, Gordon Ramsay's mullti-course set menus in his Michelin two-star eponymous restaurant are a big draw with locals, by the way, so do book ahead. A final memory? Eschewing the elevator for 187 steps up from ground level to #602, to supplement workouts in the gym.
***
Park Hyatt Paris-Vendôme
No need for Lupin lovers to try to book Park Hyatt Paris-Vêndome's suite 813 – it does not exist.  With the style that is associated throughout with French heart-throb Omar Sy, playing Maurice Leblanc's fictional gentleman thief Arsène Lupin, one of the current streamed episodes, written by George Kay and François Uzan, is largely based at the 156-key hotel.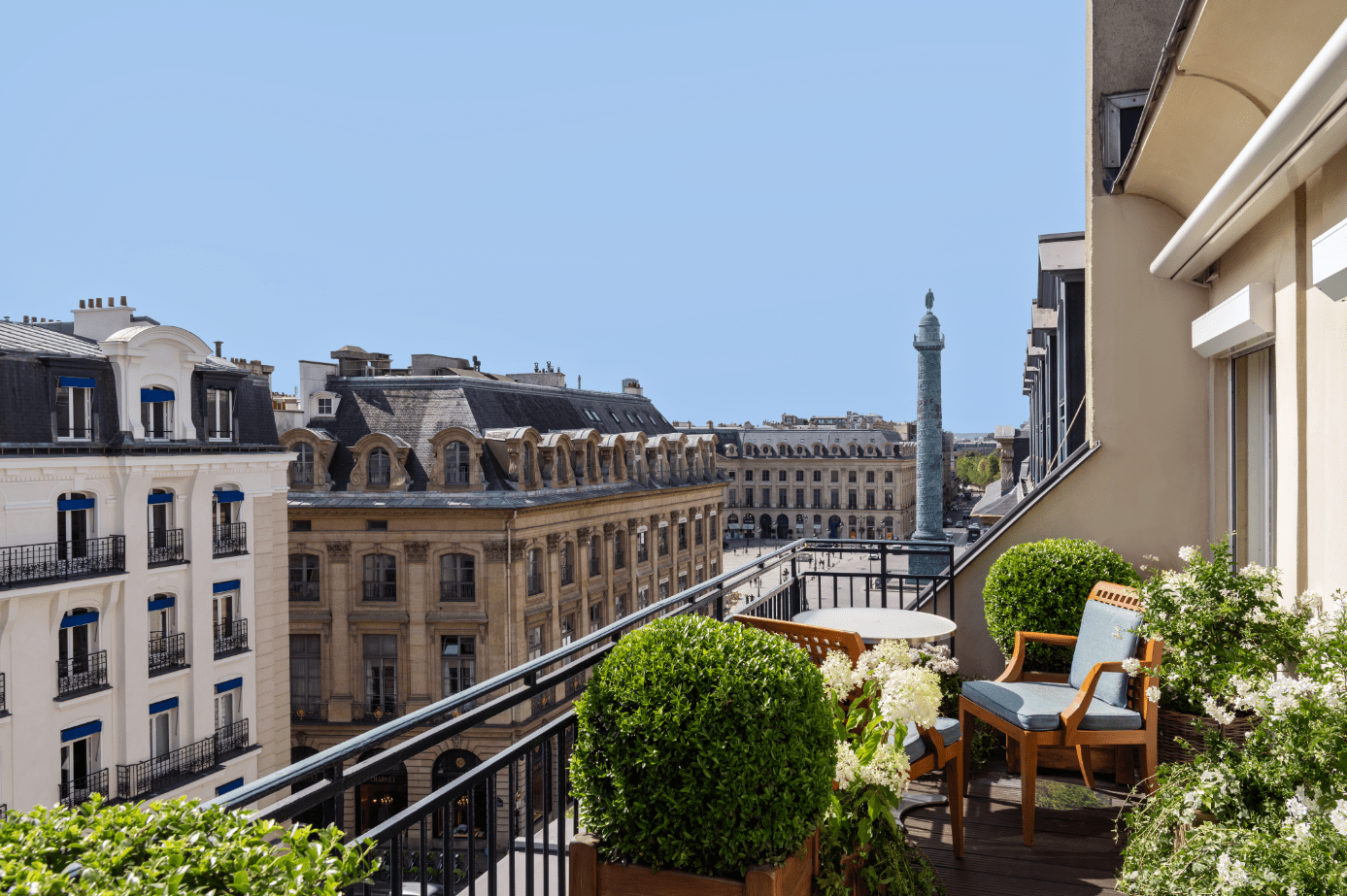 The discreet entrance of this seven-floor triangular building, at 5 rue de la Paix, leading north from Place de Vendôme, belies its stunning interiors.  Once home of couturier Jeanne Paquin, it is still a living gallery of fashion in the form of art and events. American designer Ed Tuttle – who did 'monumental' for the inside of Park Hyatt Milano – has here gone for shades of coffee-cream. Add the literally hundreds of Parisienne Roseline Granet's tiny flying-angel gold sculptures that form, say, closet handles in bedrooms, plus wall art chosen by the cultural attaché to the US embassy and you understand how global this hotel is. The so-Italian GM, Claudio Ceccherelli. for instance, seasonally turns the 1891-vintage building's central courtyard into, perhaps, an alpine hut, complete with gluwein and raclette.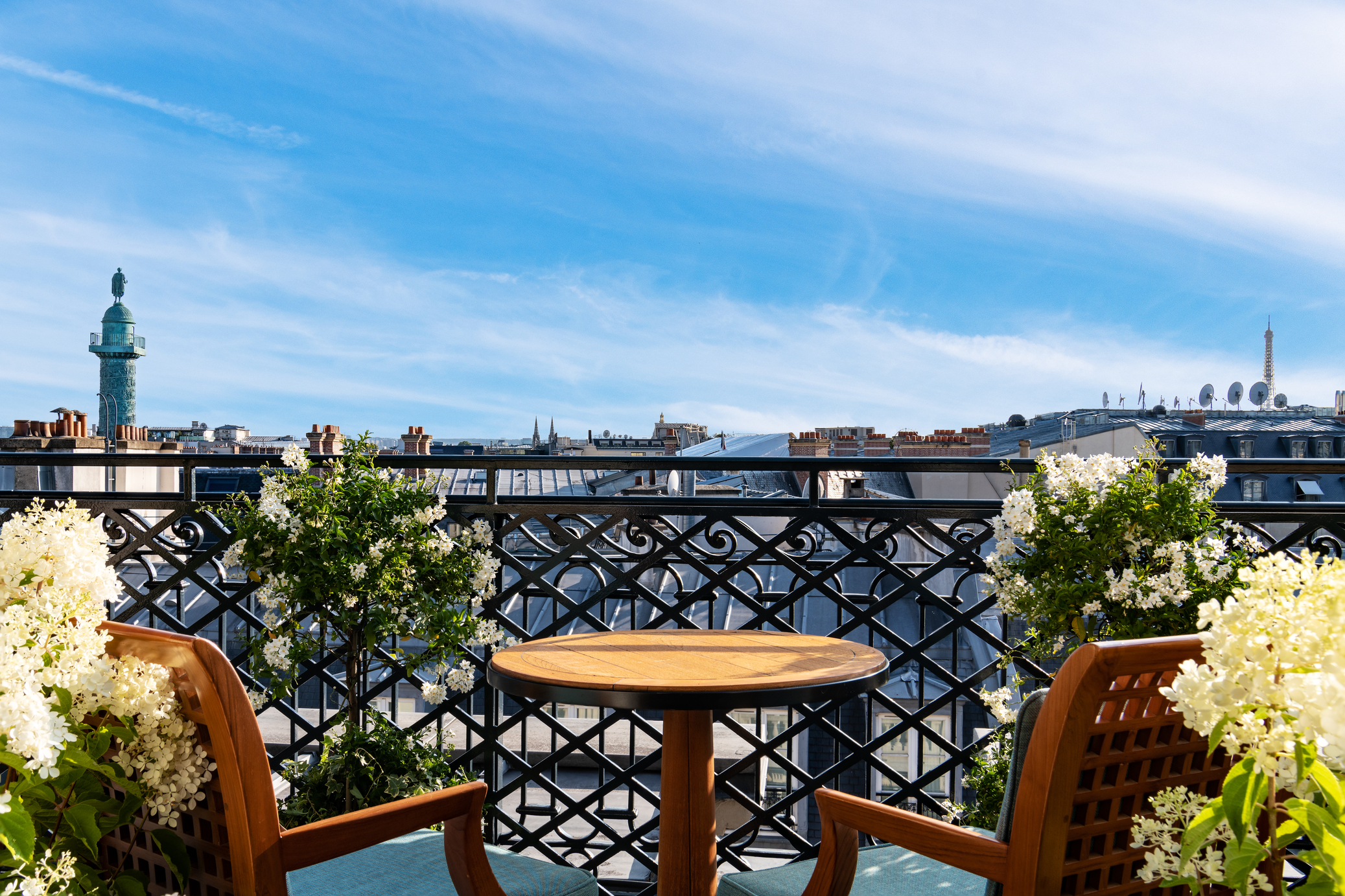 I like courtyard-facing rooms, say #221, which I shared with eight of those little angels – choose the second floor duplex Impériale Suite if you want most space (230 sq metre). Lupin's son, by the way, was held by kidnappers up on the 'eighth floor' while daddy, disguised as a kitchen steward, evaded the police back of house among storage trolleys.  Were he to return, I am sure Lupin would do as I am wont, breakfast and lunch under the windowed ceiling of Sens. Dining could be abalones from Plouguerneau at Michelin-starred Pur' - Jean-François Rouquette, or perhaps English-style fish and chips in front of a log fire. And before checking out, I would buy some 5 rue de la Paix perfume, which New York-based sense specialist Christophe Laudamiel, President of the Academy of Perfumery and Aromatics, blended to show just how many stories Park Hyatt Paris-Vendôme has to share.
***
Dromoland Castle Hotel
Learn to cook and preserve seaweed and rock samphire and more after a foraging day at Dromoland Castle, Co. Clare. Typically Irish story-teller, forager guide Oonagh O'Dwyer, starts a typical class with a land-based walk exploring such edibles as elderflower, generally associated with cordial but it also makes a divine sabayon, say with strawberries. There is also St John's Wort, used in skincare by The Organic Pharmacy (it also promotes positivity). If the weather allows, there is then a picnic in a wildflower meadow, after which you head for beaches, five minutes away, to harvest anew. As well as samphire, increasingly popular, often imported from Israel, on upmarket fish counters worldwide, you find flat-fern seaweeds. Look for pepper dulse, 'truffle of the sea', a gastronomic gem that tastes simultaneously aromatic, garlicky and lobster-like, with powerful unami. All foraged trophies are then cooked, and tasted, back at Dromoland.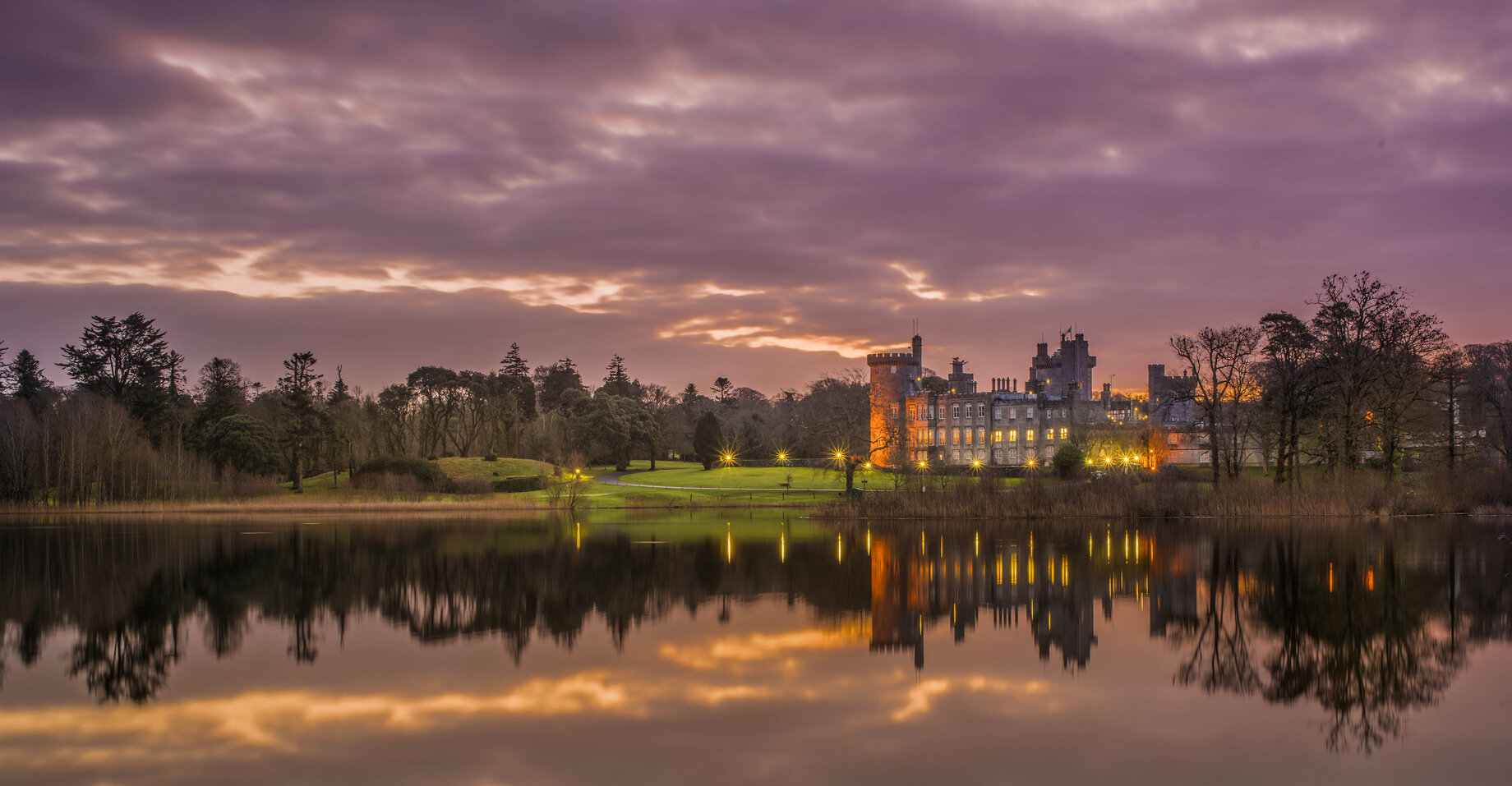 Dromoland Castle, which is 16 minutes' drive from Shannon airport, has a helicopter pad. The building, which goes back to 1543, sits in 410-acres of rolling parkland in a total estate over five times that. There are 98 rooms. Some, perhaps tempted by its circular jacuzzi, opt for the two-floor Thomond Suite, in a tower that offers a Lough Dromoland view.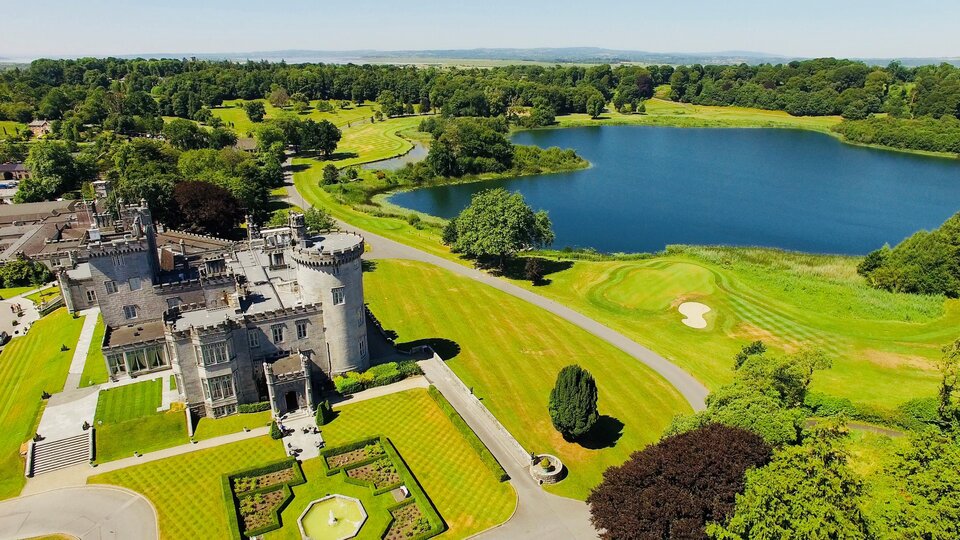 I follow President George W Bush, a visitor in 2005, in liking that same view, from suite #309, named for an 11th century king of Ireland, Brian Boroimhe – it comes with one large freestanding tub, a two-person shower, and a magnificent four-post bed.  Stir yourself up, for activity, say studying Dromoland history through portraits hung, it seems, on every available wall. Be a bit more physical, in the pool or fitness centre, or on the Ron Kirby and JB Carr 18-hole, par 72, 6,845 yard golf course. Add clay pigeon shooting, archery, fishing, riding, and driving a pony and trap.
The ever-creative Mark Nolan, MD and part-owner of Dromoland Castle, is industry-leading in offering traditional local experiences. He introduced me to a young cheese maker, Swiss-trained to produce superb cows-milk rounds from her father's dairy herd. I also learned, from a really old bagpipe maker-player, what produces the most pure sounds.
***
The Peninsula Hong Kong
Harking back to the so-called Olden Days can be just the ticket for today and tomorrow says Joseph Chong, GM of The Peninsula Hong Kong.
He enthuses about his lobby's tableside cooking, which includes Crêpes Suzette, a glitterati favourite since 1898. The idea of flambéeing thin crêpes bound with a sauce of butter, sweet citrus juice and zest, plus Curaçao or Grand Marnier is unsubstantiated but some credit Paris actress Suzanne Reichenberg, at Comédie Française in 1897. Her role required eating a crêpe on stage – flambéed to attract attention.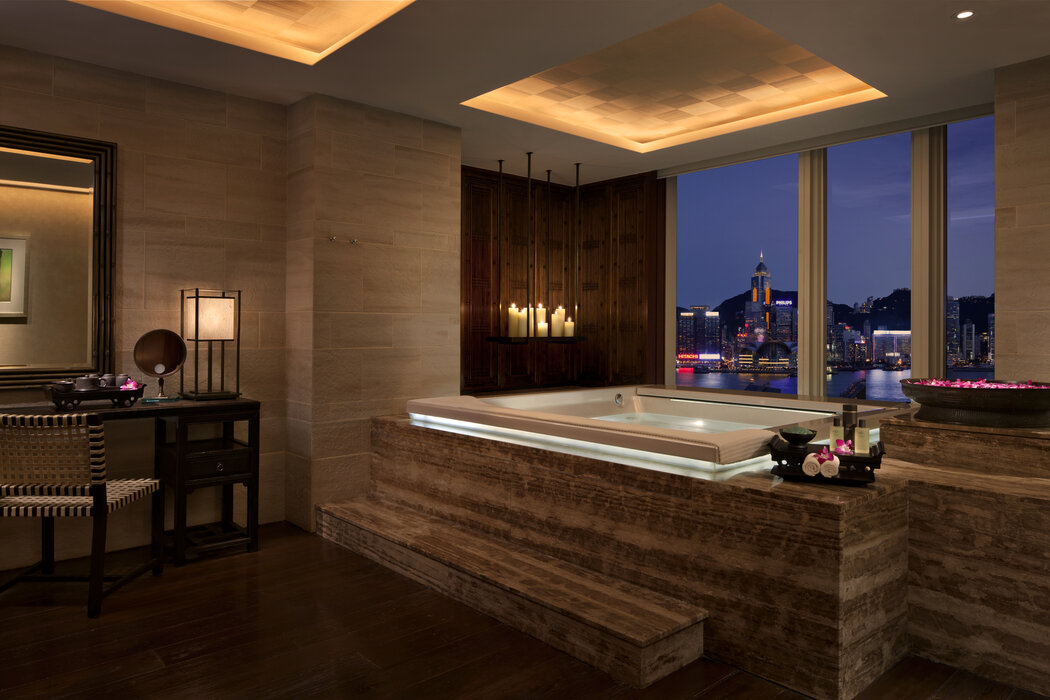 Be that as it may, tradition, plus taste, is what is relevant here. The Peninsula Hong Kong has set the local benchmark since it opened, with 210 rooms, in 1928. It dominated Kowloon, on the mainland side of Victoria Harbour. In those days you simply looked over a boat-studded busy waterway and across to Hong Kong Island's Central district, reached by Star Ferry. Today, for best views you need higher-floor rooms in the 28-floor tower added to the main hotel in 1994.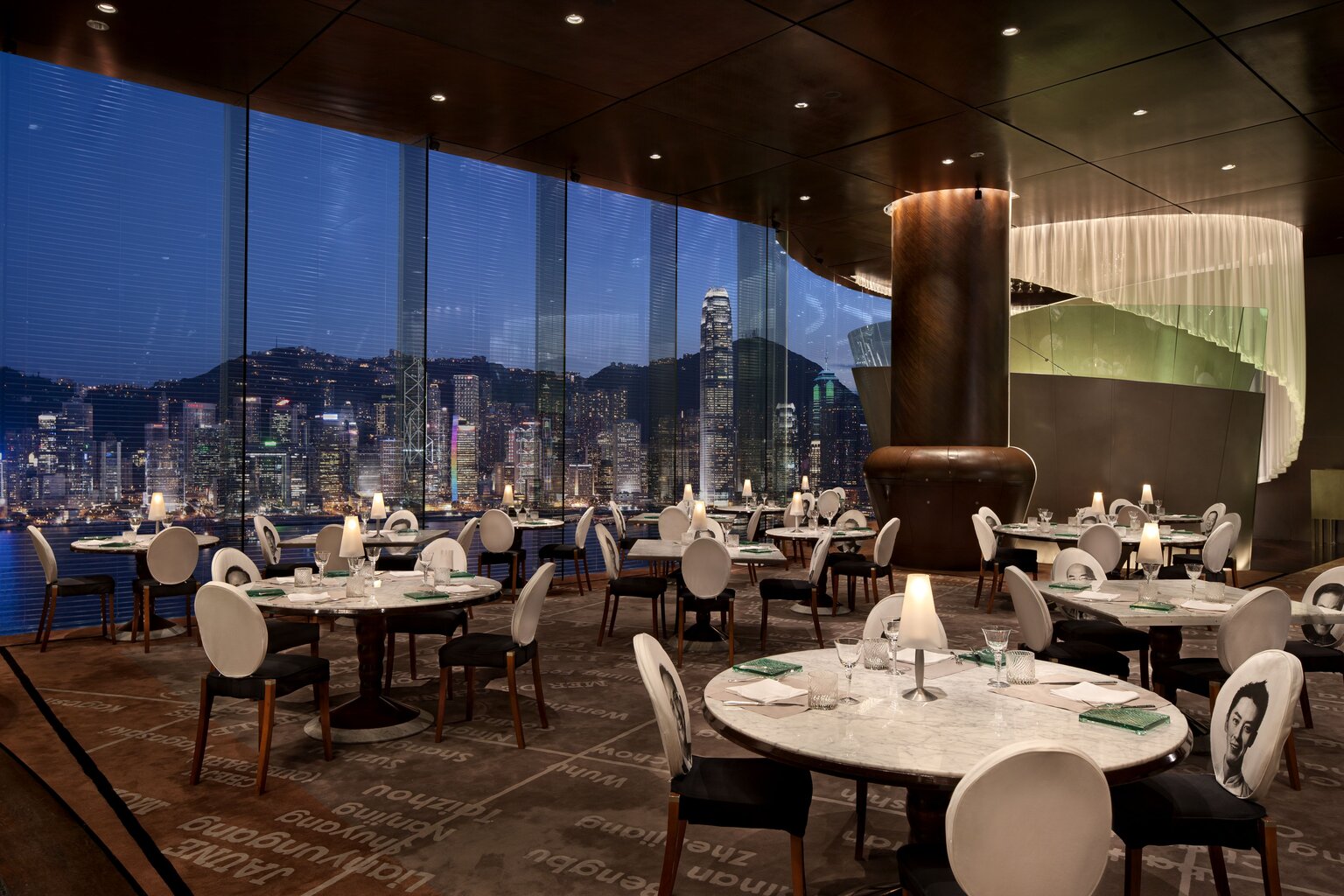 My favourite suites are in the -07 and -15 series, all 85 sq m: typically, #2407, the Peacock Suite, looks out over the now-built up Kowloon waterfront with the egg-shaped Hong Kong Space Museum and across to the architects' dream that is skyscrapers of Central. Ideally, I would start an evening with The Peninsula Champagne, watching, from my room, the 8pm nightly laser show that momentarily turns Central into a multi-coloured light show. Next, having thoroughly enjoyed Albin Gobil's Duck Wellington at Michelin-starred Gaddi's (1953 vintage) I would opt for a casual supper in the hotel's original lobby.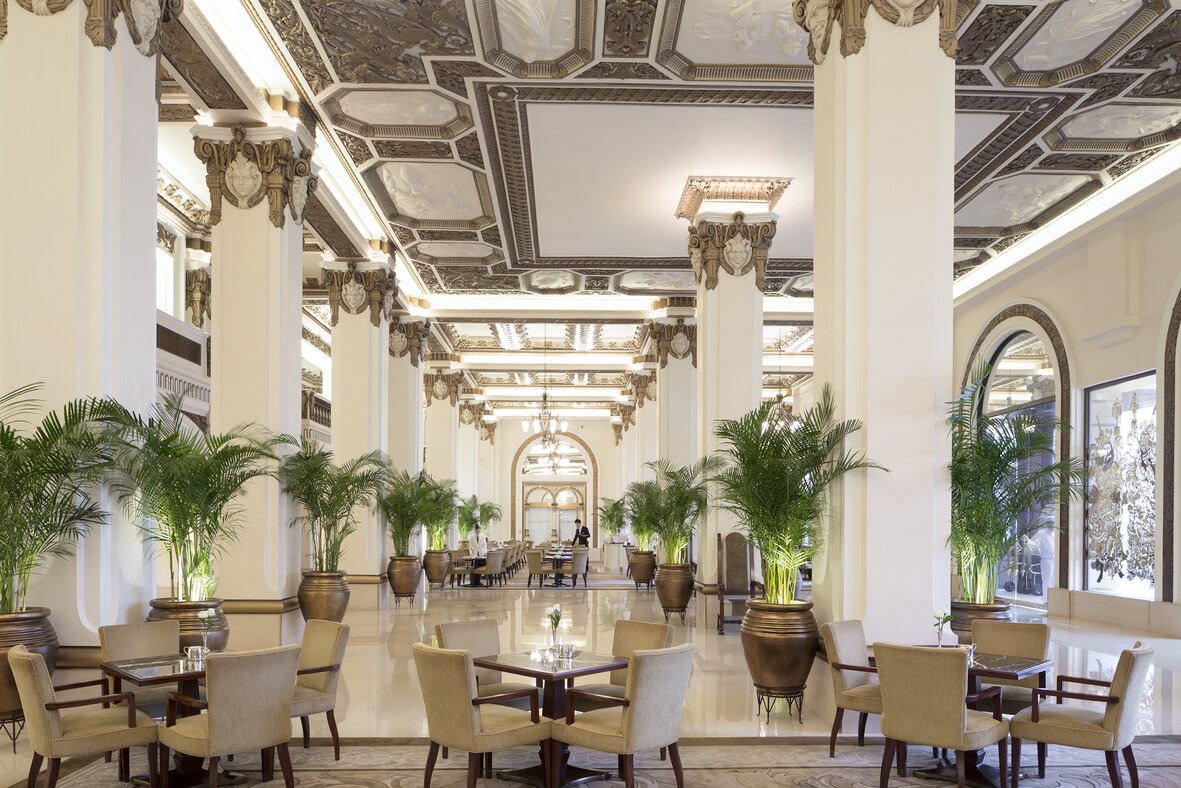 With two metre-high waving palms around the base of opulent columns rising two floors to an equally-gilded ceiling, and live-music from a mezzanine balcony, the lobby oozes Roaring Twenties. Whereas there are always lines for its world-famous Afternoon Tea, evenings are calm luxury. Start with a Cobb Salad, with chicken, bacon and, admittedly a 2021 addition, avocado, and you are ready for those crêpes.
***
Palazzo Fiuggi
Sleep lessons must surely have even more effect when you are snoozing in the ultimate Italian palace. What is even more enticing is that at Forte Village's Palazzo Fiuggi is 35 minutes' from Rome's private jet airport, Ciampino, and ten minutes from Frosinone railway station.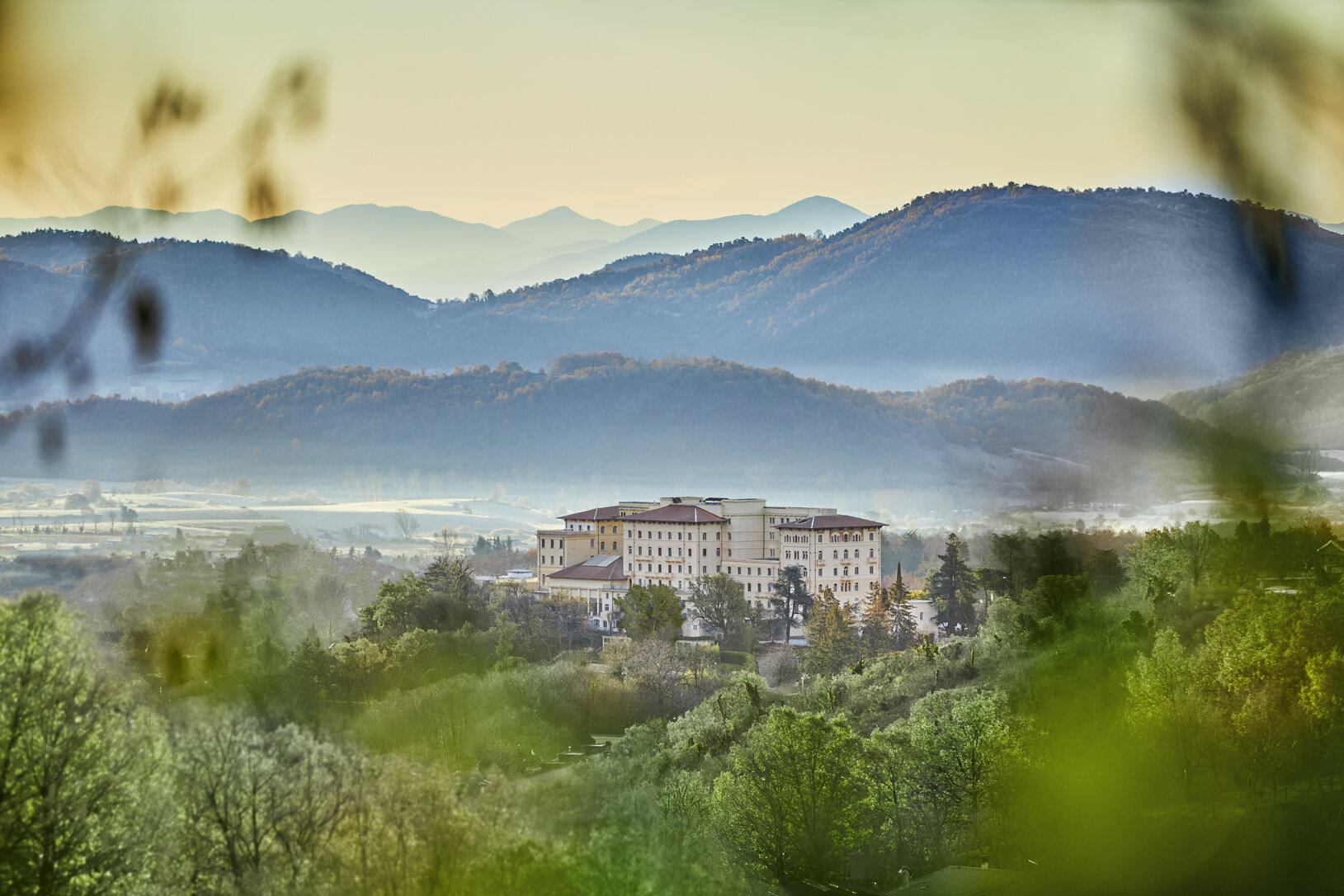 Palazzo sleep lessons are overseen by Harvard Medical School's Dr Paolo Cassano: just reading about infrared transcranial photobiomodulation and measuring biorhythms to read brain and a multitude of other systems seems soporific. Over at least three nights - the minimum stay at Palazzo Fiuggi – even those who have never experienced a second of insomnia will undoubtedly sleep better.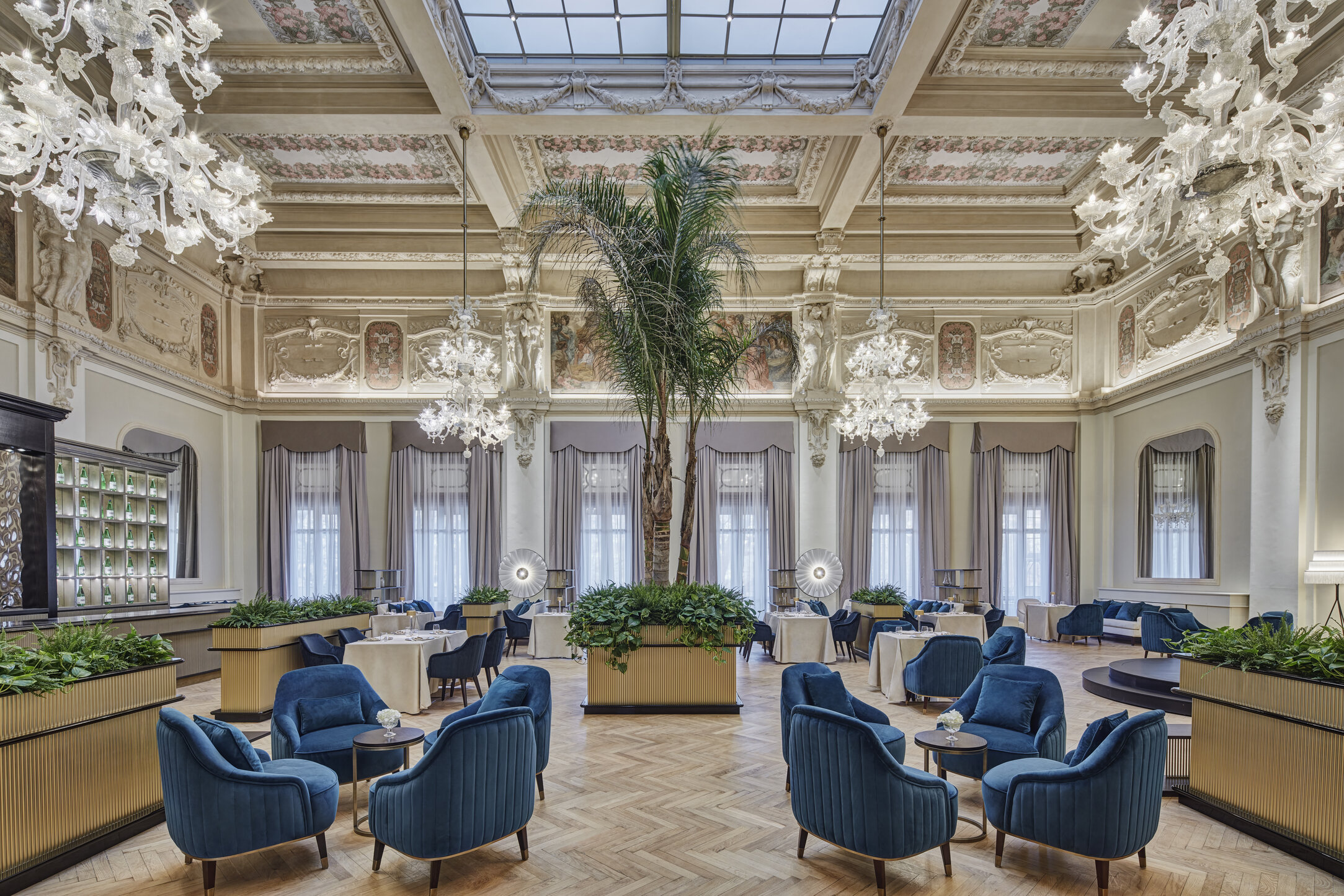 Fiuggi is the historical home of the Forte family, and it was Charles, later Lord, Forte, who built the Palazzo, in 1913: a year later, King Vittorio Emanuele III commandeered it as his summer residence. Today the 102-room Palazzo, fortunately open year-round, is majority-owned by Alliance Group's President Musa Bazhaev, also the controlling shareholder of Forte Village Resort outside Cagliari – Lorenzo Giannuzzi, CEO of both properties, also has equity. Hotel GM is Ciro Verrocchi and Sardinia's Sandro Sergi is designer. The 135sq m Royal Suite has Murano chandeliers and a 145sq m terrace, but, also on the first floor, there's a 160sq m terrace with the 110sq m Presidential Suite.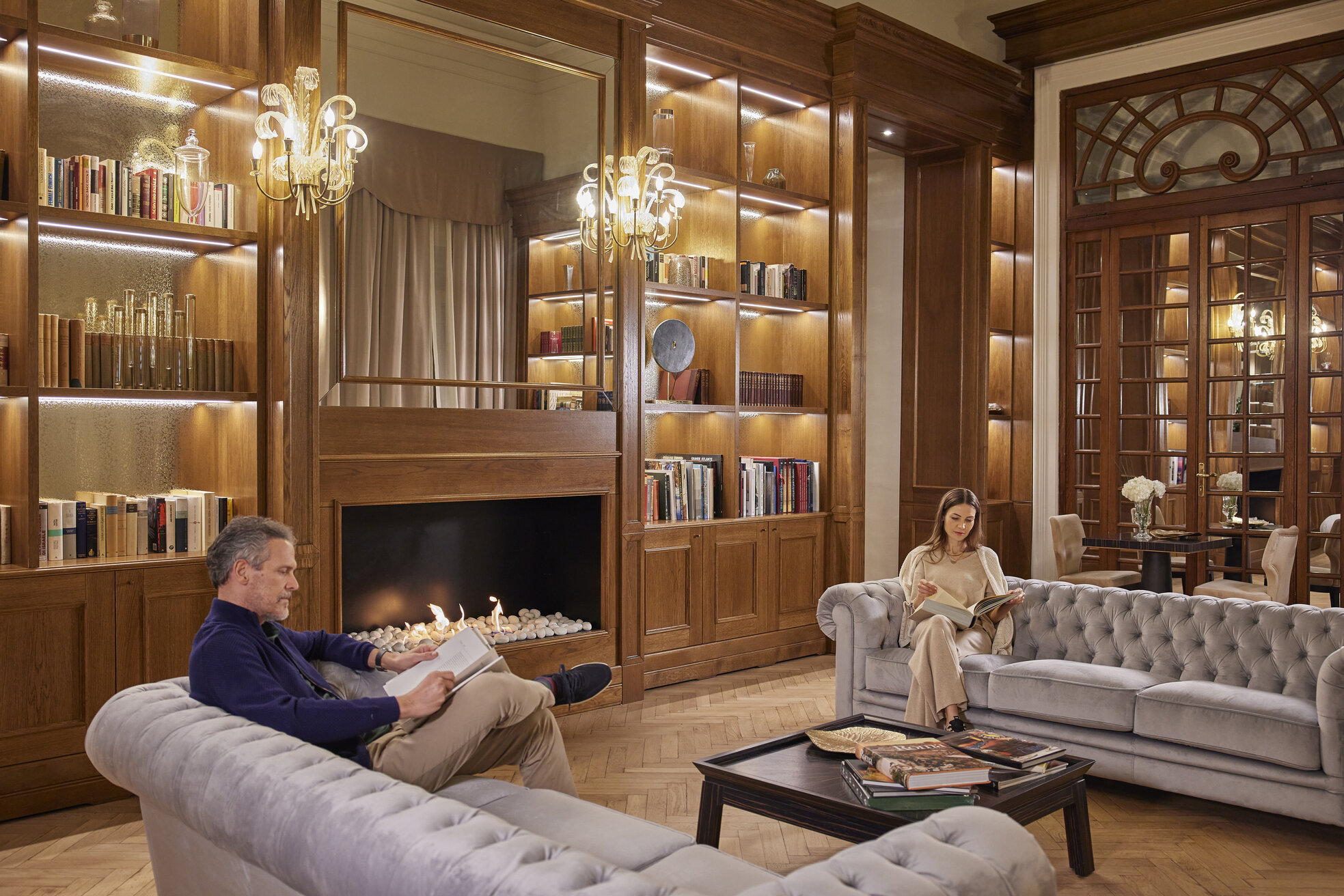 All food is overseen by Heinz Beck, the first to gain three Michelin stars for a hotel restaurant in Italy - La Pergola, literally atop Rome Cavalieri Waldorf. Here, in Fiuggi, his proven 1,240-calorie weight-loss diet might start with a breakfast of juice, egg-white omelette with wholemeal toast and strawberry marmalade, and finish with a three-course dinner including hay-cooked chicken with mushrooms and parsnip. No, no alcohol or caffeine. Yes to Benedictine-inspired herbal teas.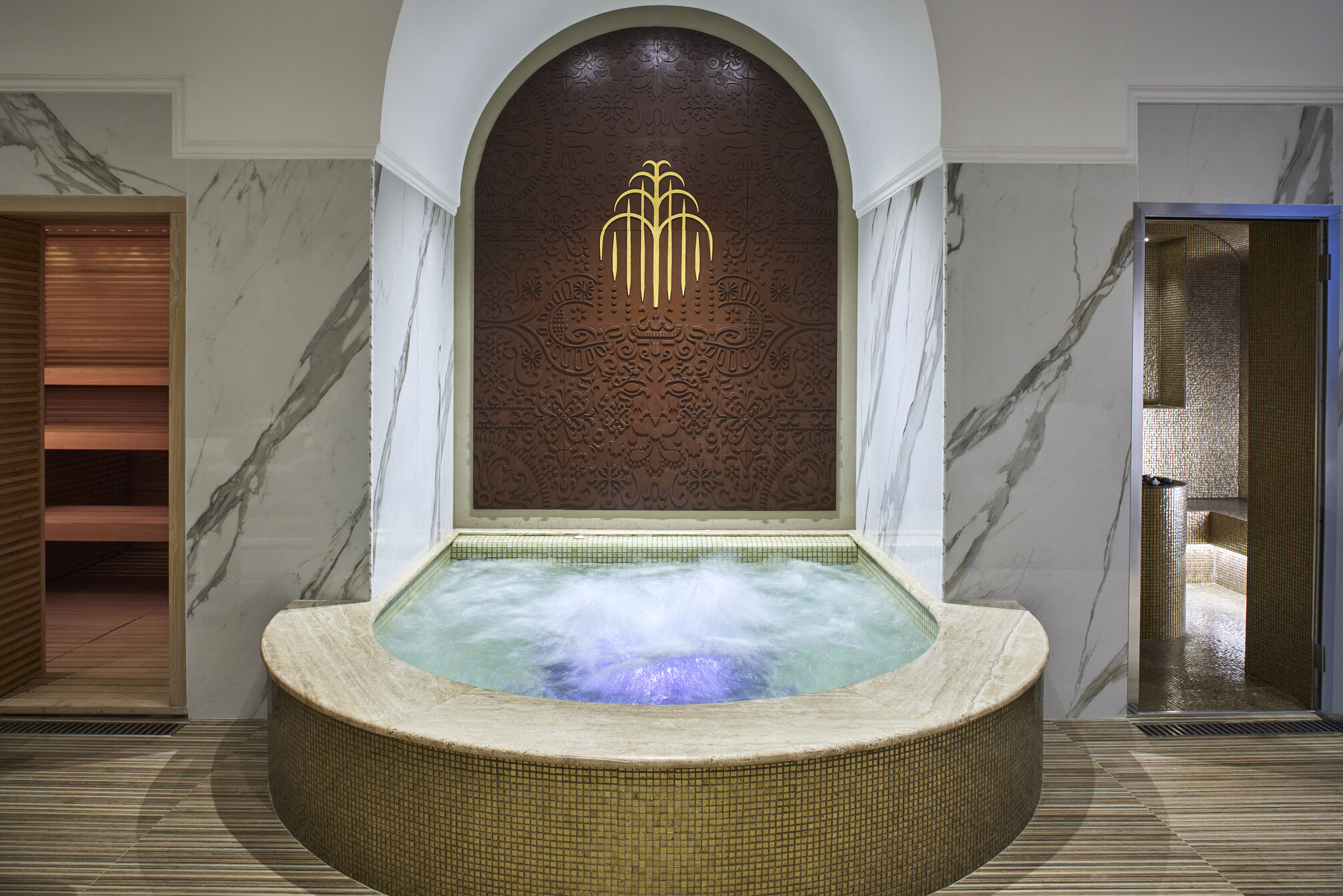 No time for boredom. There's a medical lab associated with Rome's University Of Tomorrow, Tor Vergata. The spa has Dr Barbara Sturm prod, indoor fitness goes for that Italian leader, Technogym.  Swim, inside or out in a variety of thalasso and other pools. Cycle and hike or hike the Palazzo's eight-hectare estate. Take another nap.
***
The Dolder Grand Resort
How about Riedel flutes from a 300cl (double magnum) Krug Grande Cuvée 168ème Edition, 600 metres ASL in a private Krug lounge at The Dolder Grand Resort, looking down over Swiss meadows to Zürichsee? Add a Royal Release Robusto, 2012 edition, from the Davidoff cigar menu: for service, there's a push-button 'Champagne' bell.
Dolder started 1899 as a kurhaus. Outside, think sports, year round. Inside, it's wellness, plus 350 original artworks, Dali, Miro and Warhol plus a brown corrugated card, 'Paris Hilton and Lindsay Lohan stole all my stuff'.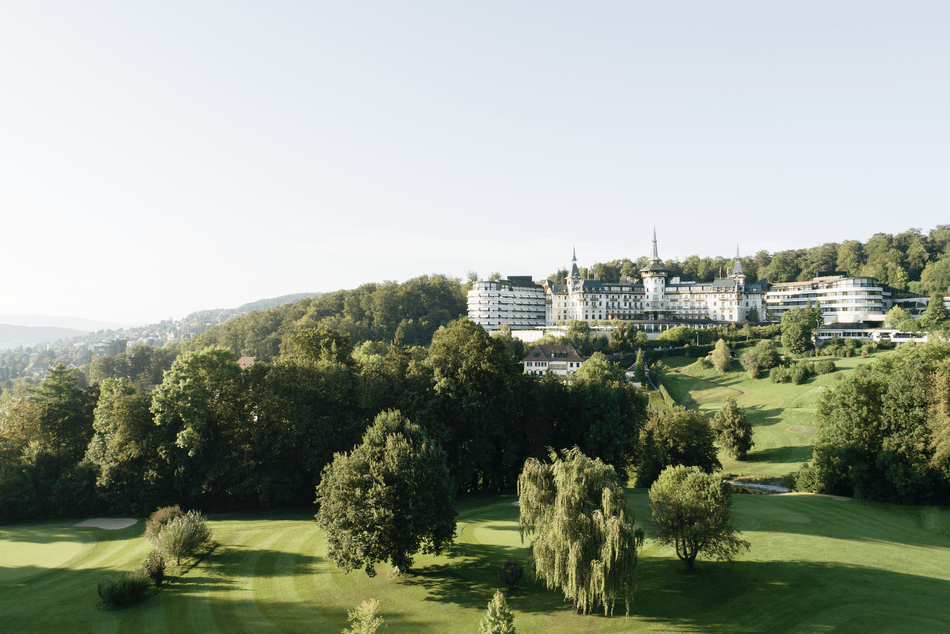 Norman Foster added identical curlique wings, and of the 173 bedrooms, Karajan's favourite was the 400sq m Maestro Suite, topping the central tower. I love the 230sq m two-bedroom Carezza Suite., wrap-round all-wall windows, private sauna, handy for the spa. 
Heading down there, pass multi-colour mobiles by Switzerland's 'Alexander Calder', Jean Tinguely, and 'his equally idiosyncratic French wife, Niki de Saint Phalle. The spa is total calm. Buy a themed day, or à la carte, 30-minutes' Dr Burgener algae drainage or Swiss salt crystal scrub. Detoxed, plunge into the 25-metre curvilinear indoor pool, which appears, correctly, to extend to the outside. Even in the Pantone 11-0602 Snow White of winter, daytime sun gives facial glows.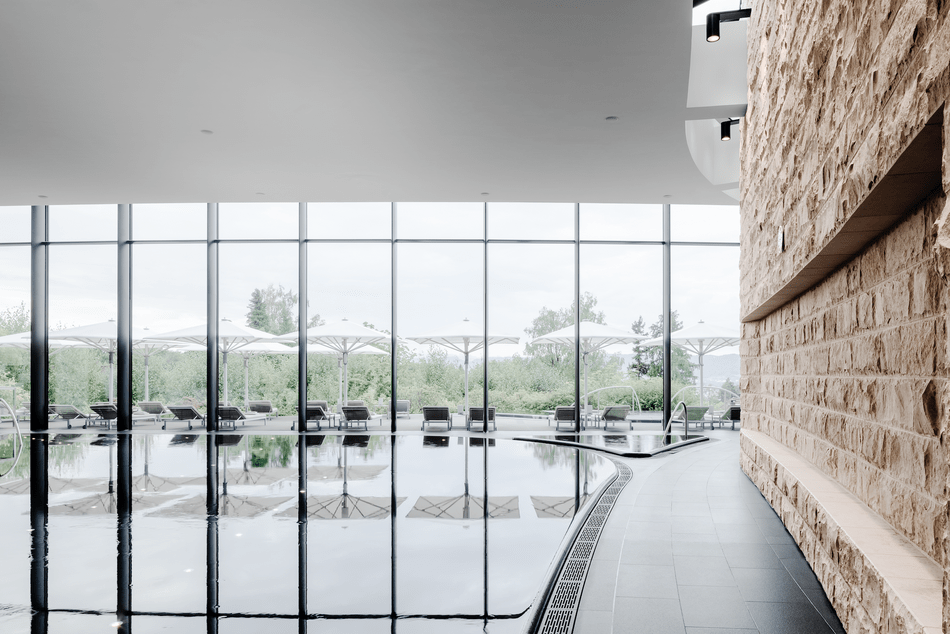 Hotel GM Markus Grenelli considers food one of life's greatest art forms.  Two-star Michelin from Hanseatic wunderkid Heiko Nieder is, currently, complemented by new-look Japanese from Osaka-born Yoshizumi Nagaya, from Dusseldorf's Nagaya, also Michelin starred.  Choose lightly-roasted wagyu sashimi with yuzu, and sautéed Canadian black cod with saikyo-miso. Try a Sakura cherry blossom cocktail, with Hanami Dry Gin - or go for Krug Clos du Mesnil, Push that bell for a refill.
***
Rosewood Sand Hill resort
Rosewood Sand Hill resort, outside Menlo Park CA, is activity heaven. It may not have the most expensive car ever built in the USA – the 2021 Mercedes-Maybach GLS600, coming in at $161,550 – but, thanks to creative the networker, Philip Meyer, MD of this 131-room resort, you can take a free trial drive of various others in current Mercedes range.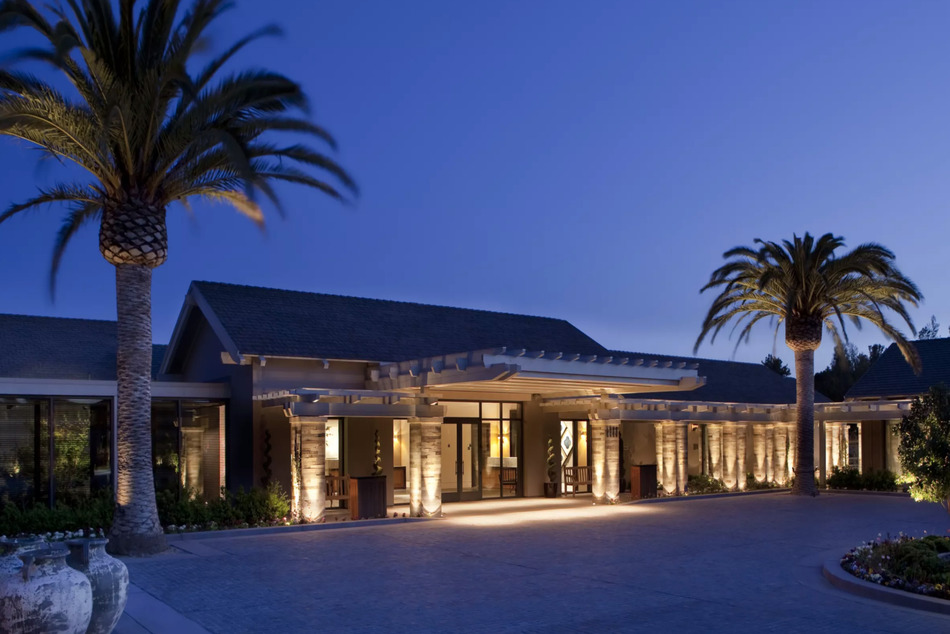 And cyclists are not forgotten. Try the wind tunnel at Specialized global headquarters, only 30 minutes away (Meyer, whose own favourite steed is a shiny-white Colnago, will also lead local rides, perhaps around nearby Stanford University, the hotel's owner). For more-sedate calorie burn, join 9 a.m. yoga classes, outside every Saturday and Sunday, and, inside and air-conditioned, the Technogym is 24/7.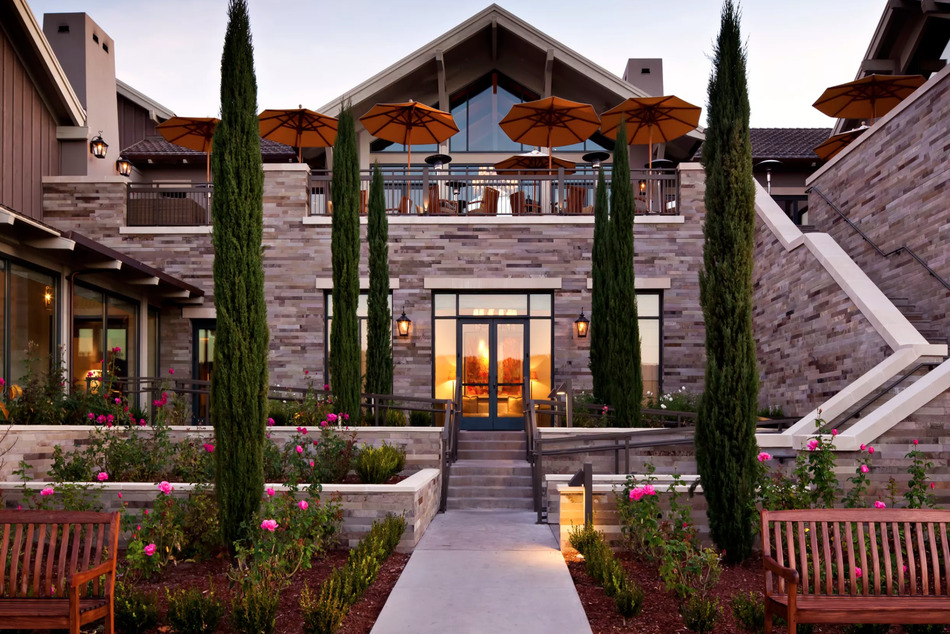 I like balancing all this with spa pampering, perhaps a French-Japanese EviDenS de Beauté facial, really popular with local fashionistas. Actually, the entire 26-acre resort feels like a PMC, private members' club: Rosewood Sand Hill Lifestyle Club is, indeed, the hub of Silicon Valley's Who's Who.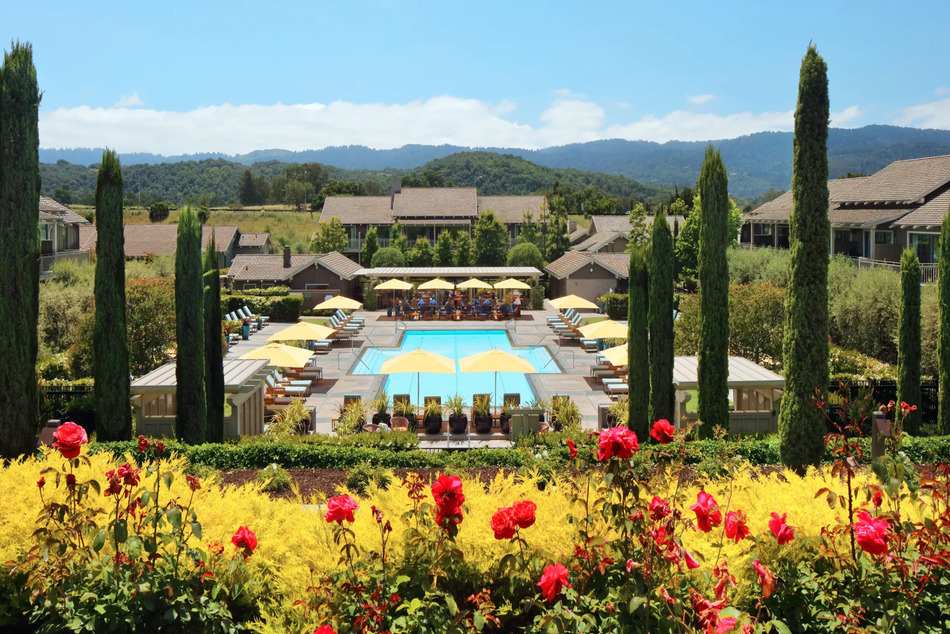 Time to think of the sleep experience. Private Villas go up to 3,000sq m but I loved #1307, a 800 sq m Rosewood Executive Suite, upstairs in a two-floor west-facing block. Just before sunset, I headed down 26 steps straight to the lovely, 25m-long pool.  Summer-long, poolside food is Hawaiian, overseen by San Francisco's LihoLiho Yacht Club's celebrity chef, Ravi Kapur. Pair tuna poke, furikake rice, avocado, and spicy aioli with a perfectly chilled Chardonnay, say a 2017 Flowers Moon Select Sonoma Coast (Meyer thinks of everything and there's a pop-up Flowers Winery wine-tasting station, a few metres away in well-tended floribunda nook).
***
Anantara Al Jabal Al Akhdar Resort
Yoga, or an origami lesson looking over a sky-high glass platform named for Diana Princess of Wales' visit in 1986?
Endless memories of Anantara Al Jabal Al Akhdar Resort, in Oman's Al Hajar mountains, 2,000 metres ASL. After a zigzag tree-free climb, arrive at this five-year old, timeless-look fort, for macho+pampering. Mountain biking and rotating climbing walls allow displays of prowess. A pomegranate scrub in the spa, and 12 niche varieties in dinner's salt menu, nourish the inner self. The prestige of the 115 rooms is the 700 sq m, three-bedroom Royal Mountain Suite but I really warmed to the more-modest 188 sq m room 4, which came with an empty sketch book and coloured pencils, plus a significant private pool.
Think romance, including proposals, and culture, say curated local soukh market visits. Kids, four years up, lap up such activities as camel rides.
GM Rami Farhat, https://www.anantara.com/en/jabal-akhdar/
***
Coworth Park
The Cartier Queen's Cup, running through 27th June 2021 at Windsor Great Park, is the most important challenge organised by Guards Polo Club. Cup sponsors include Cartier, Champagne Laurent-Perrier and Mosimann's Club.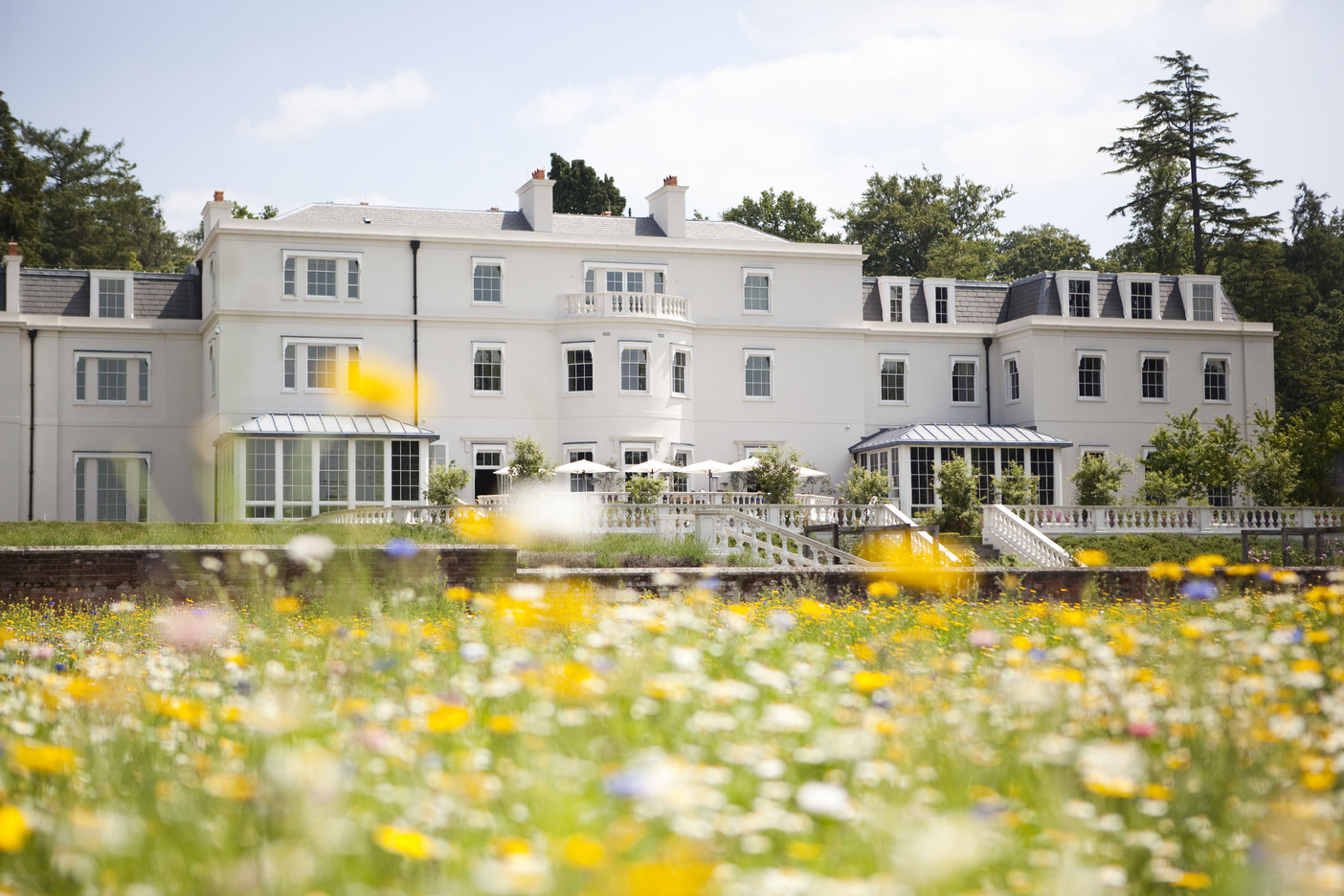 Based at Windsor Great Park, Guards Polo Club manages polo operations at all 14 polo fields in the immediate vicinity. Two of these polo fields are on the 97-hectare (240-acre) adjacent estate that is the Dorchester Collection's idyllic English-countryside resort, Coworth Park. At the main house and surrounding cottages, all total-71 rooms come with copper bathtubs and heated bathroom floors, open fireplaces, and some have terraces and private gardens. Cool.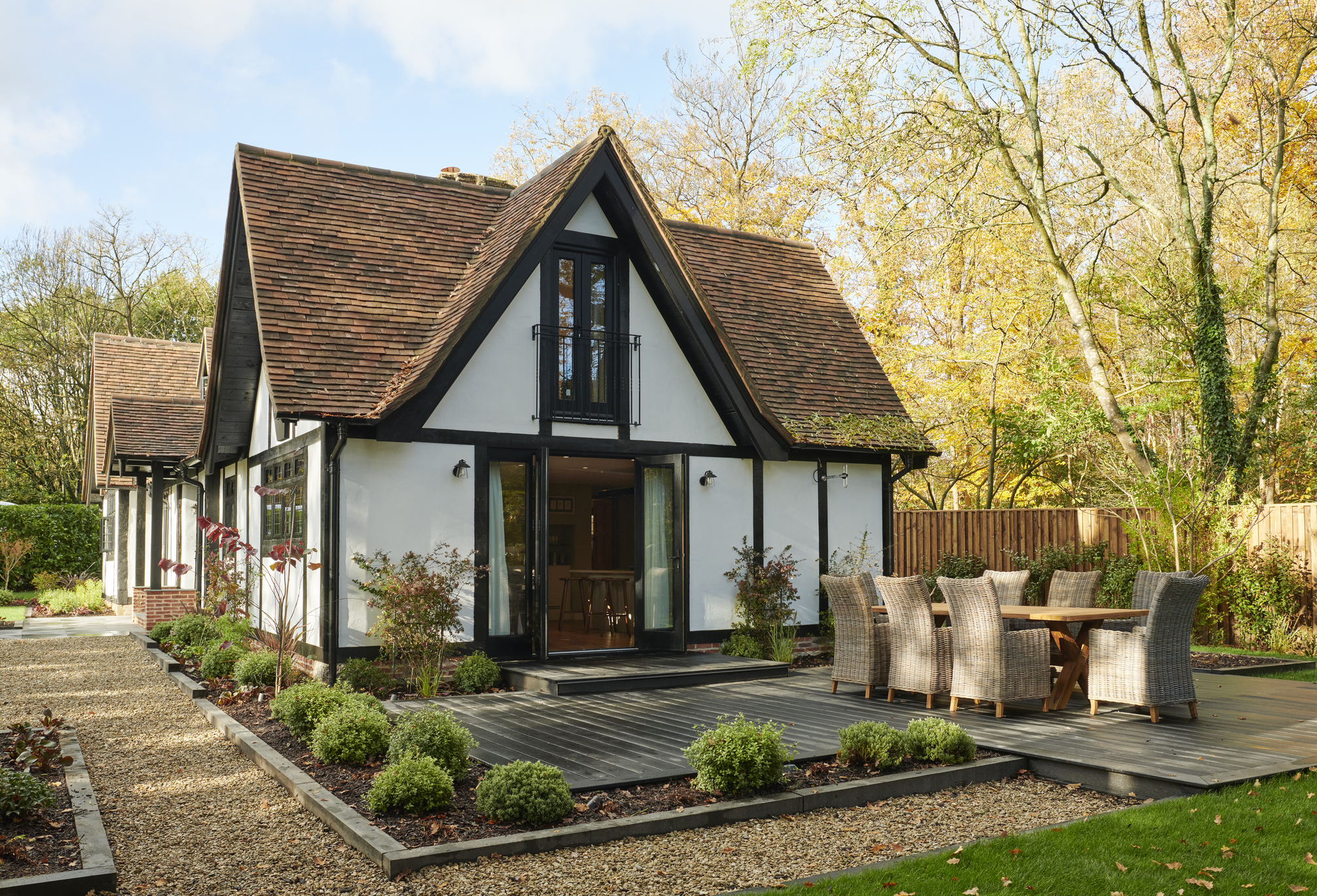 I loved 67sq m Junior Suite #31, up 53 oak stairs in the main house, which dates back to 1776. Curtain-free four-poster with wrought-iron bird headboard. Fun. Mitchell and Peach farm-produced toiletries. Seven minutes' walk to the serious spa, living roof, 18 -metre pool, Scottish-seaweed ishga products, or Carol Joy cucumber. Aromatherapy Associates Mindful Moments.
For sharing with family and friends, all ages, the 206 sq m North Lodge is perfect. Gated, playful garden, three bedrooms, butler, and chef to star in the Miele kitchen arena. Wherever - main house gourmet dining or, say, a sticky short-rib burger out on The Barn terrace, Netherend Farm butter, Coworth Park preserves - you know 'the boss', the favourite-girl-next-door GM Zoe Jenkins, is contemporary foodie. Happiness, too, from inside walls hung with equestrian art, and, outside, grounds dotted with bronze sculptures. And country pursuits, including biking and hiking, and polo.
***
Royal Mansour Marrakech
In Morocco, Royal Mansour Marrakech will, by the end of 2021, have six extraordinary private dining tables. Hotel MD Jean-Claude Messant, passionate about dining and ambience from small-boy days in Normandy, today cannot stop enthusing about one-off tables-for-eight, all to be booked ahead in the kitchen garden, or in the wine cellar or in The Nest, raised treetop-high. 
Owned by King Mohammed VI, it was he who led a three-acre extension to the already peaceful gardens. Now, thanks to planning, the addition of five feet of topsoil and quick-growing trees, private dining is complemented by public-welcome access. A herb and vegetable garden supplies all Royal Mansour's restaurants, mostly overseen by Yannick Alléno. A glass-walled Atelier d'Artiste offers curated classes for you-do-it, art through to photography and pottery, with occasional artists in residence. Atelier is also part of all-round wellness retreats launching this September: Messant has, by the way, added Dr. Burgener Switzerland, Intraceuticals and Subtle Energies to his spa's brands.
All 53 Royal Mansour suites are in three-floor riad buildings, looking more mediaeval than 2010-vintage. Forsake sky-high Louboutins for Yeezy Boost 700 sneakers. Typically, at suite #43, total inside 1,750 sq ft, it's 33 steps from stained-glass window living room up to bedroom (Balenciaga alarm clock). Add 26 steps to emerge in the bright Morocco sun to your private rooftop. Privacy and calm in a seemingly-vertical space. At ground-level, wend between other riad buildings en route to spa or Technogym, pool, Atelier or rest of the gardens. Pair those sneakers with 100% Capri-style flowing white, topped by a raffia Helen Kaminski Provence 10. Order yet another Riedel flute of Moët before the sun calls it a day.
***