Jack Sullivan was previously managing director of West Ham United Women, where he was instrumental in helping the team to enter the FA Women's Super League (now known as the Barclays FA Women's Super League). Today, Jack is a director at West Ham United. Jack talks to Enness about all things football, entrepreneurship and his future goals.
Where does your passion for football stem from?
My Dad has owned a football club since I was born. He had Birmingham for 18 years, and we have now had West Ham for 12 years. Football is full of highs and lows, and I think that's what makes it so special! At West Ham, we pride ourselves on affordable family football. We have around 10,000 child season tickets - for us, it's all about inspiring the next generation and making memories that will last a lifetime.
What led you to become a director at West Ham United?
I was lucky enough to be given the opportunity by the football club and my father at the beginning of this season. After following the club home and away for 12 years, I've been everywhere from Romania to Andorra and this season, even Kidderminster, following the team. I also worked for the club for four years, so being given the opportunity is a privilege!
How have you impacted the development of the club so far?
To be honest, not a lot has changed. My father has always been extremely open with my brother David and me. We've always spoken openly about our opinions to him, so that hasn't changed. However, these European games have given David and me a great opportunity to talk to the other board members. Hopefully, we can continue to make good decisions and keep growing the club in all directions...not only on the pitch but also off it! The club has the best charitable foundation in the Premier League, and we hope we can continue to see that grow too.
What can we expect from West Ham United in the near future? 
We have very big last games of the season left! We are hopeful we can qualify for European football; that is our short-term aim. Then it will be how we can strengthen in the summer to keep pushing the team forward in the right direction!
What are the key principles you lead and live by?
I'm a big believer in always finding a solution to a problem instead of moaning about it. Once the problem is sorted, you figure out a way to make sure it doesn't happen again but never dwell on it. I'm also a big believer in setting hard but achievable targets. And those targets are always going up: don't let good be good enough! Lastly, I believe in never celebrating the highs too big and the lows too low. Keep a level head as everything can go your way one week, and the next, everything goes against you. That's business!
You're part owner at Supply Life - could you tell us a bit more about the business?
Supply Life is the UK's best-rated food intolerance/sensitivity home testing kit on the market. If you suffer from bloating, IBS, low energy levels, unwanted weight, acne, Eczema, lack of energy, migraines, or joint pain, our test has a 92% success rate in our customers seeing a serious health benefit. We really pride ourselves on our customer service, which is why we have such amazing results with our clients. I have seen first-hand how we have helped so many people, and it makes owning part of the company so rewarding. We're helping people who have suffered for years make some small changes and feel so much better!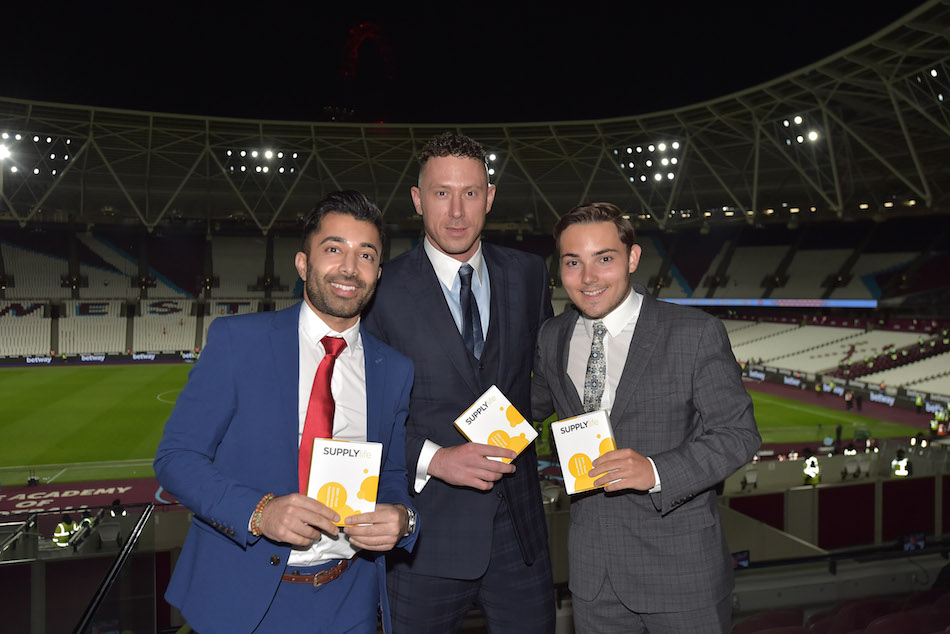 How did you get involved in Supply Life, and why is the business so important to you?
I suffered from Eczema for two years, I tried every cream on the market and must have gone to the doctor five times, but nothing would work for me. I came across Supply Life, and they came in to test the whole of the West Ham United women's team to help improve performance during my time there. After taking a test and cutting out the foods I was intolerant to, my Eczema was completely gone after three weeks. I was so incredibly grateful! I thought this product is amazing: I have to invest! Luckily enough, we managed to broker a deal with Supply life and get things working.
What has been the highlight of your career so far?
For me, I have a few personal highlights. Reaching the FA cup final with West Ham United Women was one, it was our first season as a pro team, and it was a great achievement for everyone involved. However, I hope in the future I can have many more highlights - I really do believe the best is yet to come! Supply Life is also a very exciting opportunity for me to work on, and I really love helping people every day.
What are your personal property aspirations?
As a family, we own a fair bit of property across the country, but mostly in London. My personal aspiration is to do what makes me happy! I think there are many opportunities all over the country, and I would never turn anything down before looking at it! I like to work with good people, and I always feel if the team is good, you always have a chance to do great things. 
And finally, what's next for you? 
For me, I just hope West Ham can continue to push on! Supply Life will continue to expand and will hopefully go into a few other countries alongside growth in the UK. I also love the idea of helping a few other businesses if the right opportunities come. 
Over 45% of the UK population suffer from Food Sensitivity/intolerance symptoms according to figures produced by Allergy UK 2009. I would love to offer 10% off to everyone UK based at Enness for Supply Life as I really feel it can help so many people. Use code ENNESS10 for 10% off all products at www.supplylife.com
Open form
Newsletter Signup
Mary Gostelow and Islay Robinson deliver short, sharp coverage of everything you need to know about the world of luxury.