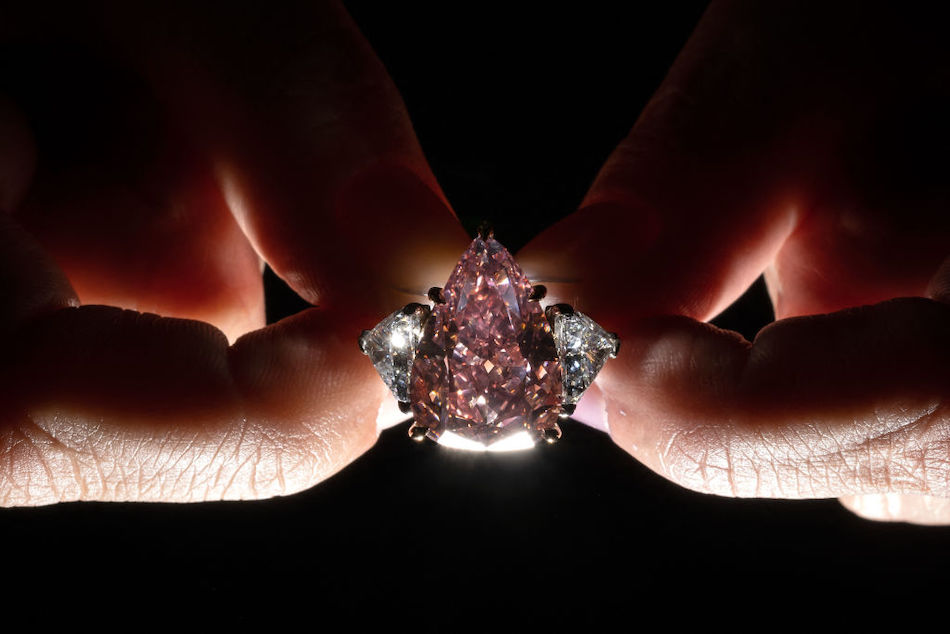 Diamonds are Geneva's best friend. On Tuesday 8th November, Christie's Geneva will auction The Fortune Pink as part of its Magnificent Jewels auction, which takes place twice each year in the lakeside city.
The Fortune Pink – the largest vivid pink pear-shaped diamond ever to be sold at auction – has an estimate of CHF 25 million but may reach as much as CHF 35 million. The pink diamond is undoubtedly the star of the show, which is no mean feat considering it is being auctioned alongside jewelry from Van Cleef and Arples, Harry Winston, Bulgari, Graffand Cartier. Some of the auctioned pieces have been offered by a European Princely Family and can be traced back to the Bourbon Parma and Thurn and Taxis origins. Christie's said in a statement that The Fortune Pink is likely to be particularly 'auspicious' for Asians given it is 18.18 carats, and suggested it would bring 'good fortune' to it's new owners.
The Fortune Pink is the latest buzz in town this week, it's only one of a long line of record-breaking diamonds sold at Geneva auctions. The Pink Legacy – later renamed The Winston Pink Legacy by its new owner, jewelry house Harry Winston – sold auction in Geneva in 2018 for a record-breaking CHF 50.375 million. The Oppenheimer Blue – named after the British diamond trader, Sir Phillip Oppenheim who once owned it – sold at auction in Geneva in 2016 for more than CHF 50 million. Earlier this year, 'The Rock' (ordinary in colour but extraordinary in size) sold for CHF 21 million. At 228.31 carats, the pear-shaped, brilliant-cut diamond is the size of a golf ball and was once worn as part of a Cartier necklace.  
Coloured diamonds – known as fancy diamonds are especially rare. Vivid fancy diamonds have very rich and intense colours, are the rarest diamonds, which also makes them the most valuable. The deeper a fancy diamond's colour is, the more expensive the gem tends to be. For white diamonds (which are graded differently than fancy diamonds, given purity of colour is one of the most important features) the opposite tends to be true, with the clearer and whiter the stone in terms of colour, the more expensive it is likely to be. 
Red diamonds are thought to be the rarest of the fancy vivid diamonds, with only a handful in existence in the whole world, although blue and pink diamonds are also uncommon – especially at the size of The Fortune Pink, which is part of what makes it so unusual. The carats, cuts, colour and prices of diamonds seen at Geneva auctions reaffirm that diamonds – and fancy vivid diamonds in particular – remain the ultimate commodities, investment pieces and collector's items. 
Geneva auctions naturally attract high-end buyers looking to purchase extraordinary and one-of-a kind pieces in multi-million-franc sales. The city is the perfect setting of a luxurious city backdrop with the privacy and security to be able to host high-end auctions of this genre. Switzerland's close association with the luxury and watch sector also make the Geneva something of the perfect place to hold an auction. Most buyers remain anonymous and are usually international private collectors. However, diamond purchases are rarely solely an investment. The buyer will usually have an appreciation of the gem itself and its story, in the same way that art collectors value and enjoy art, even if it is also an investment. 
Buying At Auction
Buying at auction is strategic for many reasons. Auctions selling luxury but contemporary jewelry tend to benefit buyers because they will get better value for their money than they would purchasing in-store. Here, auctions are like a luxury second-hand sale. Buyers can get better deals than they'd find in-store, and the purchase will be overseen by reputed auction houses that can assure buyers they are bidding on quality, real pieces. This adds piece of mind for buyers purchasing low to mid-range pieces that won't necessarily have access to a team of experts to help them analyse the piece's value and authenticity. 
At the very top of the market, auctions are usually the only way to purchase very rare artefacts such as one-of-a-kind gemstones like The Fortune Pink. Sellers usually prefer to dispose of these pieces are sold at auction to maximise the sale price and facilitate a purchase from verified and serious buyers. On the flip side, auctions arranged by leading and renowned auction houses give buyers the assurance that they are buying real artefacts, guide prices reflect current market value, the provenance of the artefact has been investigated and that the ownership path will be properly documented, which will make it easier to sell the item in the future. Auctions also make it easier to arrange for transport, insurance and handover at the level required for such high-value purchases. 
Luxury Asset Finance
Buyers at auction usually need to have capital available to make a purchase outright in cash, although in some cases, it will be possible to use a loan against existing assets to supplement personal cash reserves used to finance sale. Multi-million-franc financing for luxury assets is usually reserved for ultra-high-net worth individuals who want to use finance to facilitate raising capital at speed and manage cash flow, rather than because it is the only route to finance. In other words, buyers would need to be able to arrange finance to secure their purchase easily using their own capital.
In challenging economies, using luxury assets as security for a loan is also a useful way to tap into liquidity and unlock capital tied up in existing assets. Here, a borrower will use their luxury assets – which can be anything from wine to watches and art to handbags - as securityfor a high-value luxury asset loan. 
Luxury asset financing isn't necessarily an easy route to accessing liquidity, even if borrowers have a very high-value collection of assets. In many ways, it's a lenders market. There are only a few players in the space that can offer large loans, and those that do are extremely discerning about who they will work with. The provenance and ownership history of the luxury assets that will be used as security and the quality of the borrower in terms of their financial situation and background are absolutely critical. While luxury asset purchases are always private, the better documented, the more high-quality parties involved in the deal and the more information there is about the asset's history and origination will also play a part. 
How much the borrower can borrower will depend on the luxury asset they are using as collateral, it's value, brand, condition and – most importantly – it's provenance. The higher-value, more liquid the market and in-demand the luxury goods are, the easier it will be to use them as collateral for a loan.
Open form
Newsletter Signup
Mary Gostelow and Islay Robinson deliver short, sharp coverage of everything you need to know about the world of luxury.