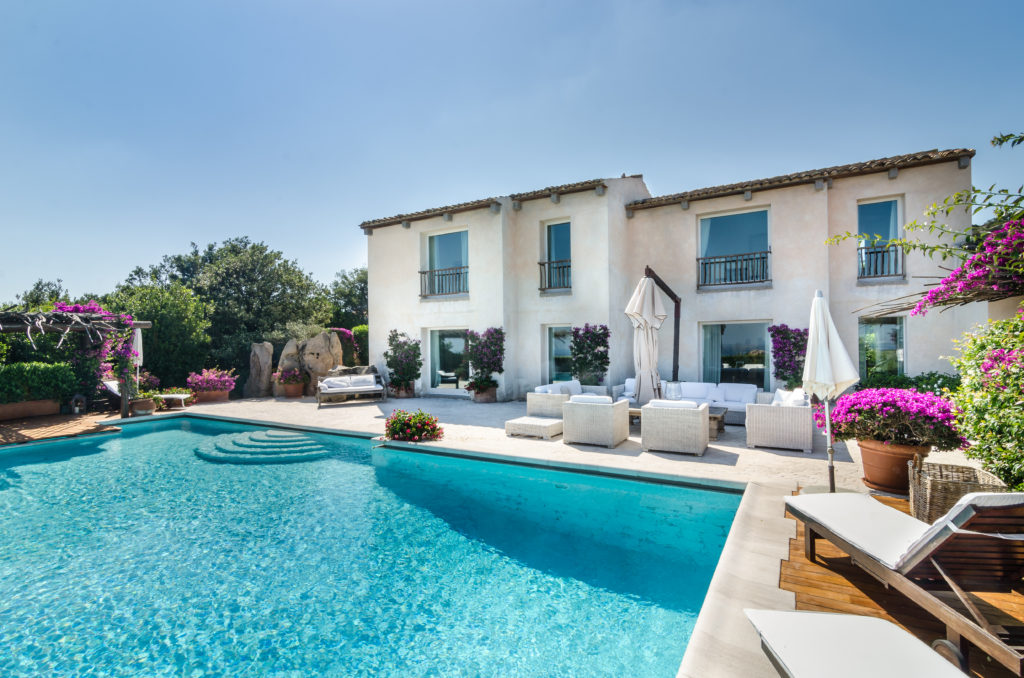 Are you looking for a holiday home in Italy? Our property of the month, a stunning 5-bedroomed Villa, offers an alternative you may not have considered—the charming island of Sardinia, located off the west coast of Italy.
Sicily's lesser-visited little brother has plenty waiting to charm visitors, and also benefits from a quieter tourist trade. Sardinia boasts beautiful weather, idyllic beaches and clear, glittering seas. Island life means you'll never be short of delicious seafood feasts, either.
So if you're looking to purchase a new holiday home in Sardinia, Sphere Estates have a perfect solution. The property is located on the Costa Smeralda or 'Emerald Coast', just a few kilometres from Porto Cervo.
Offering over 600m2 of space, Villa Cassedda is a spacious and attractive property including an adjacent guest house with its own secluded terrace for extra privacy.
The Villa's interiors have been tastefully designed in calming shades of white, complemented by natural woods and soft lighting. Bedrooms offer breathtaking coastal views, with plenty of space to relax with loved ones throughout the property.
However, the outdoor space is where this property truly shines. Thoughtfully landscaped gardens nestle the plot into its hillside location, with a Mediterranean garden providing a colourful and sweetly scented space to relax.
The 12-metre-long pool can be enjoyed day or night, with plenty of space for sunbathing and night lighting around the pool should you fancy a midnight dip. As a bonus, the pool can be heated, meaning you can still get your swimming fix in the cold months – although even in January, Sardinia boasts a double-figure average temperature, meaning the space can be enjoyed all year round.
The Villa would be a perfect match for keen entertainers and amateur cooks –  you'll be ready to cook up a Sardinian feast, either utilising the spacious kitchen or the Italian pizza oven and covered outdoor dining area. You can enjoy breakfast or dinner with a view, with a terrace offering sunset views.
If you're looking to purchase a holiday home in Italy, this Villa—and many other stunning properties—is currently being marketed by Sphere Estates, a luxury property agent providing an end-to-end service for clients. With a global portfolio including some of the world's premier property, Sphere can even arrange bespoke inspection trips to visit your new potential purchase.
Securing a mortgage in Italy
Once you've found your dream holiday home in Italy, Enness International can assist with the financing of it. Securing a mortgage in Italy is certainly more challenging than arranging finance in France, but as this case study from Enness International shows, we do have the industry contacts to achieve this. Typically, you will need to place assets under management (AUM) as a condition of securing a large mortgage in Italy. If you have any questions about securing a large mortgage in Italy, please do not hesitate to get in touch and we would be pleased to advise you further.
Open form
Newsletter Signup
Mary Gostelow and Islay Robinson deliver short, sharp coverage of everything you need to know about the world of luxury.