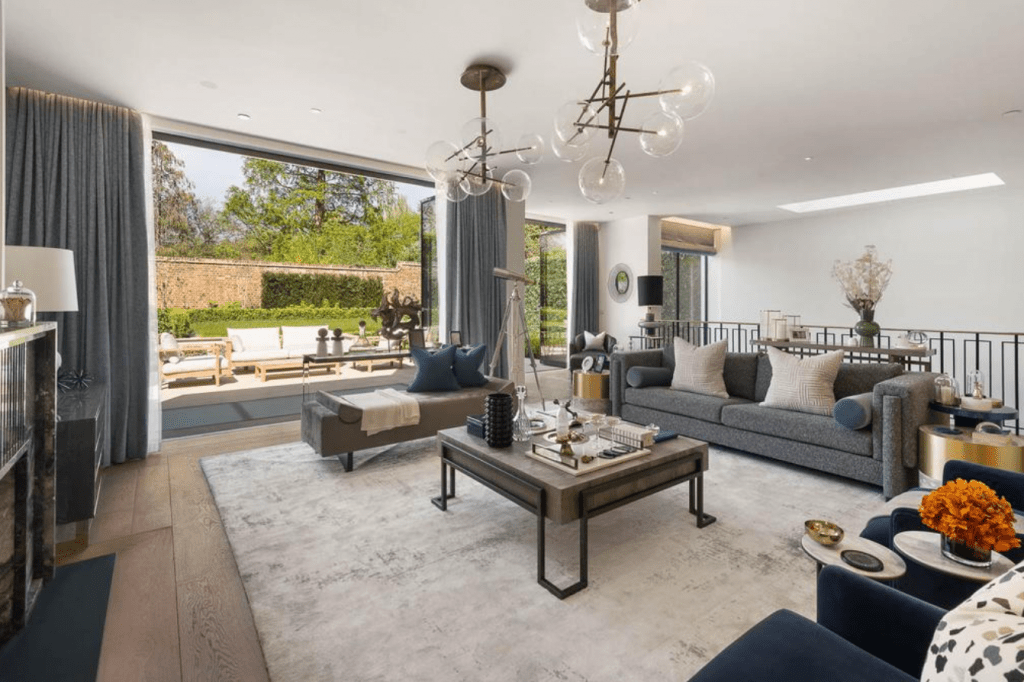 First published in Prime Resi.
10,700 square foot stonker on Ilchester Place – currently ranked as the UK's most expensive street – has interiors by 1508 London, architecture by Stanhope Gate and landscape design by Randle Siddeley.
A collaboration between some of the top names in Prime Resi design has delivered an "incredible" new project in Holland Park, which has been brought to market in one of the biggest instructions of the year so far.
Developed by super-prime specialist Lutti, the 10,700 square foot, neo-Georgian stonker has interiors by 1508 London, architecture by Stanhope Gate and landscape design by Randle Siddeley – and is now among the finest specimens on Ilchester Place (currently ranked by Lloyds as the UK's priciest street).
The whole thing has been reworked and extended to create masses of lateral entertaining space, boost ceiling heights and install a huge leisure complex, housing a 15-metre pool, steam room, sauna and bar; some clever thinking has created an internal garden at lower ground level – which we don't think has been done before on Ilchester. Other bonuses include a cinema, gym and wine storage.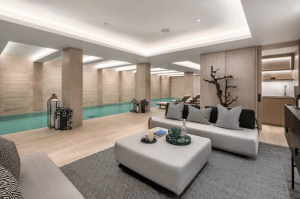 There's seven bedrooms in total, and the master suite is a real beauty, with direct views over Holland Park and a walk-in dressing room.
An extensive spec sheet flags up the advanced automation systems, cantilevered staircase wrapped with custom-moulded Terrazzo stone, Kone passenger lift, polished marble fireplaces, oak floors, bespoke joinery – and much else besides.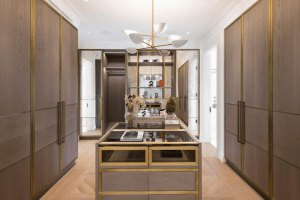 Lutti, set up by Tom Grogan and Kouros Golestaneh in 2014, oversaw the redevelopment on behalf of Mayfair-based Goldenstone, which has a number of other top-end schemes on the go across London, Surrey, Prague and Frankfurt.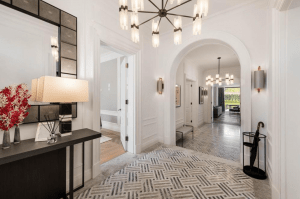 Describing the process, Alireza Sagharchi of Stanhope Gate Architecture said: "Our architectural design has been informed by the tradition of grand Edwardian family homes that characterised the beautifully crafted residences that were built amidst the optimism of post-war 1920s London.
"This has left us with a legacy of finely proportioned and designed buildings that have often suffered from insensitive interventions through successive developments. Our comprehensive redesign of the layouts and the rear façades of this home has brought light into the lower floors through double-height spaces.
"Together with the interior design team's fine detailing and interior design décor, this fine building has been given a new lease of life fit for 21st Century family living."
Hamish Brown of 1508 London added: "We believe in attention to detail, and subtly weaving this into our design. The narrative may not be immediate or obvious, but when it is discovered, it becomes clear why we approach interior design in this way. You are presented with something truly refined."
To find out more get in touch with us.
Open form
Newsletter Signup
Mary Gostelow and Islay Robinson deliver short, sharp coverage of everything you need to know about the world of luxury.