Established in 2015, SUPPER was founded with a mission to change the world of delivery. SUPPER does things differently, providing an end-to-end delivery service run by experienced and passionate hospitality professionals.
1. What differentiates SUPPER from other food delivery services? 
SUPPER is a premium home delivery provider that caters to the high standards required by leading high-end restaurants in central London. It counts Michelin-starred Hide and Veeraswamy among its clients, as well as many of the capital's most popular dining spots, including Nobu, C London, Zuma, Roka, and Park Chinois. In addition, because of SUPPER's service standard, it also delivers from Harrods Food Hall, Fortnum & Mason and a full selection of drinks from Hedonism 'on-demand'.  
SUPPER's delivery vehicles are driven by employees, not self-employed workers, and the vehicles are designed and owned by the company. They are distinctive, specialist trikes with stabilisation, computer-controlled temperature (hot and cold possible in the same compartment), and capable of delivering food for up to 30 people whilst maintaining the standard required by high-end restaurants in order to protect their brand. These factors provide control and consistency in the last mile delivery which is very important for the operators.
SUPPER is all about quality and service and ultimately is how they successfully differentiate from other food delivery service businesses. This is the main reason why SUPPER continues to gain such great traction in the food delivery market and winning contracts from leading brands and restaurants. 
2. What was the inspiration behind the company? 
After spending considerable time in New York, SUPPER's CEO Peter Georgiou discovered that as a customer you could get what you wanted, when you wanted, wherever you were. Upon returning to London, he noticed a huge gap in the delivery market as the level of service he experienced in New York did not exist in London, especially at the higher end.
Peter then researched the market in London and after having spent time with various potential customers and restaurants, it was clear that there is a demand for bringing food from high-end restaurants in London to your home, and SUPPER was started.
3. Why was London chosen as the base for the company? 
London is Peter's home and he feels that it is one of the greatest, most vibrant cities on the planet. It is also one of the wealthiest places to live, with a high concentration of people who have access to the best restaurants. The market is huge and other than New York, London is the ideal city to launch SUPPER.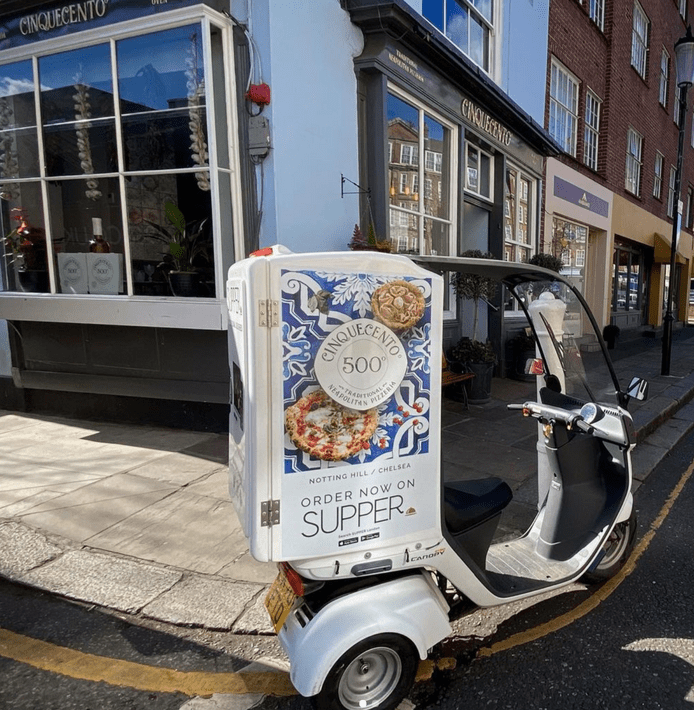 4. Where is SUPPER looking to expand in the future? 
SUPPER will increase the geographic spread of deliveries. SUPPER only delivers within 3 miles of the restaurant to ensure that quality is maintained. Discussions are already underway with several restaurant groups to provide remote, localised kitchens (that would be staffed and run by restaurant partners) in other parts of London, e.g. Richmond, Wandsworth, Hampstead, Fulham, allowing delivery access to other lucrative postcodes.
SUPPER is also looking to expand internationally. New York and the Middle East are identified as ideal locations. They have a great mix of potential partners and they have identified the huge demand for a high-quality service like SUPPER.
5. What criteria are followed when selecting the restaurants?
Peter always wanted to represent the best and feels that it is being achieved now and they are able to deliver food from the most coveted restaurants in central London. 
SUPPER looks for popular restaurants. They champion independents and look for partners where they can add value, for example,  with managing delicate food, those requiring the personal touch, and maintain their brand status. The SUPPER team have round table discussions about each new restaurant looking at their criteria and the demand levels.  
SUPPER does not work within the casual mass market, for example, pizzas and fast food, as the premium service is not necessary. They are building a premium food delivery marketplace, full of variety to ensure customer retention.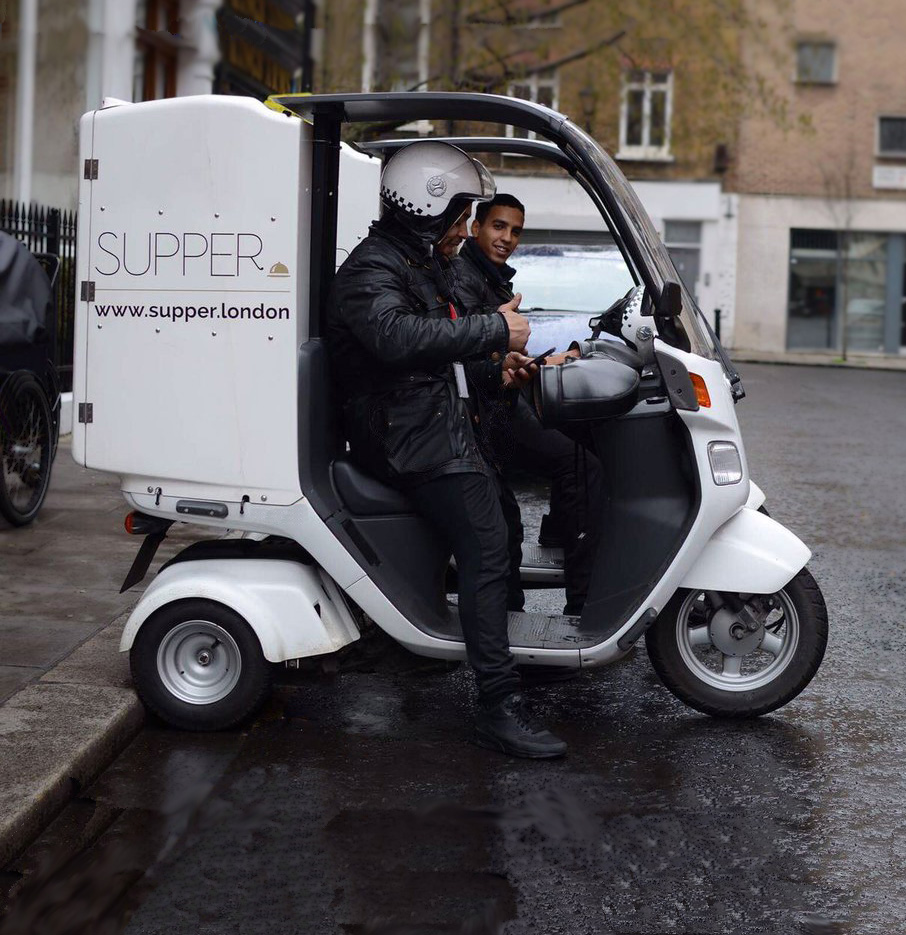 6. What are your key operating metrics (average order value, profitability, retention, members etc.)? 
Due to the premium nature of our restaurant partners, SUPPER's average order value is around £108. From that SUPPER makes a net profit (after all costs) of around £9.80 (c. 9%). SUPPER has over 85,000 customers that have signed up of which over 41,000 have used SUPPER at least once. To effectively market to a customer, an enhanced CRM architecture is going live soon, enabling smart customer targeting, engagement and re-activating old customers or those that haven't ordered – this is expected to improve numbers. Retention is quite high, over 65%, but can also be improved as more capital is utilised to enhance technology and service.
SUPPER generated sales of over £10.5m (12 months to end of March) and EBITDA was -£0.07m.
7. What are the key opportunities and challenges SUPPER will see in the next 12-18m? 
SUPPER have amazing opportunities including the localised kitchens, overseas openings and adding non-food delivery options for customers. The last 12 months have been focused on private customers without executing any corporate orders, which are again a significant opportunity for SUPPER, especially in London. 
With regards to challenges, other food delivery businesses will attempt to enter into this market or there will be new players entering, but it will be very difficult to change their core business to reach the standards required - it is much easier to move down the quality curve than it is to move up it. 
Premium is not built overnight, and it will take time for the competition to get that goodwill and forge the restaurant relationships they have. With the new injection of funding, SUPPER will further develop their service and cement themselves as the 'go-to' for a premium delivery service. 
Challenges can sometimes throw up opportunities and so they are very well placed for both.
SUPPER is currently raising funds through Growthdeck, the private investor network. 
Growthdeck was launched in 2016 and we are an FCA-regulated specialist provider of investment opportunities for private investors, covering growth companies across a wide range of commercial sectors.
Our most recent offers have been in food and beverage, luxury consumer brands, electric vehicle charging, medical devices and technology. In every case, Growthdeck undertakes detailed due diligence and takes an active role post-completion, providing investors with bi-annual progress reports through to exit which is usually planned for 4-5 years out.
The fundraises are typically for £500,000 to £3m per company and our registered investors can invest £5,000 and upwards in any individual offer. Our investors are not required to commit to a fund – instead, they are able to build their own bespoke portfolios.
For UK taxpayers, most of our opportunities offer the attractive tax reliefs available under the Enterprise Investment Scheme (EIS). The range of reliefs include 30% initial income tax relief and tax-free gains after 3 years.
What have Growthdeck set out to achieve?
Growthdeck has ambitious plans to become the leading non-fund-based provider of high-quality investment opportunities in fast-growing UK companies.
Within 3 years, we expect to be offering 25-30 new opportunities per annum.
What does the private investor network look like?
Over the past 5 years, we have attracted over 3,000 sophisticated, high net worth private investors to our platform. The network comprises successful entrepreneurs, senior corporate figures and family offices from across the world.
As the growth of the network is increasingly fuelled by social media and by existing members referring new registrants, we are aiming to build the network to 10,000 in the coming years.
The network is both a strong source of off-market deal introductions and an expanding pool of commercial expertise which can be called upon to assist with due diligence and the management of investments through to exit.
What do they look for in a deal?
We are most attracted to companies which are 2-3 years old, not necessarily profitable yet but where we can see that they can be within the relatively short term. We are focused on UK companies across a diverse range of sectors.
In most cases, we will be seeking to agree on an exit plan with management that offers our investors the prospect of a 7-10x money return after 4-5 years.
For more information on Growthdeck and SUPPER please go to www.growthdeck.com/SUPPER or contact Jane Cook, email [email protected].