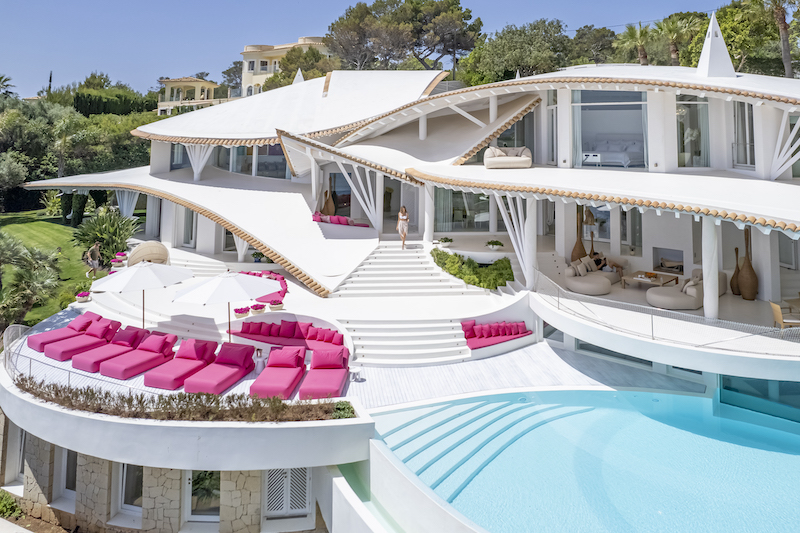 When you step foot into Villa Gaviota on the popular Balearic Island of Majorca, you know you're in a unique and special place. The white roofs and undulating curves that blend in with nature, the sea, the sky, and the coastline make this home a one-of-a-kind architectural art.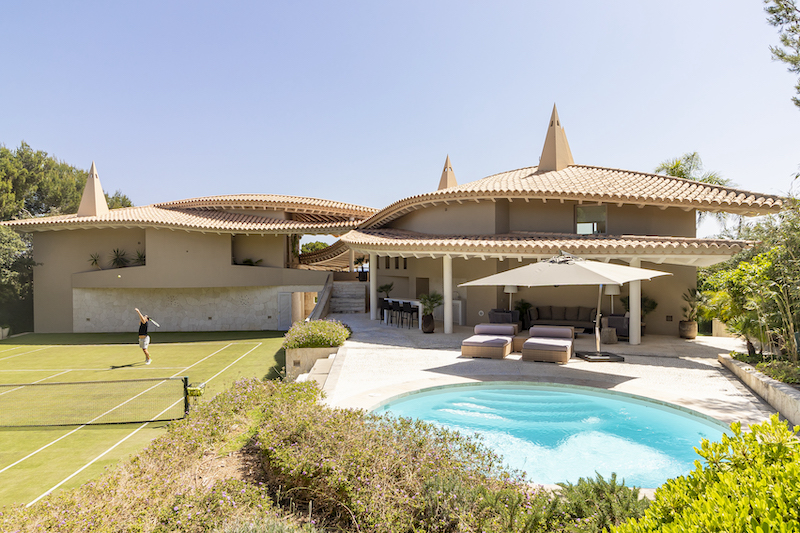 The property comes with outdoor eating spaces, indoor film/entertainment/relaxation rooms, an infinity pool, BBQ, gym, and a separate guest villa. Two building plots, its private cave and direct sea access into the azure blue bay of Cala Vinyas. It is stylishly constructed and tastefully decorated, with vast open-plan rooms and an intricate web of magnificent beamed vaulted ceilings to create a modern yet welcoming atmosphere. This exceptional villa is among the finest luxury villas with direct sea access for sale in Majorca.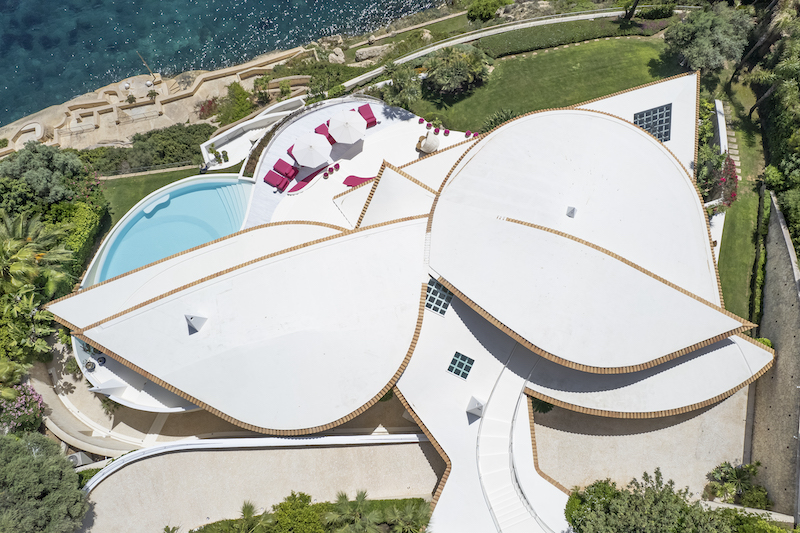 The magnificent white driveway and high walls give solitude, and the loveliest native plants and flowers decorate the entry to this luxury house. You lay eyes on the stunning open sea views as you enter through this property's front doors. From the inlaid white polished floor and the sensible neutral colour palette to the curving staircase, exquisite and luxurious design is present wherever you look. Walking down the grand staircase and find yourself in the spacious main living area. The main kitchen is next: a hand-built, hand-carved, craftsman-made fitted kitchen with stunning marble countertops and splashbacks. Large doors open from the kitchen and living room to the pool and patio. Open them and enjoy the lovely wind that whispers through them, delivering a welcome respite from the Mediterranean sun. The terrace features an unusually generous-sized eating space, ideal for al fresco living in the shade, as well as a wide sunbathing area with views across the sea, providing a stunning position from which to observe the water by day, and the awe-inspiring starry sky by night.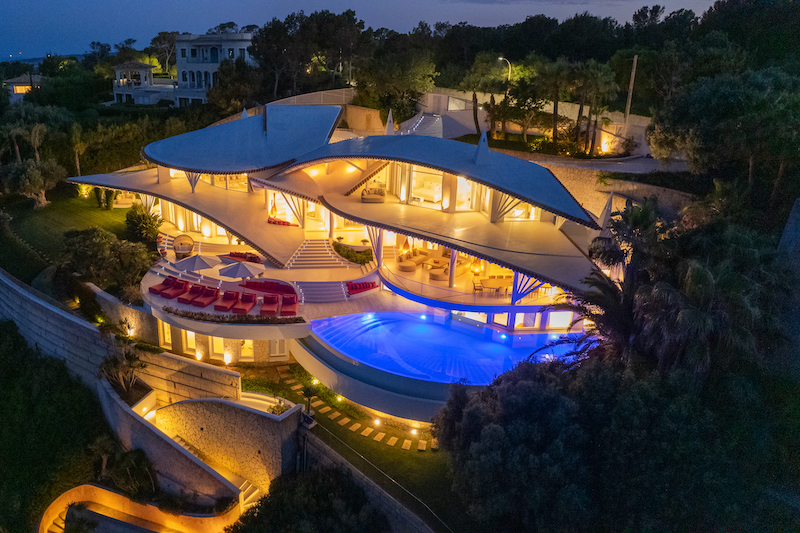 The Master Suite is separated from the other guest rooms, giving the owners complete privacy. This bedroom has a generous ensuite, walk-in wardrobe/dressing room, stunning sea views, and a private terrace. The villa has five double guest bedrooms, each with large ensuite, built-in wardrobes, and sea views. Large sofas and sun beds invite one to sit and appreciate the magnificent views over the bay. A further double bedroom with an ensuite, a wine cellar, and a fully equipped gym are located on the lower level of this home.
The villa comes with a private cave, which leads to the lower and waterside terrace areas built around the direct sea access. This stunning luxury real estate home is one of Mallorca's most spectacular estates. Offering an extravagant and exquisite Mediterranean lifestyle, the right move to enjoy a unique living opportunity and all the magic this beautiful and charming island offers.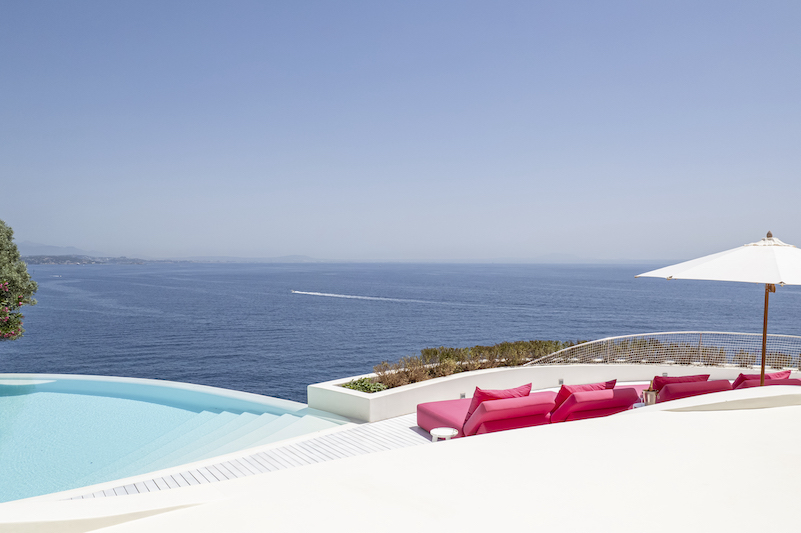 The picturesque beach Cala Cap Falco is just a short walk from this stunning villa. The beach has clear, tranquil waves and white sand. A great spot for a sundowner to watch the sunset, an early morning swim, or a leisurely picnic.
For further information, contact Islay Robinson.
Indicative Mortgage Terms 
Property Value: €35,000,000 
AUM: €13,000,000
Total loan: €35,000,000
LTV (Loan to Value): 100%
Rates: 1.5% + Euribor 3M
Lender Fee: 0.8%
For further information on property finance, get in touch.
Open form
Newsletter Signup
Mary Gostelow and Islay Robinson deliver short, sharp coverage of everything you need to know about the world of luxury.