The Aston Martin Residences Miami is a truly exceptional waterfront Luxury Residential Opportunity with performance-driven design and architecture embracing Aston Martin's passion for fine, understated details, sophistication, top-level service, and beauty. 
Aston Martin has been identified with excellence in motorcar design for almost a century and is one of the world's most iconic and recognised marques. However, each is unique and handmade, making it a very personal statement about the individual who owns it. The same can be said for their residencies; Unrivalled prestige, unequalled craftsmanship, and uncompromising standards. 
At 300 Biscayne Boulevard Way, the Aston Martin Residences combine classic design and fine workmanship with an outstanding location to create Miami's most desired address. This spectacular residential structure is a 66-story-high symphony of curved glass and steel located on Miami's final parcel of waterfront land. The Aston Martin signature collection Penthouses are perfect expressions of style and elegance; the epitome of the Aston Martin Art of Living. Masterfully designed for living a world-class lifestyle.
The most splendid penthouses will comprise a select few, including the jewel in the crown – one superb triplex condominium. Panoramic views of Biscayne Bay, the Miami River, and the dynamic Miami skyline provide an ever-changing, dramatic backdrop. A state-of-the-art fitness centre and spa, a large pool deck, salons, lounges, and a marina are all available on-site for total convenience.
Luxury kitchens with Bulthaup cabinetry, Gaggenau appliances, and premium marble flooring create the perfect ambience for the most comfortable and elegant living. Spacious and naturally luminous kitchens have been inspired by the love for beauty, created with unrivalled craftsmanship and attention to detail.
The bathrooms are Designed and crafted by artisans using the noblest materials, including European cabinetry and premium marble flooring. Floor to ceiling windows to enjoy the panoramic views of Biscayne Bay and Miami River, the perfect balance between maximisation of space and optimal light. The bedrooms are outfitted with superb and sophisticated elements to offer maximum comfort. The residences are available for sale at present.
Upper Tri-Plex PH Highlights:
Three Top Floors of the 68 Story Building
19,868 SF
7BR | 8BA + 6 Powder Baths, Gym, Spa, Den & Staff
7,323 SF of Exterior Terrace Space
Private Plunge Pool
Stunning 360 Degree Views of Miami 
Aston Martin Designed and Fully Equipped Private Garage
A gift at purchase of the last remaining Aston Martin Vulcan Supercar (1/24 in the world, valued at $2.4M) 
The 820BHP Aston Martin Vulcan, limited to just 24 units globally, was conceived and engineered to provide the exhilaration and outperform Aston Martin's Le Mans-winning race cars. One of these elusive hypercars will be exclusively commissioned and presented to the privileged purchaser of the world-class upper penthouse.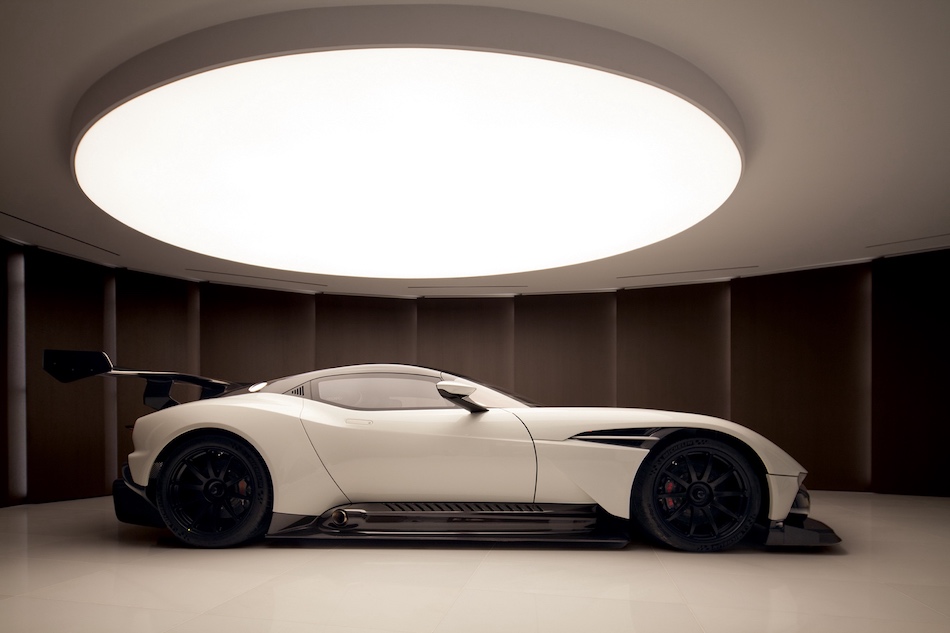 Every component of the Signature Collection at the Aston Martin Residences is shaped by innovation, beauty, and exclusivity, and the Signature Garages follow suit. The Signature Garages, designed by the Aston Mart Design Team, complement the luxurious penthouses, offering the ultimate space to showcase cherished automotive works of art.
Recognising that for car enthusiasts, the perfect environment to store rare classics or limited editions is as important as the home itself inspired the design of the garages where the ambience matches the elegance of the noble pieces preserved within. Bright and airy with a gallery feel, Aston Martin experts have meticulously specified every detail of these spotless showrooms, creating immaculate homes for treasured sports car collections. 

The bespoke garages at the Aston Martin Residences feature sophisticated lighting, high-quality flooring and refined wall surfaces. And each custom-designed space boasts a high-tech ventilation system and automated temperature and humidity controls to ensure every car remains in pristine condition, awaiting the owner's next automotive adventure. Stylish and beautiful, the Signature Garages complete the Aston Martin art of living, taking the joy of sports car ownership to the next level
For further information, call Inhabit World on +44 (0) 7563 661 277, email: [email protected], or visit them online at www.inhabitworld.com
For further information on property finance, get in touch.
Open form
Newsletter Signup
Mary Gostelow and Islay Robinson deliver short, sharp coverage of everything you need to know about the world of luxury.